Hey Washington DC! November 1, Dream is hosting "Asian Pimp 'N Ho Night," a costume party that includes a $1000 prize for the best-looking prostitute and her "business manager." You need not be Asian to win. UGH. Yeah, that's really progressive. A celebrated gathering of Suzy Wong, me-love-you-long-time look-alikes —all competing to be the best oriental ho! This is ridiculous, offensive, and in poor taste. The
DC Asians for Peace and Justice
are organizing to protest the event:



D.C. Asians for Peace and Justice Statement of Protest



As Asians, we strongly object to the planned event entitled "Asian Pimp 'n Ho" party on Saturday, November 1.



The premise of the party perpetuates the stereotype of the Asian "Suzy Wong" - a submissive object that exists to serve - rather than a human being. We have struggled to liberate women from this dehumanizing perception. We find it deeply saddening that it is an Asian promoter that is attempting to capitalize on this awful stereotype.



The sexual exploitation of the poorest of Asian people is a human rights issue and no laughing matter. "Pimps" and those they prostitute are not a source of amusement but a harsh symbol of oppression. Many of the men and women, girls and boys, who "work" in this horrific world do so through coercion and brutality. The lives of these victims are unimaginably dreadful. Is there any greater evil than a prepubescent girl forced to sell her body for money, for the profit of her pimp? Is there anything as sad as the world's cruelty to those stripped of their humanity?



We urge the people at the Washington Post, Dream, DC Nites Asia, and Alive Productions, to rethink their involvement in this offensive, racist and sexist promotion.



Further information regarding the above-discussed facts can be found at http://www.protectionproject.org/vt/re.htm (the University of Pennsylvania School of Social Work's study on the commercial sexual exploitation of children released in September 2001). Also, www.stopcsec.us (US Campaign Against the Commercial Sexual Exploitation of Children) and Polaris Project, www.polarisproject.org.

Why is that theme parties so often result in something racist!


10.31.03

A Santa Clara County grand jury refused to indict a San Jose police officer in connection with the July 13 shooting death of Cau Bich Tran: No indictment for San Jose officer. Just letting you know.


10.31.03

U.S. astronaut Edward Lu has safely returned from six months aboard the International Space Station: Astronauts Enjoy Showers and Married Life on Earth


10.31.03

A different take on that pesky 'where are you from' question: Voices: The Identity Game


10.31.03

The secrets of Asian business practices revealed! We've quietly accumulated great wealth, virtually under your very noses. How? Why, we've got secrets under our sleeves. Secrets from the old country... What the hell am I talking about? A new book written by some foo reveals all: The Money Club. The overall tone smacks somewhere between panting images of model minority stereotypes and sneaky, scheming money makers. It's simply disturbing. That's racist!


10.30.03

The U.S. Department of Justice is questioning Congress's authority to pass the so-called Akaka Bill granting federal recognition to native Hawaiians: Federal lawyers take up legality of Akaka Bill


10.30.03

Tens of thousands of children were left behind in Vietnam by U.S. servicemen during the Vietnam War. They were stigmatized in the country where they were born, but many of them were brought to the United States under the Amerasian Homecoming Act of 1987 and other laws. Now, a new bill introduced in Congress would help Amerasian children of U.S. servicemen in Vietnam become U.S. citizens: Citizenship bill holds promise for disenfranchised Amerasians


10.30.03

Minneapolis police officer Duy Ngo was mistakenly shot at least four times with a submachine gun by a fellow officer while Ngo was conducting plainclothes surveillance while assigned to the Minnesota Gang Strike Force: Asian groups question shooting of Minneapolis cop


10.30.03

Representative Upendra Chivukula, one of the few Indian Americans to hold an elected office, is now seeking a seat in the New Jersey Senate: Indian American seeks New Jersey Senate seat


10.30.03

Ugh. Ain't It Cool News reports that according to Jason Statham, Transporter 2 is currently in development. And we all know how much I loved the first one. What a freakin' racist piece of crap.


10.29.03

Bindlestiff Studios, a Filipino Performing Arts group in San Francisco will have their space closed down unless they raise $11,000 by December 15: SAVE BINDLESTIFF


10.28.03

Another interesting perspective on Ghettopoly: Anger at Ghettopoly misplaced


10.28.03







WHAT THE HELL? Because there just aren't enough racist t-shirts in this world, David & Goliath is working hard to fill the void left by A&F. With shirts bearing slogans like FUK MI NAO, LIK MAI BALLS, LIK MAI NUTS, MI SAKE U NAO, you've got to wonder how badly they want to offend. Hell yes, I'm angry. But that's obviously what they want. It's just sick. Also see SUM TING WONG, DUM GAI BUFFET, and LONG DONG'S CHINESE HAND LAUNDRY. Oh, that's clever. That's racist!


Here are the means to contact these clever racists:


Phone: 1-727-462-6205 or 1-877-633-2845 (Toll Free)

Fax: 1-727-462-6911

Email: dgoliath@tampabay.com; todd@davidandgoliathtees.com

Address: David & Goliath, Inc.

1230 South Myrtle Ave. #401

Clearwater, FL 33756


I encourage you to let them know what you think... However, I think we all know that this is exactly the reaction they're expecting. No one over there is going to realize in their heart, by golly, we had no idea! In this case, I can't help suspecting that a ruckus will merely result in more publicity for a company no one's every heard of in the first place. It's just calculated racism for the sake of a buck. Again I say, that's racist!


10.27.03

Article on The Ride, a new independent film by Nathan Kurosawa, making its debut this week at the Hawaii International Film Festival: Time Travel


10.26.03

If you liked X. Dean Lim's The Yellow Truth, be sure to take another look at CommandoFilms.com. There will be new and exciting content, including more short films, when the site officially launches on November 21. So check back.


10.26.03

Been kind of busy. Here are a handful of articles that recently came my way, with varying degrees of significance. Don't have the time to comment, but here you go:

The Finished People

Excess Hollywood: Stealing Jobs From the Disabled

Chopsticks May Cause Arthritis, Study Shows

Asian mail-order brides face hardships, including abuse

Murdered Marine mourned by family friends, fellow soldiers


10.25.03

The Asian American Music Conference is a one-day gathering featuring Asian American music professionals who will share their experience, their views of the future of music, and their ideas on how to contribute to the success of Asian American musical artists. Check it out, November 15 in Burlingame, CA.


10.24.03

Cecilia Zhang is still missing: Parents of missing Canadian girl make public plea for daughter's safety


10.24.03

Check out My Life Translated, an MTV documentary show on bi-cultural youth. Airing Saturday, October 25 at 1pm, hosted by Suchin Pak:





LETTER FROM SUCHIN PAK - MTV



Dear Friends



I'm writing to let you know about a documentary show I'm hosting for MTV about bi-cultural youth. The show, called MY LIFE TRANSLATED, follows young people who are juggling two different cultures (and trying to find their identity somewhere in the midst). The show attempts to demonstrate how this experience shapes the decisions they make, the lives they lead and the consequences they face.



This is definitely the first time I've seen this topic addressed on MTV and it hit home immediately. As you may or may not know, English wasn't my first language, I wasn't born in this country and since coming here at the age of 5, I have struggled with trying to figure out how to be both the good Korean daughter and simultaneously the typical American young adult.



As you know, there is no template for surviving your teenage years as a bi-cultural kid. There is no book, no television show, no movie, no support group giving you any clue on how to be both and be sane. There are libraries full of material for American teens on how to survive those crucial years of sex, drugs, dieting, the perfect prom dress... but where are the TV shows about how to tell your mom what a prom is, when she's never heard of one? I mean, I'm not sure there's even a word in Korean for dating. None of my American friends could relate to what I was going through and all of my Asian friends were
just as confused as I was. I never talked about it. I just silently figured it out (with lots of failures and few successes) how to be "American" and Korean at the same time.



But to be honest, even though the concept of the show resonated with me, I was still skeptical about getting involved. Not only because I knew doing the show would mean revealing so much of my personal life on national television, but also because I knew the show (being TV) ran the risk of oversimplifying a very complex issue. But in the end, I decided to take that risk with the hope that this show will help give voice to such a common, yet overlooked experience.



MY LIFE TRANSLATED, airs this Saturday, October 25 at 1:00 p.m. If you have a moment check it out, I'd love to hear your thoughts--good, bad and ugly.



SuChin

10.24.03

Madame Chiang Kai-shek, the widow of the Nationalist Chinese president who used her charm and fluent English to lobby Washington and become a driving force in Taiwan's Nationalist government, died Thursday: Madame Chiang Kai-Shek Dies in NYC at 105


10.23.03

What started as a simmering concern among a handful of well-connected area residents has erupted into a full-fledged campaign to ensure that an Asian American will be among finalists for president of San Jose State University: Asian-American sought as SJSU leader finalist


10.23.03

Another inteview with Last Comic Standing winner Dat Phan: Instant Spotlight on Vietnamese American Comedian. You've got to respect a guy who reps Asian American with such purpose and resolve.


10.23.03

An opinion piece by Charlotte Sometimes director Eric Byler, talking about the sometimes strained relationships between Hapas and "full" Asian Americans, and the sexual resentment and racial prejudice that his film uncovered in the community: Race, Sex and Charlotte Sometimes. And read the interview with Eric Byler.


10.23.03

This sounds like an interesting exhibit: Bruce Lee: Icon of African-Asian Fusion. I've always been fascinated by this phenomenon—the intersection of Asian American and African American cultures, personified by the cinematic appeal of Bruce Lee (and martial arts in general).


10.23.03

It was bound to happen: Hasbro sues over gangsta rap "Ghettopoly" game


10.22.03

Interesting case involving a Korean pencil sharpener: No slack for pencil sharpener. I guess this is partly a case of cultural differences. But look at that thing! It's a schoolyard shank! In this day and age, you can't blame school officials for getting all zero tolerance on the girl...


10.22.03

The 2003 Northwest Asian American Film Festival begins tomorrow in Seattle, Washington. Highlights include NAATA's Searching For Asian America and Greg Pak's Robot Stories. Check it out.


10.22.03

9-year old Cecilia Zhang was abducted earlier this week in Canada: Kidnap for ransom being probed


10.22.03

Megan Chinen of Pasadena, CA, was named queen of the upcoming Tournament of Roses, which is part of the annual festivities
prior to the Rose Bowl: Megan Chinen named 86th Rose Bowl Queen. And why not?


10.22.03

Last week, Better Luck Tomorrow was awarded the Prism Award as the Best Film of the Year by the Minorities in Business publication at their annual awards show honoring excellence in all fields of business, entertainment and community. The film edged out the competition from Denzel Washington's Antwone Fisher, Selma Hayek's FRIDA, Mira Nair's Monsoon Wedding, and the Brazilian film City of God.


10.22.03

Another big hit last night for Hideki Matsui, who broke a 1-1 tie in the eighth inning of Game Three of the World Series with the winning single in the Yankees' 6-1 victory over the Marlins. So New York loves Matsui, aka 'Godzilla' —but enough to call him 'all-American'? Yankees' Matsui shows all-American traits. Call me bitter, and nothing aganist Matsui, but why does one have to start hitting homeruns for the Yanks to be readily called 'American'? Some people have a still hard time seeing the rest of us as American...


10.22.03

Really disturbing but powerful account of the brutal abuses committed by the 101st Airborn Division (aka, the Tiger Force) during the Vietnam War, reported by The Blade: Massacre story needs to be told... In response to the report, Vietnam's Foreign Ministry said it wanted to move forward from its war past with America: Vietnam Seeks to Move Past Reported U.S. War Crimes


10.22.03

PBS documentary on the Shaolin Monks, airing next week: Shaolin Ulysses: Kungfu Monks in America


10.22.03

For all of you who thought Kansas City Chiefs linebacker Scott Fujita was of Japanese descent: LB Fujita Becomes Emerging Star for K.C.. He's not. He was adopted by a Japanese American family.


10.21.03

Here's a roundup of various political cartoons about the China space mission... They range from racist to nationalistic, but mostly just plain stupid: CHINA IN SPACE!


10.21.03

Fourteen-year-old golf phenom Michelle Wie weighs in on Jan Stephenson's comments: 'Race doesn't matter in golf'


10.20.03

NPR's Setsuko Sato explains why a Japanese American, such as herself, reacts differently to Sofia Coppola's Lost in Translation: An Alternate View of 'Lost in Translation'. Not what I expected, but it's pretty interesting.


10.20.03

NPR has a feature on The Bridge, the latest offering from acclaimed Japanese American 'East-meets-West' jazz band Hiroshima.


10.20.03

You gotta appreciate this week's Secret Asian Man strip. It just sounds all-too-familiar... Props, Tak.


10.20.03

A grand jury will hold public hearings this week over the shooting death of Vietnamese woman by San Jose officer in July:Searching for answers


10.20.03

Hideki Matsui hits a 3-run homer to help the Yankees beat the Marlins in Game 2 of the World Series: Yankees 6, Marlins 1.


10.19.03

Interview with the unstoppable Margaret Cho: There's no business like Cho business


10.18.03



Gotta love those Greeks at the University of Houston... Why? Check out this picture. Doing anything October 22? Let's head on over to "Gong Chow"! It should be a blast. You've got my favorite 'oriental'-style lettering, a yellow-skinned, slant-eyed chinaman, and of course, a gong. How can you go wrong? Brought to you by the lovely ladies of Delta Zeta and the men of Sigma Nu, U. Houston. No really, whose bright idea was this? That's racist!


10.17.03

Some people would like to build a baseball diamond at Manzanar: Internment site ball diamond would be gem. It sounds like a good idea to me...


Along the same lines, check out Day of Independence, a new dramatic short from the Academy Award winning filmmakers of Visas and Virtue. The film, set in a Japanese American internment camp during World War II, "explores one family's experience and examines the sacrifices and triumphs of those who endured and survived through perseverance, courage, and the all-American game of baseball." I look forward to seeing it.


10.16.03

Cubs lost. Sox lose. The two teams I LEAST wanted to meet in the World Series have now advanced. I won't be tuning in. However, it seems that the MLB has bigger things to worry about... A Japanese woman, Juri Morioka, has filed a multimillion dollar lawsuit against Major League Baseball for fostering an environment of anti-Asian hostility while she worked for one year as an administrative assistant in the MLB's business arm. She says she was repeatedly subjected to an "unreasonable, offensive and demeaning anti-Japanese and anti-Asian hostility that pervaded the entire International Department." One executive repeatedly referred to people of Japanese ancestry with the term "Jap" or "Japs" and frequently said Japanese clients were "stupid" or "a moron." Another once said, "I hate Japanese more than Koreans." The lawsuit alleges that after she said the ethnic slurs made it difficult for her to work, an executive she had complained about retaliated against her and she was fired. Read about it here: Ex-worker accuses MLB of anti-Asian bias


10.16.03

Earlier this week, 15-year-old Chan Boonkeut was senselessly shot and killed in her Richmond, CA home. She was an honor student with aspirations to attend college, and was involved as an Asian youth activism. The shooting is believed to be gang-related, and apparently intended for her older brother. Simply tragic: Police close to arresting girl's killers


10.16.03

As a result of all the controversy, stores have pulled Ghettopoly from their shelves, online sales have been halted, and creator David Chang has threatened with legal action: Stores remove Ghettopoly, online orders shut down. The final straw? One can hope...


10.16.03

Asian American supporters of Howard Dean for President in 2004 have launched a website: AAPI for Dean


10.16.03

The Asian American Journalists Association comments on coverage of Jan Stephenson's remarks about Asian LPGA players: Where is the Outrage? That's what I'm talking about.


They've also posted a letter to Lynn Bruder, General Manager of WPHI-FM (103.0 FM), from AAJA Philadelphia chapter president, Murali Balaji, regarding racist on-air reactions to Ghettopoly: AAJA PHILIDELPHIA PROTESTS OFFENSIVE ANCHOR AND COMMENTS ON BOARD GAME


10.16.03

The Houston Chronicle offers a lame cartoon joke on China's space mission. The drawing shows an Asian newscaster, and the text reads: "And in the most unanticipated problem aboard the craft, Col. Yang reported that 30 minutes after eating his space rations, he was hungry again." I barely even understood the joke—someone had to explain it to me. Not necessarily racist, but a stupid, cheap stab at culturally-based humor. A slow news day, indeed.


10.16.03

Hey! My good pal Kristina Wong a kickass solo performer, actor, and filmmaker who runs www.bigbadchinesemama.com has a deal for you! Buy panties or a shirt to support her site—scroll down to the 7th row of shirts—and Kristina says that her alter ego performance character, Fannie Wong former Miss Chinatown 2nd Runner Up will send you a personalized postcard signed by the beauty queen herself as her way of saying thanks! Now that's value!


10.16.03

Check out Tiny Factory, a couple of guys in Queens who make some quirky t-shirts. They've got a shirt that proclaims "I'm not North Korean" and another that says, "They call me Bruce." Fun stuff. From the looks of things, it seems like a pretty low-budget operation, so give them support and buy a shirt.


10.16.03

Last night on the Late Show, David Letterman made a joke in his opening monologue about the Chinese space mission. He said the astronaut would not return until he'd distributed menus under every doorstep in space... Lame joke for a cheap laugh. That's racist!


10.16.03

Hey what the heck happened to The West Wing last night? The episode was supposed to feature Tony Lee as a North Korean defector. Instead, we got a Law & Order: Criminal Intent rerun. What's up with that? It seems that the episode was pulled at the last minute... perhaps to avoid the ratings onslaught from baseball playoffs? (By the way, a fat sorry to the Cubbies...)


10.16.03

Roger Ebert once wrote, "If you want to make feature films there are no jobs and no openings except the ones you make yourself." New True Talent is a non-profit Korean American production group based in Los Angeles, creating home-grown opportunities and exposure for aspiring actors and filmmakers. Check out some of their stuff on the site.


10.15.03

Here's the trailer for The Perfect Score, about a bunch of high school teens trying to outsmart (steal) the SAT. It co-stars Leonardo Nam, and from the looks of the trailer, he plays some kind of wacky slacker dude...


10.15.03

Check out Rachael Yamagata, a Chicago singer/songwriter who just released her debut EP, cleverly titled EP.


10.15.03

What the hell? A Sixteen Candles sequel! 32 Candles will update the lives of Sam Baker, Farmer Ted, Long Duk Dong (booo!) and the rest of the gang. The original film was based around Sam's (Molly Ringwald) 16th birthday, a day that went unobserved by her family. The made-for-television special will pick up the story around Sam's 32nd birthday. Of course, the movie has a certain significance to the rest of us because of one unfortunate name: LONG DUK DONG—perhaps one of the most infamous, offensive Asian characters of cinematic history. Well, of my generation, at least. So the big question is, will Long Duk Dong be back? And will they bring back Gedde Watanabe to play him? Stay tuned...."Sixteen Candles," 16 Years Later


10.15.03

Here's an odd Slate feature: Tokyo on One ClichÈ a Day. Monday and Tuesday's entries? Whale meat and Japanese animated porn. Ooh, those wacky Japanese. The article's overall tongue-in-cheek tone does remind me a little (and is likely inspired by) Sofia Coppola's Lost in Translation.


10.15.03

The Post reports something twisted going on in New York: EVIL 'GAME': HITTING ASIANS. Chinese immigrants who live along a stretch of the Staten Island Expressway are being targeted by a gang of teens who play a game called "knockout." The gang surrounds their unsuspecting victims, and punch them over and over again until they fall to the ground. What kind of sick game is this?? Basically, this is making sport of people, reducing them to objects. When you do that, it simply opens the door for racist violence. That's racist!


10.15.03

Something going down in Cincinnati: OTR Consultant: No Chinese Allowed. Basically, controversy over developer John Elkington, who may be hired by the City of Cincinnati to develop Main Street downtown. While he has made much his "commitment to diversity," Elkington has also said, "Chinese businessmen are hagglers. They use different math," thus need to be excluded for the development of the area, and prohibited to rent restaurants. Expect community action... That's racist!


10.15.03

Some commentary in defense of Jan Stephenson: Absurdity aside, Stephenson does have a point. You can also offer your opinion to ESPN about this whole deal: Your Turn: Was Stephenson OB?


10.15.03

Oh, I get all kinds of email...





FROM: James Stultz

DATE: Wed, 15 Oct 2003 14:06:28 -0500

TO: angryminsoo@angryasianman.com

SUBJECT: ghettopoly



So do you believe everyone that makes comments or joking about the Ghetto is Racist?!?! I believe that if you want out of the ghetto you would get out, just like homeless pieces of shit that wont get off their ass and do something about it. I have no mercy for low live scumbags and wouldn't give them a PENNY if they asked...FUCK them! Have you ever thought that some of those people love and live for the ghetto, well they do , they are just IGNORANT cause most people are! So fuck it if people want to buy this game fuck LET THEM!

"Love and live for the ghetto"?


10.15.03

Here's a particularly angry commentary on Ghettopoly, from essayist Tim Wise: Ghettos Are Not a Game: Making Money off the Misery of Others. In it, he offers game creator David Chang's contact info... phone: 866-444-3886, email: davidchang@ghettopoly.com. Damn game is racist, and he ought to hear it. And I'm told if you call, Chang will actually pick up the phone. You can let him know what you think of the game, engage in a little dialogue.


Oh, and the Organization of Chinese Americans has something to say about the game as well: OCA CALLS FOR REMOVAL OF RACIST BOARD GAME FROM RETAIL STORES



10.15.03

Here's a fun little bit from The Onion—America's Finest News SourceTM:





Bush Disappointed To Learn Chinese Foreign Minister Doesn't Know Karate

WASHINGTON, DCWhile he still plans to meet with Chinese Foreign Minister Li Zhaoxing, President Bush was disappointed to learn that the dignitary does not know karate, White House adviser Karl Rove told reporters Tuesday. "I told George that karate is an ancient martial art of Japan, not China," Rove said. "I told him that in China, many practice kung fubut I recommended that he stick to the more vital issue of relations with Taiwan and North Korea." In spite of Rove's suggestion, Bush plans to ask Zhaoxing to "do some of that Jackie Chan action."

Hilarious.


10.15.03

This is from Italy. Crazy, like out of a movie: Martial arts expert kills two raiders. What the hell?


10.14.03

The National Asian Pacific American Legal Consortium has released its fourth annual "report card" regarding the current representation of Asians Americans on prime time television. The grade? Not so good, as expected:





APAs remain almost invisible in the new fall prime time television shows on the four major networks. With the exception of NBC, the major networks have made almost no progress in providing greater opportunities for APA actors. In some cases, the numbers are actually getting worse. To the extent APA actors are cast, it is largely guest and recurring roles with few if any lines and not much investment in character development.

Read it all here: Asian Pacific American Media Coalition Statement


10.14.03

You've got to check out X.D. Lim's The Yellow Truth, a scathing short film satire of Hollywood's disregard for Asians representation. Written in 6 hours, shot unrehearsed in 9, and edited in a day, with a total budget was $45, Truth pulls no punches and makes some stinging, not-so-subtle jabs at key figures and movies in the industry. And it's an asskicker. Lim has taken a proactive approach to getting his message out there, and I've got to give him props.


You can download and view The Yellow Truth (75 MB) at

www.CommandoFilms.com/

Username: yellow

Password: truth


Download, view, proliferate.


10.14.03

Tony Lee guest stars in this week's episode of The West Wing, entitled "Han." He plays a renowned North Korean pianist visiting the White House who wishes to defect. This of course, poses a problem for the Prez. The show airs tomorrow night.


10.14.03

So really, where is the outrage over Jan Stephenson's comments about Asian golfers in the LPGA? This article hits it on the money, as though realizing something for the first time: In America, verbal attacks on Asians are not condemned nearly as often or as strongly as they should be. Read it here: Adelson: Where's the outrage? Honestly, I don't want to hang Stephenson's head on a stick, but it's ridiculous that this matter is being swept under the rug with nothing more than a weak 'apology.' Or how about her feeble defense? Please. That's racist!


10.14.03

Interesting NPR feature on Korean poet Suji Kwock Kim.


10.14.03

Bush-backed Asia bashing in the news:

U.S. Partly Blames China for Economy Woes

Bush Criticizes Japan, China on Currency



10.13.03

New York Times article on the high-profile career of Lucy Liu: The Perks and Pitfalls of a Ruthless-Killer Role. It addresses some of the issues that detractors often cite regarding her roles and particular stereotypes...


10.13.03

Today is Columbus Day, but who's celebrating? No Cheers for Columbus, Says Venezuela's Chavez. By now you probably know that the G-rated stories of Columbus you learned as a schoolkid were just sugar-coated revisions of the genocide and plunder that really occurred. If not, well, educate yourself!


10.12.03

Some reactions to Jan Stephenson's comments about Asians on the LPGA Tour:

South Korean Park disagrees and Kim provides rebuttal to Stephenson.

And Stephenson's subsequent apology: Aussie golfer says 'I was wrong'


10.12.03

An update on the James Yee case: US army chaplain charged in Guantanamo spy probe


10.12.03

Check out Later that Day, the newly-released album from Lyrics Born.


10.10.03

On September 30, Judge Timothy Lawliss denied David Wong's motion for a new trial regarding his 1987 prison murder conviction. Read up all about the case here: David Wong Support Committee


10.10.03

I've actually known about this project for a while now, but I've been reluctant to mention it... But today, I received six or seven emails about this article at Salon.com, so I can't deny it—it's got issues worth bringing up. Seems like everybody wants to know about Yellow porn. In the U.S. adult film industry, Asian women are a sexual fetish and Asian men are almost completely absent. Prof. Darrell Hamamoto wants to change that — by producing skin flicks with Asian male stars. Call it his form of Asian sexual empowerment, I guess. I certainly understand these intentions. Darrell Hamamoto is a highly regarded Asian American media scholar, and I agree that the dearth of positive, sexual media images of Asian men has perpetuated negative stereotypes. But I can't really support this project because, well, it's porn. While this project will certainly spark the dialogue it wants, I can't help thinking these high-minded goals hold a few undeniable illusions... In the end, someone gets exploited. Is the tradeoff really worth it? "As Marvin Gaye said, we need 'sexual healing,' and I'm the doctor," says Hamamoto. Now that's funny. Anyway, the Salon.com abstract is here. You have to pay to read the full article, but I've posted it for you here (Thanks, Danielle).


10.10.03

Article on Welly Yang, star of The Wedding Banquet on Broadway: WELLY THE 'WEDDING' PLANNER


10.10.03

In the November issue of Golf Magazine, LPGA golfer Jan Stephenson remarks:





"This is probably going to get me in trouble, but the Asians are killing our tour. Their lack of emotion, their refusal to speak English when they can speak English. They rarely speak. We have two-day pro-ams where people are paying a lot of money to play with us, and they (Asians) say hello and goodbye. Our tour is predominantly international, and the majority are Asian. They've taken it over."

Well, she's certainly on the money—this is probably going to get her in trouble. Yes, we are the invasion. We and our impersonal no-English ways are coming to take over your golf course, your tour, your house and eating your little dog too. That's racist!


What's also interesting are her comments on women in golf:



"The women are not the best players — the men are. The women are not the best athletes — the men are. Whether we like it or not, we have to promote sex, because sex sells. I think you have to shock."

So much for progressive thought. Read all about it here:

Stephenson to play with seniors, says Asians hurt LPGA

And here: LPGA vet: More sex appeal, fewer foreigners


10.10.03

Yuta Tabuse, 5' 9" Japanese point guard, made his debut for the NBA Denver Nuggets last night, scoring 7 pts and grabbing 3 rebounds in 11 minutes: Yuta Tabuse scores 7 pts in Nuggets 113-100 win over Suns


10.10.03

Korean-American adoptee Amy Anderson can't speak Korean, but she can make people laugh: East Meets Jest


10.09.03

Frank Silva Roque has been sentenced to death for killing Balbir Singh Sodhi during a shooting rampage four days after the Sept. 11 attacks: Man Sentenced to Death for Killing Sikh


10.09.03

Susan Choi's new novel explores the infamous abduction of Patty Hearst and the racial 1970s: 'American Woman': Days of the Cobra


10.09.03

It's funny how Connie Chung has achieved this kind of name recognition: Fox News billboard takes jab at CNN


10.09.03

Yeah, the controversy over Ghettopoly has hit the fan:

'Ghettopoly' game causes outrage

Ghettopoly is no game to outraged protesters

'Ghettopoly' is what happens when hip-hop is celebrated


10.09.03

By request, this site will now be known as Angry California Asian Man. Why? If you lived my state, you'd know.


10.09.03

I briefly spotted Francoise Yip on last night's episode of Smallville.


10.09.03

There's this Benihana'a TV commercial currently airing, most obviously influenced by Kill Bill. A white, Uma Thurman-esque woman fighting with a sword-wielding Asian dude, complete with flips and rips through rice paper. Ugh. The movie hasn't even opened yet, and it's already begun.


10.08.03

The Louisville Cardinal is running a public apology in response to the outcry over Megan Daman's previously mentioned "I Hate Cats" comic strip.



10.08.03

The following comic was published earlier this week in the Louisville Cardinal, at the University of Louisville in Kentucky: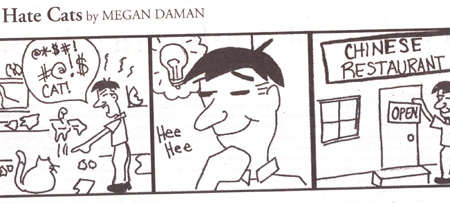 WHAT THE HELL IS THIS? Some cartoonist's sorry-ass racist attempt at humor? And who the hell is Megan Daman? Couldn't think of anything particulary funny to draw, so she fell back on the usual stereotypes. It's as though she WANTED to offend. Was that the desired effect? Well, she's got it. It's crap like this, gleefully celebrated and pointlessly published by this paper for a dirt-cheap laugh, that continually perpetuates ignorance and racism towards Asians in this country.


It's ironic that Monday's edition of the Louisville Cardinal also included an editorial about Rush Limbaugh's inappropriate racial remarks on ESPN, for which he was forced to resign. Also, on the comic's reverse page is a photo of the women's volleyball team, prominently featuring an Asian player. And the front page story covers the University's "Take Back the Night" event, protesting violence against women. So much tolerance, diversity and understanding.


How do you feel about this? I'm angry. Here are a few people at the Louisville Cardinal to talk to:


Megan Daman - Illustration Director (and Cartoonist)

illustration@louisvillecardinal.com


John Abner - Editor in Chief

editor@louisvillecardinal.com
Ken Hardin - Adviser

adviser@louisvillecardinal.com


That's racist!


10.08.03

Film Threat's review of the San Diego Asian Film Festival: THE SAN DIEGO ASIAN FILM FESTIVAL DOMINATES


10.08.03

I knew that the reaction to Ghettopoly would get intense. Not only because the game is rife with stereotypes, but because the game was created by an ASIAN AMERICAN. Some actually have taken to fighting this ignorance with MORE ignorance. I've encountered a couple of online forums where people decided that the best way to express their frustrations would be with racial slurs towards Asians. Yeah, like that's going to get us anywhere positive. A radio station in Philadelphia, WPHI 103.9, has taken a similar route. During their morning show's discussion of the game, they informed their listeners that "Asians eat dogs and cats" and told the game's creator to "go back to Vietnam," as well as other similar sentiments. Man, don't hate on Asians because one fool's indiscretions. The game is racist and offensive. The anger is justified. But these kinds of comments are just perpetuating a further cycle of ignorance and intolerance. That's racist!


Someone has started a petition protesting Ghettopoly: Ban Ghettopoly, a Racist Board Game


10.08.03

Have you bought your DVD copy of Better Luck Tomorrow yet? Bay Area, you can meet the cast of BLT this weekend at a special in-store DVD signing.
Purchase your own copy, and get it personally signed by Parry Shen, Roger Fan, Karin Anna Cheung and Evan Leong.


Saturday, October 11, 2003

One time only

4:00pm-6:00pm


Borders- Stonestown Galleria

233 Winston Drive

San Francisco, CA 94132


10.08.03

Hey San Jose, check out the Asian American Comedy Night, presented by CATS. Showcaing West Coast comedy favorites Kevin Camia, Amy Anderson and Oliver Saria. Funny.


10.08.03

Yet another article on writer Jhumpa Lahiri: Lahiri finds writing life no easier after Pulitzer


10.08.03

This woman can eat: 107-pound woman wins World Champion Barbecue Eating Contest


10.08.03

Oh, and I can't believe Gary Coleman got 12,000 votes.


10.08.03

Well, the voters defeated Prop 54. But Arnold Freakin' Schwarzenegger is now the Governor of California. Conan. The Terminator. Kindergarten Cop. I don't believe this. Personally speaking, as a Californian, it's been a hard week. Giants lose. A's lose. Recall. The only thing that could top it off is an earthquake or something. I think we're due for one over here.


10.07.03

All right, California. We've got an election today. Get out to the polls and vote! I'm voting NO on the Recall, and NO ON PROP 54.


10.06.03

The big news in California this week is the recall. SF Gate is running a series on how Californians from all walks of life feel about the whole deal. Today: Chinese Americans Campaigns fail to get in touch with voters


10.05.03

Indian American Bobby Jindal advanced to a runoff in the Louisiana governor's race Saturday after finishing first in an open primary. With 97 percent of the votes counted, conservative Republican (and former Bush administration official) Jindal had picked up 33 percent of the vote, while Lt. Gov. Kathleen Blanco held off two fellow Democrats in a close battle for second, with 18 percent. Jindal had 433,570 votes, followed by Blanco's 242,969. The two will face off in the runoff Nov. 15, and the winner will become the next governor. Some say the results signal a change in the conservative deep South, where white males have dominated politics for generations... while Jindal's success blows away expectations, I can't help having mixed feelings because he supports such extreme right wing policies. Still, it's impressive: Indian immigrants son advances in Louisiana governor's race



10.05.03

Happy Halloween. Need a costume? Why not dress up like Chinese Takeout? Man, you wish I was joking, right? No. This is for real, at $49.99. Dude, if you show up at my doorstep asking for candy, wearing this costume, I'm going to tackle you on the spot. That's racist!


10.05.03

Hey! They've got some nifty 'No on Prop 54' t-shirts over at Blacklava. Wear 'em rightly.


10.05.03

Jessica Hagedorn's new novel links the "discovery" of a Stone Age tribe with a filmed re-creation of the Vietnam War on that same island: 'Dream Jungle': Cave Men and Napalm


10.05.03

Have you heard about Lumpia? It's the totally home-grown, made-for-almost-nothing Filipino American indie film. Catch it if you can...


10.04.03

Californians, vote NO on Prop 54. I should've said this a while ago. I was waiting for a chance to write a long, sufficiently thought-out diatribe, but I'm running out of time, so here it is, simply put. On October 7, vote NO on 54. It's Ward Connerly's brainchild, the Race Privacy Initiative. According to the California Sample Ballot, State Measure 54:





Prohibits state and local governments from classifying any person by race, ethnicity, color, or national origin. Various exemptions apply.

Now, in an ideal world, that certainly sounds nice. Race privacy, steps toward a "colorblind" (what a loaded word) society. But we don't live in that kind of world. All this will do is ignore and discount important trends and tendencies within ethnic/racial groups. This will lead to decreased funding and support for various programs/research for minorities, and it'll be nearly impossible to detect disparities in education, healthcare, hate crimes, etc. For more info, visit: Defeat54.org or apasagainst54.org


VOTE NO ON PROP 54.


10.04.03

I forgot to mention last week that Ernie Reyes Jr. is also in The Rundown. You may remember him from such hits as Teenage Mutant Turtles II: Secret of the Ooze and Surf Ninjas, but best of all, the '80s television series Sidekicks. He plays a Portuguese-speaking Brazilian rebel leader guy—and kicks the crap out of The Rock. It's great.


10.04.03

Olivia Chan is one of this week's contestants in the Sports Illustrated Fresh Faces Swimsuit Model Search. And you can vote for her.


10.03.03

From today's Chicago Sun-Times: Speaking with ... Jenny Choi. Her new album is Postcard Stories, available from Double Zero Records. Yipeeee!


10.03.03

Margaret Cho's latest standup comedy CD, Revolution is now on sale.


10.03.03

Lucy Liu as Charlie Chan. I've mentioned the news and rumors about this project over the last few years... Here's some more: Lucy Liu on the New Charlie Chan Movie. In spite of my absolutely hatred for Charlie Chan, I believe if done right, this could be good. Should be an interesting effort, considering all the recently revived controversy surrounding the character.


Speaking of Ms. Liu, she was on The Tonight Show last night to promote the upcoming release of Kill Bill. I was encouraged to learn that her character, O-Ren Ishii is Chinese/Japanese AMERICAN, and makes a point of it.


If you watch any amount of television, you know they're promoting the hell ouf of Kill Bill. I know there is a fear that this movie will have a lot of problematic representations—hordes of Asian gangsters/kung fu assassins and all... But dang, it looks like really good stuff, and I want to see it. It's obvious that Quentin Tarantino has a geeky kind of love for the material he pays homage to. As a martial arts film freak, I can respect that. Exploitation? Probably. That won't stop me this time.


I've also heard that Quentin Tarantino wants to remake The 36th Chamber of Shaolin. According to Hong Kong paper Oriental Daily, the legendary Shaw Brothers have asked Tarantino to do the remake the classic film and he has agreed. In an interview he did over a year ago in Beijing, Tarantino said he'd like to do a Chinese kung-fu film. He said:





I have that thought all the time, but not this one (Kill Bill). I think I will make one in the future. Certainly will be shot in China but in American way and with Chinese American as the leads. That1s because it1s impossible to blend Hong Kong actors and (mainland) Chinese actors into the whole movie. Chinese Americans are still Americans. By this way, all characters will speak the same language with the same accent. I want to shoot something of my own.

You really gotta wonder...



10.02.03

Small write-up in Filmmaker Magazine about filmmaker Mike Kang's latest project, The Motel, now in post-production. Looking forward to it.


10.02.03

"Be Alright," the first single off Organic Thoughts' debut album, The Purest Form, drops on October 7. Check them out.


And while we're talking about hip hop, get your hands on The Movementality LP, a compilation featuring the likes of the Liwkifakshun, The Far East Movement, Kangel the Femcee, Intrikit, Hep da Tightest MC, A.W. Rousseau, The Jupitersciples and DJ Vinylfiend—The Movementality Coalition.


10.01.03

Really, what is it with Asian girls and golf? Meet Ki-Shui Liao: Role models inspire girls to hit links


10.01.03

In a surprisingly close election race, Louisiana's Bobby Jindal could be America's first Indian American governor: A Republican Surprise In Louisiana


10.01.03

Tuesday, Frank Silva Roque was convicted of murder in the slaying of a turbaned, bearded Sikh who prosecutors said was gunned down because he was mistaken for an Arab. Roque fatally shot Indian immigrant Balbir Singh Sodhi in front of the gas station he owned, four days after the September 11 attacks. He could get the death penalty: Man Convicted in Sikh Slaying After 9-11


10.01.03

Over at AsianAthlete.com, they're doing a weekly roundup of Asian American players in the NFL. There are seven, apparently.


10.01.03

Well, it's October, and you know what that means. 'Tis the season for racist Halloween costumes. There are a ridiculous number of "Oriental"-themed costumes out there. You all remember last year's "Kung Fool" travesty... these aren't quite as bad, but they come pretty close. Check out Party Lounge, where you can dress up in a variety of exotic disguises, including geishas, china dolls and samurai warriors. Disgusting. By the way, how in the world do either of those pass as a "samurai warrior"? They look like they were made from leftover material from other costumes. I don't know whether to laugh or cry. More of the same at Annie's Costumes. Ooooh. Exotic. That's racist!


10.01.03

TLC's A Wedding Story will feature a Filipino American wedding today at 2:00pm. Oh yes, the best man is none other than The Model Minority.