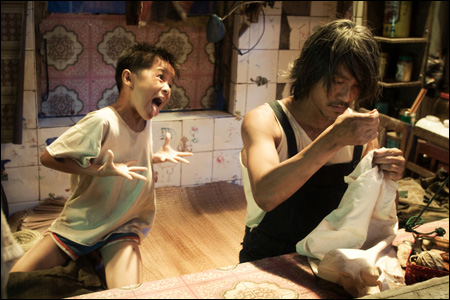 I've been meaning to post some more about Stephen Chow's
CJ7
for a little while now. The sci-fi comedy from the comic genius behind
Shaolin Soccer
and
Kung Fu Hustle
, has been apparently been making box office bank in Asia, and opens here in the States next month. Reviews have generally been good, not great. I was particularly entertained by Grady Hendrix's
review
of the film. I acually got the chance to check out the movie a couple of weeks ago, and it's... weird. A really weird, funny movie.
CJ7
is a family-oriented sci-fi comedy, sort of along the lines of
E.T.
, about a kid and a cute alien dog-like creature. Stephen Chow plays the boy's poor father, Ti, who works hard to scrape out a very humble living for themselves. The two are so poor it's funny. Unable to afford expensive cool toys for his son, Ti finds a mysterious orb at the junkyard and brings it home. The "toy" turns out to be an alien pet with extraordinary powers. Craziness ensues.
I really didn't know what to make of this weird little movie. It's kind of all over the place, bouncing somewhere between family, slapstick and dark comedy. While I'm a big fan of Stephen Chow's work, and this movie has its share of great Chow-esque moments, overall it's a bit of a disappointment. At some points during the film I was laughing my ass off, but at other moments I found myself growing impatient with the cute overload. In the end, it sort of felt like a really long advertisement for the little stuffed CJ7 toy. See the movie, and you'll know what I mean.
A special honorable mention goes to the kid who plays Chow's son Dicky, who's absolutely brilliant in the movie. He's actually played by a girl, newcomer Xu Jian. Pretty awesome, considering most of her scenes are with a CG alien dog. Anyway,
CJ7
opens in New York and Los Angeles on March 7. For more information about the movie, go
here
.