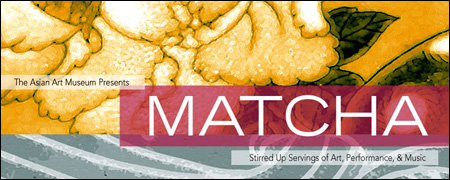 Bay Area friends, make your plans for next week... The Asian Art Museum presents its monthly art/performance/music mixer series
MATCHA
next Thursday, July 3. Kick off the holiday weekend with "Sound of the Sages," as the museum spotlights the guqin, one of China's most revered and oldest musical instruments:
Sound of the Sages
Thursday, July 3
5 to 9 pm
FREE with museum admission ($5 after 5 pm)

The guqin (goo chin, also referred to as the qin) is the most revered of Chinese instruments and China's oldest stringed instrument, with a history of some 3000 years. It became part of a tradition cultivated by the Chinese scholars and literati, and an instrument associated with philosophers, sages, and emperors. The guqin was also a very important subject in Confucius' education system. Renowned guqin performer and scholar Wang Fei guides us on a special musical journey, introducing Chinese culture and bringing to life the sound of the sages. Performing guqin masterpieces from different dynasties, she will also share the legends and folktales behind the music and intimate her own commentary and insights to bring these ancient works to present day.

Elsewhere in the museum, try your hand at brush painting, chat with a docent about the museum's special exhibition Power & Glory: Court Arts of China's Ming Dynasty, explore the scholarly arts of China in the galleries, or simply enjoy a drink with friends.

Wang Fei's performance is co-presented with the North American Guqin Association and is made possible by LIVING CULTURES GRANTS from The Alliance for California Traditional Arts (ACTA).
Another night of art, music and friends. For more information about the event, go
here
. To win tickets, go
here
. And for MATCHA's full season schedule, go
here
. This website is a proud community partner of MATCHA.