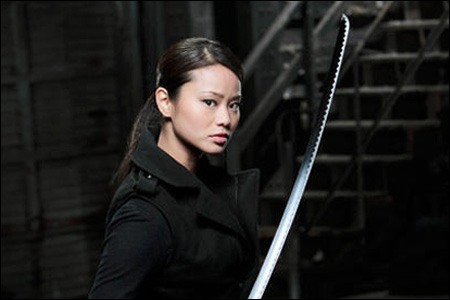 We first heard about the
Samurai Girl
project sometime last year when it was reported that ABC Family had
ordered the pilot
for the series. I've been starting to see lots promos and commercials for it, advertised as an ABC Family "Original Event." It's scheduled to premiere over three nights, starting Friday, September 5. I'm assuming if it does well, it'll end up as a full-fledged series. There's a bunch of content on the
Samurai Girl
website
here
.
Based on a series of popular
young adult novels
,
Samurai Girl
stars
Jamie Chung
as a 19-year-old Japanese girl named Heaven who discovers that the wealthy businessman who adopted her as an infant is really the head of the Yakuza(!) and had her beloved brother brutally murdered. She breaks from her family and begins training to become a
samurai
, and with the help of a group of new American friends, sets out to take down her father's evil empire.
Just the kind of feel-good show I like to watch on the ABC Family channel.Of course, in order to learn these sacred, ancient ways of the samurai, dear Heaven must train under the wise tutelage of her sensei... a white dude. Well, I guess that makes sense. Somehow.
Jack Yang
, who might forever be known as the guy who
kissed Lucy Liu
on
Cashmere Mafia
, is in the pilot as Heaven's brother... but as we already know, the brother dies.
I've heard from several fans of books, who say the story is pretty good. While I hope for the best, I get the sinking feeling that this show is going to stink. Why does every other Asian-related Hollywood project involve secret samurais and ninjas and yakuza clans? Don't get me wrong—I love a good samurai/ninja/yakuza story like the next guy. But when you have ABC Family rockin' the samurai stuff, to me, that's a red flag. We shall see.