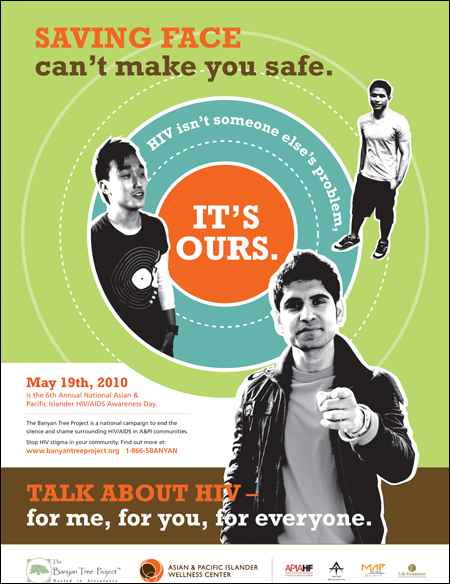 Today, May 19, is National A&PI HIV/AIDS Awareness Day. The Banyan Tree Project, which raises awareness about sexual health in API communities by addressing the silence and shame surrounding HIV, has produced a
public service announcement
. Take a look:
"Saving face can't make you safe. Talk about HIV." This year's PSA, airing nationally on television stations across the country, targets API men specifically. Here are some key facts about HIV and Asian and Pacific Islanders:


1 in 3 Asians & Pacific Islanders living with HIV don't know it




Over two-thirds of Asians and over half of Pacific Islanders have never been tested for HIV




Between 2001 and 2004, Asian and Pacific Islander men had the largest percentage increase in new HIV infections, more than any other racial and ethnic group




Between 2001 and 2006, the number of new HIV infections among young gay and bisexual Asian and Pacific Islander men more than doubled



Here's also a blog post by Dr. Howard Koh, Assistant Secretary for Health for the U.S. Department of Health and Human Services, in observance of National Asian and Pacific Islander HIV/AIDS Awareness Day:
Encouraging Asian Americans and Pacific Islanders to Talk About HIV/AIDS
.