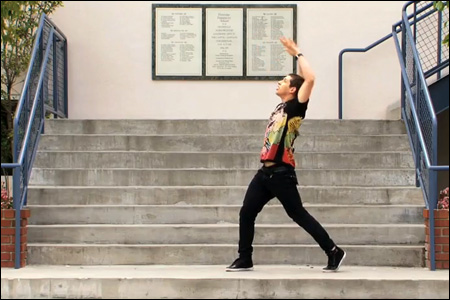 Take a look at this short film
Represent
, directed by Iris Yamashita, and produced in collaboration with You Offend Me You Offend My Family's
Interpretations
initiative. Cool little story told in just three minutes. You might recognize Yuri Tag from Kaba Modern making an appearance. Take a look:
Cool, right? Also take a look at this brief
behind-the-scenes video
on the making of
Represent
. Academy Award-nominated screenwriter Iris Yamashita, who admits she's more comfortable in front of a computer screen, talks about challenging herself by taking on the director's reins for a change:
The parameters of the Interpretations initiative are pretty simple: create a short film, no longer than three minutes, using only the following four lines dialogue, in this exact order:
It's not something I'd do.

Well?

It's not what I expected.

You sure?
Everything else -- story, characters, visuals -- is up to you. It's kind of amazing, all the different kind of work that can emerge from the same script. The "winning" filmmakers will get a bunch of cool stuff, as well as supreme bragging rights. The deadline is September 1. Get to work.
To see the full rules and guidelines, as well as more great sample works, from the likes Kenneth Bi, Wong Fu Productions, Spencer Nakasako, Danny Pudi and more, go to the Interpretations website
here
.