Ah, yes. The Hill.com's annual
50 Most Beautiful People
list, the totally serious, not-frivolous-at-all lowdown on what's really important in our nation's capital: who's hot. Check out two noteworthy names that made the
Top 10
: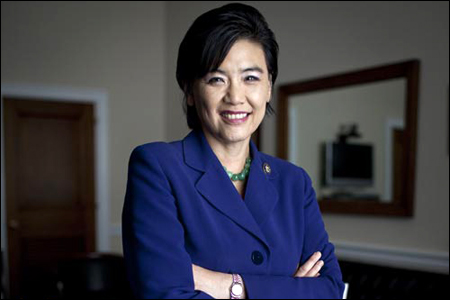 7. Rep. Judy Chu: An adventure seeker

Age: 56
Hometown: Monterey Park, Calif.
Political party: Democratic
Relationship status: Married

"Even after having traveled to far-off places like Thailand's back hills, the Normandy beaches in France and Hawaiian volcanic craters, Rep. Judy Chu (D-Calif.) says the weekly five-hour plane trips from her Los Angeles-area district to Washington, D.C., have "taken some getting used to."

Chu made history last year as the first Chinese-American woman elected to Congress when she won the special election to replace Hilda Solis after Solis became Labor secretary. She has been on a plane a lot since then, but not to the travel destinations she and her husband, Mike Eng, prefer."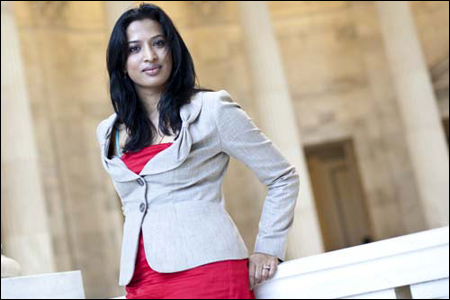 10. Anu Vakkalanka: Easy, breezy, beautiful

Age: 28
Hometown: Zoetmeer, Netherlands; and Chennai, India
Political party: "Independent, leaning on Democratic"
Relationship status: Married

"The Web address for Anu Vakkalanka's blog is perfect for her: IndianMakeupDiva.com. It's an outlet for Vakkalanka, a communications specialist for the United States Commission on International Religious Freedom, to dispense the kind of wisdom that got her onto this year's 50 Most Beautiful People list. 'I'm Indian; I came out of the womb wearing eyeliner,' she says."
To see the rest of the most beautiful people, which includes Keo Chea, Mariel Lim, Amit Bagga, Vinoda Basnayake, go to TheHill.com's list
here
. And if you just want to see pretty photos, view the 50 Most Beautiful People slideshow
here
.