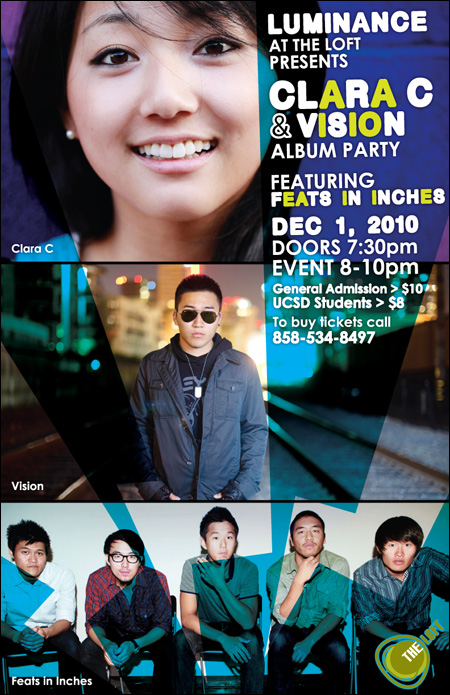 Hey,
Clara C
fans. If you're in or around San Diego, you don't want to miss Clara's all ages album release party, happening December 1 at the The Loft at UC San Diego. The evening will include an album release set from Alex Shiau aka Vision and opening act Feats In Inches. Here's an awesome
video
with the announcement, featuring Batgirl and a screaming dancing dude:
Here are some more details about the show:
CLARA C & Vision Dual Album Party ft. Feats in Inches

Wednesday, December 1
8:00pm - 11:00pm

The Loft
UCSD, 2nd Floor Price Center
La Jolla, CA

Due to popular demand CLARA C will be holding her 1st ALL AGES album party on Dec 1st 2010 at The Loft on the UC San Diego campus from 8-10pm. Clara will once again be accompanied by a full band performing songs off of her debut album, The Art In My Heart. In conjunction with Clara's performance Alex Shiau aka Vision will be doing an album release set at this show as well making this event a dual album party and a cant miss show. Lastly CLARA C and Vision are proud to have the up and coming indie band Feats In Inches (FNI) be the opening act at this dual album party.

Tickets will be $8.00 for UCSD students and $10.00 for general admission.
For further information about the show, go to the Facebook event page
here
. To purchase tickets, call the UCSD box office at 858-534-8497, or get them online from
Ticketmaster
. For more information about Clara and her music, check out her YouTube channel
here
. And if you haven't already, you must pick up her debut album
The Art In My Heart
here
.