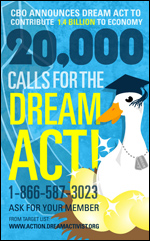 It's been confirmed that the Development, Relief and Education for Alien Minors (DREAM) Act will be voted on
today
, December 8 in the House and Senate.
If made into law, the DREAM Act would allow individuals brought to the U.S. as children, who have remained in school and are of good moral character, to work toward citizenship. They could get a green card six years after graduating from high school if during that time they continue on to college or serve in the military. Passage of the DREAM Act would not only enable these young people, who have grown up here and have worked hard, to achieve the American Dream, but to be productive contributors to the country they call their home.
There are an estimated 65,000 students who graduate from high school every year without legal immigration status, including many young Asian Americans. Take a look at this video to hear the stories of Asian American undocumented students who are actively fighting for the passage of the DREAM Act:
The time is
now
to take action on behalf of these students. If you've got the time, call your
Senators
and
Representatives
in their home offices to urge them to vote for the DREAM Act. Contact your Representative at 866-967-6018. Call your Senators at 866-996-5161. Don't know what to say? Here's a sample script:
Hello, I'm calling as a constituent of (your state) and as a member of Asian Pacific Americans for Progress (APAP) to support the DREAM Act. The DREAM ACT has significant impacts on the Asian American Pacific Islander (AAPI) community, making higher education more accessible and affordable for our youth. It would provide a pathway to citizenship to undocumented students who arrived in the U.S. before the age of 15, have lived in the U.S for at least five years, graduated from a U.S. high school and are pursuing their education or serving in the military. I call on ____ to support the DREAM Act. *Note: Be willing to give out your contact information to Congressional staffers to identify you as a constituent of their respective areas.
For more information and resources for supporting the DREAM Act, including the Congressional target list, go to
DREAMActivist.org
. Also visit the Asian American Justice Center website:
Asian American Pacific Islander Youth Urge Congress to Pass DREAM Act Today
.
UPDATE: Here is Rep. Mike Honda, chairman of the Congressional Asian Pacific American Caucus, and his statement on the DREAM Act:
I applaud Senator Reid and Speaker Pelosi for their leadership in supporting the DREAM Act. Passage of the DREAM Act is a top priority for CAPAC, as 1 in 10 DREAM Act beneficiaries would be Asian American and Pacific Islander," said Honda.

Failure to pass the DREAM Act would disproportionately impact Asian American and Pacific Islander (AAPI) students, especially in California, where more than 40% of DREAM Act beneficiaries would be Asian. 1.5 million Asian individuals make up 12.5% of the 12 million undocumented population. This is disproportionately large given that AAPIs make up only 5% of the US population.

"For many congresses, Members of our caucus have been vocal on the passage of both comprehensive immigration reform and the DREAM Act," continued Honda. "CAPAC will continue to push until the American dream becomes a reality for all our students.

"The DREAM Act would provide the opportunity to 65,000 undocumented high school graduates to make contributions to our country and economy. The legislation would make a small investment in our children; however, the gains for the country are far greater and far too inviting to ignore.

"I urge my colleagues in both Houses to do the right thing and pass the DREAM Act."
UPDATE: Here is a statement in support of the DREAM Act from the President's Advisory Commission on Asian Americans and Pacific Islanders:
The DREAM Act is good for our economy, our security, and our nation.

"Research has shown the potential of undocumented students to contribute to the economy and the U.S. workforce," said Gary Locke, Secretary of Commerce Secretary and Co-Chair of the White House Initiative on Asian Americans and Pacific Islanders. "The DREAM Act would offer a rigorous and lengthy pathway towards earned legalization that would be a powerful incentive for young people to stay in school, graduate, stay out of trouble, and contribute to the economic stability of our country."

According to a University of California report, Asian and Pacific Islander students make up approximately 40 percent of the total undocumented student population enrolled in the University of California system. Additionally, many undocumented Asian students are children of parents who have fled from war-torn countries.

"The DREAM Act would provide an opportunity for eligible undocumented students who have been raised and educated in the United States to earn legal status by pursuing a higher education, or by serving in the U.S. military," said Secretary of Education Arne Duncan, who also serves as Co-Chair of the White House Initiative. "Enacting the DREAM Act would be an important part of our efforts to meet the Administration's goal of having the highest proportion of college graduates in the world by 2020."

It is estimated that approximately 65,000 undocumented students graduate from high school each year, many at the top of their classes, but they cannot go on to pursue their dreams of higher education or continued development. According to the Migration Policy Institute, one in ten potential DREAM Act beneficiaries comes from an Asian country.

"This critical bipartisan legislation will establish a process for hardworking young people who have lived most of their lives in this country and tend to be bicultural and fluent in English to obtain legal residency if they are able to meet certain conditions," said Daphne Kwok, Chair of the President's Advisory Commission.
UPDATE: The White House Blog has posted an intelligent list of the
10 Reasons We Need The DREAM Act
.