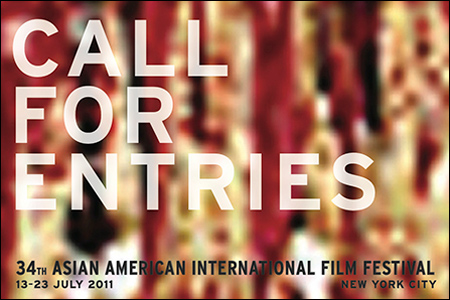 Attention, filmmakers! The 34th Asian American International Film Festival, presented by
Asian CineVision
, is now accepting entries for the 2011 edition, happening July 13-23 in New York City. They're taking shorts, features, music videos, works-in-progress and youth films (made by filmmakers under the age of 21). Here are some more details:
AAIFF'11 CALL FOR ENTRIES
July 13-23, 2011

Narrative Feature | Documentary Feature | Short Film | Music Video
Work-In-Progress | Youth Film (made by filmmakers under the age of 21)

AAIFF AWARD CATEGORIES: Emerging Director (narrative feature filmmaker), Emerging Director (documentary feature filmmaker), Excellence in Short Filmmaking, Audience Choice (feature-length film), Youth Vision One-to-Watch Award

Early Deadline (postmarked): Jan. 26, 2011
Final Deadline (postmarked): Feb. 23, 2011
They want your films! So get to work and get those works in by the final deadline. And if you submit your film through
Withoutabox
and save $5 on the submission fee. For more information on the Call for Entries, go to the Asia CineVision website
here
.