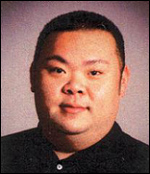 In Dallas, police have arrested Charles Edward Freeman in connection with the murder of 27-year-old Aaron Cheung, who was found dead last week with a fatal gunshot wound to the back of his head:
Arrest made in Mesquite restaurant owner murder
.
According to authorities, Cheung was robbed and killed early Sunday morning, December 12, upon returning home from Bacon & Friends, the restaurant he owned and operated. Homicide detectives now have a homeless man in custody in connection with the shooting:
Police arrested Charles Edward Freeman, 58, on Dec. 14 and have charged him with fraudulent use or possession of identifying information. He was found at a shelter Tuesday night after an officer recognized a still image of Freeman taken from a surveillance tape. He is being held on $50,000 bail.

Freeman was seen using the victim's debit card at 7-Eleven, 2800 Commerce St., on Dec. 14. Surveillance video shows Freeman buying two packs of cigarettes and some chicken wings at the downtown convenience store. According to police, Cheung's credentials had been used to make a variety of small purchases at the location over several days. Cheung's credit cards had also been used in Fort Worth, but police have yet to determine who used them in those instances.
The investigation is ongoing. According to the article, Freeman hasn't been charged yet in the robbery and murder of Cheung, but they're pretty sure he was involved. More here:
Arrest Made in Restaurant Owner's Death
.
Anyone with information about the crime is asked to contact the DPD homicide unit at 214-671-3661. There is a $5,000 reward being offered by Crime Stoppers for information leading to the arrest and indictment of the murderer.