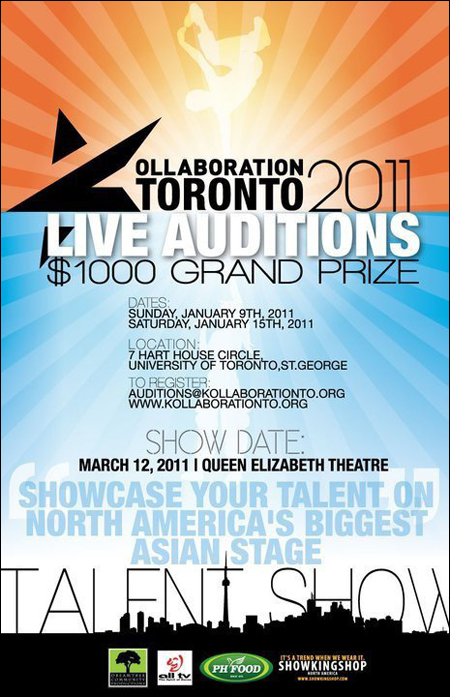 Hey Toronto! Some news from the Kollaboration movement... If you're in the area,
Kollaboration Toronto
is holding auditions for its annual Asian American talent show. They're happening January 9 and 15 at 7 Hart House Circle at University of Toronto St. George. Have you got what it takes? Here's some basic information:
Kollaboration Toronto Auditions
Dates: Sunday, January 9, 2011
Saturday, January 15, 2011
Venue: 7 Hart House Circle
University of Toronto, St. George

Attention movers, shakers, singers, musicians, etc!! KOLLABORATION TORONTO is welcoming ALL talents to audition for the 6th Annual Talent Showcasing that will take place on Saturday, March 12th 2011 at Queen Elizabeth Theatre.

Auditions will be held at Hart House (University Of Toronto, St. George Campus) on Sunday, January 9th and Saturday, January 15th. Those selected and qualified to move on, will be performing and competing at the 6th Annual Kollaboration Toronto talent show of 1200+ attendees.
2010 has been a breakthrough year for Asian in entertainment. And community movements like Kollaboration is where it all begins. It's time to get on the big stage and show everyone what you've got. For more information about Kollaboration Toronto auditions, go
here
.