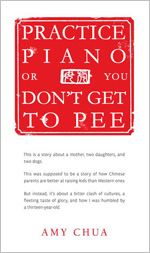 Tired of you, Amy Chua. But here are some of the various reactions to her now infamous
"Why Chinese Mothers Are Superior"
piece in the
Wall Street Journal
. Don't know if you've heard, but it kind of struck a nerve.
8 Asians :
Looking Into the Future: Amy Chua's Parenting Style
Adventures in Multicultural Living:
There are other ways of being a Chinese mother than Amy Chua's Tiger Mother
The Antisocial Ladder:
Someone Put Tiger Mother Back in her Classist Cage
The Atlantic - Julianne Hing :
Thoughts From the Daughter of a Chinese Mother
bigWOWO:
Amy Chua: Chinese Conceit, Chinese Ignorance, and the $24,000 question
Got This Blog On Lok:
I'm a Chinese Parent, Raised by Chinese Parents...
Hyphen:
'Why Chinese Mothers Are Superior': We'll See
Jen Kwok:
Amy Chua is Not Superior
K-12 News Network:
Dear Asian America: Forget Chua's Book, This is Our "It Gets Better" Moment
More Than Serving Tea:
Why I Would Never Claim to Be Superior, Especially As a Mother
Nikkei View:
A Chinese mother explains why being a hard-ass Asian parent is better for your kids than Western coddling
Quora - Christine Lu:
Is Amy Chua right when she explains "Why Chinese Mothers Are Superior" in an op/ed in the Wall Street Journal?
Resist racism:
P.S. You suck
Sepia Mutiny:
Why Desi Mothers are Superior (Or Not)
Slate - Nina Shen-Rastogi:
What Kind of Chinese Mother is Amy Chua?
You Offend Me You Offend My Family - Elaine:
Double Happiness: Why Amy Chua is The Panda Express of Chinese Moms
You Offend Me You Offend My Family - Philip:
In Defense of Amy Chua a.k.a. MILF-y, Angry, Overachieving Chinese Mother