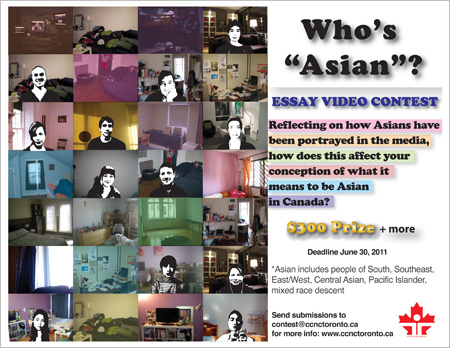 Here's an opportunity for my people in Canada... The Chinese Canadian National Council Toronto Chapter is seeking submissions for their essay/video contest,
Who's "Asian?" Reflections on Race and Identity in the Media
. I think some of you readers might have a thing or two to say on this topic.
The contest was inspired by CCNCTO's campaign against
Maclean's
controversial "Too Asian?" article published last November, which sparked a great deal of discussion and debate. The purpose of this contest is to keep that discussion going. Here are some more details about the contest:
Who's "Asian?" Essay/Video Contest
Reflections on race and identity in the media

"Too Asian"?
Tiger Moms
"Those Oriental people work like dogs."
"Ching chong ling long ting tong"
...the list goes on.

Surprised? Angry? Empowered? Intrigued?
Or all of the above?

CCNCTO wants to hear what you have to say! We are now accepting submissions in three categories: English (Written), Chinese (Written, Simplified/Traditional) and YouTube Videos.

Whether it's a blog, vlog, essay or scripted play with sock puppets, we're looking for thoughtful, critical and innovative discussions in response to the following question: Reflecting on how *Asians have been portrayed in the media, how does this affect your conception of what it means to be Asian in Canada?

*Asian = South/Southeast/East/West/Central Asian, Pacific Islander, mixed race, etc.

Deadline for submissions: June 30th, 2011

Prizes include:
$300 cash prize, passes to the 2011 Toronto Reel Asian Film Festival...and more!

Also, the editors' pick for best English written submission will be published either in print and/or on the Ricepaper Magazine website!
It looks like their looking for a pretty broad spectrum of submissions, so you've got a lot of freedom to do something creative. So what have you got to say, Canada? For further information about the contest, including guidelines, prizes and judging, go to the Chinese Canadian National Council Toronto Chapter
website
or email contest@ccnctoronto.ca.