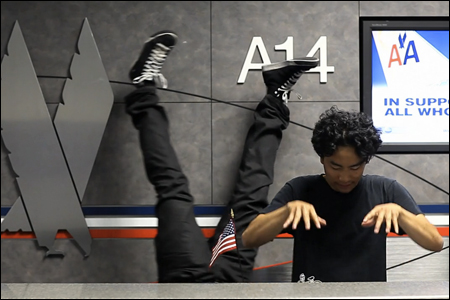 I've been seeing this video all over the place... So your flight's been canceled. You and your buddies find yourselves stuck overnight in a deserted airport terminal. You're bored out of your mind. And you happen to be traveling with a ton of camera equipment. What do you do? These guys made a short little movie,
Stuck
, and it's rather amusing. Take a look:
These crazy dudes are photographers Joe Ayala and Larry Chen, who had some serious time to kill at Dallas Fort Worth, and turned a deserted terminal into their playground -- and
filmed it
. Props to these guys for having fun and making the best of a crappy situation. We've all been there:
While on our way home from photographing Formula Drift Palm Beach, Larry Chen and I found ourselves stranded over night in Dallas Fort Worth (DFW) as our flights home were canceled. The following is a brief summary of the events that took place that night.
The video's been getting a lot of attention, not least from folks who are somewhat appalled at the airport's lack of security while these guys were making mischief in restricted areas:
Stranded fliers' video sign of lax air security?
Dallas Fort Worth officials claim they were, for the most part, aware of what these guys were doing, and were actually kind of amused. But they do admit that security dropped the ball in allowing Ayala and Chen to enter a restaurant after business hours. That's probably not going to happen again. More here:
Humorous airport video no laughing matter for DFW officials
.