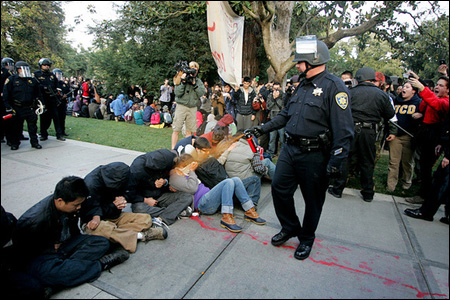 The Life of a Photo: The Pepper-Spraying Policeman
:
The Atlantic
interviews Brian Nguyen, the student photojournalist who took the now-infamous picture of Lt. Pike unloading a can of pepper spray on Occupy protestors at UC Davis.
Jean Quan and the Death of Asian America
: "Quan's involvement in the decisions of October 25 prompted international condemation, as well as ridicule by the likes of Jon Stewart and Keith Olbermann. But perhaps the most damning criticism came from a group of Asian American Oakland residents who were just as excited about her election as I was."
Growing numbers of Asian Americans run for Congress
: A record number of Asian Americans are running for Congress next year, reflecting population gains and a growing sense of the need to flex political muscle.
Did a Novel Foreshadow The Liu Fundraiser Scandal?
Jeff Yang's Speakeasy column points out the eerie similarities between the current scandal plaguing New York City comptroller John Liu and the basic plot of Chang-Rae Lee's 1995 debut novel
Native Speaker
.

My TEDx Talk, "How I Stopped Worrying and Learned to Love Discussing Race."
: Here's video of our friend Jay Smooth dropping some knowledge, giving an awesome presentation last month at Hampshire College on talking about race.
Sorrow lingers after soldier's death
: Nearly a year later, Tam and Amy Nguyen continue to mourn the loss of their son, 21-year-old Marine Cpl. Tevan Nguyen, who was killed last December in Afghanistan.
Asian American Entrepreneurship: An Asset to the Nation's Economy
: "November is National Entrepreneurship Month. Asian American entrepreneurs can lay claim to a track record of achievement, innovation, and value creation -- entrepreneurship is core to the Asian American experience. It is the most celebrated and cherished ethos of this fastest growing community in the U.S."
All dogs originated in one tiny part of East Asia
: If man evolved in Africa, where did man's best friend come from? Scientists thought the first dogs came from the Middle East, but a new study of dog genetics suggests they actually come from one small region of modern China.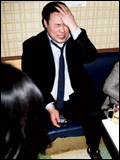 The Hangover Part III
: A
GQ
writer tagged along with comedian Aziz Ansari, top chef David Chang, and LCD Soundsystem's James Murphy as they partied through Tokyo, "the drunk-karaoke capital" of the world.
PHOTO EXCLUSIVE: A Two-Show Day at Broadway's Chinglish With Johnny Wu
: Johnny Wu, who takes on multiple roles in the Broadway production of David Henry Hwang's new comedy
Chinglish
, offers Playbill.com readers an exclusive look at a recent two-show day, from morning wakeup to final journey home.
Katy Perry At The AMAs: If It's Asian, It Must Be Geisha
: Disgrasian takes issue with everyone who carelessly (and stupidly) described the Asian-inspired dress Katy Perry wore to the American Music Awards as "geisha."
Donald Glover aka Childish Gambino really loves Asian Girls
: Our friend Daniel Matthews reflects on the music of rapper Childish Gambino, aka comedian/actor Donald Glover, and his expressed love of Asian women.
Original Offenders: Larry Shinoda
: Philip of YOMYOMF pays tribute pioneering Japanese American automobile designer Larry Shinoda, who is responsible for iconic looks of the 1963 Corvette Stingray, Mako Shark I and II, the Boss 302 and 429 Mustangs, Jeep Grand Cherokee, and the Corvair Super Spyder.