Five Signs You May Have a Sriracha Problem
: Are you guilty? This guide will help you come to terms with your addiction.
The Altered Reality of 'K-Town'
: Is this empowerment? Oliver Wang wonders if he'll be watching L.A.'s K-Town reality series, which substitutes the model minority stereotype with a different set of caricatures.
The 'Yo, Is This Racist?' Month in Racism for May: The Color of Wackness
: Blogger Andrew Ti rounds up May's most racist acts.
Hey Zynga, Cut It Out With This "Far East" Crap
: It isn't cute; it's racist.
Race + Burlesque: Dita Von Teese Dons Yellowface
: The Shanghai Pearl and fellow burlesque performers discuss in-depth Dita Von Teese's "Opium Den Show," which from the title alone should tell ya it's pretty damn racist.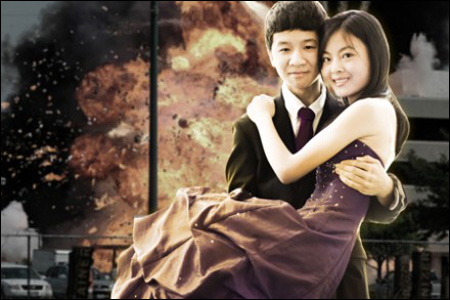 On Proms and Protocols - Figuring out the rules and creating new paths
: Frances Kai-Hwa Wang shares a crazy awesome prom photo, using the opportunity to recall and reflect on growing up Asian American, going to prom, and her own teenage awkwardness.
Is it Fair for Chefs to Cook Other Cultures' Foods?
Food personalities Francis Lam and Eddie Huang have a frank, colorful discussion -- "immigrant son to immigrant son, food-lover to food-lover, Chinaman to Chinaman" -- on what it's like to have your food shunned and celebrated in America.
Today is a Good Day
: An excerpt from trauma surgeon Dr. Peter Rhee's commencement speech to graduates of the University of Arizona.
L.A. Gay Pride 2012: Novelist Noel Alumit Answers 'What Does It Mean To Be Gay?"
: Noel Alumit reflects on attending his first Gay Pride parade and coming out to his Filipino American family.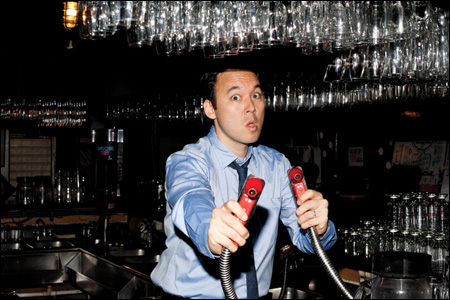 Byrne, Baby, Byrne
:
KoreAm's
cover story on comedian Steve Byrne, star of the new sitcom
Sullivan & Son
, premiering next month on TBS.
Christine Ha is MasterChef's first blind contestant
: Christine Ha gradually lost her eyesight to a degenerative disease, but her blindness doesn't deter her from competing on
MasterChef
.
'In Person: Jane Park shines with nail polish startup
: Meet Jane Park, former Starbucks executive and founder of Julep, a Seattle-based nail salon boutique and online shop.
Surfer, 13, hasn't missed a day in a year
: 13-year-old Megan Roh has her eye set on the world championship, and hasn't missed one practice yet.
College freshman at age 9, medical degree at 21
:
Doogie Howser
ain't got nothing on Sho Yano, who not only finished medical school at 21, but is also an accomplished pianist and holds a black belt in tae kwon do. Badass.
Blue Scholars' Prometheus Brown writes a song for the city
: After people were gunned down in Seattle neighborhoods,
The Seattle Times
asked Prometheus Brown of Blue Scholars to write a guest column. The op-ed turned into a song and performance video.
Indians, Taiwanese among California's most educated
: New research shows disparities in education among Asian Americans when you look at specific ethnicities within the group.
'Life Behind The Lobby' Of Indian-American Motels
: Did you know that one of two motels in the U.S. are owned by Indian Americans? Pawan Dhingra's
Life Behind the Lobby
explores how this came to be.
Chinese Restaurants In LA: David R. Chan Has Eaten At Over 6,000 Local Chinese Restaurants
: David R. Chan is an accountant and attorney who's been scouting Chinese restaurants in the L.A. and San Gabriel Valley since 1951 -- and organizing his lists on Excel spreadsheets. Not only is he seeking deliciousness, but he's also documenting history.