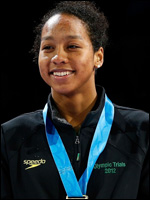 There will be lots of Olympics news coming your way soon. Here's one story I'll be watching when the London games kick off at the end of the month...
Last week at the U.S. Olympic swim trials, 17-year-old Lia Neal came in fourth in the 100-meter freestyle finals, earning herself a spot on the Olympic team:
NYC's Lia Neal an Olympian after 4th-place finish
.
Neal, who is half-African American and half-Chinese, became only the second African American woman to make a U.S. Olympic swim team:
The first black woman to make the U.S. Olympic swim team was Maritza Correia, a silver medalist in the 4x100 freestyle relay in 2004.

"I definitely knew about Maritza Correia being the first one," Neal said. "I never thought about me being the second one going into the race, but I guess that's really a cool title to have."

Neal, gold medalist in the 100 freestyle at the World Junior Championships, competed in the trials when she was 13 but didn't come close to making it out of prelims in the 50 and 100 free.

She sneaked into the 100 finals with an eighth-place finish in Friday's semifinals, at 54.60 seconds. She clocked a 54.33 on Saturday, behind Jessica Hardy, Missy Franklin and Allison Schmitt.
Neal, who hails from Brooklyn, joins a pantheon of Asian American Olympic women swimmers that includes Evelyn Kawamoto, Catherine Fox and Natalie Coughlin. More here:
Now Swimming for the U.S.: A 17-Year-Old From Brooklyn
.