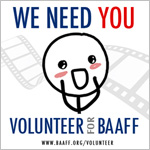 If you're in the Boston area, and want to get involved with the 2012 Boston Asian American Film Festival, they're currently looking for
volunteers
.
Presented by the Asian American Resource Workshop, it's going down next month, and there are opportunities available in a variety of festival areas. Here's a little more information:
We always welcome more volunteers! We have events going on throughout the year. Whether you want to be part of the BAAFF team or help out in a one-time event, let us know by contacting baaff@aarw.org or fill out the form below.

Host festival screenings, workshops and other activities at several established theaters in the area. Plans are being made for October 25-28, 2012, and planning meetings are underway. We are looking for volunteers interested in programming, event planning, sponsorship, and/or marketing.
The 2012 Boston Asian American Film Festival is scheduled for October 25-28. For further information, email baaff@aarw.org or fill out the volunteer application on the BAAFF
website
.