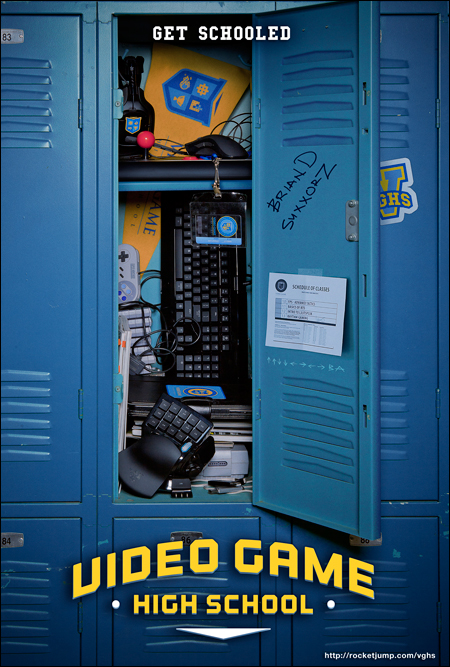 Last summer, popular online filmmaker Freddie Wong released his hit webseries
Video Game High School
, an action/comedy about "best friends, first loves and landing the perfect head-shot." The first season is now available on
DVD
and
Blu-ray
as a full-length feature with over two hours of behind-the-scenes materials and bonus content. Here's the
trailer
:
And here's a little bit more information on the series:
Video Game High School is a feature-length action/comedy about best friends, first loves, and landing the perfect head-shot. The show combines high school drama with explosive action in the heightened world of video games, from high-octane racing games to explosive first-person shooters. It's Harry Potter meets Glee - but with death matches instead of Madonna covers! Set in the near future where professional video gamers and leagues have supplanted professional sports as the biggest spectator events in the world—gamers are the new super athletes.

The story follows Brian, a young FPS (First Person Shooter) player stuck in a town where he doesn't belong. His fortunes change when he scores a massive kill against the world's top amateur player: VGHS senior "The Law." Brian rockets into the national spotlight and lands an invitation into the hallowed halls of the exclusive VGHS. There his skills are tested as he fights to fit in with the most talented gamers in the world. Along the way he makes unlikely friends, falls in love with no-nonsense FPS hot shot, Jenny Matrix, and faces powerful enemies - namely The Law, who vows to destroy Brian for good. Will Brian's dreams end before they've even started? Or will he pull it together and become the gamer he was born to be?
The perfect gift for fans of video games, action comedies and the films of FreddieW. Get it on DVD and Blu-ray, as well as video on demand platforms such as iTunes, Sony, Vudu, Amazon Instant Video, Cinemanow and Google Play. And for more
Video Game High School
swag, visit the
RocketJump online store
.