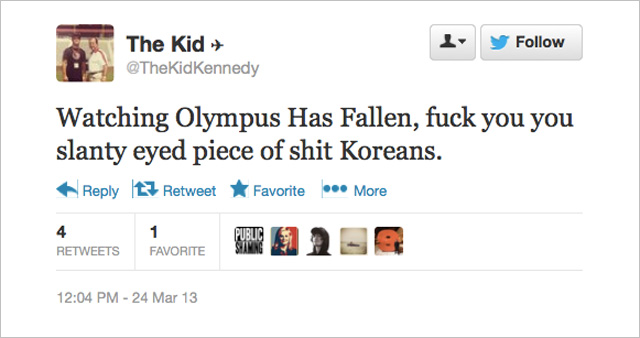 Public Shaming: Olympus Has Fallen
: Wondering what movie to see this weekend? Look no further than the film about North Korean terrorists invading the White House. The racists on Twitter have spoken.
In a Room Full of Naked Koreans, Margaret Cho's Body Is an Unwelcome Sight
: Margaret Cho recently went to a Aroma Spa and Sport in L.A.'s Koreatown, and was told that her tattoos made the other guests uncomfortable. Cho talks back.
The New Change Agents: Lisa Lee & Lynn Chen
: Congratulations to Lisa Lee and Lynn Chen, who were profiled as "New Change Agents" by
Marie Claire
for their blog,
Thick Dumpling Skin
, which provides a venue for Asian Americans to discuss a healthy body image.
That Other School Shooting
: Jay Caspian King revisits the story of gunman One L. Goh and the mass shooting at Oikos University that happened one year ago.
This American Life: Tribes
: Filmmaker Debbie Lum appears on
This American Life
to share the story of Stephen, the white guy who only wants to date Asian women, and is the subject of her award-winning documentary
Single Asian Female
.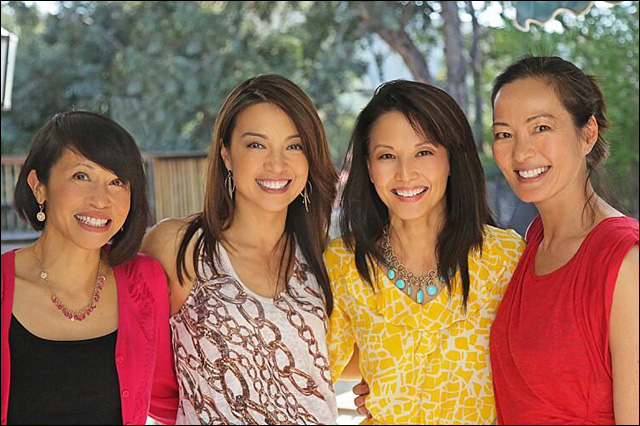 The Fabulous Women of 'The Joy Luck Club' - 20 Years Later
: Love it or hate it,
The Joy Luck Club
celebrates its 20th anniversary this year. The cast and crew recently got back together to celebrate.
Brooklyn Marine, whose symbolic toppling of Saddam Hussein statue lifted up a wartorn Iraq, has doubts a decade later
: Ten years after the U.S. embarked on war to overthrow a Middle Eastern regime and destroy a villain to America, Edward Chin, who tied noose around neck of dictator's statue, wonders, 'What did we go there for?'
Losing My Religion
: An essay from author Marie Myung-Ok Lee on navigating her own spirituality in the face of having a child with autism.
Trauma rooted in genocide, Cambodian youth confront 'historical forgetting'
: Long Beach boasts the nation's largest Cambodian American population, and many of its residents have been carrying decades' worth of war trauma and PTSD. Today, many Cambodian youth are coming together to address these issues together.
Soothing more than soles
: Christine Au, owner of Ruby Nails in Vancouver, offers free toenail clipping and pedicures to seniors who cannot do it themselves.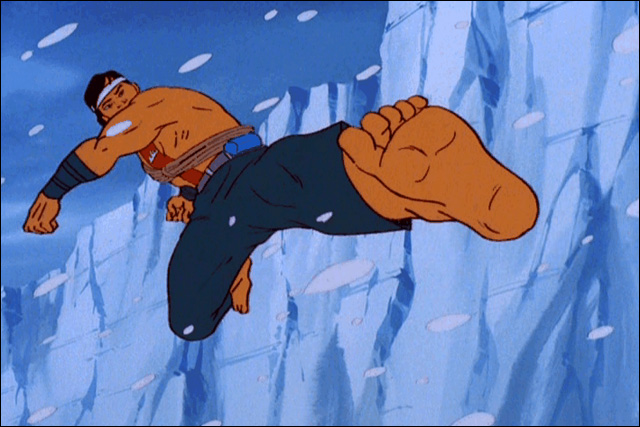 The 10 Most Useless Members of G.I. Joe
: I am deeply disappointed that Quick Kick made io9's list of the most useless members of G.I. Joe... but I sort of see their point.
Jon Chu, 'G.I. Joe: Retaliation' Director, On Making A G.I. Joe Movie That Feels Like A G.I. Joe Movie
: An interview with director Jon Chu, whose
G.I. Joe: Retaliation
is finally in theaters now.
George Takei on "Star Trek," musicals and Japanese American internment
: The man himself, George Takei, gives a TEDx talk on his memories of Japanese American internment and using social media to take Broadway to -- dare I say it? -- boldy go where no man has gone before.
Matt Lauer, Ann Curry Today Show Fallout Was "Personal": "Everybody Understood That Ann Was Kicked Out of Her Position Because Matt Didn't Want Her There"
: Ann Curry's fate on NBC's
Today
show was apparently sealed from the get-go because of the lack of chemistry between her and co-host Matt Lauer.