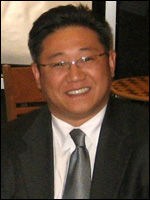 In North Korea, an American tour operator is facing indictment on charges of plotting to overthrow the government:
North Korea Expected to Indict American It Is Holding
.
Kenneth Bae, an American born in South Korea, has been detained for nearly six months. Details are unsurprisingly vague, but Bae was reportedly traveling with a group of businessman from China to the North Korean special economic zone of Rason last November, when he was taken into custody.
According to the state-run Korean Central News Agency, the government had already finished its investigation, and Mr. Bae admitted his guilt to charges that could draw the death penalty:
Bae was arrested in early November in Rason, a special economic zone in North Korea's far northeastern region bordering China and Russia, according to official state media. In North Korean dispatches, Bae, a Korean American, is called Pae Jun Ho, the North Korean spelling of his Korean name.

The exact nature of his alleged crimes has not been revealed, but North Korea accuses Bae, described as a tour operator, of seeking to overthrow North Korea's leadership.

"In the process of investigation he admitted that he committed crimes aimed to topple the DPRK with hostility toward it," the state-run Korean Central News Agency said Saturday. "His crimes were proved by evidence. He will soon be taken to the Supreme Court of the DPRK to face judgment."

Ah, yes. This is exactly what the delicate diplomatic balance between the United States and North Korea really needs. Oh, and if you're keeping count, Mr. Bae is at least the sixth American detained in North Korea since 2009. More here:
Kenneth Bae, American Detained In North Korea, Charged With Plot To Overthrow Regime
.