To nobody's surprise, racist baseball fans tweet racist things.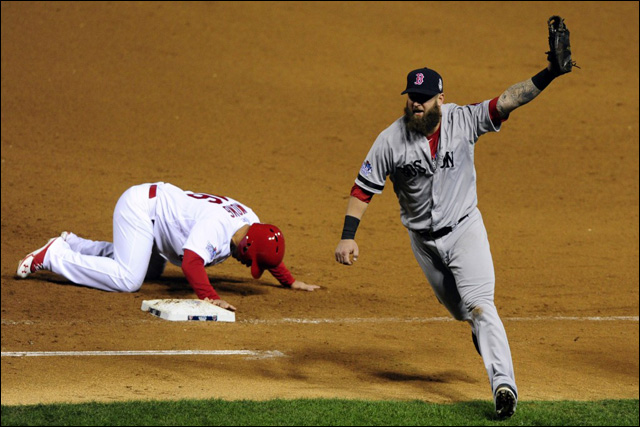 Wow. Rookie mistake. Another shocking game-ender in the one of the weirdest World Series ever. Boston took Game 4 when St. Louis Cardinals second baseman Kolten Wong was picked off first base by Red Sox pitcher Koji Uehara for the final out of the game:
Koji Uehara picks off Kolten Wong for final out of Game 4
.
Wong, a rookie from Hawaii, was pinch-running for Allen Craig, who singled earlier in the inning. Alas, with slugger Carlos Beltran at bat, Wong wasn't even trying to steal. He was just trying to get his lead for the pitch, but his
"foot slipped,"
and he wasn't able to beat the throw to first.
It was the only game-ending pickoff in the World Series history. Here's the play:
More here:
Emotional Wong laments game-ending pickoff
.
Now, this is America's pastime. And you can't have a crazy televised moment like this, involving a guy named "Wong," without a truckload of folks -- mostly angry Cardinals fans -- excreting racist shit out into the world via Twitter. Here are a few choice tweets, compiled by
@BestFansStLouis
: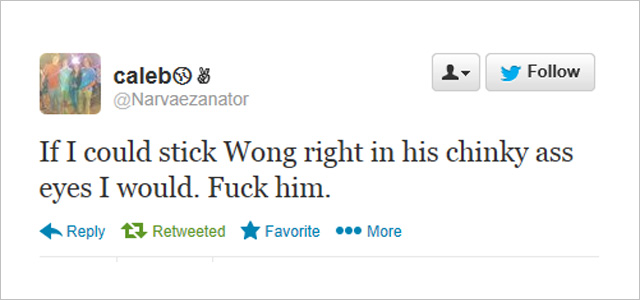 How the FUCK are you gonna get caught out like that with 2 outs in the 9th? Wong, you're fucking worthless go back to double A fucking chink

— Chris (@ChrisComebackNJ) October 28, 2013
October 28, 2013
Wong thought his eyes were closed.. They weren't... #sneakypitcher

— Caleb Reinhart (@calebreinhart) October 28, 2013
Wong needed to open his eyes. Or at least try to... #asianjoke

— Allen Rauckman (@Allen_Rauckman) October 28, 2013
Koji Uehara doesn't even open his eyes I don't even know how he could see that Wong was off first base. Luck

— Walt Jizzney (@ARlooneyWrIGht) October 28, 2013
(protected account now) RT "@Mario_Sforza And that's why you don't play Wong, because you suck dumb gook"

— Baseball's Best Fans (@BestFansStLouis) October 28, 2013
Wtf Wong.. I didn't even know we had a Chinese guy on the team

— Caitlin (@12cait) October 28, 2013
The only reason why Wong could pick him off is cuz Asians have a 180 degree vision radius with them chink eyes. Didn't have to move his head

— Josh mccallister (@jswavey5) October 28, 2013
October 28, 2013
Hey Colton looks like you made the "Wong" move #Chink

— Patch Adams (@The_Gooooooose) October 28, 2013
This behavior stopped surprising me a long time ago.