Footage shows Alexian Lien getting pulled from his SUV and beaten by bikers.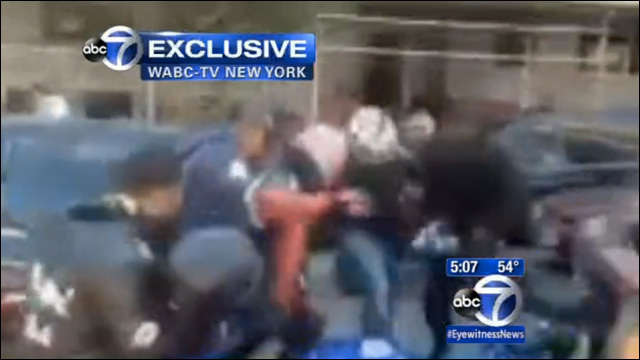 Another update on that crazy road rage altercation in New York last month, in which a pack of motorcyclists chased down a driver, pulled him out of his SUV and assaulted him... New video footage has emerged of the brutal attack on Alexian Lien:
New Video Shows Alexian Lien Pulled From SUV By Bikers And Beaten
.
For those who are not quite up to speed with this story, the abridged version... A motorcyclist, riding with a pack, brake-checks a Range Rover and gets hit. Bikers surround the SUV. The driver -- who's with his wife and 2-year-old daughter -- takes off, plowing through several motorcycle riders and sparking a crazy pursuit on the West Side Highway. Driver gets chased down, pulled out of his car and beaten in front of his family.
This week, the local
ABC news affiliate
obtained some new video of the violent attack. The footage, captured by a witness, shows bikers gathered around Lien, stomping on him and beating him:
So far, nine bikers -- including some police officers -- have been arrested in connection with the assault on Lien. Most of them can be spotted in the video. The ninth suspect,
charged earlier this week
, is 40-year-old Jason Brown, who can be seen in the footage beating Lien with his helmet. He hit Lien so hard the visor broke.
More here:
Motorcycle road rage: New video emerges
.