April 19 - July 27 at the Oakland Museum of California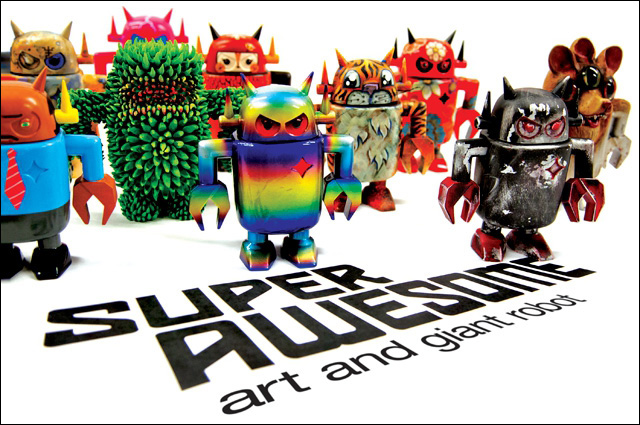 Good people of Oakland! To celebrate
Giant Robot
's 20th anniversary, the influential Asian art and culture mag is teaming up with the Oakland Museum of California to present
SuperAwesome: Art and Giant Robot
, an exhibition featuring works by fifteen contemporary artists who have been part of the magazine's social and cultural evolution. It opens Saturday, April 19:
SuperAwesome: Art and Giant Robot
April 19 - July 27, 2014

Coinciding with the 20th anniversary of groundbreaking alternative art and culture magazine Giant Robot, OMCA features the major exhibition, SuperAwesome: Art and Giant Robot featuring works by 15 contemporary artists who have been a part of the magazine's social and cultural evolution. Co-curated by Giant Robot visionary Eric Nakamura and OMCA's Associate Curator of Art & Material Culture Carin Adams, SuperAwesome presents new or recent works by California and international-based artists affiliated with the influential magazine that brought Asian, trans-Pacific popular culture to mainstream audiences in the United States.

Artworks in the exhibition represent a range of mediums, including mural art, sculpture, illustration, portraiture, large-scale installations, graphic novels, photography, and more. Featured artists include:

Ako Castuera
Sean Chao
David Choe
Luke Chueh
Hamburger Eyes
Andrew Hem
James Jeankozyndan
Masakatsu Sashie
Shizu Saldamando
Rob Sato
Amy Sol
Deth P Sun
Adrian Tomine

The exhibition also features Giant Robot magazines, ephemera, vinyl toys, custom vending machines, and the original Giant Robot Scion XB inspired by Nintendo's Famicom gaming console, designed by Eric Nakamura and fabricated by Len Higa. The car-turned-interactive gaming station boasts built-in sound and projectors, ennabling visitors to use the car to play the original game Return of the Quack by Chevy Ray Johnston with graphics by Matt Furie.

The show runs until the end of June. For more information, visit
OCMA's website
.