An Alphabet Book About Disgusting Things!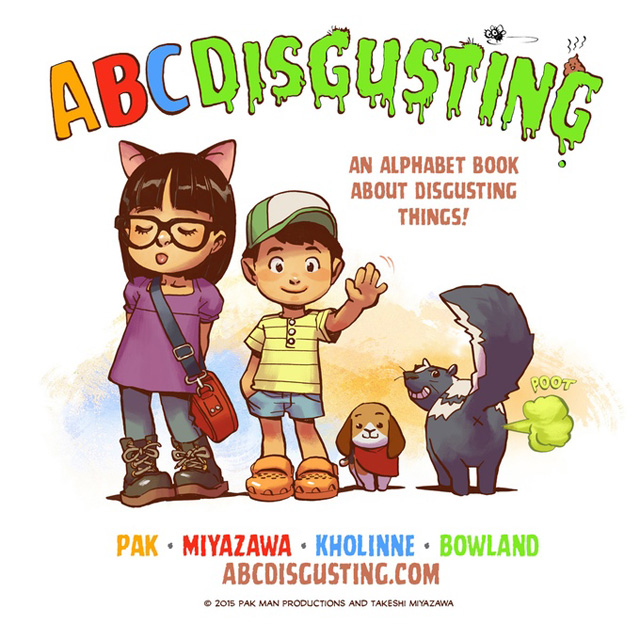 Great news from our friend Greg Pak!
ABC Disgusting
, his new children's book about disgusting things, hit its $24,000 Kickstarter goal last night. To celebrate, Greg, artist Takeshi Miyazawa, colorist Jessica Kholinne, and letterer Simon Bowland have released a lettered, colored preview of the book.
Check out the first eight pages of the book, in which a boy tries to gross out his sister with disgusting things such as anchovy ice cream, bug juice, cockroaches, and various forms of flatulence. From the awesome creative team that brought you
The Princess Who Saved Herself
.
WARNING: VERY DISGUSTING. (And maybe a little heartwarming.) INCLUDES FLATULENCE, LAMPREYS, MAYONNAISE MILK SHAKES, NOSE HAIR, ZOMBIES AND ZORILLAS.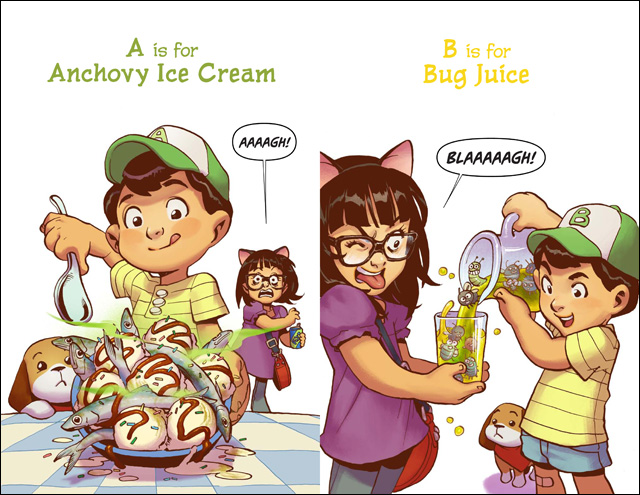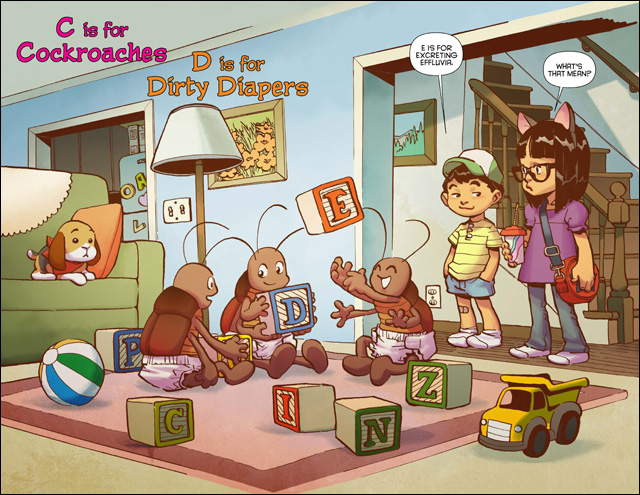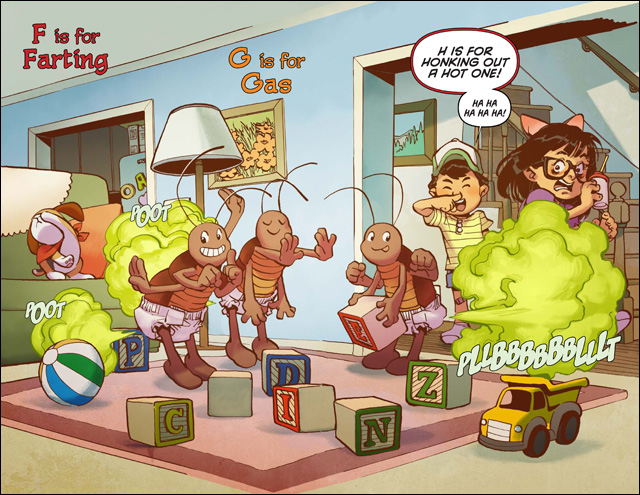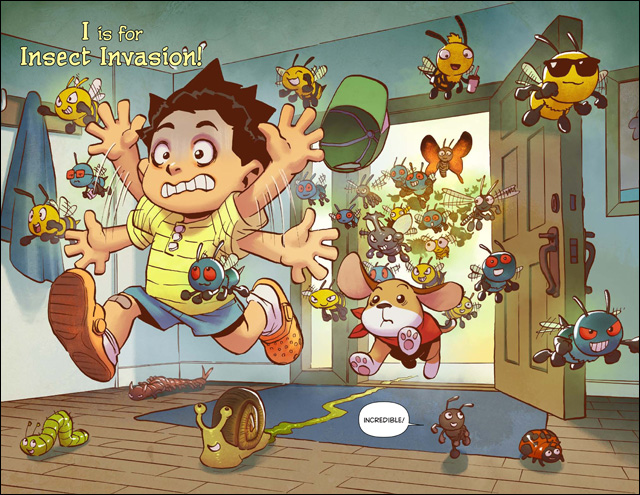 Bugs. Grooooossss!
Now that the main fundraising goal has been met, they've also announced several cool stretch goals for the rest of the Kickstarter campaign. Including stickers and an "ABC Disgusting" theme song by our pal
Jane Lui
!
$26,000 - If the funding hits this level, the team will supersize the stickers that come with all physical rewards, creating 6"x9" sticker sheets that feature multiple peel-off stickers of disgusting things drawn by Takeshi Miyazawa.

$30,000 - At this funding level, every backer will get an mp3 of an original "ABC Disgusting" theme song written and performed by the great singer-songwriter Jane Lui, whose incredible work can be viewed here: http://janelui.com and here: https://www.youtube.com/watch?v=LnqRAvOaRyI

$40,000 - At this level, every backer will get a digital copy of a WHOLE 'NOTHER CHILDREN'S BOOK written by Greg and illustrated by Tak with glorious black-and-white art! Title and story to be revealed if and when the team hits the $30,000 stretch goal.

$50,000 - At this level, Greg will eat ketchup on cantaloupe -- and post a video to prove it.

$100,000 - At this level, Greg will make and drink (part of) a mayonnaise milkshake -- and post a video to prove it.

You guys, I really want to hear the Jane Lui song. Also, I really want to see Greg eat ketchup on cantaloupe (honestly doesn't sound that bad) or perhaps drink a mayonnaise milkshake. Grooosss!
The
Kickstarter
will run until 11:59 am ET on Wednesday, July 29. At this point, the project is fully backed, so your pledge is essentially a pre-order. For further information about
ABC Disgusting
, and to pitch in and help Greg and Co. reach these awesome stretch goals, head over to
Kickstarter
.
ADVERTISEMENT