Police officer smashes car window to rescue young girl in Costco parking lot.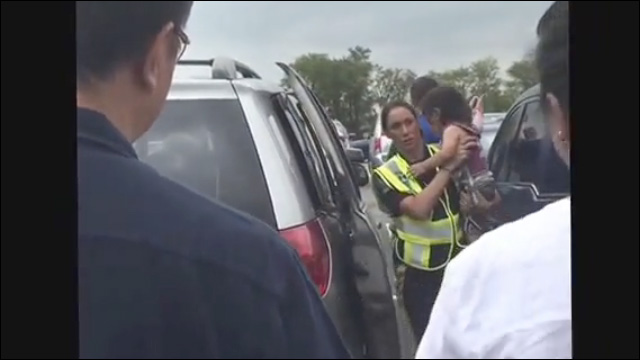 You'd think people would understand this by now. Parents and caregivers, do not leave children unattended in cars, even for the quickest errands. This week in New Jersey, a mother was arrested after leaving her young daughter unattended inside her parked minivan while she went shopping at Cosctco.
Cop rescues young child from hot van, mom charged with endangerment
On Thursday in Hackensack, a Bergen County Sheriff's officer smashed a van window to rescue a 2-year-old girl from inside a locked car parked in a Costco parking lot. According to witnesses, the child was "sweat-soaked" and crying profusely. The officer estimated it was at least 80 degrees in the van.
The child's mother, Chaeyoung Lim-Kim, returned with her shopping cart to find a crowd gathered around her car and her daughter in the arms of a sheriff's officer. She was charged with child endangerment.
Cell phone video of the scene shows two men apparently trying to pull open the window before Carrion arrives and smashes it open. A second sheriff's officer can be seen comforting and holding the child.

Rafael Rodriguez told NJ Advance Media he took cell phone video of the incident Thursday afternoon. Rodriguez said he had tried to reach through the slightly open window to pry it down, but he was unable do so.

"I was trying to force my way into the window but I couldn't get my arm through," Rodriguez said. "The child was hot and sweaty and crying."

Initially, Rodriguez said, the crowd believed another couple was the child's parents who had been locked out of the car. But when another woman showed up with another child and a cart filled with groceries, they realized she was actually the child's mother, he said.

The girl was reportedly taken to a hospital and turned over to her father.
More here:
WATCH: Sweat-Soaked, Wailing Toddler Rescued from Hot Minivan in Costco Parking Lot
FACEBOOK