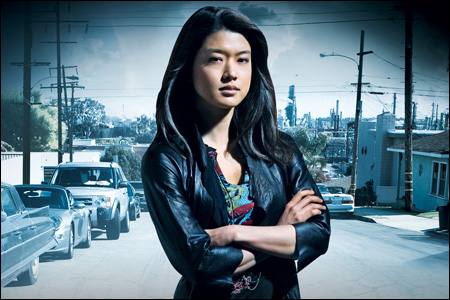 A&E's new drama
The Cleaner
, starring Benjamin Bratt, premieres tonight. The show is about William Banks, a recovering addict who is on a mission from God to help others get clean by any means necessary. The lovely
Grace Park
, from
Battlestar Galactica
, is in the starring cast as Akani Cuesta, one of the members of Banks' team. Here's her character description, from the show's website:
Akani Cuesta is the exotic beauty on William's team who is just as much one of the boys with her hardened street edge. A bit of a wild card, she enjoys her job and is good at it, but resents being monitored by William, with whom there is a hint of a past relationship. Akani doesn't need anyone's support, especially that of her wealthy estranged father, but sometimes it seems she longs for a more settled, domestic life.
"Exotic" beauty? Come on. Why can't she just be a regular beauty? Anyway, just based on the first episode, she seems like a interesting, complicated character with some reckless tendencies and daddy issues. Hopefully the show will take the opportunity to flesh out her character. At the moment, she's mainly there to look hot. Because, well... she is.
The Cleaner
airs Tuesday nights on A&E.