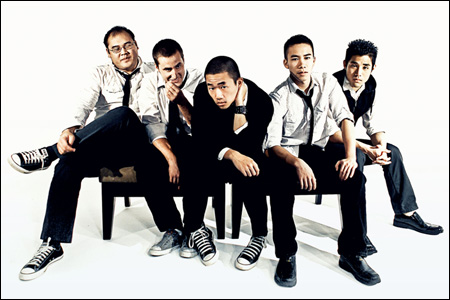 A bunch of folks have been telling me about
Tim Be Told
for the better part of a year, but for some reason, I only recently got around to hearing their album
Getting By
, and man, I'm really enjoying it. It's solid songwriting, appealing vocals and just a really hopeful, soulful sound.
Hailing from Charlottesville, Tim Ouyang, Luan Nguyen, Andrew Chae, Jim Barredo, and Parker Stanley formed Tim Be Told a few years back and have been gaining a considerable following in Virginia and beyond with their infectious pop/rock/gospel sound. My only regret is not getting to know their music sooner.
However, according to their touring schedule, it looks like I'll be able to catch them performing in a few weeks at ECAASU. Looking forward to it. Learn more about Tim Be Told, and hear some of music on their
MySpace page
. Also check out their
YouTube channel
. One of my favorite of their songs is
"Ordinary"
.