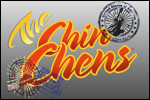 Remember that terrible-looking Asian American-themed sitcom,
The Chin Chens
? The ass-awful trailer was really all I had to see -- we'd all be better off if that thing never saw the light of day. That said, there's reportedly been some drama behind the scenes:
Three charged with fraud involving Norcross studio
.
Three people at the studio behind the sitcom, Bright Ideas Entertainment, have been charged with multiple counts of securities fraud in a scheme that allegedly cost investors more than $2 million. They apparently made some pretty hefty promises about their productions and are now in quite a bit of trouble with the Georgia Secretary of State's Office:
William Hollins, chief executive of Bright Ideas Entertainment LLC; the firm's president, Daniel High; and a lawyer, Tene Davis, are accused of soliciting investments in the company by making false assertions in contracts to convince investors their money was fully guaranteed against loss.

Hollins, High and Davis face multiple charges of theft by deception, securities fraud, selling unregistered securities and sale of securities by an unregistered agent, according to an announcement Wednesday by the Secretary of State's Office.

Bright Ideas developed two sitcoms that failed to gain traction with mainstream networks. One, "My Parents, My Sister & Me," featured actress Robin Givens.
The other show was, of course,
The Chin Chens
. I don't think any of these fraud troubles had anything to do with informing the content of the show, but just based on the footage they posted, I don't care how much money investors threw at
The Chin Chens
-- it looks absolutely dreadful.
I'm told that the intellectual property was purchased by another company,
OWOW Studios
. I don't know what their plans for the show are, but I pray that
The Chin Chens
stay hidden and buried in a deep, dark hole. (Thanks, Rodney.)