01.31.05

For all you who were wondering... according to this article, Miss Info was NOT suspended: Tsunami songsters' fate unclear. I said it before, but much props to her for sticking to her convictions through this whole thing. Seriously. Meanwhile, people at Hot 97 continue to lay blame, here, there, everywhere: Who Should Be Held Responsible?


So now what?


01.31.05

Just so you know: If you're a current or former employee of Abercrombie and Fitch, or applied for a job at A&F approximately during '99 and '04, and you want to get a piece of that discrimination lawsuit settlement, be sure to visit www.abercrombieclaims.com, the official website of the Settlement Claims Administrator. Most eligible folks should have received the paperwork by now...


01.31.05

Dude, Where's the Party? gets released on DVD tomorrow. You're wondering, dude, what movie is that? Well, it appears that the indie Desi comedy Where's the Party Yaar? has been retitled for its DVD release. Note the DVD packaging bears a slight resemblance to the similarly titled Dude, Where's My Car? DVD. Interesting... marketing finds a way of stripping a DVD of its ethnic identity.


01.31.05

Another evolution in the outcry against the "Tsunami Song." You know an Asian American cause has hit the big time when people start making t-shirts... like the NOT 97 shirt from Muck It Tees. Just so you know, 100% of the profits from these shirts will be donated to Tsunami relief. (They've got a couple of other Asian American-themed shirts too.)


01.31.05

An interesting article on the history of tensions between local Hawaiians and the military: Shared Grief Can't Mask Lingering Pain


01.31.05

If you're in New York riding the subway, and see some crazy Japanese girl dancing, it's this girl: How Q Found Her Groove


01.31.05

Okay, this is just suck ass lame. According to this gossip column, Gwen Stefani's entourage, the Harajuku Girls, are contractually barred from conversing in anything but Japanese—even though they speak perfect English. You go, girls. Working hard to keep those stereotypes alive! That's racist!


01.31.05

In Mankato, MN, the City Council will officially condemn a business that sold anti-Hmong bumper stickers: City Of Mankato Condemns Production Of Hate Stickers


01.31.05

Academy Award nominations were announced last week... As usual, Asian Americans are pretty much nowhere to be seen in the mix. Hollywood sucks.


Meanwhile, from what I hear, Sundance was a blast. Here's Washington Post article on Mike Kang's The Motel, which made its premiere at the festival: 'The Motel': Small Film, Big Dreams


Film Threat has Sundance reviews of 212, Saving Face, and The Motel.


In case you missed it, here's the American trailer for Stephen Chow's Kung Fu Hustle.


On sort of a related note, here's an interesting article on the challenges of translating and marketing foreign films for U.S. audiences: Lost (and gained) in translation


01.30.05

Yeah, everything pretty much got sidetracked by that damn "Tsunami Song." After everything that's happened in the last week, I'm sort of playing catch-up. So here are a bunch of scattered articles I've been meaning to post:


N. Sivakumar's book, Debugging Indian Computer Programmers is a light-hearted, first-person look at a touchy subject: "Dude, did I steal your job?" According to Salon.com, it's self-published torrent of insights and opinions about the lives of Indian programmers, the H-1B visa phenomenon, outsourcing, and America's hatred of outsiders. Sounds interesting...


Here's another profile on Pittsburgh Steelers wide receiver Hines Ward: First Person


5-foot-2 Natalie Nakase is the only Asian American player in the National Women's Basketball League: Trailblazer


Another promising Japanese baseball player is coming to the Major Leagues: Tadahito Iguchi officially signs with Chicago White Sox


Last week, middle schools nationwide participated in "No Name Calling Week": 'No Name-Calling Week' Begins in Schools. How about the entire year? By the way, props to Sue Anna Yeh, the 13-year-old from Sugar Land, TX who won the poetry contest.


Yet another Korean film gets the Hollywood remake treatment... The American version of Il Mare will reunite Speed stars Keanu Reeves and Sandra Bullock. I like the original film, and the pseudo sci-fi love story premise will be easy enough to translate... but Keanu and Sandra? Bleh.


Natasha Yi recently became the first Asian model on The Price Is Right. Better watch out for that Bob Barker...


You know I ain't no fan of Number 43. So I ain't much of a fan of this news: Asian Allies Welcome Bush's Second Term. Boooooooooo.


News from the North! 75-year old Chinese Canadian Normie Kwong was recently appointed lieutenant-governor for the province of Alberta: Ex-footballer Normie Kwong Alberta's new lieutenant-governor. Incidentally, Kwong was also the first Chinese person to play pro-football in the Canadian Football League, from 1948-1960, and had a Hall of Fame career.


Henry Blodget has been asked to do a feature for Slate on the Chinese economic boom, but admits he knows jack squat about almost everything Chinese. So he's putting out call for suggestions of people he should talk to and topics he should study: Go East, Young Man


01.29.05

Well, it happened. In times of controversy, things get a little hectic on the internets... and I exceeded the bandwidth quota for the site (which is crazy, because my limit is huge). Thus, the site was down for a few days. But thank you to all the concerned inquiries. To be honest, the "Tsunami Song" happened at a pretty busy time for me, and it was a struggle to keep up to date. So I don't mind the break... All good, because Jay Smooth at hiphopmusic.com has been on this thing from the beginning. A lot of what has transpired has largely been due to his efforts to galvanize concerned visitors and keep you informed (myself included). Much respect.


Out in NYC, about 200 or so people gathered in the freezing cold outside Hot 97 to protest the "Tsunami Song" and the Miss Jones morning show. Lots of good coverage here.


This is incredible. Jay Smooth has posted an Instant Messenger conversation he had with Todd Lynn from the now-suspended Morning Show. It's amazing. As the conversation progresses, the guy seems to continually dig his own grave deeper and deeper.


Major advertisers continue to withdraw ads from the Hot 97's Morning Show. The list includes Toyota, Coca-Cola, Sprint, McDonalds, H&R Block, Reebok. Although, I would assume it's pretty easy to withdraw ads from a Morning Show that currently isn't there... Keep the pressure on! Or before you know it, this thing will just blow over, and it'll be business as usual.


Here's a good read from Davey D: Hot 97-NY's Number One Station For Blazin' Hip Hop & Racial Hatred


People keep asking me, so, the Morning Show is suspended... but does that include Miss Info? I have no idea. If anyone knows, tell me what's up.


01.28.05

Sorry, this is sort of short notice... but if you're in LA, tonight's FarEast Movement's Audio Bio release party at White Lotus. With special performances by none other than Jin and Chan. For more information, visit: glamla.com.


01.27.05

Another item I didn't want to get lost in the wake of the "Tsunami Song" ...Good article on my man Snacky Chan, trying to make a name for himself in hip hop: 'I'm that gray matter ...'. He's an artist who deserves your attention.


01.27.05

I've been meaning to post this news item, but this "Tsunami Song" crap has been keeping me busy. It's important: FBI Says Boston 'Threat' a False Alarm. Apparently there is "no credibility" to the supposed threat. How do we know this? Because the tipster admitted it: Mexican People Smuggler Admits Boston Terror Hoax. It's too bad we haven't heard much about this in major news outlets. Fear sells, baby. There are probably dutiful citizens out there still keeping an eye out for them Chinee terrorists. Gotta catch 'em all!


01.26.05

So yeah, the Miss Jones morning show has been suspended... but for how long? Seems like Hot 97 was trying to keep a lid on the situation over the last week, but little by little, they finally buckled. Call me crazy, but I think it had something to with the fact that a few major sponsors started pulling out. Money talks, fool. But make no mistake, the station is hoping this incident will just sort of taper off and go away. It's important to keep the pressure on.


If you're in NYC, join the rally and protest being planned by Councilman John Liu's office in front of the Hot 97 Studio (395 Hudson Street) on Friday,
January 28th.


In addition to playing Jin's killer anti-MissJones track repeatedly this morning (some kind of self-flogging?) they also interviewed Jin himself. Listen to the clip here.


This whole thing has hit national consciousness, with media outlets reporting all over...

CNN.com
New York Daily News: How could they make fun
of such a tragedy?

The Village Voice: Hot 97 Miss-Fires With Tsunami Joke

Reuters: NY radio station apologizes over tsunami slur

Newsday: Call for federal fines, more apologies after station airs 'We Are the World' parody offensive to Asians


How about this article by David Hinckley of the New York Daily News... which characterizes the song as using a "slang term for Asians." Yo, chink is not a "slang term." Call it what it is—a derogatory racist slur.


Meanwhile, a prominent English sports commentator got fired for making a joke about the tsunami disaster: Station rebukes Marsh for comments. Wow, and he didn't even say 'chink.'


01.26.05

Well, what do you know? At 6:03 am, Hot 97 made an annoucement that the Miss Jones Morning Show has been "suspended indefinitely" because of the backlash from the "Tsunami Song" Statement from WQHT-FM, HOT 97. Listen to an audio clip of the station's announcement here.


01.26.05

Check this out! Rapper Jin answers back to Hot 97's "Tsunami Song" with an exclusive track—a call to arms, if you will: Tsunami Response. It's hot. I've had it on repeat for the last twenty minutes. Here are the lyrics:





"Home of Hip Hop and R&B" (yeah right)

What a joke

Since when was Hip Hop about being racist and being ignorant, huh?

Tell me that



I'm only gonna say this once (once)

Somebody gotta say it (word)

Check it (talk to em)



You got it twisted

If you think I'm here to cock block on a bunch of

No talent wannabe, shock jocks (nah)

And they say it's all freedom of speech

Well you just lost yours

Read 'em and weep



We won't be happy till you fired

My peoples is pissed homes

And I bet you not a soul would miss Jones (Miss who?)

My point exact

And tell the rest of your staff

That they need to clean up they act



Fuck the tsunami song

And whoever thought of it

Matter of fact, fuck the engineer that recorded it

And the brains behind the scenes that applauded it

Anything for ratings (huh)

This shit is corporate

That little bullshit statement has got to be

The world's most half assed apology



Yet thousands are still getting discovered each day

How dare you compare a life to a week's pay

Interested, y'all quick to have smack fests

But those who really need to ain't get slapped yet



And it's rare that I'm even rapping pissed

Jin is far from a human rights activist

So don't take this in a political fashion

Nope, it's just a good old lyrical bashing



In fact I'm making it a mission of mine

I won't stop till every last petition is signed

Hip Hop is designed to unify the masses

And we demand that you be denied the access (gimme that)



Radio is whack yo, somebody got to say this (say it)

Same five songs on every single play list

And bad karma is the worst way to go

So I pray that God has mercy on your soul (yeah)



I mean you knew I was going to have something to say about this whole situation

Cause for some odd reason, whenever some shit like this happens in

regard my peoples

in this society, in the media

It always manages to get swept under the rug or end up right below the

radar for some reason

Like it never happened
But let it be any other race and this shit would've been hit the fan



All my soldiers out there

It's time for our voices to be heard, yo

No more of that shit (uh huh)

But you know I got love for everybody

Whether you black, white, Hispanic

That's why I love Hip Hop cause it brings us all together

I'm just saying don't let it your peoples that they dissing next time

Making fun of they tragedies just for a cheap laugh



You sitting there like "What the fuck?"

Know what I'm saying

So yo, keep them emails going through man

Keep those complaint letters going out

Keep them phone calls going in to the radio station and the sponsors

Telling them how you feel

And what a fucked up move they made



Let them know, let them know it's about the people

And shout out to Miss Info too

Keep your head up ma (yeah)




Oh yeah and if all else fails just turn that bullshit off


"Jin is far from a human rights activist." I love that.


01.25.05

The Washington Post has an another article on Asian Americans and college admissions quotas: Quotas for Asian Americans? Yes and No. It's a follow-up to Jay Matthews' October 12 column, Should Colleges Have Quotas For Asian Americans?. It seems that we Asian Americans are as divided about the issue as anyone else...


01.25.05

Word about the Hot 97 "Tsunami Song" continues to spread. A lot of people have been dropping by the site looking to hear the song... Unfortunately, due to prohibitive bandwidth issues, I've avoided posting it. But it's important that people hear this thing, so they know what the outrage is about. If you're interested in hosting the file on your own site, I can send you the song. So everyone can hear this thing, and it doesn't just go away...


A group of NY City Councilmen had a press conference on this issue today, covered on TV by UPN 9, Fox 5, and WB 11 along with NY1 (watch it here).


The morning show continues to air this week, business as usual, with nobody suspended or removed. According to hiphopmusic.com (a site that's covered the matter pretty closely since last week), there was no discussion of the controversy except a brief apology from Miss Jones, read twice during the four-hour show. In addition, a taped apology from Program director John Dimick aired once every hour. Pretty weak. Also hearing back from some of the corporate sponsors, most notably Sprint (who is featured prominently in the infamous clip):





STATEMENT FROM SPRINT



* Sprint does NOT have any connection to the Tsunami Song aired on Hot 97 FM.



* Sprint strongly objects to any communication or other effort making light of the devastation of the tsunami disaster. The content of the "Tsunami song" clearly runs contrary to Sprint's commitment to diversity and inclusion, and is not in any way supported or condoned by Sprint. Needless to say, our hearts go out to the tsunami victims and their families -- for this and other reasons, the Sprint Foundation and our associates have worked together since the tsunami tragedy to raise funds for disaster relief efforts and will continue to do so.



*Sprint has purchased advertising time on Hot 97 but was incorrectly identified as a sponsor of the segment of the show in which the song was referenced. In any case, Sprint was unaware and had no connection to the content of the "Tsunami Song."



*Sprint has expressed our strong concern about this content to the radio station. The station has issued a public apology and appears to have disciplined the responsible parties. Sprint continually evaluates acceptable content against our own guidelines and we will continue to monitor the process with all outlets in which we advertise.


Basically, a long way of saying they have nothing to do with this, washing themselves clean of the situation. One hopes the company gave the station hell, but obviously not enough to actually withdraw advertising cash.


Here are a couple of online petitions calling for action against Miss Jones and Co.:

http://www.petitiononline.com/tsunmai7/petition.html

http://www.petitiononline.com/endhate/petition.html


That's racist!


01.24.05

A short break from the "Tsunami Song" Hate... something kinda of exciting. A blog entry by my man Mike Kang, comin' at ya straight from Sundance.


01.23.05

Check out this longer clip from the now-infamous Hot 97 morning show. It gets pretty ugly. Before introducing the "Tsunami Song," Miss Jones and co-host Todd Lynn start attacking Miss Info (who is Asian) when she vocalizes her objections to the song. They get all into it, and Miss Jones finally tells Info she's only complaining because "you feel superior, probably because you're Asian." When Miss Info stands her ground, and makes it clear that the song is offensive to Asians, Lynn says, "I'm gonna start shooting Asians." What the hell? That's racist!


This is so weak: Hot 97's Official Statement on Airing of Tsunami Parody Song


Oh yeah, note that on the clip, they proclaim that the Tsunami Song was "brought to us by" Sprint. What's that now? Here's a list of Hot 97's sponsors:





Sprint/Sprint PCS

Media Contact:

James Fisher, 202-585-1947

james.w.fisher@mail.sprint.com



Popeye's

http://popeyes.com/corp_comm.asp

Popeye's parent company: mconlon@afce.com



Reebok

Lisa Bartlett - lisa.bartlett@reebok.com



Jennifer Hawkins - jennifer@stenderhawkins.com



Reebok International Ltd.

PO Box 1060

Ronks, PA 17573



Corporate Headquarters:

Reebok International Ltd.

1895 J. W. Foster Boulevard

Canton, MA 02021

781-401-5000

ask for David Pace (atty) or Paul Fireman (CEO)



McDonald's

http://mcdonalds.com/contact/contact_us.html



Jackson Hewitt (ads on Hot97.com)

Sheila Cort - Director, Communications

Jackson Hewitt Inc.

973-496-2702

Sheila.cort@jtax.com


I'm sure they'd love to hear about the kind of quality programming their money is sponsoring.


Big thanks to hiphopmusic.com, for keeping up with all the info on this matter... This thing has kind of blown up, eh? Let 'em know what's up.


01.22.05

Oh, don't make me laugh: HOT 97's Tsunami Relief Effort


01.22.05

An update on four suspected Chinese terrorists... There's the possibility that the anonymous tip could've been a hoax: Revenge eyed as motive in terror tip. It's possible that that the tipster may have fabricated the story out of revenge, angry because a group of illegal immigrants had failed to pay for smuggling them into the country: Terror Tip Probed As Possible Revenge


01.22.05

The racist Hot 97 "Tsunami Song" I mentioned earlier this week is generating some media attention: RADIO WAVE OF ANGER OVER ASIAN SLAP. The song aired twice on the "Miss Jones in the Morning" show ths past Wednesday. Hot 97 has taken the clip down from their website, but there's a copy of the file here or here (mp3). In case you're wondering, here are the song's tasteless lyrics:





There was a time, when the sun was shining bright

So I went down to the beach to catch me a tan

Then the next thing I knew, a wave 20 feet high

Came and washed your whole country away



And all at once, you can hear the screaming chinks

And no one was saved from the wave

There were Africans drowning, little Chinamen swept away

You can hear God laughing, 'Swim you bitches swim.'



[Chorus]

So now you're screwed, it's the tsunami,

You better run and kiss your ass away, go find your mommy

I just saw her float by, a tree went through her head

And now your children will be sold to child slavery

This is jacked up, in so many ways. It's worth noting that one of that show's other hosts, Miss Info, is Asian American. Apparently, she voiced her objections to the skit and got into a heated on-air argument with Miss Jones about it. The station has apologized, and the show's entire seven-person staff has apparently agreed to contribute one-week's pay to the tsunami-relief efforts. Nice attempt at damage control. Personally, I'd appreciate a public, on-air apology.


Let those suckas know how you feel:


HOT 97

395 Hudson St. 7th Fl.

New York, NY 10014



(212) 229-9797



hot97@hot97.com

I'm not calling for an all-out elimination of the show. I'm not even saying it's not in a radio show's right to do stupid skits. I'd just like an acknowledgement that this was indeed racist and in bad taste, and you can't get away with crap like this without feeling the wrath and indignation of your audience. That's racist!


01.21.05

This weekend, indie film lovers/makers/industry folks converge in Park City, UT to kick off the Sundance and Slamdance Film Festivals... In terms of Asian/APA presence, this year's programs mark a wide array of over 30 films and filmmakers. Here's a breakdown of the lineup (though I'm not sure this is a comprehensive list):





SUNDANCE



FEATURES DIRECTORS

Gregg Araki - Mysterious Skin

Fruit Chan - Three... Extemes

Stephen Chow - Kung Fu Hustle

Jun Ichikawa - Tony Takitani

Michael Kang - The Motel

KIm Ki-Duk - 3-Iron

Lee Yoon-Ki - This Charming Girl

Anthony Ng - 212

Park Chan-Wook - Old Boy, Three... Extrems

Park Chul-Su - Green Chair

Jessica Sanders - After Innocence

Miike Takashi - Three... Extremes

Alice Wu - Saving Face

Yan Ting Yuen - Yang Ban Xi - The 8 Modelworkers



FEATURE PRODUCERS

Karin Chien - The Motel

Gina Kwon - The Motel, Me and You and Everyone We Know

Teddy Zee - Saving Face



FILMS WITH ASIAN MAIN CHARACTERS OR SUBJECTS

Ellen Perry - The Fall of Fujimori

David Redmond - Mardi Gras: Made In China



SHORTS

Alex Chung - Swim Test

Cary Fukunaga - Victoria Para Chino

Taika Waitit - Tamatu



SUNDANCE ON LINE

Maya Saya Churi - Forest Grove

Sesh Kannan - Beyond The Fire



SLAMDANCE



Lee Isaac Chung - Sex and Coffee

Anne Koizumi - Patricia Gray

Cesar Kuriyama - Awkward

Lisell Mei - Lower East Side Stories: Sofia

Teruhito Noji - Dambo

Kim Spurlock - Afternoon, Fish

Yosuki Takeuchi - Dambo


Should be a good time in Park City.


01.20.05

More on the suspected Chinese terrorists in our midst: 6 sought after tip alleging 'dirty bomb'. And another headline here: Bostonians Wary Amid FBI Manhunt, Possible Threat. Mind you, this information is coming from an anonymous, unnamed source. Hardly the efforts of credible intelligent work. Yeah, the media has done a fine job of getting the public stirred up over this one... Imagine waking up, getting your morning coffee, and finding this on the newsstand: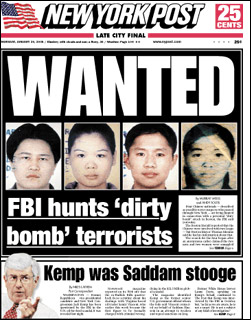 Beware!


01.20.05

Saw a commercial for this show on the Disney Channel: American Dragon: Jake Long:





"American Dragon: Jake Long tracks the comedic adventures of a Chinese American kid more interested in skateboarding than superheroics -- who makes some very cool discoveries. Not only is he descended from dragons, but when he transforms into a fire-breather, it's his duty to protect the other groups of magical creatures living secretly among Gotham's famous landmarks."

Yay, an Asian cartoon character. But why do the Chinese kids always have to be descendants of mystical dragons? Ancient Chinese Secrets, dude. Anyway, the show premieres tomorrow night.


01.19.05

Oh crap. Today, the FBI notified Boston area law enforcement to be on the lookout for four Chinese nationals described as possible terror suspects who may be headed to the area. Federal law enforcement officials in Boston said they had received a tip earlier in the day about an unspecified threat against Boston, and released photographs of the two men and two women they were seeking, identified as Zengrong Lin, Wen Quin Zheng, Xiujin Chen, Guozhi Lin: FBI alerts Boston law enforcement about four suspects. This can't be good. Of course, this will probably also mean a fair amount of paranoia directed towards us non-terrorist Asian folks in the U.S...


01.19.05

Here's a San Jose Mercury News article on Chinese music entering the mainstream, written by my pal Marian: Chinese music draws crowds in Bay Area


01.19.05

That's messed up: Man beaten by building super and a resident after putting restaurant leaflets in their Harlem complex


01.19.05

More attention on the Asian American television market: Comcast Cable Channel Targets Asians


01.19.05

Asia Pacific Arts has a really great, in-depth interview with Lost's Daniel Dae Kim. He talks about some of the issues surrounding his not-so-popular character, Jin...


I've been patiently watching the show, thinking about Daniel's character for a few months now. He mentions in the interview that some websites have started campaigns against his character. I'm not one of those sites. I know we're already halfway through the season (the fourteenth episode aired tonight), but I'm not giving up hope on this character. People have been complaining that Jin is a stereotypical domineering Asian husband, and in some respects, yes, that's true.... so far. But that would be too easy for Lost. Given the nature of the show, with all its plot twists and character revelations, I'm completely confident that all is not what it seems—everybody's got a story. No character is simply good or bad, and I'm still hopeful that Jin will be revealed to be much more complex than he currently seems. He's already shown reasonable signs of lightening up, sort of.


Daniel says it himself: there's much more to the character than meets the eye. There's some good information, in the actor's own words, over at this Daniel Dae Kim fansite: DanielDaeKim.org.


That said, where the hell has he been? The show has NOT been great to Daniel. While Yunjin Kim—who's cool—has gotten a fair amount of support screen time (and burgeoning career opportunities), Daniel had no part in any of the storyline for a loooooong stretch. After disappearing for like five episodes (where did he go? Dude, it's an island.) he finally showed up last week for a brief moment. And he was nowhere to be seen on tonight's episode. My theory? The producers and writers got cold feet. After introducing the character, they got scared by negative fan reaction. Believe it or not, the people behind the show do monitor what fans have to say, especially on the web message boards. Not really knowing what to do, they took a hands off approach. Not good. I should've done this a while ago. It's kind of late in the season, and I'm not sure if the damage can be undone, but it wouldn't hurt to put in a good word or two, and voice your support for DDK on the Lost message boards, like ABC's Lost site and The Fuselage.


It also couldn't hurt to contact ABC with positive feedback:


ABC, Inc.

500 S. Buena Vista Street

Burbank, CA 91521-4551



Audience Relations Department: netaudr@abc.com

If things keep up, I'm not sure what's going to happen to the role... The writers might give up on trying to negotiate the character, and do something drastic at the end of the season. Worse case scenario, they might kill Jin off, in some sort of heroic season finale sacrifice. And that's the last thing I want to see. I support Jin!


UPDATE: According to various web sources, Jin's "background" episode will air on February 23, and is titled "...in Translation."


01.19.05

This is absolutely idiotic. So, say you're in a small rural village in India, ravaged by the tsunami disaster. You and your people are in dire need of food, clothes and medicine. Finally, a bunch of trucks drive up with the much-needed supplies. Yay! However, the saintly nuns won't give out the food and water until you agree to convert: Villagers furious with Christian Missionaries


01.18.05

This week, the American Library Association announced that Cynthia Kadohata's Kira-Kira has won the 2005 John Newbery Medal (this is one of the most prestigious awards in childrens' literature). The book is about a Japanese- merican family struggling against prejudice, poverty and tragedy in the American South of the 1950s and '60s. Read more here: American Library Association announces award winners


01.18.05

You know, there was and is great suffering in this world, and it doesn't just begin and end with the tsunami disaster in Asia. This commentary raises an interesting point: A Wave of Apathy Over Africa's Suffering


And then there's racist "We Are The World" parody from the morning show at Hot 97 in NYC: Tsunami Song. Like I've always said, radio morning shows and late night TV talk shows—celebrated forums for ignorance. Voice your concern here: morningshow@hot97.com.


01.18.05

Idiotic comment from an idiotic column in the Orlando Sentinel:





Because of the millions of Chinese voting on the Internet, Yao Ming is leading the NBA all-star voting. OK, I can live with this obvious injustice, but David Stern better do something if Michelle Kwan ends up as the starting power forward for the West. . . .

I'm sorry, but what the hell does Michelle Kwan have to do with Yao Ming? Fool. Last I remember, she represented the United States in the last Winter Olympics... Idiot.


01.18.05

Reality TV watch... Mychael is a contestant on the CBS show Wickedly Perfect, in which "12 people with a creative knack for the finer things in life" (Martha Stewart wannabes) vie in a "no-holds-barred competition to crown the country's new authority on at-home living." No-holds-barred? Will there be a steel cage?


Oh yeah. A new season of American Idol. Will we see a new William Hung? I hope, I hope, I hope... hell no.


01.17.05

I haven't forgotten...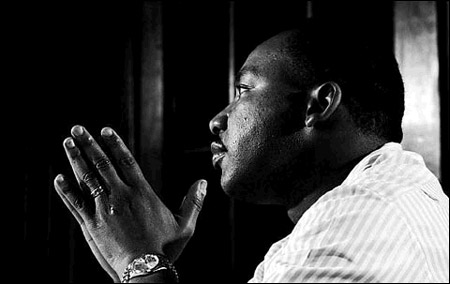 Still dreaming.


01.17.05

Here's an update on the efforts to free David Wong: Chinese Immigrant Wrongfully Convicted In America. After serving 18 years in prison for a crime he says he did not commit, David Wong took another leap toward freedom on December 10, when Clinton County District Attorney Richard Cantwell dropped murder charges against him. He now awaits the court's official ruling and faces a new struggle against a pending order of deportation. If you don't know much background on the case, visit www.freedavidwong.org.


01.17.05

AsianAthlete.com has a detailed, wordy report from the U.S. Figure Skating Championships this weekend: Kwan Wins Ninth National in a Fantastic Night of Skating


01.17.05

Hanzi Smatter has video clips from that new sitcom Committed I mentioned a few weeks back. The January 11 episode featured a story about Eddie's Chinese character tattoo... and it doesn't quite mean what he thinks it means. And if you don't know, now you know.


01.17.05

Oh hell yes. Stephen Chow's Kung Fu Hustle gets released in New York and Los Angeles on March 18, after making its U.S. debut at the Sundance Film Festival. I'll see you in the ticket line, foo.


01.17.05

Halloween is still ten months away, but that doesn't mean you can't get into the spirit. How about trying a Fee Ling Yu mask? The attention to detail is excellent—complete with buck teeth, coke-bottle glasses. Mickey Rooney should be proud. That's racist!


01.17.05

I've been hearing a lot about this new book, Sightseeing, a debut short story collection by Chicago-born, Bangkok-raised 25-year-old Rattawut Lapcharoensap. Yet another book on my list to read...


01.16.05

Whoa dude. Due to overwhelming site traffic, turbanhead.com is temporarily unavailable... I had a feeling something like that might happen. However, you can still download the racist Power 99 call clip here.


01.15.05

There's a huge televised benefit special tonight on all the major networks to raise money for victims of the tsunami disaster: Tsunami Aid: A Concert of Hope. Don't you know? Giving tsunami aid is the cool thing to do. Everybody's doing it!


01.15.05

A few articles on Michelle Wie, here: Wie represents next generation. And here: There's Wie... and there's them. Of course, the good folks at AsianAthlete.com have comprehensive ongoing coverage of the Wie at the 2005 Sony Open here and here.


01.15.04

Oh yeah. Elektra opened in theaters yesterday. Starring Jennifer Garner, versus an assload of ninja assassins. At least, that's what I can tell from trailers. Greeeaaaat. Will Yun Lee and Natassia Malthe are also in the film, with bigger roles as mystical evil Asian assassins. Greeeaaat.


01.14.05

OH hell no. Earlier this week, a Twin Cities-based Nazi group called the National Socialist Movement distributed fliers showing photos of the six slain Wisconsin deer hunters, and asking "Are You Next?" Several hundred letter-sized fliers were left on car windshields and mailboxes in a Minneapolis neighborhood, according to police: Nazi group spreads anti-Hmong fliers. That's just great. Making a bad situation even worse, and spreading out hate, one flier at a time. That's racist!


01.14.05

Compelled to Excel: Immigration, Education, and Opportunity Among Chinese Americans, a recently published book by Vivian S. Louie, suggests that socioeconomic background and racial discrimination has a strong influence on the educational opportunities of Chinese-American college students. Race and class do matter: Book Confronts Model Minority Myth. I would like to read this book.


01.14.05

Members of the Philadelphia-area Cambodian community are petitioning the mayor to remove Mahn Suh Park from his position of city liaison to the Asian community, for inappropriate remarks he made about the "Killing Fields": Petition demands the ouster of Asian American liaison


01.14.05

This week, Gary Locke stepped down after two terms as Washington's 21st governor: Locke remains political puzzle to friends, foes


01.14.05

Here's another article on Lane Nishikawa's upcoming feature, Only the Brave: Movie honors legacy of 442nd


01.12.05

Snacky Chan will be donating proceeds from his January album sales of Part of Nation to the American Red Cross Tsunami Relief Fund.


01.12.05

Tessa from New York, NY is competing for the chance to get her own show on the Food Network... but you have to vote for her here.


MetroDad, a blog about the experience of raising a Korean American girl in the city, has been nominated for Best Daddy Blog in the Best of Blog Awards 2004.


01.12.05

Ever watch poker tournaments on TV? There are a lot of them Asian players sitting at the table. Here are two different takes on Asians in professional poker... one, a lame throwaway comment on the ESPN's new drama Tilt: Too much shouting, not enough dumpy Asians. The other, a column by professional poker player Daniel Negreanu: Asian Poker Players


01.12.05

Another article on the Power 99 morning show "prank call": US RJs threaten Indian BPO worker


01.11.05

Have you heard the Power 99 clip. You know, the one where the morning show jock calls the Indian call center woman "a filthy rat eater" and threatens to "come out there and choke the F out of you." Mainstream media has picked up on the Power 99 story: Shock jocks' skit pulled by Power 99. But you know, the station's apology really doesn't cut it. Essentially, they apologized for posting the offending clip up on the station's website. A "mistake in judgment," they claim. Hell, what about Star and Buc Wild, the jocks who came up with the joke and broadcast it on the air? Seriously, that's some jacked up spin, taking the heat off them. They need to be held responsible. That's racist!


01.11.05

This is a really interesting Washinton Post article that gives a name and face to an increasing, widespread phenomenon: kirogi—Korean families that voluntarily separate and immigrate to the United States for better opportunities for their children. It's becoming more and more common: A Wrenching Choice


01.11.05

Here's an interesting political debate sparked within the California Legislature's Democratic Asian Pacific Islander Caucus... Should the five-member caucus grant a request by the Legislature's three Republican Asian Americans to be allowed to join? See here: Asian caucus weighs bid by Republicans


01.11.05

Grace Park plays Lt. Sharon Valerii in the new Sci-Fi Channel series Battlestar Galactica. The show premieres this week.


01.11.05

15-year-old golf phenom Michelle Wie returns to the PGA's Sony Open this week, and she has a good chance of making the cut: A Girl in a Man's World, Driven and Unafraid


01.11.05

It appears that Doris Matsui, widow of Rep. Robert Matsui, plans to run for her husband's seat in Congress: Matsui's widow planning to run


01.11.05

Salon.com has an interesting review of Harold and Kumar Go To White Castle, claiming that this little stoner comedy "may have said more about race in America today than any other movie of last year." (You have to get through the little commercial to read the full article.)


01.11.05

The tsunami death toll in Asia has topped an estimated 150,000. The U.N. reports that it now has about $717 million to use for relief: U.N. secures $700m for tsunami aid.


01.11.05

The Seattle Times is doing an extensive, in-depth series on the investigation of Capt. James Yee, the Muslim U.S. Army chaplain falsely accused of spying: Suspicion in the ranks


01.10.05

Laugh with me. Cry with me: William Hung stars in 'Where Is Mama's Boy?'


01.10.05

Sheriff's deputies in Mississippi arrested 80-year-old reputed Ku Klux Klan member Edgar Ray Killen on charges of killing three young voting rights workers in 1964 in one of the most notorious crimes of the civil rights era: 'Mississippi Burning' Case Reopened; 1 Man Arrested. Forty-one years later, will justice be served? Here's another article: Civil Rights Slayings Divide Miss. Town


01.09.05

Derek Kirk Kim, the genius artist behind Same Difference and Other Stories, got profiled yesterday on NPR's All Things Considered: Graphic Novelist with a Comic Sensibility. It's a short but decent interview.


01.09.05

There's a good interview with singer/songwriter Kevin So over at Gothamist.com.


01.09.05

Check it out! Jeff Chang's Can't Stop Won't Stop website has launched. His book Can't Stop Won't Stop: A History of the Hip-Hop Generation hits stores on February 1. With an introduction by DJ Kool Herc. Very cool.


01.09.05

Last week, a federal judge dismissed all charges against Katrina Leung, a Chinese American woman accused of using a sexual affair with an FBI agent to gain unauthorized access to classified documents: Charges dropped in FBI 'spy case'. Those crafy Chinese!


01.09.05

An article from the Boston Globe, telling us something we already know: Asians slow to embrace politics


01.09.05

From the floor of the California Assembly: Asian Pacific Islander Legislators Issue Statements On Death Of Congressman Robert T. Matsui


01.09.05

First Banana Bachelors, and now this: AznLover. "Putting the spotlight on the exploration of STRAIGHT ASIAN MALE masculinity and sexuality." Hey, if it makes people feel better about themselves, do what you gotta do. I suppose we all have our modes of empowerment...


01.08.05

This comes to my attention via our friends at turbanhead.com. The morning show on Philadelphia's Power 99 radio station has posted (and since removed) a racist call DJs Star and Buc Wild made to a call center operator located in India. You can listen to the clip here, in which the caller calls the operator a "dirty rat eater," among other things. Now get angry.


Here is some contact info for Power 99. Do you what you will with this information:


Power99 WUSL-FM

440 Domino Lane

Philadelphia, PA 19128


General/Business Line: 215.483.8900


Studio Hotlines:

Philly Area & Local: 215.263.6699

Worldwide: 800.669.99FM


Programming:

Director of Urban Programming/Program Director: Thea Mitchem

Music Director: Coka Lani

Morning Show Producer: Sonjie DeCaires (she does not work there anymore)

News & Public Affairs Director: Loraine Ballard Morrill


Try this number too: 215-482-7936


Once again, hate and ignorance cooked up special on morning radio. Read further, more comprehensive coverage over at Turbanhead.com


01.08.05

The enemy is among us! At least, that's what 24 wants you to believe... and fear. This is a news item from IMDb.com:





Muslims Upset by '24'

An American-Islamic group has blasted the makers of
Kiefer Sutherland's hit TV drama 24 after learning the
first episode of the new season portrays a Muslim
family as terrorists. Officials at the Council on
American-Islamic Relations were made aware of the
controversial episode after upset Muslims got hold of
a promotional preview of the show, which airs next
week. The council's spokeswoman Rabiah Ahmed says
she's particularly disturbed by one scene, in which an
American-Muslim teenager plots to kill Americans. She
adds, "It casts a cloud of suspicion over every
American Muslim family out there." Bosses at TV
network Fox, who air the show, have yet to counter the
comments.


And see this article in the New York Times: We'll Win This War - on '24'. Make no mistake: we fear extremist Islamic terrorism, and 24 is going to prey on those fears without shame. Of course, it seems the producers could care less about contributing to the overall xenophobia that exists in this country. Sucks to be your average peace-loving Muslim American family...


01.08.05

Last March, I mentioned Kim Spurlock's short film Fish, as an entry in the Slamdance Anarchy online competition. It's now a finalist, and up for voting...


01.07.05

The New York Times has a good article on Wataru Misaka, the first Japanese American to play professional basketball in the United States. In 1947, the 5-foot-7 guard played in three games for the Knicks in the Basketball Association of America (which would later become the NBA in 1949—a year before the league admitted its first black player). He's a pioneer: Size 7 Sneakers Are Still Hard to Fill


01.07.05

Another article on the late Rep. Bob Mastui: Poignant symbolism in Matsui's passing


01.07.05

There's an Asian couple, Randy & Tina, currently competing on Fear Factor.


01.05.05

Asians on TV! Rick Yune shows up tonight on the season premiere of Alias. He plays Kazu Tamazaki, who apparently is supposed to be some sort of modern-day samurai. Greaaaaat. What a freakin' awesome way to work in a samurai on a contemporary spy show. Make him a modern-day samurai. Of course. That's crafty.


Kelly Hu guest stars on tonight's episode of CSI: NY:





Wednesday, January 5, 10PM ET/PT

"Tri-Borough"

The CSIs investigate the murder of an art gallery owner in Manhattan, the mysterious death of a construction worker in Queens and the electrocution of a young man found dead in a Brooklyn subway station.

She plays Det. Kaile Maka. Call me crazy, but could it be that this episode has nothing to do with Chinatown?


01.05.05

Some further Harold and Kumar news... stars Kal Penn and John Cho are actually signed on for two sequels, and a script is currently in the works. But there's a catch... according to Penn:





"Whether or not it's going to be made depends on the financial receipts from DVD sales and rentals. There will be a very direct correlation -- so please don't download our film off the Internet. If you liked the movie, please rent or buy it -- it'll assure that we'll bring you another one next year."

Read more here: 'Harold & Kumar' Crave to Go to Amsterdam


01.04.05

NPR News with Tony Cox is currently airing a four-part, week-long roundtable discussion series on Racial Identity in Multi-Ethnic America. The panel features Richard Rodriguez, best known for Hunger of Memory; Debra Dickerson, author of The End of Blackness; Russell Means, Lakota activist, writer, and actor on The Last of the Mohicans; and Arar Han, co-editor of Asian American X, a collection of personal stories by college aged Asian Americans. Listen to the discussion here.


01.04.05

One columnist's commentary on the nuances of Bob's 26-year political career: The Matsui Generation


01.04.05

Harold and Kumar Go To White Castle gets the DVD treatment, released today in both the regular theatrical version and an "Unrated Extended Edition." I have a feeling this movie will sell pretty well.


01.03.05

Check out the official site for my man Mike Kang's feature film The Motel.


01.03.05

What the hell? While foreign tourist survivors of the tsunami disaster were put up in an international school complete with beds, TVs and Internet connections, Thais from a devastated fishing village were given no such special treatment: Thai Tsunami Victims Balk at Treatment


01.03.05

This is a very interesting development in the debate on Asian Americans and affirmative actions: Federal Court Declines to Set New Limits on Affirmative Action





"The center had argued that the law school had unnecessarily
given an edge to Asian-American applicants, and could have
enrolled a "critical mass" of such students without
considering race. (Asian-Americans accounted for 14 percent to
18 percent of admitted students in the period in question, and
would have accounted for 7 percent to 9 percent without an
edge in admissions.) ...



The Ninth Circuit panel said that the
center's lawyers seemed to assume that the category "Asian
American" was homogenous, and had failed to take into account
the educational benefits that the law school, with its
well-regarded Asian-law program, derives from having students
who traced their roots to different Asian countries with
different languages, backgrounds, and cultures.
The appeals-court panel also noted that the Supreme Court had
not assigned any numerical caps or ranges to the concept of a
"critical mass" of minority students."


Read the full article while it's still available...


01.03.05

Here's another article on the late Robert Matsui: Robert T. Matsui, 1941-2005: 'Good and decent man'. And his office's press release is available at the Congressman's official website.


Sadly, this weekend also saw the passing of ex-congresswoman Shirley Chisholm, who died Saturday at age 80. She became the first black woman elected to Congress in 1969. She also later became the first black person to seek a major party's nomination for the U.S. presidency: Ex-Congresswoman Shirley Chisholm Dies


01.03.05

ESPN article on China's Liu Wei, NBA hopeful: 'Frustrated' Liu caught in Catch-22. Doesn't look good for his chances of playing in the U.S.


01.03.05

USC's Norm Chow is acknowledged as one of the most creative minds in football—practically a legend in college coaching. So why can't the guy get a head coaching job in Division I-A? Here's a New York Times article: Jets Could Use College Offensive Master





"There's not an Asian head coach in college football," Chow said. "I don't want to think too much about it, but it's there."



The circumstances that led to Chow's departure from B.Y.U. after 27 years were rooted in racist stereotypes and insensitivity that steer decision makers away from so-called minority candidates.



Chow recalled an incident in 1999, just after the B.Y.U. administration had changed. He and other members of the athletic department went to meet the administrators.



"I'm sitting here, this guy's standing there three feet away from me talking about this, that and the other," Chow said, referring to a new vice president. "And he says, 'We're going to build this new facility, and we got all the Chinamen lined up, ready to go to work.' "



That comment infuriated Chow. He complained to the athletic director, who confronted the vice president. "You know what he said?" Chow said. " 'I didn't know Norm was Chinese.' "

That's racist!


01.03.05

Got word about this new site, dedicated to building the positive image of Asian American men: Banana Bachelors. Still yet to officially launch, but it looks kind of funny. This ought to be interesting. But is this the appropriate use of the term "banana"? Anyway, they're apparently conducting a search for the "most eligible Asian Bachelors in America." Do you have what it takes to be a Banana Bachelor?


01.03.05

Though it's up against high profile documentaries like Super Size Me and Riding Giants, word on the street is that Jessica Yu's In the Realsm of the Unreal has a good shot at an Oscar nomination: Oscar Watch: Jessica Yu.


01.03.05

Cookin' is this crazy-lookin' percussion show from Korea. You know, my dad was trying to tell me about this, and I had no idea what he was talking about. Something about Koreans banging pots and pans. I see this website, and it all makes sense now.


01.03.05

This is one hell of a movie rumor: Jackie Chan and Ong-Bak star Tony Jaa together in Drunken Master 3? Yeah, this is pretty much the greatest idea ever. Somebody make this happen quick.


01.03.05

Recently saw a promo spot for NBC's new comedy Committed. It doesn't look great, but there was this one joke... The guy who played Eddie on Family Matters has an Asian tattoo, which apparently doesn't mean what he thinks it means. The commercial is detailed at Hanzi Smatter (unforunately, no video clip).


01.03.05

Enter the Dragon was recently selected into the Library of Congress' National Film Registry. That's what I'm talking about.


01.03.05

Our friends at AsianAthlete.com have a press conference interview with figure skater Michelle Kwan: Michelle Kwan is Set to Defend Her Title. At age 24, she's a genuine old fogey in the sport. Yet the question still remains: will she compete in the next Olympics? My guess, the allure of the elusive gold medal will be too much to resist. We'll see her skate in Torino.


01.03.05

Aw man. I missed Aishwarya Rai on 60 Minutes last night: The World's Most Beautiful Woman? I would say yes. Here's another article: 'Most beautiful woman' ponders kiss


01.02.05

Democratic Representative Bob Matsui of California, who spent time in an internment camp for Japanese Americans as an infant during World War II and went on to serve 26 years in Congress, has died of complications from a rare stem cell disorder: Congressman dies of rare disease