03.31.05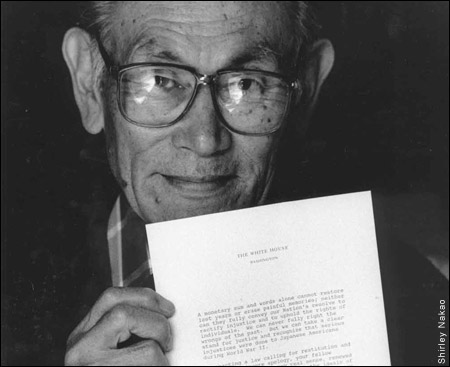 Civil rights icon Fred Korematsu died yesterday of respiratory failure. He was 86.


As a young man Korematsu legally challenged the internment of Japanese Americans during World War II. In the now-infamous 1944 case, Korematsu vs. United States—cited in every constitutional law textbook—the U.S. Supreme Court ruled that the mass detention of Japanese Americans was justified by national security concerns. That, of course, was a load of crap. But Korematsu was vindicated in 1982, when three young Japanese American lawyers in San Francisco approached him and convinced him to take his case back to court—and won. Nearly forty years after the original ruling, a San Francisco judge overturned Korematsu's conviction, citing government misconduct through suppression, alteration and burning of evidence, race discrimination, lack of military necessity, and manifest injustice. It was historic. Today, his legacy seems more important and relevant than ever in the climate of our post-9/11 America: Fred Korematsu, at center of landmark internment case, dies


Rest in peace, Mr. Korematsu.


03.31.05

Just heard about some controversy brewing over the last few weeks at Cornell... on March 11, the Cornell Daily Sun's comic strip "The Adventures of Antman" joked that the typical things Cornell students like to complaint about are 1) steep hills, 2) less-than-pleasant weather... and 3) "curve-busting CyberAsian robots." What the hell? I have not seen the comic strip in question, but the cartoonist apparently depicted overachieving, robotic 'CyberAsians' programmed to do well in school and bust curves. That's racist! Ironically, that same day the paper ran a front-page article on the issue of Asian American students and mental health. Here's a recent letter to the editor on the matter: No Laughing Matter


A protest rally is planned for today at noon on Ho Plaza.


03.31.05

As you know, I'm a sucker for film festivals, and here are a couple kicking off this weekend...


There's Thai Takes 2: Contemporary Thai Film Festival, running March 31 through April 3 at The ImaginAsian Theater in New York. They've got a diverse, interesting mix of features and shorts.


If you're out in the midwest, there's Waves 2005, the fifth annual Asian/American American film festival presented at the University of Iowa. Also running March 31 through April 3. Not necessarily a conventional locale when you think of Asian cinema, so I think this is pretty cool.


And of course, there's one of my favorite events of the year, the 10th Annual Chicago Asian American Showcase, April 1-14 at the Gene Siskel Film Center. The festival kicks off Friday night with Mike Kang's The Motel. 10 years! Congratulations, FAAIM


03.30.05

Some more information regarding Gong Li's upcoming roles in Miami Vice and Behind the Mask (another Hannibal Lecter movie): Gong Li Strikes for Vice and Mask. Ugh. Neither role sounds particularly appealing.


03.30.05

Pretty sure I mentioned this before, but Making Tracks, an epic Asian American historical rock musical, is currently playing at the San Jose Repertory Theater: Stirring and forceful, `Tracks' skims 200 years of Asian-American history


03.30.05

Parry Shen is now a father! The world welcomes Avery Anne Shen, born March 28. Congratulations, man. Seems like only a few years ago I saw you making cheat sheets and selling drugs in high school.


03.30.05

Kazuo Ishiguro talks about his new novel, Never Let Me Go: Like Lambs To Slaughter


03.30.05

It's everyone's favorite cellist: 10 Questions For Yo-Yo Ma


03.30.05

The New York Observer website seems to have expunged all traces of Rex Reed's outrageous Oldboy review (see my 03.25.05 entry). I can't find it. Any sort of statement? I mean, I KNOW people wrote in. Reaction? Nothing. What the hell? The review was straight up racist, but it appears the Observer has decided to sweep it under the rug... But check it out, Google has a cache of the page here (scroll down to "Huh?").


I don't think Reed should be let off the hook that easy. Do you? You may reach Rex Reed via email at rreed@observer.com, or the Observer at comments@observer.com.


03.30.05

This Slate blog doesn't have many nice things to say about Grey's Anatomy, but thinks very highly of Sandra Oh: Oh, Doctor?


03.30.05

According to new data released this week by the Census Bureau, Black and Asian women with bachelor's degrees earn slightly more than similarly educated white women, and white men with four-year degrees make more than anyone else: Black, Asian Women With Degrees Earn More


03.29.05

Say goodbye to the International Channel... it's been reformatted and rebranded as AZN Television, a network wholly dedicated to Asian and Asian American programming. One of the many Asian American television ventures that have popped up in the last year. So far, it looks like they've got a one-night-a-week block of original English-language programming. Should be interesting to see where this goes, though I can't say I'm a big fan of the new name (or most other variations of 'AZN' out there). Feels like it's trying a leeetle too hard. Heck, the name 'ImaginAsian' still kind of bugs me. But hey, I guess everybody needs an angle.


03.29.05

Oh my frickin' goodness: Kosugi Returns as "Ninja". For the record, Revenge of the Ninja is one of the funniest movies I've ever seen.


03.29.05

Asia Pacific Arts has an interview with Takuo Miyagishima, the elderly Asian gentlemen you may have seen receiving a technical award on Oscar night—the only Asian American to receive an Academy Award in 2005. He's the Senior Vice President of Engineering at Panavision, with a long, influential career in the technical side of Hollywood: Takuo Miyagishima: An Oscar Recipient's Legacy


03.29.05

Check out Angry Little Girls, the first book collection of Lela Lee's infamous underground comic strip. She's the original Angry one (no relation). Also, E! Online has this promotional sweepstakes thing for the release of the movie The Upside of Anger, where winners will receive an Angry Little Girls prize pack. Crazy, this little cartoon girl flipping us off has become a full-fledged merchandised brand. See? Anger pays off.


03.28.05

Just from the title, I kinda thought it might be about an Asian guy, but it's not: It's All Gone Pete Tong


03.28.05

Former U.S. Army Captain James Yee, falsely accused and imprisoned for espionage, recently spoke at the Coral Springs Chinese Community Center in Florida... but he apparently didn't say much: Ex-Army chaplain reticent on detainment ordeal


03.28.05

Here's an article from Sunday's Philadelphia Inquirer on Chinese adoptees, and their parents' efforts to expose them to some culture: For Chinese adoptees, a cross-cultural embrace. I find it fascinating that this trend is in response to a previous wave of adoption from Korea, which the article describes as "color-blind, all-American immersion"—pretty much culture-wiped-white.


03.28.05

Got this email passed along to me... Some professors at San Francisco State University's Department of Counseling are doing a online study on the experiences of Asian Americans with racism and its psychological impact. They're hoping to document the types of racism that Asian Americans
encounter, the psychological outcomes of these experiences as well as how they cope with racism. You can participate here: Impact of Racism on Asian Americans (be warned: it's long). You must be 18 years of age or older to participate and identify yourself as Asian American.


03.27.05

VC Filmfest 2005, The Los Angeles Asian Pacific Film Festival, has announced its Opening and Closing Night films: Alice Wu's Saving Face and Georgia Lee's Red Door. The full festival schedule will be annnounced soon.


03.27.05

Oh look, the latest thing for losers: KOREAN SEDUCTION. Advertised as the "most powerful, One Of A Kind, Time-tested, Unique and Proven System That Guarantees To Give You The Most Success With Beautiful Korean Women Whether You Are A Novice or Experienced, or Itís FREE." Learn the secret techniques:


Six things you must to do to get a Korean girl to go out with you
What makes a man sexy to a Korean woman
How to attract and flatter beautiful Korean women
How to meet Korean girls on the internet
10 things you must NEVER say to a Korean girl
Why men prefer Korean women
What Korean women think of non-Koreans
Why do Korean women find non-Korean men attractive
Pathetic. The thing is, this page is just someone's lame referral site to another general "meet-attractive-women" scam. Fools! Don't you know the only authentic guide to attracting Asian women is Ming Tan's How To Attract Asian Women? She tells it like it is.


(I'm kidding. By the way, you've got to read the customer reviews Amazon.com has amassed for Ming Tan's book. They're funny as hell.)


03.27.05

ABC's hospital drama Grey's Anatomy finally premieres tonight. They've promoting the hell out of this thing for months. Sandra Oh, who's made a Hollywood career out of assistant/best friend supporting roles, is in the cast as one of the first-year surgical interns. Here's an article on her: Sandra Oh's new job


03.27.05

Just another reminder... Friends and Family of Angry Asian Man get $10 off general admission for AATC's production of David Henry Hwang's classic play, F.O.B. (Fresh Off the Boat), and Sean Lim's F.O.P. (Fresh Off the Plane)—two plays, both running March 24 through April 10 at the Magic Theatre in San Francisco. Save ten whole bucks!


03.27.05

Tru Calling got booted off the air (before even starting its second season) to make room for North Shore and Point Pleasant. Well, now both those shows are getting canned, so Fox will be premiering Tru Calling's unaired episodes, starting this week. Why am I telling you this? Parry Shen has a recurring role as Tyler, Tru's fellow med student. I'm sure he's happy these episodes will finally see the light of day. Hopefully, Fox will pay some attention to fan reaction, and maybe even resurrect the show... and Parry's role.


03.26.05

Author Ha Jin has won the 2005 PEN/Faulkner Award for fiction for his novel, War Trash Ha Jin joins select group with PEN/Faulkner prize. It's the second time Jin has won the $15,000 prize, the largest American literary award (he won in 1999 for Waiting). Only two others writers have won the award twice in its 25-year history.


03.26.05

Interesting article from last month... the story of one guy opening a Chinese restaurant in an unlikely spot (Iowa): New Yorker picks West Liberty as place for new Chinese restaurant


03.25.05

Word on the street is, Eric Byler's American Knees begun filming this week. And they are in need of volunteer extras. Here's what I know:


AMERICAN KNEES

Tuesday, March 29, 2005

@ Whitter College

6AM-6PM

7AM call time for extras

Breakfast and lunch provided


Ooh, free food. That's all I know, but I'll update as soon as I have more information.


03.25.05

Guided by the recommendations of a special "multicultural" task force, Nielsen Media Research announced that it will address some of the concerns over the way it is changing the measurement of television ratings in urban markets: Nielsen Will Address Potential Undercounting of Minority TV Viewers. Note that there are NO mentions of Asian viewers in this discussion. That's racist!


03.25.05

Thailand has a term for people of half Thai/half foreign descent—"luk kreung"—and according to this article, they dominate the Thai entertainment industry: Mixed race Thai entertainers ride a wave of popularity. I don't know, I find it slightly disconcerting that, according to this article, the only popular celebrities in Thailand are those who have that "good looking" western blood. And the people have no problem with this.


03.25.05

Park Chan-Wook's Old Boy opens in theaters today. Below is an excerpt of Rex Reed's review from the New York Observer. While I completely understand if the movie is not everyone's cup of tea, there's no reason for Reed to make some of these remarks, or invoke stereotypes like this:





"For sewage in a cocktail shaker, there is Oldboy, a noxious helping of Korean Grand Guignol as pointless as it is shocking. What else can you expect from a nation weaned on kimchi, a mixture of raw garlic and cabbage buried underground until it rots, dug up from the grave and then served in earthenware pots sold at the Seoul airport as souvenirs?"



"Part kung fu, part revenge-theme Charlie Chan murder mystery, part metaphysical Oriental mumbo-jumbo, all of it incomprehensible."


Oh no, he did NOT just make fun of the kimchee. Seriously though, this guy has something against Korea. That's racist! The full review is here (scroll down to "Huh?"). You may reach Rex Reed via email at rreed@observer.com, or the Observer at comments@observer.com.


03.24.05

Crazy. I was kind of curious about Katie Leung, the girl they announced last summer who would play Cho Chang in the fourth Harry Potter. It's been a few months, and I was wondering if any new info or photos had emerged about her part. So I did a Google search. Turns out a whole mess of various fansites have popped up, like this one and this one, all populated with pretty much the same two candid photos of her wearing a hat, talking on a cell phone (there have also been numerous fakes). There's even a Katie Leung hatelisting. This is all pretty sad. I mean, come on, the girl hasn't done squat yet—good or bad. She's barely even been photographed. This level of attention is hardly warranted, especially for a movie role no one has seen her in yet. Crazy stuff out there on the internets.


03.24.05

Oh brother. Here's the website for the upcoming movie Smile, based on "80,000 true stories." Right off the bat, I was turned off by the website's music and weird wonton (just the "S"?) font. Ooh, lots of foreign, mysterious imagery. The trailer was less than inspiring, with this whole condescending white-savior-in-China vibe. Okay, partial proceeds from the film will go to Operation Smile, which I'm sure does good work. But dude, this looks like a bad Lifetime original movie.


03.24.05

All right, who the hell is Channing Tatum, and why has he been cast to play Genghis Khan? I'll tell you why. That's racist! According to Variety, a Russian producer is making Mongol, Part 1, a movie in Russian, Mongolian, Cantonese, Kazakh and Tatar languages. Tatum—a former Abercrombie & Fitch model—will play a young Genghis Khan, with Tadanobu Asano as his brother. If I remember correctly, Khan was Asian—one of the baddest Asians the world has ever known. Forgive me, because it's certainly not obvious to me if Mr. Tatum is of Asian descent. And then you're going to tell me Tadanobu Asano is supposed to play his bro?


03.23.05

Here's an interesting, sympathetic perspective on the Palo Alto police assault case: Assault case reaches critical juncture


03.22.05

Singer CoCo Lee is taking another stab at making a name for herself in the U.S. (first try didn't go so well), with the release of her second English-language album, Exposed: CoCo Lee Patient When It Comes to Success. Yeah, it's not cool that the only enduring image of CoCo Lee in my head is her performance of the Crouching Tiger song at the 2001 Academy Awards—backed by two very hokey kung fu dancers. Believe me, I've been trying to forget.


03.22.05

Puffy AmiYumi embark on a West Coast tour this spring, kicking off in Portland on April 22. View dates and cities here.


03.22.05

Yesterday began the controversial trial of two Asian American Palo Alto cops, Michael Kan and Craig Lee, who face charges of felony assault under the color of authority. Oh yeah, the victim is African American—and he says the assault was racially motivated: P.A. cops' trial gets under way. Prosecutors allege that the officers illegally detained 59-year-old Albert Hopkins, got "emotional and flustered," and then brutally beat and pepper-sprayed him. I want to give these officers the benefit of the doubt, I really do—police work can be dangerous business. But in the realm of this website, do you know what's worse that racist cops? Racist Asian cops. Oh man, I can feel it, I'm going to be getting mail about this one.


03.22.05

You know I gots love for Chicago... so here's a heads up for FAAIM's 10th Annual Chicago Asian American Showcase, running April 1-10 at the Gene Siskel Film Center. Has it been ten years already? I remember attending FAAIM's second Showcase and watching Chris Chan Lee's Yellow. Actually, that was my very first Asian American film festival, and I've been hooked on these things ever since. Looks like they've got another kickass schedule of Asian American films this year...


03.22.05

Another Asian American film that'll soon be making the rounds on the film festival circuit: Georgia Lee's Red Doors. Starring (perpetual television guest star) Tzi Ma, Jacqueline Kim, Freda Foh Shen, Elaine Kao and Kathy Shao-Lin Lee as the Wongs, a "dysfunctional Chinese American family living in the New York suburbs." The movie premieres at the Tribeca Film Festival next month.


03.22.05

Jay Matthews throws more fuel on the fire with yet another article in the Washington Post on Asians Americans and the college admissions process: Learning to Stand Out Among the Standouts.


03.22.05

Here's Tartan Films' website for the U.S. release of Park Chan-Wook's Old Boy. Though, if you haven't seen the film, I'd recommend avoiding the synopsis and stills—there are possible spoilers. I'll say it again: this movie is incredible... and at the same time completely devastating. I've had it described to me as "traumatic." Not for the faint of heart, so don't come crying to me saying I didn't warn you. Anyway, the movie opens in select cities on Friday, with more theaters to follow.


03.22.05

This piece cracked me up: Drop those PC ethnic accents. Pahk-EEEE-stan.


03.22.05

This is a very cool-sounding exhibit at NYU's A/P/A Studies Gallery: Archivist of the "Yellow Peril". It's an extensive collection of over 8,000 artifacts including photographs, films, cartoons, pulp magazines, advertisements, sheet music, books, journals, and other memorabilia that relate to persons of Asian or Pacific Islander ancestry—including rare anti-Asian "Yellow Peril" documents and pieces made by New York Asian American activists in the 1960s. The exhibit runs through May 31.


03.22.05

Here's an article on Asia Street's Korean American magazine show, Egg West Coast: Television show breaks Korean-American stereotypes


03.22.05

Been seeing stuff [hot girls in plaid skirts] for this movie D.E.B.S., with Devon Aoki as "Dominique." Some kind of sexy secret agent spoof. I just watched the trailer, and I gotta say, it looks pretty bad...


However, Devon Aoki is also in Robert Rodriguez and Frank Miller's Sin City.... which looks bad—badass, that is. Seriously, it looks great. I know she's supposed to be some kind of deadly Asian assassin (with ninja star earrings), which is lame, but it's almost forgiveable considering how damn cool the movie looks. I practically salivate every time the trailer comes on. Okay, enough with my fanboy drooling.


03.22.05

You should be aware of the Eddy Zheng case. I don't remember to what extent I've mentioned him before, so here's a blurb off the website to catch you up to speed:





Eddy Zheng is facing deportation for criminal convictions from nearly 20 years ago.



He came to the US from China with a green card when he was 12 in 1982.



He pled guilty to a robbery when he was 16 and was sentenced to 7-years-to-life as an adult in 1986.



Zheng ended up serving more than 19 years as a model prisoner before being granted parole in March 2005, at the age of 35.



In prison, Eddy taught himself English, completed his GED and earned a college degree. He has worked extensively with at-risk youth and has several job offers to implement a youth program. He won his parole by demonstrating to the parole board and Governor Arnold Schwarzenegger that he does not pose a threat to society.



This could have been avoided if Eddy's public defender had simply asked the judge in 1986 to order immigration authorities not to deport Eddy when he finished his sentence.



After finally winning his parole and ready to make positive contributions to society, Eddy Zheng has extensive community support.


This guy is an amazing individual who made mistakes in his youth, but dramatically turned his life around... and now faces deportation. Learn more about the case here, or read Eddy's blog: http://eddyzheng.blogspot.com/


03.22.05

Something to do this weekend... Talk of da Block 2. Sunday, March 27 at "The Compound" in LA. I attended the first one at Rehab back in November and had a pretty fun time. The second installment looks to be just as cool, with the likes of Far East Movement, Nemo, Ken Oak, Burning Tree Projekt, Monroe St., Chris Ramos and Kaila Yu. Brought to you in association with LiNK (Liberation in North Korea).


03.21.05

Is Japanese teenager Ai Miyazato the next big thing in golf? Already a sensation in her country, she makes her U.S. debut this week: A Star in the Remaking


03.21.05

Dr. James Tien is a candidate for president of the IEEE, arguably the largest and the most influential professional engineering organization in the world. If elected, he would be the IEEE's very first Asian president. A campaign is currently underway to nominate Dr. Tien as a candidate—he needs 3000 signatures. If you are an IEEE member (somebody out there has to be), you can download and sign a copy of the petition form. I don't know much about engineering, and I know a lot less about this organization, but I can appreciate an effort to break the glass ceiling.


03.21.05

17-year-old Charles Bryant was convicted last week of the brutal February 2004 murder of Huang Chen, a Chinese food delivery man: Delivery-slay teen is guilty. Chen, 18, was delivering a $10 order of Chiense food, when he was beaten with a hammer and bat, stabbed in his lung, then dumped in a nearby pond. Bryant now faces 54 years to life. His accomplice, Nayquan Miller is still awaiting trial. All this, for some freakin' sneaker money?


03.21.05

Check it. 18 Mighty Mountain Warriors Do Los Angeles! "The world's most psychotic Asian American Theatrical Comedy group" is coming at you with a Mighty double bill, "A People's History of Sukiprata" (8:00pm) and "Hatest Grits!" (10:00pm). March 25 & 26 and April 1 & 2, at East West Players in LA. For more info, visit: www.18mmw.com/. And get your tickets here.


03.21.05

All right, I've officially lost count of all the new magazines out there for Asian American women. I just learned about Asiance Magazine, yet another publication identifying itself as a mag for this demographic. Like I said, I've lost count. I'm just wondering... Is there really room enough on the rack for all these magazines? It's like an Asian American women's magazine catfight! Let me know when the dust clears...


03.21.05

Here's an interview in the New York Times with Face directory Bertha Bay-Sa Pan: The Clash of China's Generations, Set to a Hip-Hop Beat


03.20.05

Once again, a special deal for all you Bay Area theater-going folk... Friends and Family of Angry Asian Man get $10 off general admission for Asian American Theater Company's production of David Henry Hwang's classic play, F.O.B. (Fresh Off the Boat), and the world premiere of Sean Lim's F.O.P. (Fresh Off the Plane)—a two-play cycle, both running March 24 through April 10 at the Magic Theatre in San Francisco. Buy some tickets, bring a friend, enjoy the show(s). Simple. So get your discount here.


I gotta say, there's a special place in my heart for these works... I actually once played the part of Steve in a high school production of F.O.B., many many many moons ago (shout outs to Maggie and Dave—I know you're out there). So this takes me back. In a way, you could say it was a pretty formative experience...


03.19.05

There's an article in U.S. News and World Report, of all places, on Adrian Tomine, the guy behind the comic book Optic Nerve: A grown-up Charlie Brown. I am proud to boast that I own every issue (—of Optic Nerve, not U.S. News and World Report).


03.18.05

The 23rd San Francisco International Asian American Film Festival wound down last night with the Closing Night presentation of Mike Kang's The Motel, which won the festival's first-ever jury prize for Best Narrative Feature. Other winners include Curtis Choy's What's Wrong With Frank Chin? for Best Documentary Feature, and Audience Awards for Alice Wu's Saving Face and Bahman Ghobadi's Turtles Can Fly (Best Narrative Feature, tie) and Ali Kazimi's Continuous Journey (Best Documentary Feature).


The festival continues throughout the weekend down in San Jose, kicking off with the opening night screening of Steven E. Mallorca's Slow Jam King. South Bay represent!


03.17.05

Hey laaaaaadies. A special deal for you. East West Woman is offering a free one-year subscription to visitors of angryasianman.com. That's very nice of them. Just head over to ewwoman.com, click on 'Subscribe,' and enter the code aa4009 when you place your order. The offer is good from today until March 24th (subscription will start with the May/June issue).


03.17.05

Yet another article on Daniel Dae Kim: Importance of 'Lost' role not lost on Kim. Suddenly, so much love for DDK.


03.17.05

Meet Eric Sandrin, the only non-African American player on the Harlem Globetrotters: Shanghaied by Globetrotters. He's half-Korean, but the owners have nicknamed him "Shanghai." Perhaps it's because we all look alike...


03.17.05

There are many evil forces at work in this world. Evidence? A planned sequel for National Treasure: An International Treasure? According to the director, the movie would take place in a "romantic and mystical country, and China is on the top of his list." Ooh, mystical. Count on China for all your mystical movie needs.


03.17.05

This is absolutely horrendous, and this guy deserves to go to jail for the rest of his life: Child Raped Twice Live On Internet, Police Say ...but did prosecutor really have to make the comment about 'southeast Asia'?


03.16.05

Heads up. Just so you know, the annual conference of the Association For Asian American Studies (of which I am a member) will be April 20-24 in Los Angeles. This is a good gathering place the academic types. 'Cause you know how they get down.


03.16.05

Singer/songwriter Susie Suh releases her self-titled major label debut album next month. I've been listening to clips, and she's got a good sound. I like it. The album will be available from the Sony Music Store and iTunes beginning March 29, and everywhere else on April 26. Not to be confused with Banshee frontwoman Siouxie Sioux (their names are pronounced the same way).


03.16.05

Hideo Nakata's Ring Two opens in theaters on Friday. It's the sequel to the remake of his own film! Trippy, yes. He also directed Dark Water, which is also being remade (not by him). And now, he's been tapped to direct the American remake of the Pang brothers' The Eye: Paramount Has Eye on Hideo Nakata. Remakes! Everywhere! That's Hollywood.


03.16.05

Phuong Tran became the new U.S. champion barista this week, in a national gathering of over 40 coffee-drink-making competitors: Barista brews her way to top. Now, she moves on to the World Barista Championship! By the way, last year's winner was Bronwen Serna, Filipino American barista. Dig that. Asians representin' in the world of coffee.


03.16.05

The University of California reached a tentative settlement with hundreds of Asian American scientists and engineers who filed a class-action suit alleging discrimination in pay and promotion at UC-run Lawrence Livermore Laboratory: Lab settles lawsuit over racial bias. That's what I'm talking about.


03.16.05

Oh goodness: I married a haole boy. It's a frickin' club. A club! With t-shirts and everything. Please, somebody tell me there's a 'I-Married-An-Asian-Boy' club out there somewhere.


03.15.05

Singer Adrienne has been brought to my attention. Her debut album dropped back in January, and features Jin on the single "Hypnotic Love." As you can see, she is Asian.


03.15.05

Stephen Chow's Kung Fu Hustle is coming. Awwwwww yeah. The movie opens in New York and Los Angeles on April 8, and everywhere else on April 22. To celebrate the release, Campus Circle is throwing a sweepstakes (ooh, prizes) and hosting free advance screenings. Come on, everybody loves free stuff.


03.15.05

It ain't easy being a Shaolin master: Shaolin kung fu master appeals to legislators for protection. Everybody wants a piece of the game.


03.14.05

Interesting article about the economic growth of a community's "Koreatown," and the kind of tension it can create amongst the area's residents: 'Koreatown' Image Divides A Changing Annandale. Ooga booga! We're taking over! Naw, just call it growing pains. Why is it that people are so afraid of ethnic enclaves? If that's the way your community's economy shifts, what can you do? The non-Korean residents need to understand they were never entitled to this false sense of "majority" or "American." This trend isn't part of some evil takeover scheme. Welcome to America. It's changing, so get used to it.


03.14.05

This is some interesting movie news... Not only is Gong Li in the cast of The Lecter Variation, she's also going to be in the upcoming movie remake of Miami Vice (with Jamie Foxx and Colin Farrell). Cool to see her being recognized... but I didn't expect to see this world-class actress doing Miami Vice, of all things. But okay.


03.14.05

Fossil has this t-shirt, priced for purchase at $24. So what, you ask. Note the shirt's available color, "Chinese Yellow." What the-? What's even weirder, is that the shirt says, "Jamaica." Confusion. That's racist!


UPDATE: The "Chinese Yellow" color has been removed from the website.


03.14.05

SFIAAFF has added a special sneak screening of Jet Li's new film Unleashed, 9:45pm tonight at the Kabuki. I've seen it, and although I was expecting the worst, it turned out to be pretty cool. It definitely marks a different direction for Jet Li (but still includes plenty of asskicking). I'll actually be at tonight's screening to introduce the film. So see you there.


UPDATE: The movie's sold out!


03.14.05

Yeah, this sounds like a really bad idea... Keanu Reeves as Sinbad: The 8th Voyage of Keanu. Set in China, no less, with a storyline featuring a "gorgeous empress" and a "Chinese general." Ooh. To top it off, it'll be directed by Rob Cohen, who treated us Asians so well in that rice-rocket masterpiece The Fast and the Furious (he also directed Dragon: The Bruce Lee Story). Sorry if I sound less than thrilled about this project...


03.14.05

This incident is unfortunate—domestic violence and corporal punishment is indeed a problem amongst many Asians families—but what sucks is this article, which goes to great lengths to paint one of these pictures of Asians-as-backward: A Korean father's lesson on raising cane. It's hard enough to fight the perpetuated cycle of stereotypes. You can just see the wheels turning... people thinking, those Koreans are so cruel! Eating dogs, caning kids. That's racist!


03.13.05

The LA Times article on Memoirs of a Geisha I mentioned is also available here (for nonsubscribers): Marshall defends controversial 'Geisha' casting decision.


03.13.05

Oh boy. I'm dreading this... Tonight, in an episode entitled "Goo Goo Gai Pan," The Simpsons go to China:





After watching a video on menopause, hosted by guest voice Robert Wagner, Selma realizes that she missed her chance to have a baby and decides to adopt a baby girl from China. Selma encounters a bump in the road when the application asks for her husband's name. In an act of desperation, she puts down "Homer Simpson." Soon, Selma and the Simpsons are off to China to pick up her baby girl, while Homer must pretend to be her husband. When their charade is finally revealed, the functionary, Madam Yu (guest voice Lucy Liu), takes Selma's baby back. Homer and the gang must devise a plan to rescue the baby from the orphanage.

Lucy Liu guest stars. Well hooray for that. This will be interesting and ridiculous.


03.13.05

I post a lot of links to various articles, and many of these sites require some kind of registration to view content. For those of you who aren't into the provide-personal-information thing, here's a valuable resource: BugMeNot.com. Just type in the name of the website you want to access (i.e. http://www.nytimes.com), and it'll generate a valid username/password so you can check out the site without having to register for an account. Pretty cool.


03.13.05

No joke, this is an actual unedited email I received last week:



Date: Mon, 7 Mar 2005 13:57:50 -0800 (PST)

From: Greg Williams

Subject: I wanna know

To: angryminsoo@angryasianman.com



I want to know why so many asian guys, not the girls but the guys have such bad attitudes. Is it because in asian culture the men are spoiled which turns them into meglomaniacs or is it some sort of genetic pre disposition.

"Meglomaniacs?" I wrote back:





FROM: angryminsoo@angryasianman.com

DATE: Mon, 7 Mar 2005 16:45:29 -0800

TO: Greg Williams

SUBJECT: Re: I wanna know



It's a genetic predisposition, for sure. It's in our blood. In fact, it's a special kind of blood. You've heard of O Type? Well, we're BA Type. Bad Attitude Type. Damn right, it's genetic. There's no hope for us.



AAM


Okay, probably not the most mature, thought-out response, but I was tired and cranky. Seriously though, who writes in with this kind of stuff?


03.12.05

Gang war! Oh, those Asians and their gang wars. And the media jumps all over it: Sacramento County Sheriff's Deputies Try to Contain Asian Gang War


03.12.05

CalendarLive.com had a great article last Sunday outlining some of the controversies surrounding the movie adaptaton of Memoirs of a Geisha. Unfortunately, the article is only available to LA Times subscribers... but if you get the chance, check it out.


03.11.05

From Work Magazine, an interview with your average neighborhood Korean American making a living running a 24-hour deli and grocery: 24-Hour Working People. Make that money, don't let it make you.


03.11.05

Saturday is the 75th anniversary of Mahatma Gandhi's Salt March, one of the first acts of defiance in India's fight for independence from Britain: Recalling India's 'Boston Tea Party'


03.11.05

Yundi Li was just 18 when he won first prize at the prestigious International Chopin Competition in Warsaw. Li. He was the youngest person ever to take the top honors—and the first Chinese: Yundi Li's Passion for Chopin


03.11.05

Chops and Vienna Teng, representin' for the Asians at South By Southwest next week.


03.11.05

Batista's in the main event at WresleMania 21, battling for the World Heavyweight Championship. Dang dude, I remember WrestleMania 3. Hulk Hogan vs. Andre the Giant. One of the greatest main events in history—a definitive moment in my young life. When I saw the Hulkster bodyslam Andre, I became a true believer.


03.11.05

Good news for Philadelphia's Chinatown: School commission approves charter school for Chinatown


03.11.05

New York Times review for the mockumentary Mail Order Wife, which I believe I've mentioned before: When Love Starts Strong and Turns Out Wrong. Here's the trailer. And here's the official website: mailorderwifethemovie.com. This movie sounds awful, from start to finish.


03.11.05

Yesterday, a federal judge in Brooklyn dismissed a damage suit filed on behalf of millions of Vietnamese that claimed American chemical companies committed war crimes by supplying the military with the defoliant Agent Orange during the Vietnam War: Agent Orange Case for Millions of Vietnamese Is Dismissed. Psssh. Yeah right, like chemicals really care what happens to the yellow folks.


03.11.05

People are dumb. There's in Cornwall, England called "Darkie Day." It's a centuries-old tradition in which townspeople dress up in blackface and perform musical numbers while parading down city streets. Some residents are now challenging the custom, calling it racist and offensive, though it appears proponents of the tradition will not go down without a fight: Fighting to End 'Darkie Day' in Cornwall, England. That's racist!


03.11.05

NPR story on Jeff Chang's Can't Stop Won't Stop.


03.10.05

So yeah, in case I didn't make myself clear, the 23rd San Francisco International Asian American Film Festival kicks off today, with the Opening Night presentation of Alice Wu's Saving Face. Joan Chen is beautiful. Here's another article on Saving Face and the festival: The Other Side of Smith. Will Smith, that is.


03.10.05

Flora Gil Krisiloff has made the runoffs in a hotly contested race for Los Angeles City Council: Election City Council - Updated


03.10.05

An interesting perspective that's sure to spark some controversy: The case for 'White History Month'. (It's not what you think.)


03.10.05

I can tell you right now, I won't be watching this movie... but from the trailer, it looks like there are a few Asians skating around: Ice Princess. Including Michelle Kwan.


There's an Asian dude in this trailer: Roll Bounce. You Got Served on rollerskates? Haha. Charlie Murphy.


03.10.05

Piccadilly, starring Anna May Wong, was released on DVD last week. That is some cover.


03.10.05

Doris Matsui wins by a landslide, with nearly 72 percent of the overall vote: Matsui wins late husband's House seat


03.10.05

In her column on February 23, Ann Coulter (The Devil) made the following statement: "Press passes can't be that hard to come by if the White House allows that old Arab Helen Thomas to sit within yards of the president." It should be noted that Universal Press Syndicate deleted the racial reference when posting the column on their Web site. Here is a letter of protest from the Asian American Journalists Association: AAJA Objects to Slur Against Helen Thomas. That's racist!


03.10.05

More on Homeland Security's immigrant-tracking ankle bracelets: Electronic Anklets Track Asylum Seekers in U.S.. To be worn by people who have not even committed a crime. This is messed up. Do they explode if someone tries to abscond?


03.10.05

Yet another interview with Daniel Dae Kim. After being virtually ignored for months, has he become the guy on Lost to talk to? I hope so. I've talked to him myself before, and he's a pretty cool guy. From the looks of it, I think Jin will survive the season.


03.10.05

In Hawaii's state House, everybody's talking about "hearing stories" about people eating dogs and cats, but can't provide any real evidence. If you ask me, it's just some racist crap somebody made up to pin on Asians in the area: Bill to ban sale of cats, dogs for food dies in the House


03.08.05

An article on mental illness and author Iris Chang's tragic suicide: Death shines light on Asian stigma


03.08.05

The Ruddy Morgan Organization, one of the producers of Clint Eastwood's Academy Award-winning Million Dollar Baby, has come on board Applause Pictures' upcoming $10 million musical Perhaps Love. The film, to be helmed by Peter Chan, will be shot on location in Beijing and Shanghai, and is the first full-blown Mandarin-language musical by a Hong Kong director since the heyday of the Shaw Brothers Studio in the 1960s: 'Baby' Producer Backs Hong Kong Musical. The article also mentions that an adaptation of Ha Jin's Waiting is in the works.


03.08.05

The Asian community in Queens is closely watching the trial of Charles Bryant, 17, for the brutal murder of Huang Chen. The 18-year-old was viciously pummeled and then stabbed to death in February 2004 as he delivered a $10 order of Chinese food—allegedly so the assailants could get enough money for a pair of Nikes: Asian community unites at trial. Co-defendant Nayquan Miller, also 17, is awaiting trial.


The worst part, aside from the sheer brutality of the crime, is that this just part of a long series of crimes against Chinese food workers. I think City Councilman John Liu hits it on the head: "People worry about a perception that we are not real people, that we really aren't Americans. It's like killing a dog. The notion that an Asian person is not human is what permits two or three 16-year-olds to commit a crime of such brutality." That's racist!


03.08.05

Eric Byler (Charlotte Sometimes) is looking for crew members for his next film: Film Crew needed for Asian American Feature: American Knees


03.08.05

If you frequent any of the music blogs out there, you're probably already familiar with M.I.A., from Sri Lanka. Seems like I'm seeing her everywhere now. Next big thing? Maybe: Her Name May Be M.I.A., But Her Career Is Anything But


03.08.05

April 30, 2005 will be the 30th anniversary of the fall of Saigon. To say that this was a defining moment for the Vietnamese American community is an understatement. To that end, I just heard about this feature film: Journey From The Fall, by writer/director Ham Tran, who did the incredible short film The Anniversary. The website looks relatively new, but I'm not exactly sure at what stage the production is in. The trailer page seems to indicate an April 2005 release. It looks pretty impressive...


EDIT: I've been told that Journey From The Fall will screen next month at the 2005 Vietnamese International Film Festival.


03.08.05

Remember when Star and Buc Wild called that Indian call center operator a 'dirty rat eater'? Unfortunately, that kind of stuff is pretty common, and the people doing it don't have an obnoxious morning radio show: India Call Centers Suffer Storm of 4-Letter Words


03.08.05

Sunday marked the 40th anniversary of the historic Selma voting rights march that opened ballot boxes to blacks across the South: Civil Rights-Era Figures Mark Selma March


03.08.05

The U.S. released its annual human rights report, which accused China of muting dissent, suppressing religious rights and restricting freedom of speech. China was like, dude, how 'bout you? and called out the U.S. on the atrocity of US troops in Iraq and criticised the Bush administration for failing to deal with poverty, racial discrimination and crime at home. Ooh, moded: China Lashes Out at Serious US Human Rights Violations. But then again: China Enacts Tough Anti-Secession Law


03.08.05

Here's an interview with Daniel Dae Kim over at Ain't It Cool News.


03.07.05

Heads up: the 23rd San Francisco International Asian American Film Festival kicks off this Thursday with the Opening Night film, Alice Wu's Saving Face. SFIAAFF runs March 10-20, with screenings in San Francisco, Berkeley and San Jose. I'm planning on going, so I'll try to cover the festival as best as I can, right here. Hope to see you there...


03.07.05

Consider this a weekly reminder: Friends and Family of Angry Asian Man get $10 off general admission for Asian American Theater Company's world premiere production of Philip Kan Gotanda's Under the Rainbow. The show runs through March 12, so get your tickets now. And tell' em I sent ya.


03.06.05

Another good article on Jin: Straight outta Chinatown


03.06.05

Part two, from AsianWeek: Hollywood's 25 Worst APA Blunders. The notorious top ten, the worst of the worst. It's all the likely suspects, though I wasn't even aware of the death on the set of The Twilight Zone movie (#1).


03.06.05

This is disturbing: Capture an Illegal Immigrant Day. This is an actual event that happened at the University of North Texas back in January, courtesy of the school's chapter of the Young Conservatives of Texas. There was a rumor circulating that the Austin chapter was set to organize a similar event last week (allegedly, it was a hoax), and the whole deal erupted in controversy.


Even more disturbing: Electronic Anklets Track Asylum Seekers in U.S.


03.06.05

On NPR, Transportation Secretary Norman Mineta talks about President Bush's proposal to cut funding for Amtrak. The publicly funded rail system has seen a rise in customers and a more efficient use of funds but is still losing money: Transportation Head on Proposed Amtrak Funding Cuts


03.04.05

The Food and Drug Administration has issued a public health advisory urging doctors to use caution in prescribing the cholesterol drug Crestor to patients of Asian heritage: FDA Advisory Targets Asian Patients. Because Asians appear to process the drug differently, half the standard dose can have the same cholesterol-lowering benefit in those patients, though a full dose could increase the risk of side effects. Asian patients should be started at the lowest approved dose, 5 milligrams a day. So if you don't know, now you know.


03.04.05

NPR story with Doris Matsui, widow of Robert Matsui, who is running for the seat he left open in Congress when he passed away earlier this year: Widows in Congress Offer Their Own Ideas


03.04.05

I don't know what to make of this. Basically, from what I can tell, it reads like some white woman's loooong-ass tirade about Koreans... being too kind(?) You know, for someone living and working in a foreign country, there are about a million worse things that could be troubling you: Kimchi Casserole: The Hospitality Brigade. And you're complaning that their treating you too well? Grow up, lady.


03.04.05

Did you know Gedde Watanabe was close to thirty years old when he played Long Duck Dong in Sixteen Candles? He's turning 50 this year. Hooray. Who knew that his role would plague us with this wonderfully racist cinematic legacy that would endure for over twenty years? Okay, I know I'm always giving Gedde a hard time, but come on. I HATE LONG DUCK DONG. It's hard for me to let it go. Anyway, to be fair, here's a article that's a bit more sympathetic: Youthful-looking Ogden native enjoys career as character actor


03.04.05

An article from Philippinenews.com talking about Filipino Americans with high hopes and dreams in the Hollywood scene: Oscar Dreaming


03.04.05

I'm absolutely no fan of China's government, but Rumsfeld needs to shut his mouth and stop trying to bully where he can't. An opinion: Respecting China.


03.03.05

Something cool going down this weekend... the 15th annual API Issues Conference at UC Berkeley. This Saturday, 9:30am-4:30pm at Dwinelle Hall. This year's theme is "Exhibitions of Expression: Empowerment through Creativity" (though, the way they're promoting it, I think unofficially it's "John Cho! LIVE!"). The conference features some nifty workshops and performances from the likes of Denizen Kane, Lane Nishikawa (Only the Brave), Ryan Suda (Blacklava), James Hou (Masters of the Pillow) and a whole bunch of other cool people.


Best of all, the event is free! So come learn a few things, and meet the man who put the Harold in Harold & Kumar.


03.03.05

Another commentary on Norm Chow and lack of diversity in head coaching positions: Beyond Black and White: Norm Chow and the Case for Minority Hiring


03.03.05

Here's the official website for The Year of the Yao, the documentary chronicling the madness and excitement of Yao Ming's debut in the NBA. The film will be a Special Presentation at the 2005 San Francisco International Asian American Film Festival. Looks like a fun film. The trailer indicates that there is some discussion of Yao's showdown with Shaq. I wonder to what extent the doc actually covers that controversy...


While I'm at it, here's another perspective on Yao's game: Expectations, schedule mask Yao Ming's progress. Too many haters out there don't give him a fair shot.


03.03.05

I'm afraid I don't have anything to say about this: "WHAT'S HAPPENING HOT STUFF" I hate Long Duck Dong.


And this one: FOR GOOD LUCK KISS MY ASS


Oh, and as usual, every time I mention racist t-shirts, I give Blacklava a plug. Awwww yeah. Keep up the good work, Ryan.


03.03.05

So, over at Washington State University, a couple of Cougars basketball players—freshmen Alex Kirk and Robbie Cowgill—are being accused of making racial taunts and "insensitive gestures" at an Asian American student employee in the school's Multicultural Center (oh, the irony is not lost on me): WSU president assails harassment of students accused of misconduct. The employee says the players were among a group of students who would regularly pass by her window and make animal noises and gestures, and one pulled back the corners of his eyes to make "slant eyes." Y'all know what I'm talking about. That's racist! But after reviewing the accusations, the school's conduct board has found that there was "insufficient evidence to support a finding of harassment," and concluded that "the behavior, although repeated, was not harassment under the university's code of conduct and was not racially motivated." This is ridiculous: WSU students cleared after conduct code violation allegations


Of course, I don't know all the facts of this incident. But it certainly has all the familiar of indicators of what I like to call Racist Campus Stupidity (which often coincides with Racist Fraternity Stupidity). The conduct board has essentially ruled, by their definition, this isn't racial harassment—just really idiotic collegiate behavior. Their coach defends them as idiots too: "A group of our young kids went by and they knocked on the window, waved, and did goofy college things." Oh, so harmless. Can someone tell me how the board determined that the "slant-eyes" really didn't happen? Because that's pretty damn racial to me. It's like a slap in the face. Even more ridiculous is the personal statement released by the students:





"We feel it is also important to note than any interaction we had with members of the Multicultural Center was intended to be friendly with a group of people we passed by regularly."



"At no time did we make gestures, comments or noises directed at anyone that were racially motivated. We have a racially diverse team and group of friends, both back home and in Pullman.

I like how people accused of racism always add a comment like that at the end. What's also sort of interesting about this is how some of the people on campus responded, by basically harrassing these two guys. They posted flyers calling them racists, and taunted them during last week's basketball game against Arizona. Now, I certainly wouldn't condone that kind of knee-jerk groupthink retribution, but you don't know how many times I've been tempted to track down a hatemailer and make his/her life hell. So, how does it feel?



03.03.05

Second Generation presents the California premiere of Making Tracks, at the San Jose Repertory Theatre (South Bay, represent!), March 19 - April 17. It's a musical that "tells the tale of a young Asian American rock musician who journeys through six generations of his family's history to understand his family's long labor to find a voice in America." Cool.


03.03.05

A lot of people have expressing surprise about this "little known fact": Homer Simpson: Made in Korea. Yes, animation for The Simpsons is produced in South Korea. I actually thought this was common knowledge. But here's some extra trivia for you: if I'm not mistaken, the Nelson Shin interviewed in this article is also responsible for directing Transformers: The Movie—one of my favorite films of all time.


03.02.05

Funny. From The Onion, an opinion by Brian Kang: Thank God The Year Of The Monkey Is Over


03.02.05

U.S. Youth National Team forward Lee Nguyen was named the 2004 Gatorade National High School Boys Soccer Player of the Year. Good for you, kid: Nguyen Named HS Player of Year. You know any award with "Gatorade" in the title has to be completely badass. More on the story here: Nguyen exemplifies a scholar-athlete


03.02.05

FX has a new upcoming show, Thief: FX Adds Drama Pair to Lineup. I heard Will Yun Lee was in the cast, so I was curious... then someone sent me this, which offered a little more info. Thief is about:





"a sophisticated robbery crew led by Nick Atwater. The show, which will be shot in New Orleans, examines Atwater's troubled relationship with his teenage stepdaughter, a desperate cop and the Chinese Mafia."

Yaaaay! The good ol' Chinese Mafia. My favorite.


03.02.05

If you're in NYC... the Hip Hop Coalition is organizing a big-ass community rally against Emmis and Hot 97 this Friday, 3-6 pm in Union Square: STOP RACIST HOT 97. With honorable guest speakers GrandMaster Caz, Rosa Clemente, The Original DJ Jazzy Jay, Roxanne Shante, Ishle Park, M1. With DJ Boo on the 1s and 2s. Get all the info on the event at www.hiphopliveshere.com. HIP HOP IS NOT HOT 97.


03.02.05

Interesting political commentary from Monday's LA Times: Do Asian Americans Count in L.A.? Hell yes, they do.


03.01.05

Hey. The Academy Awards were presented on Sunday night. There were three prominently featured Asians... Cellist Yo-Yo Ma playing a dirge for the annual montage tribute to those who passed away in the last year. Zhang Ziyi—I believe she is now going by Ziyi Zhang—presented an award with Jake Gyllenhall. Though, I could have sworn I heard the announcer called her Zizi Yang... There were also shots of Sandra Oh sitting with the Sideways crew. She got a shout out when her husband Alexander Payne won an Oscar for Best Adapted Screenplay. So yeah, once again, sparse Asian representation in effect at the Oscars. No love. Someday...


So Morgan Freeman won Best Supporting Actor. And Jamie Foxx won Best Actor for his performance in Ray (that was a no-brainer). That's cool, but did they really have to cut to shots of every black person in the audience when they won? Halle, Oprah, Jay-Z, Puffy... Seems like the show producers were trying a little too extra hard to be 'conscious.' Heck, even Samuel Jackson got screen time every time someone mentioned The Incredibles.


Maybe someday Sandra Oh will win an Oscar. But then who else in the audience will they cut to?


AsianWeek's Philip Chung offers a perspective on the conspicuous lack of Asian presence in Hollywood's biggest night: The Only Yellow at the Academy is Oscar


On a related note: Hollywood's 25 Worst APA Blunders. Too many to list...


And from last month: Hollywoodís Resolutions for 2005. To a better tomorrow...