01.31.06

Here's an article about an alarming trend of South Korean parents paying retired American couples to adopt their children. These Korean parents say teaching their children English is a priority, as well as other factors including avoiding compulsory military service for young men and gaining the prestige of an American education: New Immigration Strategy: Koreans Send Children to America for Adoption. As you can imagine, this comes with its share of problems.
01.31.06

Rain is coming to America: The Ambassador. He's apparently a HUGE pop star in Asia. And up until I read this article, I had never heard of him. But he has aims to make it big here in the States. Good luck, buddy. And be sure to have a conversation with Coco Lee and Utada Hikaru before you make the leap.
01.31.06

The Book of Daniel has been cancelled, but NBC will be posting the remainder of the episodes as streaming video on its website. See! Ivan Shaw! The current posted video is the episode that should've aired last week. Check it out while you can, because they're posting a new episode on Friday.
01.31.06

Coming in on this controversy a little late... SALDEF, ADC and over 100 national and local organizations have spoken out against a recent flyer campaign launched by the Nutritional Health Alliance (NHA) depicting Senator Richard Durbin wearing a turban with the words, "Keep Congressional Terrorism at Bay." Basically, NHA is a lobbying group for the makers of dietary supplements, who are upset over recent legislation proposed by Durbin to make manufacturers of supplements report serious side effects of their products. Obviously, they've figured the most effective way to smear Durbin is to call him a terrorist... and in doing so have equated turbans with terrorists: Over 100 National and Local Organizations join SALDEF and ADC in Opposition. That's racist! More coverage over at Sepia Mutiny: Poison Pills
01.31.06

Some news about indie film The Air I Breathe, from Korean director Jieho Lee: Four join "The Air I Breathe". According to the article, "the film is based on a Chinese proverb that breaks down the whole of human existence into four emotional elements -- happiness, pleasure, sorrow and love -- and that these elements are intertwined." Yay.
01.31.06

Here's a review of a new book, Covering: The Hidden Assault on Our Civil Rights, by Kenji Yoshino, a law professor dealing with both his race and sexual identity while challenging society's peer pressure: The Conformist. He argues that while discrimination used to take aim at entire social groups, now it is directed at the members of those groups who refuse to assimilate to the mainstream. Here's an article adapted from the book: The Pressure to Cover
01.31.06

Academy Award nominations were announced this morning. Ang Lee's Brokeback Mountain leads the way with eight nominations. Hayao Miyazaki's Howl's Moving Castle is nominated for Best Animated Feature. Steven Okazaki's The Mushroom Club is nominated for Best Short Documentary. I was a bit bummed to find that Jessica Sanders' After Innocence had not made the cut for Best Doc Feature (but do make an effort to see it anyway).
Alas, Memoirs of a Geisha was relegated to nominations in the technical categories. Sorry, suckaaaaaas.
UPDATE: Neglected to mention producer/director Pia Clemente, nominated for her short film Our Time Is Up.
01.31.06

This post is a favor for a friend... My (awesome, amazing, spectacular) pal Julie Park at UCLA is doing a study on the efforts to create a federal designation for AAPI Serving Institutions. If you were involved in promoting the legislation in any way since its inception (back in 2002, it's still alive today and was recently introduced in the senate by Boxer and Akaka: http://boxer.senate.gov/news/record.cfm?id=250073) ON YOUR CAMPUS OR ELSEWHERE, get in touch with her at aapiserving@gmail.com because she's cool. Now guess how much of this entry Julie actually wrote herself...


01.31.06

Did you see your area politicians at your local Lunar New Year celebration? It's strategy. They want you: State Politicians Courting A Growing Immigrant Vote
01.31.06

Lela Lee's Angry Little Girls is getting animated for television. Jennifer Love Hewitt(!) is executive producing a pilot based on Lela's strip for Oxygen: Oxygen has toon 'tude. Sounds cool and crazy. That's big news, Lela!
01.31.06

Filmmaker stuff... Blogging Sundance has a video interview from last week with writer-director Georgia Lee and actress-producer Mia Riverton from Red Doors. Georgia Lee was also a Sundance Shorts Juror at this year's festival. View the interview here.
Good interview with veteran filmmaker Wayne Wang here: Director's mission is staying out of box
Ain't It Cool News has a brief interview with Justin Lin about the Oldboy remake: Justin Lin chats about OLDBOY remake briefly... Sounds like Harry isn't happy about this. Frankly, I'm not all that thrilled about it either. Or most remake ideas. But I guess it's too late for that conversation.
01.31.06

Remember this story? Galen Fox, a former Hawaii lawmaker, was accused of groping a woman as she slept on a United Airlines flight. His accuser has been identified as "an attractive Asian female." The 27-year-old woman said she awoke to Fox fondling her crotch under her blanket. Last week, Fox was sentenced to three years of probation and ordered to register as a sex offender: Ex-Hawaii lawmaker gets probation for airline passenger grope
01.30.06

Sandra Oh is in the cast of The Night Listener, a thriller based on the novel by Armistead Maupin. The movie played at Sundance: 'Night Listener' a skin-crawling experience. And Miramax picked it up: Miramax Makes a Deal for "Night Listener"
01.30.06

Catcher Kenji Johjima recently signed a three-year, $16.5 million contract with the Seattle Mariners: Johjima reports to Mariners to begin unprecedented, 10-week schooling. According to the article, priority number one for him is improving his English skills. More on him here: Johjima will let his skill do the talking
01.30.06

What the-!? I saw a commercial for this and my jaw dropped: Passions Goes Bollywood. I'm not too familiar with soap operas, but I'm told Passions is the craziest of them all. I guess you can get away with anything on that show, including crazy Bollywood dream sequences.
01.30.06

18 Mighty Mountain Warriors, "the world's most psychotic Asian American comedy troupe," present a brand new LA show, "Asian Bird Flu Over the Cukoo's Nest," February 2-12 at GTC Burbank. Any show that makes fun of Bai Ling sounds pretty good to me. For more information, go here. For tickets, go here.
01.30.06

Pioneering avant-garde video artist Nam Jun Paik passed away yesterday. He was 74: Video innovator Nam June Paik dies at 74
01.30.06

This weekend at Sundance... some winners: Sundance names winners. So Yong-kim's In Between Days "a minimalist look at a teenage Korean girl's dislocation in her new American home," won a prize for "independent vision." Julia Kwan's Eve and the Fire Horse, about "a Chinese girl in Vancouver in the 1970s, received one for world drama." And Yonghi Yang's Dear Pyongyang, "a look at a pair of Koreans fiercely loyal to the North through the eyes of their Japanese-born daughter," was given one of two special jury prizes for world documentary. Here's an article on Julia Kwan, writer/director of Eve and the Fire Horse: Vancouver director celebrates Sundance win. And here's an interview: Julia Kwan.
01.30.06

More awards show news... Ang Lee was named filmmaker of the year by the Directors Guild of America: Ang Lee Honored As Filmmaker of the Year. The DGA win affirms Lee's position as a favorite for Best Director at the Academy Awards. It's worth noting that only six times in the 57-year history of the DGA honors that the winner failed to go on to win the directing Oscar... and Ang Lee was one of them, for Crouching Tiger, Hidden Dragon. What's up with that? And you may recall that he wasn't even nominated for Sense and Sensibility, when the film had multiple Oscar nomination—including Best Picture. That's shady. But this should be his year: An Ang-Ridden DGA Awards
Meanwhile, at the Screen Actors Guild Awards, Sandra Oh won her second trophy for best supporting actress on Grey's Anatomy, and the cast of Lost won the best ensemble performance award for a dramatic television series: 'Lost,' 'Housewives' take top actor honors. Nice quote from her in the article:





Breathless and in tears, Oh, who also won a Golden Globe for her role, thanked her fellow Asian American actors. She said, "I share this with you ... be encouraged and keep shining."




Backstage, Oh said it was important that three actors of Korean descent had been honored by SAG. The other two were ensemble members of "Lost," Daniel Dae Kim and Yunjin Kim. She added: "That's quite an advance and I am proud to be part of it."
Pretty thrilling, and very cool. Though Sandra, I thought you were Canadian. But hey, we'll take it. Also, a minor upset as Crash beat Brokeback Mountain for ensemble cast. Hey, DDK is in Crash too (for about a minute). Though frankly, I have some major issues with Crash. Still, I think it was a pretty good night for Asian American actors in Hollywood.
01.30.06

Jeff Yang's "Asian Pop" column celebrates the Year of the Dog with a look back at the highlights and lowlights of the last twelve months in Asian America: Chickening Out
01.29.06

Michelle Kwan has been given the OK to compete at the Winter Olympics next month: Kwan jumps way to last shot at Olympic gold. At age 25 and entering her third Olympic Games, I think it's safe to say that this is her last chance to capture that elusive gold medal. Meanwhile, this article about Kwan's fans makes them sound pretty, um... fanatical: Fans Rally Behind Kwan
01.29.06

This weekend marked the twentieth anniversary of the Challenger space shuttle disaster: Remembering Challenger. Astronaut Ellison Onizuka was among the seven astronauts killed explosion: Honoring Onizuka. I was in elementary school at the time, but I remember it pretty vividly...


01.29.06

The Asian Excellence Awards aired on AZN TV (and should repeat numerous times thereafter). Here's an article on the event and the general state of Asian Americans in entertainment: Asian Talent Making Inroads on Television. And here's the same article running in a Flordia paper, but check out the working in the headline: Asian actors infiltrate prime time. Infiltrate? Yeah, that's right. The Asian Invasion. Coming in and sneaking our way into Hollywood! Here is also an interview with AXA co-host Bobby Lee: MADtv Vet Brings Asian Awards to TV
01.29.06

Happy Lunar New Year, everyone. It's the Year of Dog! Some articles:

A Date With Tradition

Entering the Year of the Wedding

In Chinatowns, All Sojourners Can Feel Hua
01.28.06

Whoo! It's been a little while since I got one of these:



FROM: arcardoso

DATE: Sat, 28 Jan 2006 16:17:03 +0000

TO: angryminsoo@angryasianman.com

SUBJECT: about your site




I persoanlly like various asian cutures, food and specially the women.




if u feel that america and the west r racist to you. why dont you go back to
china or to the asian country that your ancestors came from?




U dotn need to stay in the west, I am sure no one really needs u and u will
not be missed.
Dude, what are you? Like, twelve years old?
01.27.06

Respond. Get Angry. Bust some heads. It's the least you can do, if you're pissed off at this latest bit of radio racism courtesy of Adam Carolla and crew. Coming in a little late? Get yourself up to speed and listen to this audio clip of Carolla's show from earlier in the week. That's should be enough to get you good and pissed off.
Feel like letting out your aggression? Allow me to direct you to a few constructive outlets:
Adam Carolla: adam@adamcarolla.com

Dave Dameshek: dave@adamcarolla.com

Rachel Perry: rachel@adamcarolla.com

Ozzie Castillo: ozzie@adamcarolla.com
Here is CBS Radio's corporate contact info:
CBS RADIO

1515 Broadway

New York, NY 10036

212-846-3939
Joel Hollander

Chairman and Chief Executive Officer, CBS Radio

212-846-3939

joel.hollander@infinitybroadcasting.com
Dana L. McClintock

Senior Vice President, CBS Communications Group

212-975-1077

dlmcclintock@cbs.com
That should get you started. Here's a press release from the Asian American Justice Center:

PRESS RELEASE

Contact: Adlai J. Amor

tel: 202-296-2200 ext 135

aamor@advancingequality.org


AAJC Demands that CBS Reprimands Radio Host for Mocking Asian Americans




Washington, DC, Jan. 27, 2006 - The Asian American Justice Center (AAJC) today expressed outrage over the insensitive and racist segment in the Jan. 24 radio show of Adam Carolla mocking the Asian Excellence Awards which will be aired on AZN Television this Sunday, Jan. 29.




"Adam Carolla demeaned the work of Asian American actors, directors, and producers and perpetuated the stereotype of Asian Americans as foreigners," said Karen K. Narasaki, president and executive director of the Asian American Justice Center (AAJC). "Unless Adam Carolla is strongly reprimanded, and the station and CBS Radio apologize, we will be forced to ask advertisers to withdraw their support of his show."




The Adam Carolla Show, aired through CBS Radio's 97.1 Free FM (KLSX-FM) in Los Angeles, referred to the Asian Excellence Awards as a joke and repeatedly used the sounds "ching-chong" in recreating a segment of the awards which were actually done in English. The Adam Carolla Show is aired in 10 West Coast cities that have the largest Asian American populations in the U.S.




The Asian (AX) Excellence Awards honors Asian Americans in media who have made a difference in the United States. The awards will also pay a special tribute to the late actor, Pat Morita.




AAJC is encouraging people to call or email the following CBS Radio executives:




Joel Hollander, chairman and chief executive officer, CBS Radio, tel: 212-846-3939, email: joel.hollander@infinitybroadcasting.com
Dana L. McClintock, senior vice president, CBS Communications Group, tel: 212-975-1077, email: dlmcclintock@cbs.com




A clip of the Jan. 24 Adam Carolla Show is available at: http://www.reelplay.com/adamcarollaclips.html




AAJC's affiliate, the Asian Pacific American Legal Center of Southern California, and other organizations like the Korean American Coalition of Los Angeles, and the Media Action Network for Asian Americans have also criticized the Adam Carolla Show.



Of course, when contacted for comment, CBS Radio's VP of Communication Karen Mateo said, "The segment was meant to be humorous and was not meant to offend anyone," which is the expected bullshit response. Because really, who are they kidding? That's a straight-up lie if you're telling me it wasn't intended to offend. Then again, they probably just thought, hey, let us crap on the Asians again! It is humorous! Well, we're not taking it. That's racist!
01.27.06

After giving James Frey's lying ass the beat down yesterday, today's Oprah Winfrey Show is all about Brokeback Mountain. Unfortunately, according to the website, it's just the stars—no Ang Lee.
01.27.06

Aw crap. Tyson got eliminated from Beauty and the Geek 2 last night. Sorry, man. You keep on rocking that Rubik's Cube, brother.
01.27.06

Comedian Jo Koy was on the Tonight Show a few weeks back, with a routine that got a standing ovation from the audience. He's posted a clip of his performance on his website, and the episode actually airs again tonight on NBC. I've seen him live before, and the guy just totally kills. A funny, funny man.
01.26.06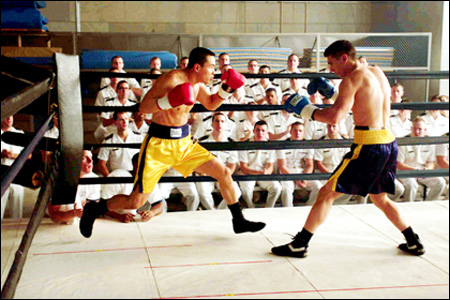 Justin Lin's Annapolis opens in theaters Friday. It's his first major studio movie after making huge waves with his indie feature Better Luck Tomorrow. It's an underdog/boxing/military school drama—some people are calling it, for better or for worse, a cross between An Officer and a Gentleman, Top Gun and Rocky. And from what I hear, it's a standard, safe, by-the-numbers mainstream piece of big-budget filmmaking with stars and everything (Tyrese! Ooh!). But I guess that's okay. We hardly see anything like this with Asian American directors at the helm, so you can call it progress. Hopefully, this will eventually lead bigger and bolder projects for Asian American cinema. Oh, you want more big budget studio fare? Justin Lin's doing Fast and the Furious 3 next: Justin Lin explains 'Fast and Furious 3' vision
What's also notable is that BLT alum Roger Fan is in the film as one of the main characters, "Loo" (though you probably wouldn't know it from the posters or the trailers). He plays a guy who's just a guy. That may seem like a stupid thing to say, but in how many movies do you get to see an Asian American character who isn't there to be "the Asian guy." You know what I'm talking about. Here's what Roger told me about his role in an email he sent a few weeks ago:



So here it is... I've been an actor in LA for 10 years now. Annapolis was the first movie in which I was one of the main characters where my existence was not qualified. I just saw the movie and it was really frickin cool. An Asian American dude at the US Naval Academy just being a dude. Kicking ass in the boxing ring because he just happens to be a good boxer. Kicking ass at the US Naval academy because he just happened to apply and get in. No chinatown reasons, no immigration reasons, no qualifications. Kinda how things ought to be for us but not...especially in media. I personally have not seen a film like this lately (or ever)...an Asian American guy just being a guy. It was really powerful that when I saw the film I got really emotional. I thought Better Luck Tomorrow was a trip.
Apparently, his role wasn't originally written as an Asian American character, and Justin Lin had to really push to diversify the cast...but he got it. And thus "Forrester" becamse "Loo." Coincidentally(?), Roger's character in BLT was also named "Loo"—Daric Loo. Did Daric graduate from high school and join the Naval Academy? Hmm... Well anyway, SDAFF has a great interview with Roger here: BLT Director and Actor Reunite in "Annapolis"
The movie opens Friday, January 27. Unfortunately, the movie is severely getting its ass kicked in the reviews (a few are calling it "Navy recruitment propaganda"). Still, I think I'm going to make an effort to see it.
01.26.06

In Texas, Farmers Branch Police Chief Jimmy Fawcett apologized this week for making racially insensitive statements about people of Vietnamese heritage and then announced his retirement: FB chief apologizes, declares retirement. In his apology, mentioned his military service in Vietnam more than 35 years ago:

"I inappropriately used slang terms from that era that were offensive and unfortunately lead some to believe that I have a bias against Vietnamese. Let me assure you right now, I have no bias against Vietnamese or any other ethnic group."

Excuse me, but this is the guy who got in trouble for saying, "as long as I'm police chief, we won't have any gooks in this department." That's freaking bias, buddy. Good riddance to the racist. This guy had to go.
01.26.06

The Northwest Asian American Film Festival kicks off tonight with their Opening Night presentation of The Grace Lee Project. Excellent. Here's a Seattle Times article on the festival: Film fest: new date, new documentaries, and here's an interview with festival director Wes Kim. The festival runs through the 29th. If you're in the Seattle area, I urge you all to go check it out, and support Asian American cinema! Good times.
01.26.06

Not that I expect upstanding behavior from morning radio personalities—they're like little kids peeing in their pants to get attention—but this particular moment of radio racism is worth mentioning because it specifically involves last week's Asian Excellence Awards, and it's got people (especially the organizers of the show) pretty damn angry. Tuesday morning on Adam Corolla's radio show, he and his sidekick were commenting on the Awards. They claimed they had a clip of an award being presented on the show, which ended up being two guys exchanging patter in variations of the "CHING CHONG" schtick. The proceeded to name the nominees—all named "CHING CHONG"—and presented the award to, of course, "CHING CHONG," who gave her acceptance speech in yet more "CHING CHONG" gibberish. This went on for over a minute. Hey Adam, I didn't know you spoke Chinese, you ignorant, racist ass.
Listen to the offending clip here or here. I've also posted the clip for a limited time here (.mp3, 2.14MB). Please disperse and host it on your own sites to spread the word. It should get you good and angry. That's racist!
I'm hearing rumblings about a response being mobilized. Expect more on this in the coming days. Meanwhile, the real Asian Excellence Awards airs Sunday, January 29 on AZN.
01.25.06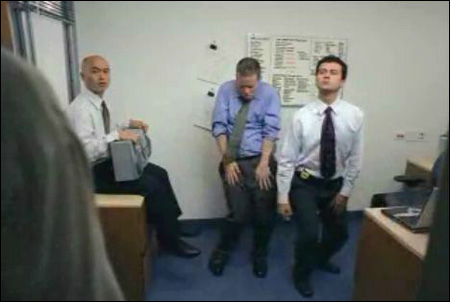 There's a TV commercial for Nextel that's been playing a lot over the last few weeks. Three guys are in an office grooving to the sounds of Salt N Pepa's "Push It." And that's pretty much all you need to know. It's brilliant. C.S. Lee is the guy sitting on the desk, rockin' the boombox. You can view the commerical here or here. Hilarious.
01.25.06

Salon.com has an article on Mike Jeffries, The man behind Abercrombie & Fitch. And you all know how much we love Abercrombie & Fitch around here. Purveyors of what the clothing retailer likes to call that "average, American Joe" look—also known as "white." The article does address the now-infamous racist Asian-themed t-shirts from a few years back. Hey, who are you calling a "humorless Asian"? Believe it or not,



"Jeffries says he has a "morals committee for T-shirts" whose job it is to make sure this sort of thing doesn't happen. "Sometimes they're on vacation," he admits with a smile. "Listen, do we go too far sometimes? Absolutely. But we push the envelope, and we try to be funny, and we try to stay authentic and relevant to our target customer. I really don't care what anyone other than our target customer thinks."



Well yeah, with their target customer being racist white fratboy ass heads.
01.25.06

Just saw Ming Na guest starring tonight on George Lopez. George decides to enroll in college, and she plays his tough economics professor. She just showed up at the end of the episode, but it looks like it'll be a semi-recurring role, because she's scheduled to be on the next episode as well.
01.25.06

Fuk King Kwok. Now say that aloud. Here's an article about an Asian man who, upon his arrival in United States, has had to deal with the consequences of an unfortunate name: Name change should stop the snickers
01.25.06

Aw, come on. They barely gave it a chance: NBC Drops 'Book of Daniel' From Schedule. Amidst the controversy about the religious drama, in the end I think it just suffered from low ratings. This is a shame, because Ivan Shaw's character Adam was one of the progressive, groundbreaking Asian male characters I'd ever seen on television. Now we'll never get to see where it goes... First Emily's Reason's Why Not and now this. These midseason shows with Asian Americans in their casts are not faring well. What's next? Never mind. Forget I asked. I don't want to jinx anything.
01.25.06

Here's an article on Academy Award-winning filmmaker Frieda Lee Mock's new documentary Wrestling With Angels, about playwright Tony Kushner: Documentary casts Kushner in flattering light. The film made its world premiere at the Sundance Film Festival.
01.25.06

GLAAD has announced its Nominees for the 17th Annual GLAAD Media Awards. Ang Lee's Brokeback Mountain has been nominated Outstanding Film - Wide Release (who didn't see that one coming?) while Ekachai Uekrongtham's Beautiful Boxer, Gregg Araki's Mysterious Skin and Alice Wu's Saving Face are all nominated for Outstanding Film - Limited Release. Also, AsianWeek is nominated for Outstanding Magazine Overall Coverage. There are also several other works by Asian American artists nominated. To see the full list, go here.
01.25.06

Just so you know, Takeshi Kaneshiro appears in the February 2006 issue of GQ. See photos from said appearance here.
01.25.06

Hey, more Asians on TV. Keone Young and Esther K. Chae were guest stars on last night's episode of NCIS (a show I have never watched once). In the episode, titled "Light Sleeper": "When the wives of two Marines are murdered, Gibbs and the team are called in to investigate. While investigating, Gibbs and the team fear the murders are racially motivated. The team works together to find the killer and protect another woman and her newborn baby who they fear are the next targets." Let me guess—the wives are Asian. Well, I certainly hope they caught that killer.
01.25.06

Hey, Daniel Dae Kim was on The View this morning. The big time! Yeah man, I was watching The View (it ain't the same since Lisa Ling left). What was funny was that his parents and sister were in the audience, looking so proud. Anybody out there got a video clip? I'll post it here.
UPDATE: A clip of his appearance is available for download as a zipped Real video file here.
01.24.06

This is pretty incredible and frightening all at once... 45-year-old Alan Crotzer is free after spending more than 24 years in prison for crimes he did not commit: DNA Exonerates Fla. Man After 24 Years. His freedom is credited in part to the Innocence Project, the legal clinic profiled in Jessica Sanders' documentary After Innocence. I can't say it enough, I highly recommend this film. Check the website to find out about screenings near you.
01.24.06

It looks like Dante Basco has a pretty big role in this movie: Take the Lead. Antonio Banderas shows you his moves! Instant hit. Is it just me, or does Dante seem ageless? The guy looks the same as he did fifteen years ago in Hook.
01.24.06

You know, a tiny bit of research really goes a long way. But this was not the case for whoever captioned this piece in Elle: Elle Magazine in ëKorean Kimonoí Blooper. Ah, well. Korean, Japanese—what's the difference anyway? Which one's the one with geishas? I love all Asians.
01.24.06

Jerry Tang, a 39-year-old San Francisco tech executive, has been missing since November 29, but his disappearance has prompted an unprecedented grassroots search campaign: A Baffled City Asks: Where Is Jerry Tang?
01.24.06

Two of director Wayne Wang's breakthrough features, Chan Is Missing and Dim Sum: A Little Bit of Heart, finally get released on DVD this week: 'Chan is Missing,' or at least stereotyped version is
01.24.06

Oh what the hell is this. I really don't feel like giving this event attention it doesn't deserve, but check out the description for Happy Ending, a Chinese New Year party in DC:



Chinese food, cheongsams, fireworks, dragons, and plastic trinkets: what do these things all have in common? If you guessed that they are all pretty badass, then you're right! If you guessed that they are all things Chinese, then you are even more right! Gold star and lucky money for you (lucky money not provided)!




Since it seems that those with round eyes just loooove all things Asian, Cubik is pleased to present it's very first Chinese New Year Party. Get into the spirit of things and dress the part! Caps, jackets, those funny conical hats and things with engrish are all encouraged and welcome. Come and get your Chinese on at Happy Ending: A Chinese New Year Party!




Disclaimer: this text was written by an actual Chinese person who used to have a green card.



You're kidding me, right? I fear what this party's going to look like. A bunch of white folks par-tay-ing out wearing their best yellowface geisha gear and "those funny conical hats." And the kicker is the "disclaimer." Ho ho, so funny. That's racist!
01.23.06

Man, this kid has a rough life ahead of him: 3-Year-Old Smoker
01.23.06

Roger Ebert interviews Chinese Canadian filmmaker Julia Kwan, whose film Eve & the Fire Horse is screening at this year's Sundance Film Festival: Sundance #4: Childhood inspiration. Ebert calls it "one of the most beloved films at Sundance this year."
01.23.06

Congratulations to the Pittsburgh Steelers, who beat the Denver Broncos Sunday to advance to Super Bowl XL. Here's an article on the Steelers' Korean American receiver Hines Ward: Korean-Born Ward Raises Interest in American Football. And here's a little more on him, in his own words, from about a year ago: First Person
UPDATE: Also, Steelers trainer Ariko Iso is Japanese American. She was the first woman hired as a full-time trainer in the NFL (and is still the only one). Here's an article from 2002: Steelers hire NFL's first female trainer
ANOTHER UPDATE: I've also been informed that Samoan Hawaiian Troy Polamalu is also the Steelers' star strong safety.
01.23.06

Here's an interesting article on David B. Lat, an attorney-by-day, incognito-blogger-by-night who became famous for "Underneath Their Robes," an irreverent online journal about the nation's judges: He Fought the Law. They Both Won.. Now he's an editor at the political blog Wonkette.
01.23.06

Interview with Bay Area musician Goh Nakamura at Creative Skin. He's got that cool acoustic vibe I dig. Check out Goh's website here.
01.22.06

Manny Pacquiao beats Erik Morales: Pacquiao rallies, stuns Morales with 10th-round TKO. And the Philippines goes insane: Pacquiao stops traffic in Manila after taking out Morales in Vegas
01.22.06

The story of explosives expert Anh Duong is included in Eugene Jarecki's documentary Why We Fight, an inside look at the anatomy of the American war machine. It looks pretty interesting. The film, which won the Grand Jury Prize at the 2005 Sundance Film Festival, is now hitting theaters in New York and Los Angeles, with a wider release on February 10.
01.22.06

Miss Oklahoma was crowned Miss America last night in Las Vegas... but Monica Pang, Miss Georgia, was first runner-up. Yay.
01.22.06

Brand spankin' new! Issue 8 of Hyphen should be hitting newsstands and mailboxes right now. Subscribe, or pick up your copy today! It is filled with many interesting things, and plays loosely on the theme "re-emerge." I actually wrote a short piece for the issue, naming my favorite Asian American blogs. Because nobody blogs like Asian America! If you recall, a few months back I asked folks for a few suggestions to include in the article. Thank you to all who emailed me with blog ideas, though a few people seemed to be under the impression that I was conducting a vote. Sorry dude, I'm not going to include your Xanga just because you got all your friends to email me. Anyway, the issue's out. To find out how to get your hands on it, go here.
01.22.06

A first look at Mei Melancon as Psylocke in X-Men 3: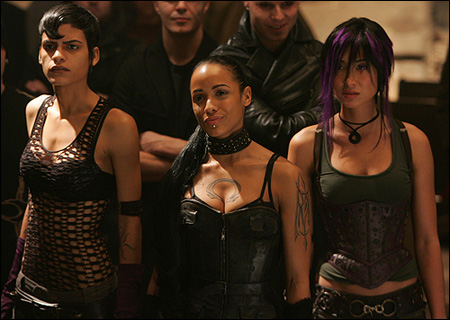 I believe that's her on the right, sporting the purple hair.
01.21.06

An article from Tolerance.org on the campaign against Spencer Gifts and their racist t-shirt designs: SPENCER GIFTS: Racist T-shirts for Sale. And here's the latest update... a letter to Vanessa, who started the campaign, from Spencer Gifts:



Dear Ms. Au,




I would like to express Spencer's deepest regrets for any offense derived from merchandise carried in our stores.




Our choice of the pieces you described was unfortunate, but we never intended to disrespect or cast racism on any ethnic group. Any such characterization was unfair and unintended. Spencer's apologizes to anyone who was offended by those characterizations.




The merchandise you brought to our attention has been discontinued. We are in the process of discarding any remaining items.




Spencer's has been a leading national retailer of fun, humor and irreverence for nearly 60 years. We've focused on our targeted consumers' unique lifestyle. It is our mission to offer unique, unusual and other surprising products - products that simply cannot be found anywhere else. In our long history, usually we get accolades for our inspiring and entertaining assortments. Obviously, not this time.




It is our hope that our learning from this experience will have a positive outcome for all those affected. We will be taking steps internally to bring greater sensitivity to our selection of merchandise.




Sincerely,




Mike Champion

Promotion & PR Manager

Spencer Gifts LLC



Weak-ass apology. But the shirts have apparently been discontinued and discarded (so they claim). I'd keep an eye out for them in the clearance bin. As for Spencer Gifts' insistence that the shirts were "never intended to disrespect or cast racism on any ethnic group," I'm pretty sure they didn't agonize over it too much when thought them up. I doubt they were too shocked (shocked!) about the protest. That's racist!
01.21.06

More theories on who really discovered the New World. It wasn't Christopher Columbus in 1492, nor was it even Chinese admiral Zheng He in 1421, as historian Gavin Menzies originally argued. Menzies now believes it was the Mongol king Kublai Khan who probably had the Americas explored even earlier, in the 13th century. That certainly rocks our established history... or as this article eloquently puts it: Zheng He and Columbus Can Both Go Suck It
01.21.06

George Takei and Margaret Cho have been announced as the hosts of Crossing East, the very first Asian American history series from NPR. Takei will be hosting the first four episodes of the eight hour series, and Cho will be taking on the second half. That's cool—two of the most distinct voices in Asian America. The show will premiere in May for APA Heritage Month.
01.21.06

Woo! At last, they have made a Final Destination 3! Because really, it has to be a trilogy. The story would just not be complete without a third film to round it out—and now, the wait is finally over for all you Final Destination Freaks. James Wong, who directed the original, is back for the third installment (Part 2 just wasn't the same without him). I also see that an actress named Maggie Ma is in the film as "Ling." Hooray. The movie opens on February 10.
01.21.06

According to his defense, Chi Mak ain't the Chinese super spy the U.S. government alleges he is..."Rather than being the long-standing 'spy' for the last 20 years, the characterization which the government sold to the court and the media, the evidence herein reflects Mr. Chi Mak's long-standing dedication to the field of power electronics technology, and that he is known only to be a hard worker and a 'problem solver.'": Defense denies SoCal engineer had sensitive military data
In other Asian spy news...Unnoticed for months, G-man spied for Filipinos. FBI analyst Leandro Aragoncillo is accused of passing sensitive U.S. intelligence assessments about the Philippinesí government to Filipino opposition leaders. Apparently, the guy has already "essentially admitted" his wrongdoing.
01.21.06

The Sundance Film Festival kicked off this week. An army of film lovers and industry types have descended upon the cold to check out the latest and greatest in independent filmmaking at not only Sundance but also the Slamdance Film Festival. Here is a big ol' list (courtesy of APA First Weekend Film Club) of Asian or Asian American films being showcased in Park City:
Sundance
Ramin Bahrani - Man Push Car

David Chai - Fumi and the Bad Luck Foot

Cho Chang-Ho - The Peter Pan Formula

Tanuj Chopra - Punching At The Sun

Toa Fraser - No. 2

Hiroki Ryuichi - It's Only Talk

Ian Inaba - America Blackout

Kim So Yung - In Between Days

Julia Kwan - Eve & The Firehorse

Jon Daniel Ligon - Ha Ha Ha America

In-Ah Lee - Don't Come Knocking (Producer)

Max Makowski - One Last Dance

Freida Lee Mock - Wrestling With Angels: Playwright Tony Kushner

Firas Momani - A Half Man

Edward Parks - Special (Producer)

Luc Schaedler - Angry Monk: Reflections of Tibet

Auraeus Solito - The Blossoming of Maximo Oliveros

Sandhya Suri - I Is For India

Ham Tran - Journey From The Fall

Yang Yonghi - Dear Pyongyang

Susan Youssef - Marjoun and the Flying Headscarf

Hisham Zaman - Bakwe

Zhang Yuan - Little Red Flowers

Sundance/NHK Filmmaker Awardees
Fujita Minehito - Hurricane

Kenmochi Satoki - Next Sunday

Nakajima Kanji - The Clones Return To The Homeland

Slamdance
Lee Isaac Chung - Los Coyotes

Maryam Keshavarz - The Day I Died and Not For Sale

Kim Chansoo - Vaudeville

Patty Kim - Abduction

Vanessa Ly - High Winds

Park Keun-Pyo - Wake

Annie Poon - The Book of Visions

Michael Shu - Triptych

Suh Yongchu - Left and Leave

Matthew Swanson - Hiro

Patrick Tsai - No More Sympathy

If you happen to be in Park City for the festivities this weekend, you're invited to the 5th Annual Asian Pacific Filmmakers Reception. Sunday, January 22, 4:00pm-6:00pm at the China Panda Restaurant. There will be food, friends and filmmakers. Brought to you by the Asian Pacific Filmmakers Reception Committee: Visual Communications, Center for Asian American Media (formerly NAATA), Asian CineVision, San Diego Asian Film Foundation, Process Space Consulting, APA First Weekend Club, and David Magdael & Associates, Inc. Represent!
01.21.06

Dude. Tyson Mao, our favorite Rubik's Cube whiz from Beauty and the Geek 2, has a Xanga. And it's a good read. Enjoy.
01.21.06

China is coming to get you! The growing economic superpower is taking over... starting with our childrens' toys. Chinese investors have acquired Wham-O Inc., the maker of Frisbee, Hula-Hoop, Silly String and Slip 'N Slide toys: Ownership of Wham-O Spins Into Chinese Hands


01.21.06

This week, Nayquan Miller, one of three teens charged with killing 18-year-old Chinese food deliveryman Huang Chen, gave testimony describing the February 2004 attack: 'Took this guy's life for nothing' - killer. It was supposed to be a gang initiation. Apparently, Miller and his accomplices had ordered takeout weekly from the Ming Garden restaurant but didn't recognize Chen. "I'm not trying to be racist or anything, but they all look alike to me," he said. Sickening. That's racist! It's this kind of dehumanizing attitude that allowed them to rationalize murder. I hope he and his accomplices rot in prison.
01.21.06

The annual Miss America Pageant is tonight, and there is an Asian American contestant in the mix—Miss Georgia, Monica Pang. Here's an article on her: The biracial belle. And here is a photograph of her in a swimsuit.
01.21.06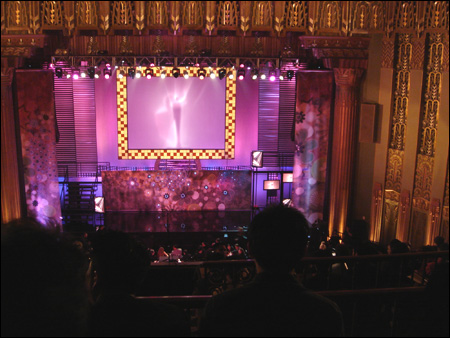 Well. Bai Ling was there, and she did not disappoint. Live and in person, and as freaky as ever. Yes, on Thursday night I attended the 2006 Asian Excellence Awards ("AXA" for the cool kids) at the historic Wiltern Theater in Los Angeles. It was an occasion for the Asian American community to come together in celebration, affirmation and reflection. Because we are excellent! It was also an excuse for us Asian folks to gather for own version of a glitzy Hollywood party. I had a pretty good time. The event wasn't perfect; some of it was downright ridiculous. It truly was a strange mix of a participants and honorees—a real stretch at times. I think more than a few people were probably scratching their heads at the way the evening went down. At same time, what else have we got? It's the only show in town. If it affirms us as Asian Americans to rent out a theater, invite some celebrities, cobble together some categories and call it an awards show, so be it. I don't think anybody else is going to do it for us.
The show will air on AZN on Sunday, January 29, so you can tune in to see how it all turned out. I'm sure it'll seem much more glamorous on the tube than my view from the mezzanine. If you plan on watching and being suprised when they announce the winners, don't read the rest of this entry. There will be what are popularly referred to as "spoilers." Here's an AP article covering the event: 'Kung Fu Hustle' Top Film at Asian Awards. And here are some press photos. And here's a rundown of the winners and honorees:
Remy Martin X.O. Honors
Inspiration: Dr. David Ho

Lifetime Achievement: Ismail Merchant

Bridge: Quentin Tarantino

Visibility: Lucy Liu

Competitive Awards
Outstanding Film: Kung Fu Hustle

Outstanding Male TV Performance: Daniel Dae Kim, Lost

Outstanding Female TV Performance: Yunjin Kim, Lost

Outstanding Film Performance: Stephen Chow, Kung Fu Hustle

Outstanding Newcomer: Lynn Chen, Saving Face

Here are a few of my own notes and observations about the event...
The Red Carpet. They had a red carpet outside the Wiltern. I think it was about 6 feet long. There was a little area blocked off for press to take celeb photos and do their thing. Technically, I was there in a press capacity. But I took one look at the setup and said hell no, it's cold out here (cold for LA, that is).
Without a Trace. I got to hang around a bit with actor Parry Shen. We chatted about that Without a Trace episode he was in a few months back. Apparently, he got a lot of hell for it... and if you recall, I didn't have many nice things to say about it either. Thankfully, he bore no hard feelings. You're a good man, Parry.
Preach it, brother. Spoken word artist Beau Sia did the pre-show performance, doing a cool piece that was supposed to warm up the audience before things got underway. Personally, I thought it was one of the highlights of the evening. Too bad you'll never see it on the broadcast.
The Hosts. Kelly Hu and Bobby Lee did a little taped bit that started off the show. It was funny, but man, if I have to see Bobby Lee dressed in drag one more time...
Somebody's gotta pay for all this. It was pretty obvious who was sponsoring this event, with Remy Martin getting a mention every chance possible. We also had to sit through some not-so-subtle informercials for Remy Martin and AZN during the show. On the upside, the alcohol was free, and they kept it flowing.
You may call him Daniel-san. The show featured a special tribute to the late Pat Morita, with none other than Karate Kid co-star Ralph Macchio present to say a few words. Seems corny, but it was surprisingly touching. What a trip!
Never did get around to seeing Blade: Trinity. Overheard at the after-party: "Is that Eddie Griffin?" "That's not Eddie Griffin—that's Wesley Snipes!" And it really was. Well of course it was. Like he was going to pass up a chance to party with us Asians.
I 'HEART' Bai Ling. Man, she is a freak. Hell, I'll say it. When she presented the award for Outstanding Female TV Performance, she announced the winner was Sandra Oh... though the card said Yunjin Kim. I think it might've had something to do with the depleted bottle of cognac sitting at her table. Sandra Oh may take up her complaints with Remy Martin. Oh, Bai Ling, you are ever the exhibitionist. Her "dress" was definitely worthy of a mention on bad fashion watchdog Go Fug Yourself, where she actually has her own category (someone, send them a photo). But morbidly, like a car wreck, I found it extremely difficult to avert my eyes.
Inspiration. Dr. David Ho's award was genuinely inspiring. Standing before us was a guy whose AIDS research is literally responsible for saving millions of lives worldwide. Magic Johnson, who presented the award, inarticulately expressed his gratitude to Dr. Ho. He's a true hero.
"Newcomer" is relative. First of all, the initial online voting for the "Outstanding Newcomer" category was ridiculous. There were people in the mix that have been working in Hollywood for years, and could hardly count as newcomers. Thankfully, the list was whittled down to four names... but still, Katie Leung for Outstanding Newcomer? Sure, she was adorable in Goblet of Fire, but she couldn't have had more than 5 or 6 lines of dialogue. Is that really enough to get put up for an award? Lynn Chen's win for Saving Face was well deserved. And how cool was it that Flower Drum Song's James Shigeta and Nancy Kwan presented the award?
Remember the name! Linkin Park frontman Mike Shinoda was there with his hip hop side project Fort Minor. They performed "Remember The Name," which was cool, though the presenters (Karl Yune and Michelle Krusiec) incorrectly described it as a song about the Japanese American internment experience. I believe they were actually talking about "Kenji." The performance was cool, though I don't think this was necessarily a hip hop-oriented crowd. Hey, I had my hand up.
Zack Morris is Asian? I think this question crossed more than a few folks' minds. His mother is actually Indonesian. But who out there in TV land has ever honestly indentified Mark Paul Gosselaar as Asian American? Not to knock any of the evening's winners, but some of these categories were really reaching.
Kill Bill is not Asian cinema. Ugh. Honestly, this seemed to me the biggest stretch. Quentin Tarantino loves Asian movies. We know that. He loves them so much he constantly pays homage to them (or plagiarizes, depending on who you ask) in his own films. And I know that throwing his name on an Asian movie ("Quentin Tarantino presents...") certainly gives it visibility that it would not otherwise receive stateside. But was this really necessary? Seems like they needed a big name to attach to the show, and Quentin Tarantino was almost Asian enough, so what the hell. And his acceptance speech—talk about self indulgence! You can see why he likes to put himself in his movies. And hey, since we've got Quentin and Lucy Liu in the same room, why not throw in Vivica A. Fox? It's a Kill Bill reunion.
WTF. Can someone tell me what Ron Jeremy was doing at the Asian Excellence Awards? I kid you not.
Man of the hour. Most definitely, the highlight of my evening was meeting Daniel Dae Kim, a guy whose career I've been following since even before Lost. You couldn't find a nicer guy, and he is indeed a fan of this website. He most definitely deserved his award. Good times.
Okay, this has gone on way longer than I really intended. I have lost the stamina to continue. Anyway, if you want to watch the show, it airs January 29 on AZN TV, and then will probably repeat ad nauseum. Yay for us Asians.
01.19.06

The Asian Excellence Awards are tonight at the Wiltern Theater in Los Angeles. The show is an effort to "shine a national spotlight on Asian Americans who have made a genuine difference" and "celebrate and recognize the amazing and inspirational accomplishments of Asians and Asian Americans." Yay. Sounds like a big excuse to put everybody together in one room and throw a party. We all need our self-congratulatory moments. Anyway, I will be going to show. I will try to give a rundown or review of the evening's festivities tomorrow... I am really really hoping I get to see Bai Ling.
01.19.06

The makers of GookBox apologize for their application's ill-conceived name:





GookBox would like to apologise to all the people whose feelings were hurt. or made to feel uncomfortable in any way. GookBox would like to clarify the intention behind its christening here. GookBox is meant to be read as Person's Box, and gook was meant to refer to a person and not a person of any particular origin. It has been very disheartening to know that a lot of you took offense to this name. We would like to give it a better name if you can help us with it.




Many Thanks, GookBox Team.



I still don't understand the rationale behind naming it "GookBox" of all things. Like I said before, some idiot did NOT think things through here.
01.19.06

He's been hidden in the bunch along! Turns out Andrae of Bravo's Project Runway 2 is also Asian American—he's part Filipino. He says so right here. Add him to your list, Peachies.
01.19.06

Filipino boxer Manny Pacquiao will face against Erik Morales in a rematch this Saturday... and an entire country will stop to watch: Pacquiao fight rivets, lifts a nation. They're crazy about him in the Philippines!
01.19.06

Partition is an upcoming film starring Jimi Mistry and Smallville's Kristin Kreuk. It's described as "an epic romantic story of two people caught in the events that divided India and Pakistan in 1949 ñ the partition." Lots of accents and stuff. Okay. View a trailer for the film here.
01.19.06

So, Sandra Oh won a Golden Globe this week for her role on Grey's Anatomy. As you can imagine, the Asian Canadian actress was pretty darn happy. But not as happy as her parents: Sandra Ohís parents real proud
01.19.06

Gwendoline Yeo will play Xiao Mei, the recurring Chinese maid character I mentioned last month that will be appearing on Desperate Housewives later this season. She is an ex-beauty queen! And according to her IMDb entry, she's done a whole mess of video game voicework. And now, she gets to join the crazies on Housewives.
01.19.06

Just heard about Kim del Fierro, a new singer on the scene. She just released her debut album Inhibitions. I haven't heard it, but I listened to a few samples and she's got a nice sound. Looks like her official site is currently under construction, but she does have a fully operational MySpace going, complete with sounds clips and all that. Check it out.
01.19.06

This billboard ad was spotted last week at Universal City Walk: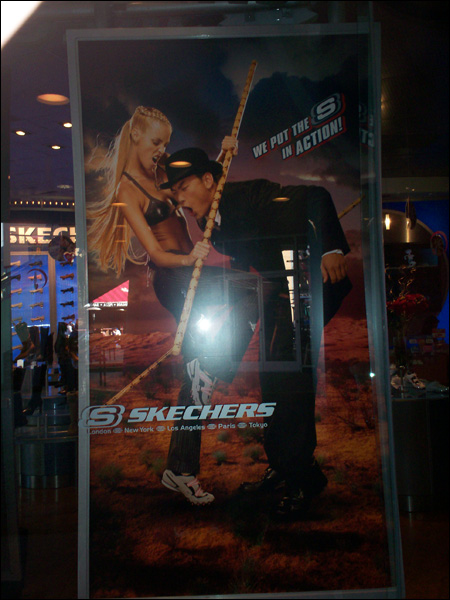 Just hanging right there in the store window. That's disturbing. Pretty blonde white girl knees Charlie Chan-esque Asian man in the crotch—talk about emasculating. That's racist! (Thanks, Christine)
01.18.06

I posted a similar story on this same topic last week: Chinese nanny state takes root in US. They're all the rage, baby.
01.18.06

Derek Kirk Kim, author of the wonderful and amazing comic work Same Difference, has been working on a new story, Healing Hands. It's updated Monday through Friday with a new panel each day. Check it out. Or check it out a long while later, if you're not into the whole panel-at-a-time thing.
01.18.06

Brighton College in East Sussex is becoming the first in Britain to make Mandarin Chinese a compulsory subject: College makes Chinese compulsory. Apparently, they want to equip their students to face the "realities of the 21st century." Realities meaning total Chinese economic domination?
01.18.06

ABC has halted production of Emily's Reasons Why Not after just one airing. The show apparently tanked in its debut last week, with only 6.2 million viewers tuning in. This week, the network preempted the second episode, instead airing a rerun of the premiere of The Bachelor. Ouch. Bad news for Smith Cho, who played Glitter on the show. After promoting the show like crazy, they shut down the show after one airing... no faith, I guess. That's business.
01.18.06

Out-of-control gambling is a serious and rapidly-growing problem in the Asian American community: Gambling Seen as No-Win Situation for Some Asians
01.18.06

Here's an interesting article on Michelle Kwan's legacy: Next two weeks could make or break Kwan's image. Will she be ready for the Olympics? And will she finally take home a gold medal this time? She wants it baaaaad. We shall see.
01.18.06

Fluffy article on Yunjin Kim from Lost: Actress Kim gets 'Lost' in generous gifts, jewels. Sort of a pointless article, but hey, everybody loves free stuff. Even Yunjin.
01.18.06

Oh boy. I guess New Zealand has its share of kitschy orientalist restaurant chains too. Check out this restaurant's site: Monsoon Poon. Every cheesy Asian restaurant needs yellow funny funny joke jokes on its website. Like here: "If you drink and drive, you bloody iriot dial a rickshaw." Or this oh-so-hilarious review: "That Monsoon Poon, i hear pretty damn good, now, where you go?" - Sum Yung Gy, Ricksaw driver Hanoi. T-shirts for sale include :"LOVE U LONG TIME" (with faux Thai accents on selected vowels) and "Me hungry, you cook now, yes?" That's racist! Tze Ming of Yellow Peril is planning to take them down... Drop the restaurant a few notes of love at auckland@monsoonpoon.co.nz.
01.17.06

Third Thursdays is a monthly dinner series for people in Bay Area nonprofit, for-profit, and government sectors interested in Asian American and Pacific Islander community issues and service opportunities. Check out this month's panel: the asians are coming, the asians are coming. This Thursday, January 19 at the Japanese Cultural & Community Center in San Francisco. They'll be talking about the state of Asian American media in light of significant online trends in recent years—issues of particular interest to a web guy like myself. Panelists will include Hyphen Editor-in-Chief Melissa Hung, Independent Radio Producer Robynn Takayama, and Donald Young of the Center for Asian American Media. Big bummer—they actually asked me to participate, but regretfully I couldn't make it... but you should! To RSVP, go here.
01.17.06

The Golden Globes were last night, and Ang Lee's Brokeback Mountain took home four awards, including Best Dramatic Film and Best Director: 'Brokeback Mountain' Gets 4 Golden Globes. And a BIG Best Supporting TV Actress win for Sandra Oh for Grey's Anatomy. The Korean Canadian actress was genuinely ecstatic. That was pretty cool. Oh, and my fave show Lost won for Best Television Drama. Gotta dig that. Here is a photo of a very very very happy Sandra Oh.
01.17.06

The competition was tough, but 20-year-old Caltech student Leyan Lo set a new world's record this weekend for solving the Rubik's Cube: Man Solves Rubik's Cube in 11.13 Seconds. He also set a new world's record for nerdiness.
01.17.06

Who really discovered the so-called "New World"? Columbus, they teach the kids. Some say the Vikings. I say it was actually the ancestors of those now known as "Native Americans." They were here first. But hey, nobody listens to me. In recent years, theories have popped up that the first explorers were actually from China. And now, there may be new evidence that could possibly revolutionize our views on who discovered New Zealand, Australia and the Americas: Chinese map may alter world history
01.17.06

I have no idea what to make of Wang Newton. Performing monthly at the Walnut Room in Philadelphia. Here's a brief interview with her: Meet Wang Newton, a relative newcomer. What is a "1950s-Hollywood-style Asian accent"?
01.17.06

Seventeen-year-old Beatrisa "Bebe" Liang is one of four skaters featured on TLC's Ice Diaries which documents their quest to the Winter Olympics.
01.17.06

This one's for the students... this summer the Norm Mineta Internship Immersion Program will provide fully-funded internship opportunities in the U.S. Department of Defense for a total of 90 undergraduate students from diverse backgrounds. Students will be placed in a variety of DOD offices and functions. That's cool, if you don't mind working for The Man. Anyway, for more information on the internship, go here. To learn more about Secretary of Transportation Norman Mineta, go here.
01.17.06

For those keeping score, designer Diana Eng was recently eliminated from Project Runway 2. Chloe and Guadalupe are still in it to win it. By the way, check out Peachies' Xanga for her comprehensive, growing list of People of Asian / Pacific Islander descent in mainstream American REALITY TV history. It's a surprisingly bigger list than you think, when you put 'em all together.
EDIT: Daaaaaamn. I made a mistake, and got like 537 emails about it. There are obviously a lot of you out there who watch Project Runway.... and I obviously do not. Both Guadalupe and Diana have been eliminated (I thought it was just Diana), leaving Chloe to represent.
01.16.06

"The hope of a secure and livable world lies with disciplined nonconformists who are dedicated to justice, peace and brotherhood."
"I believe that unarmed truth and conditional love will have the final word in reality. That is why right, temporarily defeated, is stronger than evil triumphant."
"Now, I say to you today my friends, even though we face the difficulties of today and tomorrow, I still have a dream. It is a dream deeply rooted in the American dream. I have a dream that one day this nation will rise up and live out the true meaning of its creed: - 'We hold these truths to be self-evident, that all men are created equal.'"
- Dr. Martin Luther King, Jr.
01.15.06

Oscar winner Jessica Yu directs tonight's new episode of Grey's Anatomy on ABC. Just letting you know.
01.15.06

Here's an article on brothers Tyson and Toby Mao, stars of the deadly competitive art of speedcubing: Brothers square off in cubing contest. Okay, so it's not really deadly. It's solving the Rubik's Cube really really really fast—so fast it should be deadly! As you know, Tyson's on the current season of WB's Beauty and the Geek, along with fellow geek Ankur and beauty Cher (turns out she's of Asian descent, as many of you have pointed out to me).
UPDATE: Cher, the beer spokesmodel and former Hooter's waitress, is indeed part Korean. In this article on her geeky teammate Herman, he says that other contestants started calling them "Woody and Soon Yi." UGH. Yak. Pitooey.
01.15.06

Another article on Daniel Dae Kim, our man Jin from Lost: Paradise found for Daniel Dae Kim. It was a good year for him.
01.15.06

Michelle Kwan has gotten the okay to go to the Olympics, under the condition she proves by January 27 that she's fully recovered from a groin injury and able to compete: Kwan gets trip to Turin, Cohen gets title
01.15.06

San Francisco's historic Japantown celebrates its 100th birthday this year. Unfortunately, the truth is that the neighborhood has been in gradual decline for years: Japantown rounds out a century. The centennial's formal kick-off is in March, but the celebration's official website is expected to launch next week at sfjapantown100.org.
01.15.06

Don't know if you've been following this story out of the Philippines... A Philippine judge on Friday issued arrest warrants for four U.S. Marines charged with rape, putting pressure on the United States to hand them over to Philippine authorities. Prosecutors allege that Lance Cpl. Daniel Smith raped a 22-year-old woman November 1st inside a van at Subic Bay, a former U.S. Naval base northwest of Manila, as fellow Marines cheered him on. Smith claims he only had consensual sex: Four Marines Accused of Philippines Rape
01.15.06

Okay, check this. On March 10 and 11, the National Archives and the nation's Presidential Libraries will host an unprecedented two-day conference, "Vietnam and the Presidency" examining the history of the Vietnam War and the American presidency at the John F. Kennedy Presidential Library and Museum in Boston. Over three million Vietnamese and 58,000 Americans died in the war. Yet there is no Vietnamese speaker on the agenda. What's up with that, friends? A protest is underway led by Quang X. Pham, author of A Sense of Duty: My Father, My American Journey, and others. Learn more about the issues here.
01.15.06

Check out the latest edition of New Demographic's Addicted to Race, a podcast about America's obsession with race. It's heavy on the Asian American issues... Carmen rants extensively on the stereotypes about Asians perpetuated by the media—particularly Asian men. They've also got an interview with Sheridan Prasso, author of The Asian Mystique. It's good stuff, so check out the podcast here. Also be sure to check out New Demographic's regularly updated blog Mixed Media Watch. Tell 'em AAM sent ya.
01.14.06

I almost missed this one. Last Holiday starring Queen Latifah, which hit theaters this weekend, is directed by none other than Wayne Wang. The Asian American filmmaking pioneer has made a career of balancing standard Hollywood studio fare (Maid in Manhattan, Because of Winn-Dixie) with more edgy, indie works (Chan Is Missing, Dim Sum: A Little Bit of Heart), and of course is responsible for that seminal film everybody loves/hates, The Joy Luck Club. Both Chan Is Missing and Dim Sum finally get released on DVD this month. Whooooo.
01.14.06

Farmers Branch Police Chief Jimmy Fawcett will personally apologize for his racially insensitive remarks against people of Vietnamese heritage (I believe he reportedly said, "as long as I'm police chief, we won't have any gooks in this department"): Chief to apologize for racial comment. He'll make the apology when he returns from a 10-day suspension without pay. Yay. A suspension, an apology, and some counseling. I still say fire this guy. Is this the kind of hate and ignorance you want running a city's law enforcement?
01.14.06

Jeff Yang's latest Asian Pop column for SFGate is sort of a year-in-review article, in the form of some common New Year's resolutions, covering everything from competitive eating champs to "The New White Flight" to Steven Seagals gross-ass energy drink. Improve thyself: Better Living Through A-Pop
01.14.06

Check out this NPR story on Chinese character tattoos, featuring Tian Tang: Chinese Character Tattoos: Lost in Translation. Specifically, the misuse of said characters in Western culture. Who better to talk to than good ol' Tian of Hanzi Smatter?
01.14.06

Cellist Yo-Yo Ma will soon be a U.N. peace envoy (what Angelina Jolie has been running around the world doing). Meanwhile, Angelina's boyfriend has not yet made the list: Cellist Ma to be U.N. peace envoy; not so Brad Pitt. That that, Brad Pitt!
01.14.06

Responding to growing involvement from the local Korean American community and an increasing awareness nationally of Korean art, the Philadelphia Museum of Art has hired its first curator of Korean art: Art Museum names Korean curator. Hyunsoo Woo started work this week as the museum's associate curator of Korean art—making the museum one of just a few in the United States to have a full-time staffer devoted to Korean art. Neato.
01.14.06

That ImaginAsian reality show Finding My America actually has a separate show website, with video clips. It's a road trip show, with corporate sponsorship, thus the very commercial domain name... www.findingmycorolla.com. There's a link for the English version in the top left corner.
01.14.06

The Onion A.V. Club has an interview with Saturday Night's Live's Fred Armisen.
01.13.06

Just to reiterate what I said yesterday: Jessica Sanders' documentary After Innocence opens in Los Angeles today at the Nuart Theatre. And if you're not in LA, it'll be coming to your city soon. I can't recommend this film enough. You must go see it, and tell a friend. Tell many friends. And discuss. Here's the LA Times review: 'After Innocence'
01.13.06

TIME has a really interesting, lengthy article on growing up Asian American in the United States: Between Two Worlds
01.13.06

This comes to our attention from Vanessa, who spotted some racist Asian-themed t-shirts at a Spencer Gifts store. Like this one: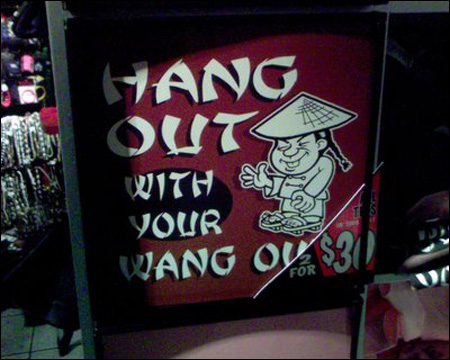 Ha ha. So funny. That's racist!
On one hand, you'd think they might have learned something from the Abercrombie & Fitch debacle. On the other hand, it's likely they actually took their cues from the whole ordeal and said hey, racist t-shirts are cool. A&F did it, we should too! Thus, the wave of copycat shirts over the years. Details on the campaign protesting this latest batch of shirts being sold at Spencer Gifts are available here, including corporate contact info:



Email the execs:




Steven Silverstein

President and CEO

steven.silverstein@spencergifts.com




Isaac Silvera

EVP and CFO

isaac.silvera@spencergifts.com




Michael D. (Mike) Champion

Manager, Promotion and Publicity

michael.champion@spencergifts.com




Call or write to corporate headquarters:




Spencer Gifts, LLC

6826 Black Horse Pike

Egg Harbor Township, NJ 08234

Phone: 609-645-3300

Fax: 609-645-5633




Website http://www.spencergifts.com/



There's also an online petition here: Boycott Spencer Gifts - Racist "Asian" Shirts
I hope this campaign gains some ground, and I hope you speak out. Don't take crap like this lying down. But to be honest, I don't think Spencer Gifts is really going to care. This is the kind of crap they sell. It's no surprise to anyone in their corporate offices that these shirts are intended to offend. It's racist, and they know it. They want people to get upset. Hell, they expect it. This sucks, but it's hard to impress conscience upon a company that probably didn't care in the first place. I said it once, but I'll say it again: That's racist!
01.12.06

Just saw this crazy racist stereotypical Bud Light (yeah, yeah, I shouldn't expect much) featuring Asian American acting veteran James Hong. He plays a bearded Asian master training a hapless white dude how to pour a beer. The guy has made a fifty year acting career out of playing these roles. After all these years, even for the old-timers, I guess the plight is still the same for the Asian actor in Hollywood: a job is a job, and a man's gotta pay the bills.
01.12.06

NPR had a cool story this morning on percussionist Suphala, in her own words: Suphala, Savoring the Beat of a Different Drum
01.12.06

Asian kids are getting fat off the evil junk food of the West! And it's getting dangerous: East Meets West, Adding Pounds and Peril. According to the article, Asians are acutely susceptible to Type 2 diabetes. Studies show that they develop it at far lower weights than people of other races; at any weight, they are 60 percent more likely to get the disease than whites. It doesn't help that the barrage of fast food and junk food marketing makes kids crazy insane for KFC and Fanta and crap like that. Oh man, I sound like my mom!
01.12.06

Ken Watanabe may have a role in Red Sun, Black Sand, the second part of Clint Eastwood's back-to-back Iwo Jima films: Watanabe Rising for Red Sun
01.12.06

The second season of WB's Beauty and the Geek premiered tonight. For those unfamiliar with the show's premise, "eight academically impaired women and eight brilliant but socially challenged men are paired up for a chance to win a grand prize of $250,000." Basically the babes and dorks are put together in an odd reality show experiment. Two of this season's geeks are Asian dudes: Ankur, an M.I.T. graduate and a member of the "Indian dance club," and Tyson, a Caltech astrophysics major who is internationally recognized as a Rubik's Cube champion. I wonder if their Asian-ness makes them more Geekier to the show's producers...
01.12.06

Annapolis, directed by Justin Lin, opens in theaters on January 27. His first big film after Better Luck Tomorrow! Should be interesting. BLT alum Roger Fan is in the film as "Loo."
01.12.06

The Asian Excellence Awards has a fancy official site up and running. It's going down January 19 at the Wiltern LG Theatre in Los Angeles (it airs on AZN on January 29). This year's Remy Martin X.O Honors are:




Inspiration - Dr. David Ho, the 1996 Time "Man of the Year" for his tremendous work in the field of HIV/Aids research and development of antiviral cocktails to fight the virus in the early stages of infection




Lifetime Achievement - Ismail Merchant (posthumously) best known for his long collaboration with James Ivory, who together founded Merchant Ivory Productions that have won several Academy Awards.




Bridge - Quentin Tarantino for his renowned admiration and dedication to Asian cinema.




Visibility - Lucy Liu for her continued work in feature films raising the profile and visibility of Asian American actors.



OhmygodisthatBaiLing? This is going to be awesome. Sounds like a big excuse to get a bunch of famous names together and shake hands. Hey, we all need our special ways of celebrating. BET gets an awards show. And there's the Latin Grammys. I guess we felt left out. Anyway, tickets are available at Ticketmaster.
01.12.06

This is pretty much the worst name for a computer application ever: GookBox. This is not a joke. It's a program that basically saves music to and plays them from a pop3 email account. Okay, I think I get where the name comes from—Google + Jukebox = Gookbox. But this is just ridiculous. Someone obviously didn't think things through here... otherwise, that's racist!
01.12.06

Check out the most recent edition of Asia Pacific Arts. It's their nifty year-end retrospective issue, covering the best of 2005. Lots of profiles of films and filmmakers and up-and-comers. Good stuff.
01.12.06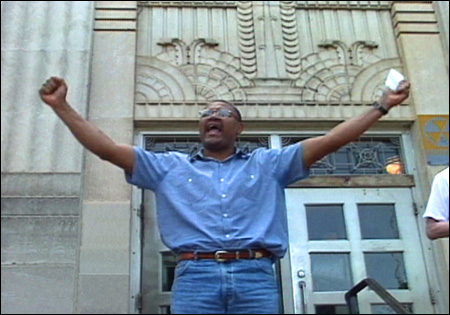 I saw the most incredible film this week. After Innocence, Jessica Sanders' powerful award-winning documentary that tells the story of the exonerated—innocent men wrongfully imprisoned for decades and released after DNA evidence proves their innocence. It's an amazing, heartfelt story about human resilience, as well as a scary, sobering look at the flaws of the U.S. justice system. The film took the Special Jury Award at the 2005 Sundance Film Festival, and has been shortlisted for the Academy Awards. It's pretty damn brilliant. Here's an interview with Jessica Sanders from LA Weekly: Freedom Without Apology
After Innocence opens in Los Angeles this Friday, January 13 at the Nuart Theatre. Filmmaker Jessica Sanders, as well as several of the film's exonerated subjects, will be in attendance for Q&A's after the screenings. Giant Robot will also be hosting an Opening Night Reception at GR2 after Friday's 7:30pm show.
I highly recommend this film, and urge everybody to go out see it. Like most independent releases, the national impact of After Innocence really depends on how well it does during these opening weeks. The film's running on a city-by-city release schedule; this week's Los Angeles and Sacramento, and next week's the Bay Area, but it's also going broader nationwide. For the full list of theater's, go here. Check it out, bring a friend, tell a neighbor. To view the trailer and more information, visit www.afterinnocence.com.
01.11.06

There will be an Asian American dude on the latest edition of Survivor: Bruce, 58, a karate instructor/high school teacher from Simi Valley, CA. Read all about him here. He's an older guy, so I hope that doesn't work against him. The new show premieres on February 2nd.
01.11.06

What the. George Takei is the new announcer for Howard Stern's new show on Sirius Satellite Radio. Now, Sulu is the man, and his voice is unmistakable... but this just seems like a strange fit.
01.11.06

The most recent segment from Crossing East, the first radio series on Asian American history, aired this week on NPR's Day to Day: Cambodian Refugee Faces Return Home. It's a profile on one of 1,500 Cambodians living in America facing deportation.
01.11.06

Here's an article on Grace Park's (not the golfer) crazy robot-in-disguise character on Battlestar Galactica: The Angel Is an Assassin
01.11.06

ABC's new show Emily's Reasons Why Not, starring Heather Graham, premiered this week. I didn't catch it, but I was curious because the cast includes Smith Cho as Emily's nemesis, Glitter. Not that I was expecting much, I did have hopes that the character would offer something new and different. Unfortunately, according to this article from Slate, it's the same old stereotypes. Glitter is described as embodying "the embarrassing Asian dragon-lady stereotype...in a reprise of Lucy Liu's Uncle Tom role on Ally McBeal." That doesn't sound very good. I'll have to see this for myself.
01.11.06

The crazy popular sport for Asian Americans? The rough and tumble racquet sport of badminton: Batty for badminton. I don't know about you, but there was a significant number of Asians enrolled in my high school. And guess what? We had a badminton team. I don't know if it was any good, but there sure were a lot of Asian kids on that team.
01.11.06

The Northwest Asian American Film Festival website is now up and running, complete with the festival's schedule and tickets. Looks like they've got a pretty solid program, with The Grace Lee Project as Opening Night film (Grace Lees get in free!) and the documentary Sorceress of the New Piano: The Artistry of Margaret Leng Tan for Closing Night. The website also has a festival blog with words and updates and things of this nature. NWAAFF runs January 26-29 in Seattle, Washington.
Speaking of film festivals... The deadline for the 29th Asian American International Film Festival's Call For Entries is coming up. Entries must be postmarked by February 3rd. The festival, presented by Asian CineVision, will take place July 14-30 and New York City and Long Island.
Also, the 7th Annual San Diego Asian Film Festival has announced its Call For Entries. They're looking for a few good artists with films to showcase. The early entry deadline is April 7, so you've got some time. Get to work!
01.11.06

Spoken word artist Beau Sia is featured in the documentary Slam Nation: The Sport of the Spoken Word, out on DVD since November. The film follows teams competing at the National Poetry Slam. I haven't seen it, but it looks pretty cool. This review seems to like it, and describes Beau Sia as "an ambitious smartass whose work gleefully lampoons stereotypes about Asian-American sexuality." He's got a blog of sorts here.
01.11.06

An article on Asian communities coming together for common holidays in Central Florida: Area Asians seek common ground
01.11.06

Hugh Thompson, an Army helicopter pilot who rescued Vietnamese civilians during the My Lai massacre, reported the killings to his superior officers in a rage over what he had seen, testified at the inquiries and received a commendation from the Army three decades later, died yesterday in Alexandria, Louisiana. He was 62: Hugh Thompson, 62, Who Saved Civilians at My Lai, Dies
01.11.06

As I mentioned last week, Ivan Shaw is in the cast of NBC's new drama The Book of Daniel. I caught the premiere, and while the show isn't perfect, Shaw's character Adam is really interesting and—dare I say it—progressive. He's the adopted Chinese son of the Webster family, described on the website as "a handsome and cocky high school jock with a wicked sense of humor." The guy is a player, a troublemaker, and popular with the ladies. Some have described him as a "lothario." Either way, you don't normally see an Asian guy like this on TV, and it's kinda revolutionary. Here's a video clip of Ivan talking about his character. Adam even has a fictional blog on the NBC site. His current storyline involves his girlfriend, a white girl, whose parents forbid the two from seeing each other. Why? They're racist. Says the mother, "I have no intention of watching little Oriental grandchildren running around my Christmas tree." Very interesting. I'll be keeping an eye on this show. It airs Friday nights on NBC.
01.11.06

An article on the history and people of Detroit's slowly declining Chinatown: Detroitís Chinatown: Barely surviving after three slices to the heart. With a quote from 90-year-old civil rights activist Grace Lee Boggs.
01.11.06

What's that now? Learning Chinese is trendy (and important for national security, according to the government). Gotta give those kids an advantage for our rapidly growing world. But guess what else is latest the fashion: Chinese nannies are the latest NY trend
01.10.06

Oh boy. Apparently, there's a pilot for a "kung fu comedy" in the works at NBC: Hypnotic Gets Kung Fu Fighting. According to this article, the show will be about "a pair of brothers forced by money problems into becoming bounty hunters. The brothers decide that they will forego the use of firearms, and instead, depend on Kung Fu." I suppose there have been more far-fetched shows... but man, this could be baaaaad.
01.10.06

Police in New York have caught a suspect who is believed to be responsible for 15 robberies of Asian women in Flushing since October: Robber who targeted Asian American nabbed. Gotcha, sucka.
01.10.06

It looks like Gong Li had a good year, as remarked by this piece in TIME. It seems that the West is suddenly privy to her talent and beauty (not that it was some sort of secret). It's too bad she's following up on this newfound appeal with the usual "Dragon Lady"-type roles in Miami Vice and Young Hannibal: Gong Li finds good ways to be a bad influence
01.10.06

Some Vietnamese Americans affected by Hurricane Katrina seem to be reliving the refugee experience all over again: Students Document Forgotten Katrina Victims: Vietnamese Americans
01.10.06

Interesting news about one of my favorite filmmakers: Wong Kar Wai named jury president for Cannes '06
01.10.06

Oh hell no. Get a load of this. The police chief in Farmers Branch, Texas is accused of telling a six person hiring panel, "as long as I'm police chief, we won't have any gooks in this department." He was referring to a recent applicant to the police force, Vietnamese American Thinh Nguyen: Farmers Branch Recruit Talks About Racial Slur. The chief admits to making "inappropriate ethnic comments regarding Asians," but the chief denies making the specific comment he's accused of. Apparently, he's been chief for 15 years and there's never been any Asian officers on the force. No surprise there. Fire his ass. That's racist!
UPDATE: FB chief suspended over racial comment
01.10.06

A new Asian American reality show, Finding My America, just launched on ImaginAsian TV. It's sort of a travelogue of the places and faces of Asian America, following two friends as they road trip across the country. Sounds kind of cool. I was actually asked to appear on the show when they rolled through town, but the scheduling didn't quite work out. Oh well. Episode one premiered on Sunday.
Speaking of ImaginAsian, the all-Asian American network is now broadcasting in Hawaii: ImaginAsian TV debuts in Hawaii
01.10.06

Retired Army Col. Young O. Kim, one of the most celebrated heroes of World War II and the Korean War, who later became Los Angeles' elder statesman and link among Korean, Japanese and other Asian American communities, died last week. He was 86: Young O. Kim, 86; World War II and Korean War Hero, Uniter of L.A. Asian Communities. The guy was a true community hero.
01.10.06

Not than I'm keen on celebrating the accolades of Memoirs of a Geisha, but we're in the midst of awards season, and Zhang Ziyi was nominated for a SAG award last week: 'Brokeback Mountain' leads SAG film nominations. Yay for her. Could there be an Oscar nod in her future? I really feel it in the trailer with that "I want a life that is mine!" line.
01.10.06

Very very related to that article from last week about the increase in Chinese language instruction in the U.S.: Bush Expected to Hike Funding for Language Training. Of course, it pertains to languages critical to national security such as Arabic, Chinese and Korean. Watch your back.
01.10.06

Yet another example of a business taking advantage of a vulnerable immigrant community... and defrauding them: Lawsuit Accuses Cemetery of Preying on Korean Veterans
01.10.06

What in the what what is this all about? Am I reading this right? Bush Advisor Says President Has Legal Power to Torture Children. John Yoo has publicly argued that there is no law that could prevent the President from ordering the torture of a child of a suspect in custody—including by crushing that child's testicles. This, from the same John Yoo who is a key architect of post-9/11 Bush Administration legal policy. That's pretty damn scary.
01.10.06

Six months? Just six months? Richard Valerga, the former Oakland police officer who groped, kissed or caressed five Asian women during illegal traffic stops will spend six months in jail after pleading no contest to misdemeanor charges: 6 months for ex-Oakland cop in harassment cases. This is the guy who initially insisted that he had done nothing wrong. Guess what, you sicko. Something's wrong with you.
01.05.06

Here's an article on Christina Kim, one of the writers on Lost: The Invisible Korean Behind U.S. Hit Drama. Hopefully, her presence on the writing staff brings a little more authenticity to the Korean characters and stories.
01.05.06

Hey now. Tia Carrere is competing in the latest edition of ABC's Dancing With The Stars. Yay. Remember her as Cassandra on Wayne's World? Yeah, I think it's time for a comeback.
01.04.06

An interesting article on the implementation of Chinese-language programs in U.S. elementary schools: Chinese language study catching on in U.S. classrooms. It makes sense, given that Mandarin Chinese is the world's most widely spoken language. But more importantly, the program is an acknowledgement of China's emergence as a growing global superpower.
Meanwhile, according to this article, there are now more and more Mandarin speakers, while Cantonese is becoming less common in Chinese communities: Cantonese Is Losing Its Voice
01.04.06

Michelle Kwan has withdrawn from the U.S. Figure Skating Championships with a groin injury and will petition the U.S. federation for a spot at the Turin Olympics: Kwan Exits Nationals; Will Go for Olympics. Kwan has been chasing that friggin' elusive Olympic gold medal for years. Many have said she should've hung up her skates long ago. Will this be it?
01.04.06

Just one last reminder... if you're in the Los Angeles area, and looking for something fun and funny to do this weekend, why not be a part of the free live taping of ComedyZEN, a comedy showcase for ImaginAsian TV. This Saturday and Sunday (January 7 & 8) at the David Henry Hwang Theatre in Little Tokyo. Featuring the likes of Bobby Lee, Dat Phan, Steve Byrne and many more... To attend, just go here and click "GET ON THE LIST." And there you go.
01.04.06

Emmi Chen is in the indie film 5-25-77. Ah, cute Asian girl amidst a small town of midwestern white folks. Judging from the trailer, she plays the main character's love interest. As true movie geeks know, May 25, 1977 is the date on which the original Star Wars film first opened... and changed the world forever. This film looks like an attempt to capture the spirit and nostalgia of the era.
01.04.06

Brief interview with Chops (of the Mountain Brothers) here. Not so much an interview... more like a brief profile. Still, it's always interesting to hear from one of the original Asian American voices in hip hop.
01.03.06

Hey, that's John Cho in the trailer for American Dreamz. What's really intriguing to me is the movie's plot, a not-so-subtle commentary on American pop culture and current events...
01.02.06

Spotted Kelvin Yu briefly in the trailer for Grandma's Boy, a comedy which promises "Sex. Drugs. Nakedness. Rude Language. And Proud of it." You may remember Kelvin from that godawful episode of Without a Trace, "Honor Bound" from a few months back. Or maybe you're trying to forget, like I am.
01.02.06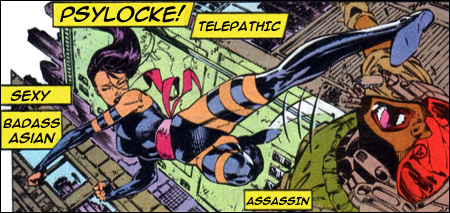 X-Men 3: More Mutants, The Merrier. It seems that movie's producers feel that you can never have too many mutants. Yet another character has been added to the bulging cast of the latest X-Men movie: 'X-Men 3' has another villain in Melancon. Filipina actress Mei Melancon will play the villainous Psylocke. Those familiar with the comic books will remember her as your average telepathic white girl trapped in a sexy badass Asian assassin's body. As for Ms. Melancon, there's not a whole lot of info about her, except for the same two headshots floating around out there on the internets. Her distinguished body of work does include the role of "Girl in Car" in Rush Hour 2 and "Chinese Slavewhore" in Deadwood, so expect great things.
01.02.06

It's been about a year since the Asian tsunami tragedy that rocked the worldwide community. Which also means it's been about a year since Hot 97's Miss Jones in the Morning Show aired its now-infamous "Tsunami Song" mocking the tragedy. As you all know, the incident resulted in a few people getting fired, some temporary suspensions, and a lot of embarrassment for the station... and then what? What's happened since then? What have we learned? It seems that in the case of Miss Jones, not a damn thing. Here are details of her latest offense, as reported by HipHopMusic.com (who was always on point last year with "Tsunami Song" coverage): Hot 97's Miss Jones Hasn't Learned A Thing. Somebody, get her out of there. Should've happened a loooong time ago.
01.02.06

They call him "Awesome Dawson." Freestyle skiier Toby Dawson is a 2006 U.S. Olympic Team hopeful. At age three, he was adopted from South Korea by two Vail ski instructors. Pretty soon, he was skiing like a crazy man. He finished third at the Olympic trials over the weekend.
01.02.06

Comedian Steve Byrne is on fire. He recently taped a special for Comedy Central, to be aired a couple of months. He's got a CD, Little By Little, and a brand new DVD, Thirteen or Bust—both now available on his newly revamped website. He's also part of the mad quartet of comedians known as the Kims of Comedy, who will be releasing a DVD of their own early this year. It's all good stuff, so check it out.
01.02.06

It was a good year for Boston City Councilman Sam Yoon—the first Asian American elected to office in Boston history: In Yoon win, a show of unity
01.02.06

Another recent Craigslist posting by someone trying to organize a campaign against the film Koreatown (it doesn't sound like that last attempt at a protest went so well):



Professional organizer needed





Reply to: gigs-121743014@craigslist.org

Date: 2005-12-31, 4:17PM PST




We need an organizer to organize protest against the
movie koreatown at production office in Burbank.
Signs, press, people. We need to stop this because
these stupid americans make us korean hookers look
bad. We want to be sure this movie never see light of
day.




thank you,




Sharon




this is in or around Burbank

yes -- it's ok to contact this poster with services or
other commercial interests

Compensation: $1,000.00 (one thousand)



I think I've already said what I have to say about this. Protesting a crappy-looking independent production like this only gives it undeserved publicity. It almost seems like a stunt by the film's producers to accomplish just that. What's funny to me is this post's wording. It appears that Sharon here is a Korean hooker who is unhappy that this film portrays her and her Korean hooker peers in a poor light. I can certainly understand why she would be upset.
01.02.06

An article about Chinese-speaking students at a Bay Area high school who have been repeatedly targeted by bullies: You Can't Snitch If You Can't Speak. Apparently, these kids had to get help from each other, their parents and a Chinese-language newspaper before school administrators would address the bullying problem.
01.02.06

Ivan Shaw is in the cast of the new NBC show The Book of Daniel, one of those suburban dramas where everybody is twisted, crazy and troubled. He plays the main character's 16-year-old adopted Chinese son, Adam, "a handsome and cocky high school jock with a wicked sense of humor." The show premieres on Friday, January 8.
01.02.06

Jersey City police officer Robert Nguyen was killed last week when he and his partner drove off a bridge. The two officers were sent to a damaged vertical-lift bridge and positioned near its edge, but were not told that it was about to be raised. The results were fatal: Divers Recover Second Jersey City Officer From River
01.02.06

Preview some new music by singer Kristine Sa, from her forthcoming third album Hopeless Romantic. It's being produced by Dave Liang, who did The Shanghai Restoration Project. One of her singles is available as a full mp3 download here. For more information, here's a press release.
01.02.06

Here's a nice radio piece on the late Pat Morita from the most recent edition of KQED's Pacific Time: Remembering Pat Morita
01.02.06

SAM Magazine, which has been around for a little while as an online publication, has just launched its first print issue. It's on newsstands now. Judging by the cover, its target demographic is pretty self-explanatory. I suppose with all the Asian American women's magazines out there, and Maxim-styled men's magazine was inevitable. Anyway, that's singer Natalise on the cover.
01.02.06

Don't know if you've been following the rocky distribution saga of Chen Kaige's The Promise, but you must surely know that if the Weinsteins are involved, it can't be good news for fans of Asian cinema. Case in point: "Promise" broken: Chen Kaige film in flux. The film's producers have parted ways with the Weinstein Co. over their U.S. release strategy for the film. Bob and Harvey's plans included a new title ("Master of the Crimson Armor" - what the hell?) and a 19-minute trim, cutting the film down to 102 minutes. The film's already a bonafide hit in Asia. Yay. And here's sort of a related article on Chinese cinema: Crouching U.S. studios, hidden Chinese market If you ask me, we just don't have enough of these big ass martial arts period epics. Bring 'em all over here, because that's exactly what Americans want. Flying, kicking, crouching Asians!
01.02.06

Another excellent article on Memoirs of a Geisha by Kimberly Chun of the San Francisco Guardian: Race is the place
01.02.06

Hey, check this out... it's a Benefit Compilation CD for Bindlestiff Studio's Capital Campaign to return their original theater space permanently on Sixth Street. Bindlestiff is a nifty cool arts organization in San Francisco that does great work. Support a great cause and get your hands on a cool CD... to learn more, go here.
01.02.06

This is so jacked up, it's astounding: Flour in condoms sent her to jail. Basically, college student Janet Lee is going home for break at the end of the semester. Airport security finds condoms stuffed with white powder in her luggage. She laughs it off; it's a joke—they're filled with flour—sort of a phallic stress-relief gag made by her friends to cope with finals. Police tests the substance... it tests positive for opium and cocaine. Bewildered college girl now faces 20 years in jail on drug charges. But she's innocent! She spends three weeks in jail, until someone gets the sense to test the substance again, and determines it is indeed flour. Oops.
This is insane, on so many levels. How about the racial profiling of this student, who is Asian American? And the fact that this innocuous white powder, in the hands of the police, somehow magically became big bad cocaine—in a test that is allegedly "rarely wrong"? That's shady. Were police so convinced she was guilty, they fudged the results? What's also crazy is what this girl did to make it through three weeks in jail... she acted tough to protect herself, doing "modern dance moves to keep limber." This apparently looked like karate to her fellow inmates, so they didn't mess with her. Sometimes, I guess it does prove helpful when people assume the Asian girl knows deadly martial arts.
Ms. Lee has filed a lawsuit against the police.