02.28.06

AsianWeek has an article/review on Tadashi Nakamura's Yellow Brotherhood, a short documentary on the 30-year evolution of a grassroots Asian American self-help group: Four Decades of "Yellow Brotherhood". It screened last week as part of the Closing Night program at the DisOrient Asian American Film Festival of Oregon. I haven't seen the film, but it sounds pretty interesting.


02.28.06

Some news on TV pilots in development... Kal Penn has joined the cast of Jump, a comedy pilot for ABC. It's about a guy "who disavows his fast-paced real estate agent lifestyle to become a better person." Penn will play a character named "Max."


Kelly Hu has been cast in the ABC comedy In Case of Emergency, "about four childhood friends who realize they're not where they thought they would be in life." She'll play Dara Lee, who is described in the casting notice as:





"Mid-late 30s, a sexy Asian woman. Dara was the valedictorian of her high school, got into Wesleyan early admission and had plans of being an international lawyer like her parents - which is why it's so embarrassing to her to be discovered by former classmate Harry Kennison in her current profession, that of Korean hooker in a massage parlor. Uncomfortable, unreliable, accustomed to being a screw-up, Dara won't go into the details of how her life derailed but she's a very uncomfortable "fish out of water" when she finds herself in Harry's nice middle-class home having to read a bedtime story to his six year old son, Dylan. Herself a person who has no one to call "in case of emergency," Dara comes to realize that she and Harry (and the other misfits from their old class) may come to rely on each other."

Man, that sounds pretty bad. Her character goes from model minority valedictorian to massage parlor hooker. Not good. We'll have to keep an eye on this one...


02.28.06

Comedian Steve Byrne's new half-hour special premiere this Saturday, March 3rd, on Comedy Central. For more info on the airing, go here: Comedy Central Presents. He's also featured on an episode of MTV's True Life that'll be airing next month. Big things going on for this man...


02.28.06

This is for my people in Chicago... check out Arranged Marriage, a sketch comedy show at Second City starring Foo Nguyen and Mary Sohn, showcasing the trials, tribulations, and comedy of being Asian American. Running every Saturday, March 4-25, at Donny's Skybox at The Second City. For show information, go here. Chicago Asian American comedy, represent!


02.27.06

A pair of interesting articles related to Silicon Valley... this one's a profile on Hsing Kung, an influential leader in the Asian American community: Silicon Valley man urges Asian-American view. And this one's on the interesting ethnic makeup of Sunnyvale—my hometown: Wealth of cultures


02.27.06

According to Variety, Hong Kong actor Edison Chen (he played young Andy Lau in Infernal Affairs) has booked a role opposite Amber Tamblyn in The Grudge 2. It'll be directed by Takashi Shimizu, who seems to have built a career on making and remaking the same movie over and over again.


02.27.06

Lame lame lame joke by this sports columnist, about a Chinese speed skater's name: Parting shots (see items 3 & 4). The skater apparently goes by "F Yu," which probably earns him some ridicule from the likes of a few snickering American seventh graders. And this writer. I can sympathize. The stupid thing is that he fully acknowledges that it's a weak, juvenile joke, but he can't help himself. Cheap shot.


02.27.06

The latest from hip hop producer Chops: National Champs. All original beats. With DJ Clue and Paul Wall.


02.27.06

I think I've mentioned this film a few times before... Little Fish, starring Cate Blanchett, opened in limited release last week. Dustin Nguyen (Jump Street rules!) plays Blanchett's Vietnamese-Australian ex-boyfriend. Here's the New York Times review: Clean and Dry, for Now, in Australia's Heroin Capital


02.27.06

I kept getting emails about some kind of "Confucius Carlos" sketch on Comedy Central's Mind of Mencia a few weeks back. So I looked around and found this. I am thoroughly disgusted. Talk about trying to offend Asians on every possible level. Fu Manchu moustache? Check. Gong? Check. Ninja? Check. Sumo guy? Check. Coolie named Ching Chong? Check. It just dragged on and on. Dude, Dr. Ken, what the hell are you doing?


02.27.06

There have been quite a few Anna May Wong retrospectives over the last few years. As one of the few Asian American early screen stars, she's become a really interesting figure to study and revere... The Museum of the Moving Image in Astoria, New York is doing a 20-film salute to Wong. Sounds really fascinating—most of the films haven't been screened in New York since their original release. The event runs from March 4ñApril 16. Find out more here.


02.27.06

Over on Netscape, another one of these 'Asians-are-making-it-big' articles, citing the same folks people mention over and over again, not to mention using a crappy headline: The Asian Invasion.


02.27.06

After many years of publishing his strip all over the place, Tak Toyoshima's Secret Asian Man has finally got his own site up and running at www.secretasianman.com. Check out a new strip every week. Better yet, buy yourself a t-shirt.


02.27.06

Just so you don't forget... here's another article on the 24th San Francisco International Asian American Film Festival: "Americanese," "Journey from the Fall" Bookend 24th San Francisco Asian American Fest. The festival runs March 16-26 in locations throughout the Bay Area. For a full schedule of films events, visit the festival website at asianamericanfilmfestival.org.


Also, if you've got a blog or Friendster or MySpace account, you might be interested in helping to promote the festival. Just head over to http://manja.org/promote/. It's got everything you need to help support the festival and sperad the word online.


02.27.06

So, I've been sort of following Dancing with the Stars. Well, last night was the finale, and former 98 Degrees singer Drew Lachey and his partner Cheryl Burke won the competition. Here's her official site. I know a lot of folks have doing Google searches to determine her ethnicity, so let's get that out of the way: her mom is Filipina. Now you know.


02.26.06

According ot Sepia Mutiny, Frito Lay Canada Inc. is launching a new line of Asian-inspired potato chips and snacks: Curry in a bag. Bags of wasabi- and spicy-curry-flavored potato chips will be hitting grocery store shelves in Toronto and Vancouver this month. Dude! You Canadians always get the good stuff.


02.26.06

The New York Times has an interesting article on Clogged Arteries, a documentary about New York's Chinatown's post-9/11 economic decline: Gridlock: The Movie. The film focuses on traffic problems in the neighborhood, examining the widespread assumption among Chinatown merchants that their economic woes stem largely from illegal parking.


02.26.06

An update about that neo-Nazi rally that happened in Orlando yesterday: Fights Break Out at Florida Neo-Nazi Rally. Can't say I didn't that one coming...


02.26.06

Backstage.com has a good article on East West Players, the nation's premier Asian American theatre organization, which celebrates its 40th anniversary this spring: East West Players Turns 40. Check out East West Players at www.eastwestplayers.org.


02.26.06

Hey, this is cool! Hong Kong film star Tony Leung Chiu-wai is going to star in an English-language film penned by acclaimed American crime writer Lawrence Block: Leung, mystery writer join forces. The story will be set in the U.S., and the original lead character will be changed from an American (white guy) to an American-born Chinese, played by Leung. So far, I like it.


02.25.06

Short-track speed skater Apolo Anton Ohno finally wins himself a gold medal, upsetting favored South Korean rival Ahn Hyun-soo: Ohno Breaks Through in 500 Meters. He also helped the U.S. win a bronze in the 5,000 relay (South Korea won the gold). It seems that Apolo and South Korea have patched things up: Tension easing between Ohno and South Korea. And isn't that what the Olympics are supposed to be all about? Sportsmanship, diplomacy, and drug-free athletic excellence.


02.25.06

Here's an update on the murder trial William Capehart, one of three killers who beat Chinese food deliveryman Huang Chen to death three years ago: Teenager sentenced in killing of Chinese food deliveryman. Capehart, 19, was sentenced 51 years to life in prison—the maximum—as did his accomplice Charles Bryant. A third defendant, Nayquan Miller, 18, who testified against Capehart in exchange for a sentence of 20 years to life, will be sentenced next month.


02.25.06

The WB's Smallville is doing a series of exclusive "webisodes" called The Vengeance Chronicles, based on periphery characters of the series. The latest installment, entitled "Yang," features an Asian dude who has strange energy powers. Don't who the actor is... if anyone can identify him, let me know. View the episode here (ignore the Acuvue commercial that precedes it).


UPDATE: The actor who plays energy dude has been identified as Yee Jee Tso.


02.25.06

Someone sent me this funny little notice... Do you know an eligible Korean American bachelor? Apparently, KoreAm Journal is looking for the TOP TEN Korean American bachelors, to be featured in the April 2006 issue. The deadline for nominations is March 6. Details here.


02.25.06

Here's a short but interesting article on the release of Margaret Cho's failed sitcom, All-American Girl, on DVD: Saved by the Gong. I think it hits it on the nail, getting at exactly why I want to pick this up—its immense value as an Asian American cultural artifact. Here's an excerpt from the article:





In Cho's personal mythology, All-American Girl became symbolic of the spiritual gang-rape we like to call mainstream American culture. And, thanks to some wormhole deep in the fabric of capitalism, Cho's abuse of the show apparently functioned as a weird kind of masochistic advertising. For the first time ever, people wanted to see it.

Hands down, there's no doubt this show sucked. Sure it was the first sitcom about an Asian American family—that was a milestone. But it was made even more infamous by Cho's post-sitcom career, which devoted a lot of energy to trashing the show. She gets a little contemplative about the DVD release on her blog, in this entry written back in September: All-American Girl


02.24.06

Can this be? An apology from the mouth of Adam Carolla? Yes. Though it seems far from sincere. On Wednesday this week, just after 8:00am, Carolla apologized on the air for the "Ching Chong" skit, with the following remarks:





A quick of business to take care of. An apology to the Asian community. We did a bit a few weeks back that offended many people. It was unintended to offend these people. We do a show here that is a little irreverent and sometimes we cross the line and we definitely crossed it this time. And it was not meant to offend. It did. And for that we sincerely apologize to the good people of the Asian community. So we apologize and we thank you for your support.

I've got an audio clip of the apology here (.mp3, 1.49 MB). While the clip lasts about a minute, the apology itself only takes up around half that. What do you think? Sincere? Sounds pretty half-assed to me. No doubt, a directive from the suits, in order to quell the threat of ad withdrawals. Carolla and crew will probably lay off the Asian jokes for a little while, but sooner or later it'll back to business as usual... In the meantime, the damage of the "Ching Chong" schtick has been done. That's racist!


02.24.06

Jeff Chang has a great article on SFGate about the new landscape of Asian American television: Forget the white-bread '80s MTV. Now MTV Chi and other outlets cater to Asian Americans. It'll be interesting to see where MTV, a tastemaker whether you like it or not, goes with these new networks. So far, it actually sounds pretty interesting. If only I could actually get these channels on my TV...


02.24.06

An update on that University of Michigan student who was accused of urinating on two Asian students from his balcony: Student is charged in assault. Stephen Williamson, 21, is charged with two counts of assault and battery and single counts of being disorderly and indecent exposure. However, while the victims accused of him of calling them a racial epithet, no charges of ethnic intimidation were filed since the police haven't determined that the incident was racially motivated. (Okay, so how exactly is a racially motivated urination determined?) If you remember, this incident created quite a stir back in September, prompting Asian American student and faculty organizations to point out that such discrimination is pervasive on campus. Stay Angry, Ann Arbor.


02.24.06

Lucy Liu has a few thoughts on Memoirs of a Geisha: LIU DEFENDS MARSHALL'S GEISHA CASTING. Basically, she thinks casting strictly by ethnicity limits an actor's choices. I actually agree with her. I know people had big problems with this, but I've never had huge issues with Geisha's casting decisions. That is to say, I've never sided with the iron-fisted "Chinese-shouldn't-play- Japanese" line of thinking. That said, I've always had big problems with the overall approach to Geisha and its production/marketing from the outset, which is essentially that it's a White Hollywood Orientalist Fantasy. Basically, this is a movie studio deciding the kind of Japan they think America wants to see—accuracy or sensitivity be damned—and running away with it. It's certainly what informed their decision to create this confused, contrived mix of Asian casting and Engrish dialogue. It's like they tried their hardest to make an exotic, foreign epic for Oscar season, without actually having to make a legitimate foreign language film (because those don't make enough money)—Oriental is oriental, and it's all the same, baby. Just make it look pretty. Well, I ain't buying that.


I should add that I haven't actually seen the movie yet.


02.24.06

There's a neo-Nazi rally in downtown Orlando planned for tomorrow: Neo-Nazis challenge rules for march. Like I said yesterday, such movements are indeed alive and on the rise in America. Steer clear, or engage, I say.


02.24.06

Funny, seems like every college campus is holding forums on interracial dating these days... An article on Asian men, and their lack of perceived sexiness, in U. Penn's paper: Try naming a famous Asian hunk. Not the most tactful commentary, and nothing we haven't heard before 'round these parts, but still worth noting all the same.


02.24.06

Carmen from Mixed Media Watch has a particularly interesting (and lengthy) blog entry on Hines Ward and his newfound post-Super Bowl fame in South Korea: When communities try to "claim" mixed people. It's a reaction to this article: From an ostracized class, a hero for Koreans. It's pretty provocative, to say the least. It's true; a country with little interest in football, and a history of prejudice against mixed citizens, suddenly going crazy over a half-Korean, half-Black Super Bowl MVP? You can't deny that the hypocrisy puts smudges on the celebration. I really do hope the nation's embrace of Hines Ward pushes its people to create new dialogue about these old biases.


02.24.06

Several key properties that make up San Francisco's Japantown are up for sale, leaving many J-Town supporters anxious that potential developers will not be so keen on preserving the neighborhood's cultural identity: Mayor pledges to preserve Japantown identity. The concern, of course, is that new buyers will turn the Japantown mall area into a Wal-Mart or something. Then again, a lot of buildings in J-Town are pretty old, and could use some spiffing up. The key, hopefully, is for new developers to find some kind of balance, because it's a valuable space to the community. Meanwhile, there's a petition circulating to Stop the sale and possible destruction of San Francisco's Japantown


02.24.06

Dude, what the hell is this? A lame new commercial for Staples (yeah, the office supply store): "The Wall". And this commercial looks like it costs some money. The Orientalism overflowwwwws. Complete with a tacky virtual fortune cookie feature. Oh, make it stop. That's racist!


02.24.06

Calling all who are able and willing, for a moment of your time... Vikky Do is currently a doctoral candidate in clinical psychology, and she's recruiting participants for her dissertation. She's doing a study about Asian American men, stereotypes, self-esteem, and ethnic identity. If you'd like to help out, all you have to do is complete this survey: Click here to take survey


02.24.06

Check out this blog entry by Andrew Tsao over at Asian-Nation.org: WHAT IT TAKES TO BE AN "AMERICAN". In it, the author describes a meeting he had with Washington State Senator Pam Roach, who in the course of their conversation, makes it clear she believes that the best American is one who is without an accent. Because only foreigners have accents. But hey, if you shed your accent, you're okay with Senator Roach. That's racist!


02.23.06

As we've reported here before, Clint Eastwood is currently working on two complementary films about the Battle of Iwo Jima: Flags of Our Fathers, about the six men who raised the flag during the battle, and Red Sun, Black Sand, told from the Japanese perspective. Flags is currently in post-production, while Red Sun—written by Japanese American screenwriter Iris Yamashita—is set to begin filming next month. Word is that Ken Watanabe will star, and the film's dialogue will entirely be in Japanese. It looks like they're currently looking for Japanese extras:





SMITH & WEBSTER-DAVIS CASTING

NON-UNION EXTRAS OPEN CALL



for the film



"RED SUN, BLACK SAND"



DIRECTED BY CLINT EASTWOOD



Produced by WARNER BROS



We will be seeing the following types only:



JAPANESE MEN AGE 18-65 TO PLAY SOLDIERS.

MILITARY EXPERIENCE A PLUS.



JAPANESE WOMEN AGE 18-65+



JAPANESE CHILDREN-AGE 7-14



US MARINES-MILITARY EXPERIENCE A PLUS



SATURDAY, 2/25/06

1p - 4pm NO FEES!! *



SAG members are welcome to visit



SCREENLAND STUDIOS

10501 Burbank Blvd (2 bl. E. Of Cahuenga)

North Hollywood, CA 91601

Don't know if you have to speak Japanese, but it'll probably help. If anybody gets a part, let me know how it goes.


02.23.06

SF Weekly recently ran a story on the rigorous city-wide search in San Francisco for Jerry Tang: The Missing Man. He's been missing since November, and the search has enlisted overwhelming support throughout the community. He would've celebrated his 40th birthday on February 8th. So where is the national media attention on this case? Where is Dateline? 20/20? Meanwhile, people are still totally crazy about the disappearance Natalee Holloway...


02.23.06

Alen Lee, who was sentenced to life in 1988 for murder, and spent more than 15 years in prison before charges were dropped, filed suit this week against the City of Philadelphia and the District Attorney's Office, contending that "systematic misconduct" had led to his wrongful conviction: Man convicted in '83 Chinatown murder sues city, D.A.


02.23.06

Salon.com has an article on law professor John Yoo, who is considered an architect of post-9/11 U.S. legal policy on torture: Parsing pain


02.23.06

James Mar makes funny little comic strips. Now he's got a few comic books for sale: Five Star Banquet and the brand new Golden Dreams. I have no relation to "Angry Asian Mom," I think. I do sort of like his strip "Instant Kung Fu Girl." Each strip usually results in Instant Kung Fu Girl kicking/punching someone/something. That is the Instant Kung Fu way.


02.23.06

Gothamist has an interview with the self-proclaimed baddest brothers in Chinatown, the Notorious MSG: The Notorious MSG, Original Chinatown Bad Boys. These guys crack me up.


02.23.06

Quang Dao, 56, and Dung Tran, 34, are among the eight Nebraska meat processing plant workers who won the record $365 million Powerball prize—the largest lottery payout in U.S. history: 'Retired for about four days now'. That's former meat processing plant workers, I imagine.


02.23.06

Spotted in Hollywood: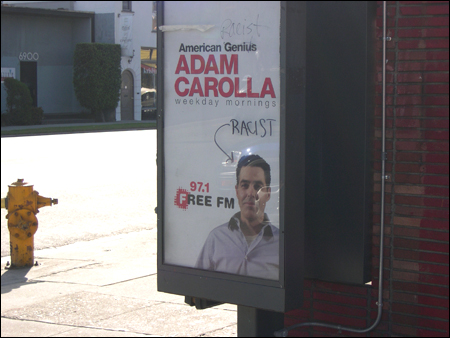 (Thanks, Richard.)


02.23.06

CNN correspondent Alina Cho recently interviewed a Ku Klux Klansman for the program Anderson Cooper 360∞. She blogs about it here: Klansman told me to get out of America. It's pretty disturbing. The KKK and other white supremacist groups are alive and on the rise, and cannot be ignored.


02.23.06

Very good interview with civil rights legend Yuri Kochiyama on Democracy Now!: Civil Rights Activist Yuri Kochiyama Remembers the Day of Malcolm Xís Assassination to Her Internment in a WWII Japanese-American Detention Camp. They've got a transcript of the interview, or you can download the show here.


02.23.06

My pal Marian, intrepid music reporter for the San Jose Mercury News did an interview with Mike Shinoda of Linkin Park: Mike Shinoda's personal freedom. He talks extensively about his hip hop side project, Fort Minor, and the song "Kenji," which is based on his father's and aunt's internment during World War II. Marian also has a podcast about this interview here.


02.22.06

Check it out. Kid Heroes Productions just released Bootleg Visuals, Volume One on DVD. Basically, it's a music video compilation of indie music videos, mostly by Asian American artists past and future, like DJ QBert, Ill Again, The Pacifics, Kim del Fierro, 6th Day, Kaila Yu, Kai, Premiere, Julie Plug, and One Vo1ce. It also includes the rarely seen Black Eyed Peas music video for "The Apl Song," a tribute to Filipino World War II veterans. It all sounds pretty cool. For more information, go here. They're throwing a DVD release party at Tower Records in San Mateo this Saturday, with artists in attendance. Details here.


UPDATE: Apl.de.Ap of the Black Eyed Peas will be at the release party.


02.22.06

ImaginAsian Entertainment has announced that it will be launching a 24/7 internet radio stream—a mix of pan-Asian music and other Asian American programming—starting March 1st: ImaginAsian Radio. According to their press release:





The revamped ImaginAsian Radio will feature bhangra, electronica, K-pop, J-pop, Canto -pop, Asian American music of all genres, and talk shows hosted by top DJs. They join existing hit shows Anil-Ki-Awaaz, the nationally-syndicated premier South Asian radio show, Total Time-Pass, the desi show that combines humor with the best in Bollywood music, and iaList (formerly iaRadio), which covers pan-Asian movers and shakers, live performances, and more.

Sounds pretty cool. I think we need something like this. Hopefully, it'll be another way to give Asian American artists and issues wider exposure, in a medium where we normally don't get a lot of representation. I think I'll give it a try.


02.22.06

I hate Long Duk Dong. I hate Sixteen Candles because of Long Duk Dong. I have not yet quite forgiven Gedde Watanabe for playing Long Duk Dong. And I don't understand why anyone would want to celebrate Long Duk Dong. That's why I don't get this jacket by Quiksilver: Long Duk Dong. From the product description:





Everyone knows that the Donger secretly gets more play than Farmer Ted; he's a geek's geek and a hero to dorky high school kids across the nation. Quiksilver's Long Duk Dong Insulated Men's Jacket pays homage with this argyle-blocked puffy.

"Geek's geek" and "hero to dorky high school kids"? Tell that to all the Asian kids who had to endure teasing because of "The Donger."


02.22.06

I think I've mentioned TEABAG before. It started out a few years ago as a Chinatown-based open mic for poetry and spoken word, and has since grown into one of New York's leading Asian American independent arts organizations. Learn about all the variety of cool stuff they do here. This Friday, February 24th, they're giving out their first annual TEABAG AWARDS, recognizing up-and-coming and undiscovered talent in the NYC stand up and music circuits. Sounds pretty cool. If you're in New York, check out the cool work they're doing.


02.22.06

Rice Daddies is a new group blog by Asian American fathers. They've got several dads in the rotation—all great writers, including the famed MetroDad (one of my favorites). The blog also welcomes you with photos of some of the cutest kids you've ever seen. So cute, I want to collect them in a jar. You cannot resist. Check it out: http://ricedaddies.blogspot.com/


02.22.06

Lee Ann Wong is a contestant on the upcoming Bravo reality competition series Top Chef, which I think is pretty much what it sounds like. Sort of like Project Runway, for folks chefs. Lee Ann, 28, from New York, describes herself as "an iron chef all the way." Dude, does she have to the one contestant whose bio photo makes her looks like she's insane?


02.21.06

Korean-born, America-adopted skiier Toby Dawson was hoping that competing (and winning) on the Olympic stage would help put a spotlight on his search for his biological parents. Now, a South Korean man has come forward claiming to be Dawson's father: Korean says he is skier's dad. Another article here: Olympic Medalist Is My Lost Son, Busan Man Claims. Check out the photos. Side-by-side, they do bear a pretty close resemblance. But be wary; Dawson has apparently had previous encounters with folks falsely claiming to be his birth parents. I guess we'll have to see.


02.21.06

Here's a funny article on Yao Ming's "performance" at the NBA All-Star Game: Yao makes his best move on big stage. As fans know, the All-Star Game is the NBA's big flash bang show... and it sounds like Yao delivered the goods with his part of "the snake." Found a video clip of the intros here.


02.21.06

Here's Secret Asian Man's take on Adam Carolla: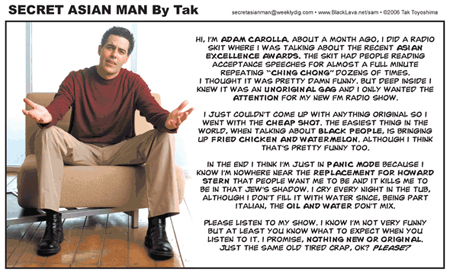 View Tak Toyoshima's "Secret Asian Man" strips every week here.


02.21.06

Hey, it's the guy who won't go away: Catching up with William. Loooooooooong after his infamously disastrous/fortuitous American Idol, William Hung continues to squeeze every last possible pathetic drop out of his fifteen minutes of fame. fourth album. Never before has one man gotten so far with such little talent.



CORRECTION: Regarding the above comment about William Hung's career...





Angry,



I must correct a statement you made earlier about William Hung: "Never before has one man gotten so far with such little talent." Unfortunately for us all, Steven Seagal has gotten much further on much less talent than has William Hung.



- Joe




True, Joe. Very true. I stand corrected.



02.21.06

This crazy short film screened at Sundance, and has been making the rounds online: HA HA HA AMERICA. It's been getting reactions from all over the place, depending on how you interpret it. I found it kind of humorous.



02.21.06

This is perhaps another side of that "New White Flight" story from the WSJ a few months back... Well-off Asian immigrants are settling in Great Neck, NY, in hopes of sparing their children the competition and pressure of scholastic life in their homelands: A Long Island Solution to Far East Stress. Not just in Great Neck, but all over the U.S...



02.21.06

A response from one of CBS Radio's sponsors, Progressive Direct, regarding this whole Adam Carolla ordeal:





Thank you for sending your letter to Glenn Renwick about Progressive
Direct's advertising on the Adam Carolla show.



Please understand that when we buy national radio advertising, we cannot
always control where our ads appear, though we can make the request to
avoid certain programs.



After reviewing the content of Mr. Carolla's show, we have decided to ask
our media placement agency to avoid placing our ads on the show going
forward.



Leslie Kolleda

Progressive Public Relations

1900 Mason Avenue, Suite 130

Daytona Beach FL 32114

ph: 386-274-3704

fax: 386-274-3720

cell: 386-451-2391




That's not necessarily an all-out condemnation or withdrawal of advertising... so don't go celebrating just yet. CBS didn't lose any advertising here. They just have to move it around. Pretty weak. The fight continues.



02.21.06

Congress is currently dealing with some of the strongest immigrant reform legislation this country has ever seen. In December, the House passed the anti-immigrant bill HR 4437. It's currently in committee in the Senate. Passing HR 4437 would make it a felony offense to be in the U.S. without proper documentation. It also criminalizes teachers, hospitals, social workers, clergy, and basically ANYONE who assists undocumented immigrants. I don't think I can really do this issue justice, but I had to at least do my part to spread the word. I know illegal immigration is a controversial topic in this country, and this debate needs to continue, but this bill is definitely the wrong way to go. It's unjust, dangerous, and racist. Learn more here: H.R. 4437 Threatens Undocumented Workers in US. There's a rally for immigrants rights in Oakland's Fruitvale District on Saturday. And here's an article on how Filipino groups are organizing against this bill: Filipino Immigrants Mobilize to Fight New Immigration Bill



02.20.06

Last week, New York-based ImaginAsian Entertainment signed a deal to convert the long-shuttered Linda Lea Theater in downtown Los Angeles into an Asian American cultural center: New Plans Emerge For Linda Lea. This is cool news, and I'm glad the space will be used in this manner. Though if you read the article it looks as though LTSC, which had proposed a similar deal, kind of got the shaft...



02.20.06

This New York Times article is an interesting, grim portrait of the Sun Bright Hotel, home to many of the hard lives of Chinatown's many restaurant workers: Bleak House



02.20.06

Last week, Lawson Fusao Inada, a Japanese American who was interned during World War II, was named Poet Laureate of Oregon: Internment camp to state poet laureate. His books include Before the War, Legends From Camp and Drawing the Line. Sounds like a pretty cool guy.



02.20.06

What was hailed and anticipated as the big rematch of the Winter Olympics (Ohno! Versus! South Korea!) has fizzled out into regular old run-of-the-mill skating races, with Ohno underperforming and South Korean finishing out on top: No Fuss or Hard Feelings as Ohno Fades to 3rd



02.19.06

Someone has started up an online petition calling for The Termination of Adam Corolla by CBS Radio. I'm a little doubtful about the effectiveness of such measures... getting CBS Radio's sponsors would be the real kick in the nuts. But hey, every little bit counts. As I write this, there are only 13 signatures, so it could use some work. Take a look here.



02.19.06

In Los Angeles, members of the Korean American and African American communities "met over fried chicken and rice cakes to swap information on two shared interests: business and God." A forum was held last week between the two groups to address economic development of South Los Angeles by way of faith-based organizations: Churches Seek Ways to Build Understanding. I do wonder if there really were rice cakes and fried chicken.



02.19.06

Today is a Day of Remembrance. On February 19, 1942, President Franklin Roosevelt's signed Executive Order 9066, a mandate that ordered 120,000 people of Japanese ancestry into internment camps. Next week, the Bay Area Day of Remembrance Consortium commemorates the internment with Carrying the Light for Justice! - the 25th Anniversary of the Redress Hearings. Sunday, February 26, 2:00pm at San Francisco Japantown's AMC Kabuki Theatre. With performances, films and speakers. For more information, go here.



In related news, on Friday the Tule Lake Segregation Center, a former internment site, was designated as a national historic landmark: Tule Lake internment camp made national historic site



02.19.06

This is pretty interesting. Thirty-nine years ago, an Asian American baby born in an Atlanta hospital was designated the 200,000,000th American. The distinction went to Robert "Bobby" Ken Woo Jr., born at 11:03 am on November 20, 1967. Later this year, sometime in October, the Census Bureau expects the nation's population to reach 300 million living Americans: 300 millionth American might be immigrant.



02.19.06

Been seeing commercials for a new Fox show, The Loop. Not sure if it looks any good. But Joy Osmanski is the in the cast as Darcy. She plays the main characters "overqualified and somewhat bitter secretary." New show with an Asian American actor in the cast? Cross your fingers, because they're not doing so hot this season. Let's see... Ming Na on Inconceivable? Canceled. John Cho on Kitchen Confidential? Canceled. Ivan Shaw on Book of Daniel? Canceled. Smith Cho on Emily's Reasons Why Not? Canceled (after one episode!). I'm just saying, dude. Seems like bad luck.



02.19.06

By now, you've probably heard about the mudslide in the Philippines that killed 57 people, with more than 1,800 still missing: Few Found Alive After Mudslide in Philippines. Funny, how little attention is being given to this disaster, what, with our Vice President shooting a guy and all. Plus, hey, the Olympics are happening. Perhaps it has fallen out of fashion to care... but not for everyone: Bay Area Filipinos rally to send help; Fundraisers set up -- group of doctors planning a trip



02.19.06

No gold medal for Michelle Kwan, but it looks like she'll be skating on Disney's dime now: Disney Hires Kwan As Celebrity Spokeswoman. If I recall correctly, she struck a similiar deal after the last winter games.



02.18.06

Forgot to mention, for those of you in Oregon... the very first DisOrient Asian American Film Festival is happening this weekend. So if you're looking for something to do, check it out. Support Asian American film!



02.18.06

Okay, I know what they say about imitation... a woman named Gail (not to be confused with Gale) has registered the domain AngryAsianWoman.com. Its content is yet to be determined.



02.18.06

Check out the website for Todd Angkasuwan's documentary No Sleep Til' Shanghai, which follow Asian American rapper Jin on a two-week tour of Asia, where he learns a few things. The film is currently doing a run on the festival circuit, and will screen in March at the San Francisco International Asian American Film Festival. Looks pretty cool.

.


02.18.06

Oh, Miss Jones, you just can't seem to shut up. I think I mentioned early last month that Hot 97 radio personality Miss Jones made some more racially insensitive on-air remarks during the New York transit strike. Here's more on that: HOT 97íS MISS JONES UNDER FIRE AGAIN: NYC Council members call for resolution against offensive comments. She just hasn't learned, has she?


02.18.06

Earlier this month at Virginia Tech, the German Club put on a Midwinter's Dance, entitled "Tour Through The Orient". Yeah. You can probably guess how it went down. There are numerious photos of the event and its decor here, with a little slice of everything thrown in—pandas, Buddha, sumo wrestlers, Sony, kung fu fighters, pagodas, gongs, dragons—the whole Oriental nine. APA students at Virginia Tech have organized a response, chronicled at www.xanga.com/ignoranceATvtech. I don't know who thought this was a good idea, but it's straight up fool ass ignorant. That's racist!


02.18.06

Okay, so there's this short film that's been making the rounds the last few weeks: Yellow Fever by Wong Fu Productions. I've gotten about 30 emails about this thing, first at the beginning of the month, and another wave this past week... I've been slow to post a link, mainly because I didn't find it all that compelling. It's sort of dumb, actually. But people seem to be kind of crazy about this thing, and it has folks talking, so I guess it's worth a mention. I've got tons of people telling me about it, with reactions ranging everywhere from "hilarious video" to "The morons who made this should be caned." Basically, it's a tongue-and-cheek examination of the disparities between Asian/White relationships. Namely, why are there so many white male/Asian female couples, but so few the other way around? Ah, everyone's favorite question. Now, I think this film has its heart in the right place, but it's seriously misguided. Granted, it's supposed to be lighthearted, and there are a few genuinely funny moments. But its conclusions really get it wrong, and inevitably end up reinforcing existing stereotypes. It's silly, but also a little dangerous. Plus, after a while the main character just starts to bug (there is a limit to how many times you can stroke your chin, dude). The film's title is also a big misnomer. Ah well, I could go on and on with the gripes. See it for yourself here.


02.17.06

Anybody notice that there aren't a lot of "brown folks" competing at the Winter Olympics? Here's an interesting take on race and nationality at the competition: White Snow, Brown Rage


02.17.06

"Asians do have sex. Lots of it. Or there wouldn't be so many of us. But sex isn't the issue here -- generally speaking, Asians do not have problems with sex..." It's romance that's the tricky part. Jeff Yang's latest "Asian Pop" column is an interesting, lengthy examination of Asian romance: Late-starters in the field, Asians take romantic love to a new level


02.17.06

The controversy over Adam Carolla continues. Don't let this thing fizzle out! You know CBS Radio just wants to ride this out, and hopes it will simply go away. That's why we have to keep the pressure on. For those of you coming in kind of late, listen to this clip to get yourself oriented. There's a good summary and overview of the situation here.


Here's some contact info again, where you can direct your angry responses:


Adam Carolla: adam@adamcarolla.com

Dave Dameshek: dave@adamcarolla.com

Rachel Perry: rachel@adamcarolla.com

Ozzie Castillo: ozzie@adamcarolla.com


And here is CBS Radio's corporate contact info:


CBS RADIO

1515 Broadway

New York, NY 10036

212-846-3939


Joel Hollander

Chairman and Chief Executive Officer, CBS Radio

212-846-3939

joel.hollander@infinitybroadcasting.com


Dana L. McClintock

Senior Vice President, CBS Communications Group

212-975-1077

dlmcclintock@cbs.com


And now, we have a partial list of CBS Radio's advertisers, courtesy of Vanessa. I urge you to contact them and let them know what kind of content they are sponsoring. It may very well be that they're fully aware, and don't really give a damn (I wouldn't be surprised). But we have to try.


02.17.06

Aw hell, not again. It's the freaking racist show that will not go away. Banzai seems to keep popping up at various networks. This time, on G4 - Video Game Television. This show is the definition of bad television. It's idiotic. Yet they keep resurrecting the damn thing. Stupid television by stupid people for stupid people. Go away, Banzai. Just go away. Contact the network at info@g4media.com, and tell them that airing this show makes the world that much more stupid.


02.17.06

This sounds crazy (and kind of gross) to me. South Korean firm LG Electronics is going to start marketing an air conditioner with a filter made using an enzyme from kimchee, with the aim that it will protect against the bird flu virus: Kimchi-spiced air conditioners to fight bird flu. It widely believed that kimchee was a factor in warding off SARS in South Korea. That's cool, and I hope it works... but dude, the thought of kimchee in your AC? It says the enzyme won't actually smell like kimchee. But anyone who knows what kimchee smells like when you bust open the fridge, or worse, when you transport it in the car... Pungent, baby.


02.17.06

Here's an editorial on Army Chaplain James Yee, held in solitary confinement for 76 days on suspicion of spying and aiding the enemy at the Guantanamo Bay detention center... only to have the charges dropped, and a military career ruined: The Muslim chaplain. And the government has still made no effort to explain what happened, or apologize to Yee. That's racist!


02.17.06

The new F/X reality show Black. White. sounds like a train wreck: Confronting America's Racial Divide, in Blackface and White. Two families switch places all the way, undergoing racial transformation through the magic of makeup, to see what it feels like to live in each other's skin. Something tells me that swapping races is not going to be quite that simple. Sounds pretty awful... yet I have the feeling I'll be tuning in anyway. I wonder, could this show be done with Asian American participants? Or would show producers think that wouldn't be as interesting to watch?


02.16.06

Good article rounding up the solid selection of features at this year's San Francisco International Asian American Film Festival, noting a particular focus on romantic male leads: Indies get manly at the 24th Asian film festival


02.16.06

Quick reality show update... I hear that designer Chloe Dao has made it to the final three on Project Runway 2.


On American Idol, Jose "Sway" Penala has made the cut to the top 24 contestants. I guess that controversy about a possible previous contract didn't prevent him from moving on. Here's a Sway fansite.


I'm told the latest group of wannabe runway queens have been announced for America's Next Top Model. Gina is among the contestants. The new season premieres March 8.


Charmaine is vying to be Donald Trump's next Apprentice. Her bio tells us that her mother, "an adventurous and hard-working Filipino immigrant," was a big influence on Charmaine. The new season begins February 27.


02.16.06

Shih-Wei Su, whose attempted murder conviction was overturned after he served 12 years in prison, is planning on filing a lawsuit charging that Queens prosecutors have withheld evidence and misled juries in a broad pattern of misconduct that has led to dozens of wrongful convictions: Exonerated, Queens Man Decides to Sue Prosecutors


02.16.06

Like that Blacklava "Nobody Loves an Asiaphile" shirt? Well, speaking of asiaphiles, check out these inane t-shirts by Hook-Ups: Yellow Fever


And while we're talking about t-shirts... this ridiculously stupid shirt makes an appearance in the latest issue of Cosmo Girl:




It's from some lame story about throwing an Oscar viewing party. I fail to see the relevance. This shirt is very similiar to the "Get Lucky By Rubbing Buddha's Belly" one seen at Burlington Coat Factory. Seems like this kind of stuff just won't go away. It's probably for sale somewhere out there on the internets... look for it, if you want to be a Cosmo Girl kind of guy. (Thanks, Leah)


Think that sucks? Take at look at this shirt: Illegal Alien. Or should I say, "IRREGAL ARIEN"? Not funny. Ah, you can always count on the buck-teeth and slanted eyes, even on aliens it seems. It's a convenient shorthand for any racist Asian caricature. That's racist!


02.15.06

There's a new shirt available from Blacklava, purveyors of Asian American empowerment apparel... Perfect for sending just the right message to that very special someone: Nobody Loves an Asiaphile. You know what I'm talking about. A riff, of course, on the "Everyone Loves a..." shirts from Urban Outfitters. And as you know, I've got my own particular take on that slogan. I know, it's probably due for an upgrade. I'm working on it.


02.15.06

An article on Bay Area broadcasting personality Franco Finn, aka "Freestyle" Franco: Franco Finn, using kids as his secret weapon, mounts an assault on local airwaves. I believe he used to be a correspondent on the now-defunct StirTV. Here's his official website.


02.15.06

Though all the attention seemed to be on U.S. freestyle skiier Jeremy Bloom. But look what has happened: Bloom heading home without an Olympic medal. Instead, Toby "Awesome" Dawson took the bronze medal. Interestingly, he hopes to use the publicity to locate his birth parents: U.S. Skier Hopes Bronze Medal Will Help With Another Quest


Snowboarder Jayson Hale tore up his knee during a practice... thus, teammate Graham Watanabe will take his place in competition: Watanabe Confirmed As Hale's Replacement


One last editorial on Michelle Kwan's departure from the Winter Olympics: An Elegant Exit. And that's it.


02.15.06

Check the schedule for the 24th San Francisco International Asian American Film Festival. Some very cool stuff, with the Opening Night presentation of Eric Byler's Americanese, and the Closing Night film, Ham Tran's Journey From The Fall. They're also screening a solid selection of features and documentaries, as well as a spotlight on veteran actor James Shigeta (Bridge To The Sun, Walk Like A Dragon, The Crimson Kimono), and special tributes to David Tatsuno (A View From Topaz), Pat Morita (Karate Kid pt. II!), and Kayo Hatta (Picture Bride). I can't wait—it's going to be a great festival...


02.14.06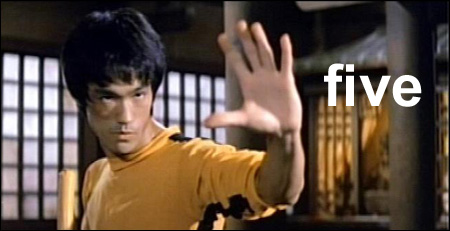 Happy Valentine's Day. Be well, however you may spend this shallow, commercialized, capitalistic celebration of love. Aside from that, today also happens to mark the 5-year anniversary of angryasianman.com. I guess that's something of a milestone. Five years ago today, this website went live on the world wide web, opening the door to all kinds of wacky madness and anger in my life. It's been a strange, exciting and eventful trip. Sometimes I wonder what I got myself into. But I can dig it.


I started this site simply as a space to write down a few thoughts rolling around in my head about Asian America (and for the most part, that's still pretty much what it is), but I never expected it to grow like this. And I certainly never expected to find an audience. But here you are, looking sexy and making it happen. Thank you to everyone who reads this site regularly. Thank you to everyone who sends me interesting stories and articles. Thank you to everyone who has spread the word, and for the moral support. Thank you to everyone who calls me on my crap (don't do that too much though). We've seen and learned a lot over the last few years, and I feel like I've grown immensely. So let's keep doing this! And to all the haters, keep it up. There's a lot more anger where that came from.


I've got a few things planned over the next few weeks to celebrate, but I'm pretty busy, so we'll have to see if it all comes together. In the meantime, I'll just keep doing what I'm doing. Thanks again. Stay Angry.


02.14.06

If you're in the Bay Area, here's something cool for you to do this week... the Center For Asian American Media invites you to A Special Launch Party for the 24th San Francisco International Asian American Film Festival. Thursday, February 16th at the 111 Minna Gallery in San Francisco. It's always a fun gathering. Details here. The festival takes place next month, March 16-26, in locations throughout the Bay Area. For more information, including the full festival program, visit asianamericanfilmfestival.org.


02.14.06

Dave Tatsuno, a Japanese American businessman and amateur filmmaker, died on January 26 at his home in San Jose, California. He was 92. His home movies offered a rare documentary portrait of life in an American internment camp during World War II: Dave Tatsuno, 92, Whose Home Movies Captured History, Dies. His footage, shot in secret (internees were not allowed to bring cameras with them) at the Topaz Relocation Center in Utah, was later compiled into a 48-minute silent film, Topaz, and eventually placed on the National Film Registry of the Library of Congress in 1996.


02.14.06

There have been numerous and varying efforts to bring the story of the 100th Battalion/442nd Regiment to the big screen, as far back as Go For Broke! and most recently Lane Nishikawa's Only the Brave (I guess this one never got anywhere). Well, it looks like there's another production, called Little Iron Men, in the works. It's trying to distance itself from the others by seeking studio backing and distribution from the start. Here's the film's website: Little Iron Men. There's a script and spec trailer available (presumably for potential investors). And a blog for the production here. I guess we'll have to wait and see if this goes anywhere...


02.14.06

Nothing says I love you on Valentine's Day like a box of candy, a bouquet of roses——and matching plastic surgeries in order to conform your Asian features to more Western ideals of beauty: Nothing says love like matching nose jobs. Bizarre and stupid.


02.13.06

Holymoly. Norah Jones is set to make her acting debut in a Wong Kar-wai film, My Blueberry Nights—the director's first English-language movie: Norah Jones 'to make film debut'


02.13.06

Yet another Hines Ward article: S. Koreans Reclaim Biracial Football Champion as One of Them. We get it, we get it. They love him in South Korea. At least this newfound fame is getting people there to reexamine old prejudices.


02.13.06

Here's a good article on Ham Tran's feature film Journey From The Fall, which made its North American premiere at the Sundance Film Festival and received a standing ovation: Vietnamese Showing at Sundance Stirs Emotions. The film was largely financed with money raised from within the Vietnamese community—about as indie as it gets. But it looks like a pretty solid film. Now it needs a distributor. Here's the movie's website.


02.13.06

I think I've linked a few similar stories on this guy before... a Los Angeles Times article on Roy Lee, the producing mastermind who kickstarted the wave of Asian film remakes in Hollywood—The Ring, The Grudge, Dark Water, to name a few—with no end for the trend in sight: Roy Lee's gold-plated recycling bin


02.13.06

Hanzi Smatter points out a bizarre feature in the ever-so-reputable magazine Cosmopolitan, which instructs women on how to identify what kind of man they've got based on his tattoo: Open Letter to Cosmopolitan Magazine. Of course, they've got one analyzing the "Asian Character," and it's a load of racist nonsense:





This stud craves mystery in his life, so expect surprises, whether it's a last-minute getaway or an out-of-the-box erotic move. "Since few will know the translation of his chosen character, he relishes the opportunity to explain the hidden meaning behind," says Green. "He uses the symbol to give people insight into his personality and what he's all about."

You want to know the real reason he keeps the meaning of the tattoo a mystery? He thought he got one that meant something cool like "COURAGE" or "SNAKE," but he found out later, much later, that his tattoo roughly translates to "ONION" or "DIARRHEA" or something equally lame. But hey, nobody needs to know that. It's Chinese, so it's a mysteryyyyy... Please.


02.13.06

According to Variety, filmmaker Grace Lee will direct the Korean-financed, English-language film American Zombie: 'Zombie' speaks English for Korean. In other Grace Lee news, The Grace Lee Project has a bunch of upcoming festival screenings, including next week at the DisOrient Asian American Film Festival in Oregon, so check the website for more information. And if that wasn't enough Grace Lee for you, she was recently on the public radio program The Infinite Mind. Listen to it here.


02.13.06

Here's an interesting commentary for NPR's "This I Believe," by Harold Koh, Dean of Yale Law School: The Bright Lights of Freedom


02.12.06

More on Michelle Kwan's withdrawal from the Games: Exit wound. This one, written before she called it quits, is downright nasty: Ice Storm. But a more sympathetic take here: Kwan has earned the benefit of a doubt. And another one: Kwan's withdrawal brings sorrowful end to grand career. So long.


As for short-track speedskating, the much-anticipated repeat showdown between Apolo Anton Ohno and well, all of South Korea, turned out to be something of a let down, with Ohno flubbing his first event: Ohno's Stumble Puts Him Out of 1,500 Final. South Korea's Ahn Hyun-soo won the 1,500 meters, while teammate Lee Ho-suk took home the silver.


I think I mentioned this guy last month... Toby Dawson is another Asian American Olympian to look out for.


Also, short track speed skater Halie Kim.


02.12.06

Something tells me this is the one to watch today: Ohno and Ahn race for 1500m gold; Ohno Hoping for Victories, and Thaw in Icy Relations With South Koreans


02.12.06

Don't know if you've been following the case of Eddy Zheng, who has been fighting against his own deportation for the last year. He's a Chinese American guy who came to the United States as a legal resident with a green card. At age 16, he was arrested and convicted for participating in a robbery, and served 19 years on a 7-to-life sentence. Since his conviction, he has turned his life around and "made good" by all accounts, but now has been facing deportation since March 2005. The first part of his deportation hearing was last week, and continues tomorrow, March 13 in San Francisco. There's an update, with information on supporting Eddy, over at the Hyphen Blog. For more information on the case, go here. Also, be sure to read Eddy's blog: http://eddyzheng.blogspot.com/. It's written with true insight and conviction.


02.12.06

A strange case of murder out of Seattle... I remember hearing about this a few years back. Kevin Jung, the Bellevue attorney shot in the head by a rival lawyer in 2004, died on Saturday of complications from his injuries: Bellevue lawyer shot by rival in 2004 dies


02.12.06

Whoa. Michelle Kwan has dropped out of the Olympic Games, bringing her quest for the elusive gold medal to a disappointing end: Michelle Kwan Pulls Out of the Olympics. Thud. You had a good run, Michelle. Time to hang up those skates.


In other figure skating news, skating pair Rena Inoue and John Baldwin landed the first throw triple axel in Olympic history: Inoue, Baldwin land first throw triple axel in Olympic history. From what I am told, this is a big deal.


02.11.06

Me Chinese! Me play joke! Just another night in Brooklyn... the night the fortune cookies started talking dirty at a Chinese New Year party: Foul fortune cookies. Guests at the party were given fortunes like "One good [expletive] deserves another" and other sexually explicit phrases. Oops. The event, a fund-raiser to send poor kids to summer camp, was otherwise a success. Said one attendee, "It's nothing that Brooklynites can't handle."


02.11.06

This story is pretty awful... Federal agents who seized an illegal Chinese immigrant in Philadelphia ignored the pregnant woman's pleas for medical help for so long that she lost the twin babies she was carrying: Woman being deported miscarries twins


02.11.06

Jessica Sanders' documentary After Innocence is currently playing for a limited time in Seattle and San Diego. Check it out if you can, because I highly recommend this film.


02.11.06

The Winter Olympics kicked off last night. All eyes are on Michelle Kwan, amidst ominous speculation about whether or not she'll be able to make the grade this time around—no doubt her last try. She has a lot of doubters: On thin ice. These are a little more sympathetic: Kwan Song; Kwan injury spoils potential storybook ending


02.11.06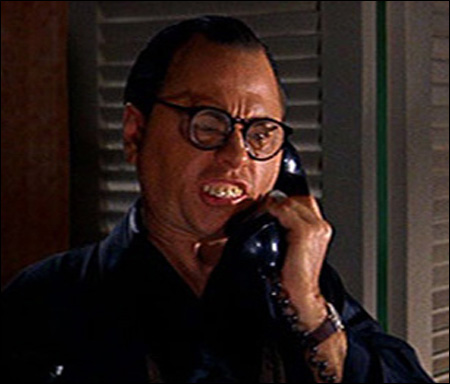 Some noteworthy DVD news this week... Paramount just released a special anniversary edition of Breakfast of Tiffany's. Normally I'd be like, yay, so what, but this movie is notable because it features one of the GREATEST yellowface performances of all time: Mickey Rooney as Mr. Yunioshi. It's iconic. Dressed up in the slant-eyes and buck-teeth and everything—this is about as bad as it gets. That's racist! And you know this, man.


Also out on DVD this week, Sucker Free City, a made-for-Showtime movie about San Francisco gangs directed by Spike Lee (not Asian) and written by Alex Tse (Asian). Originally conceived as a series pilot, Showtime broadcast the movie about a year ago when plans for the show fell through. The film features, among others, Ken Leung as Lincoln, a junior member of the Chinese mafia. I haven't seen it, but I've read quite a few good things about it. Here's a review from last year: Spike Lee's 'Sucker Free City' shows you a San Francisco you don't usually see on film. But its future as a series is history. And here's a an interesting article about its troubled production history: Sucker Free City; The on-again, off-again story of Spike Lee's new Showtime series would make great TV.


02.10.06

Tammy Duckworth is a part-Thai American Iraq War Vet who lost both her legs in the Iraq War. She's now running for Congress (as a Democrat) in Illinois' 6th district. She's got a pretty interesting story: Tammy Duckworth for Congress


02.10.06

This week's edition of KQED's Pacific Time reported briefly on the Adam Carolla controversy, replaying a bit of the clip, with commentary by Samson Wong, editor-in-chief of AsianWeek. Listen to it here. Meanwhile, MANAA has set up their campaign page on the issue here. Anybody got a list of CBS Radio sponsors? I think we need to write them directly... Don't let this thing fizzle out! Stay strong, and be heard.


02.10.06

There's a random Asian dude in this weird Snickers commercial: Snickers - Bald. It appears he gets the last laugh in the end.


UPDATE: The random Asian dude is Howard Chan.


02.10.06

The Washington Post has a good article on Hurricane Katrina and its effect on the Vietnamese immigrant community, which arguably went largely unnoticed by the national media while the worst of it was going down: Katrina's Vietnamese Victims. So I guess now they're getting around to it.


02.10.06

Fresh of his Super Bowl MVP triumph, Hines Ward is South Korea's newest favorite American—and they're not even into football over there: A continent away, a Steeler finds stardom in South Korea


02.09.06

Spotted KT Tunstall performing on the Today show a few weeks ago. Kind of dug the music, so I did some research. Found out she's Scottish, and is actually part Chinese. She's a one-woman band, literally. And getting a lot of notice lately, with appearances all over the place. Here's an interview with her from NPR: Greater Than the Sum of Her Sounds. And another one here: KT Tunstall Takes the Long View


02.09.06

I'd argue that Angelina Jolie's kid, Maddox, is probably the most famous Asian adoptee in the world. Sure, it's not his fault that his mom is both gorgeous and strange, but what can you do? The papparazzi has made his mohawked mug something of an international icon. Well, so famous is Maddox, that apparently some freakjob in Texas got an image of the kid tattooed on his forearm. No joke. See it here: Maddox Jolie Pitt: cultural icon. That's just freaky.


02.09.06

Here's an interview with rapper/prodcuer Chops: Chops: On His Way. You know him from his pioneering work with the Mountain Brothers. Lately, he's been making waves as a producer, and with his mixtape series, It's Going Down. Here's his website, though currently there isn't much there.


02.09.06

David Byrne and Fatboy Slim have collaborated to produce Here Lies Love ñ A Song Cycle, a new musical about the life of Imelda Marcos, as well as the life of Estrella Cumpas, the woman who raised her. It looks like the actors involved are indeed Asian—no Jonathan Pryce-esque yellowface here. Dana Diaz-Tutaan, who plays Imelda, is part of the hip hop group ApSci. The show premieres next month at the Adelaide Festival in Australia.


02.08.06

Watching TV last night, I just remembered... Joel de la Fuente has been showing up regularly on Law & Order: SVU for the last few years as recurring character Ruben Morales—sort of the go-to guy for SVU's technical needs. He was on last night's episode helping the cops do some voice recognition stuff on the computer. Joel also does a lot of work with the National Asian American Theatre Company in New York, most recently in Cowboy vs. Samurai. Anyway, being a regular watcher of SVU, just thought I'd give the guy some recognition...


02.08.06

Some Asian American theater news... if you're in Southern California, check out East West Players' production of the Sondheim musical thriller Sweeney Todd. Opening tonight and running through March 5 at the David Henry Hwang Theater in Little Tokyo. And for those who are a little short on green, tomorrow night, Thursday, February 9, is Pay-What-You-Can (minimum $1, cash only, tickets available at the box office starting at
7 pm). Sounds good, right?


And for my people in the Bay Area... Asian American Theater Company presents The Sarimanok Travels, a one-man show by performer-playwright Francis Tanglao-Aguas. It's described as Fires in the Mirror meets the Vagina Monologues but based on a traditional Pilipino folk tale about a mystical bird that brings harmony to a kingdom. That sounds pretty awesome to me. The show opens this week, February 10, and runs through the 25th at Noh Space in San Francisco. For more information, visit asianamericantheater.org.


02.08.06

Here's an interesting article on the husband-and-wife writer team responsible for translating and adapting English-language versions of Hayao Miyazaki's films: Husband, Wife and HOWL. Basically, they're in charge of simplifying them for American audiences. Because "Americans check out fast." Weirdest thing is, neither of them speak Japanese.


02.08.06

It's been a year since Dr. Geetha Angara was found murdered at a water treat plant in New Jersey, yet the investigation to find her killer hasn't gone anywhere... and her family is angry: One Year After Chemist's Murder, a Stalled Inquiry Angers Relatives. Of course, when pretty Natalie Holloway goes missing, a whole nation tunes in to follow every outlandish theory or clue...


02.08.06

Here's another one of these "Hines War Rules" articles, courtesy of AsianAthlete.com: Steelers Win Super Bowl; Hines Ward is Super Bowl MVP!!!. Mainly worth noting because of the last line, which sums it up: "Anyway, that's all. Steelers win, Ward rules, and Asians know how to ball. Black and yellow is a beautiful combination."


02.08.06

Chan has a new video for his single, "Lonely Road." Check it out here. Hope you all got a copy of his debut album Part of the Nation, because his website indicates it's now sold out. (I didn't—stupid!) However, it's still available on iTunes.


02.08.06

Hey, Asian kid on MTV's MADE. In this episode, math nerd Jason wants to be made into a break dancer. So he gets a coach ("Mr. Freeze"), who explains to Jason that being a good break dancer involves showing off your moves and having a cool personality. That is so true.


02.07.06

Four Asian American voters' organizations have filed a federal lawsuit against the New York City Board of Elections, in order to force the board to provide properly translated voting materials and the required number of interpreters in future elections: Lawsuit Demands More Aid for Asian-American Voters. We're trying so hard to motivate Asian American communities to get out and vote... but they get to their polling places, and they have to deal with all these ostacles. That ain't right, New York Board of Elections.


02.07.06

Last week I mentioned that politicians were showing up at local Lunar New Year celebrations, trying to get in good with the immigrant vote. Here's how it went down for San Jose's Vietnamese community: In avid pursuit of ethnic vote. Check out the photo on the right. I had to laugh.


02.07.06

Comingsoon.net has an article on Final Destination 3 and director James Wong: New Cast Arrives at Final Destination. I know what you're thinking. You didn't watch the first two Final Destination movies—will you be able to follow along? I wouldn't worry too much.


02.07.06

Gawker plucks a few choice selections from its mailbag: Bigotry Mailbag: Today, the Anti-Asian Edition. Like this one:





For those in the restaurant business in New York City, the two weeks of hell that is Restaurant Week finally drew to a close this past Friday. Now, all those amateurs who dine out but twice a year can retreat to the safety of their T.V dinners . And while it might be churlish to bemoan a promotion which increases a serverís earnings by around ten percent whilst increasing the workload by perhaps thirty-five percent (these are not scientific numbers, but an estimate paid for in sweat and blood), the real question that begs to be asked is this: How come the entire Asian community in New York City, en masse, takes this opportunity to feast out? I donít mean to be a fascist about it, but anyone in the food biz will tell you the same thing ó hordes of Asians taking the $35 pre-fix option, with a glass of water please. Your humble server asks: What gives?

Yeah, like that "hordes of Asians" line? Gotta love those racist emails. Oh, how I can relate. That's racist!


02.07.06

The government may have banned Memoirs of a Geisha from showing in China... but that won't stop the pirates! Now selling on the streets in China: Pirate DVDs mock Chinese government's "Geisha" ban


02.07.06

This fool-ass Harvard genius comes from the "just lighten up and deal with it" school of thought, when it comes to Spencer Gifts' racist Asian-themed t-shirts. An editorial in the Harvard Crimson: Hardly Racist. Apparently, he fails to see "how wearing a shirt with a comically stereotypical Asian on it is racist at all." He even goes so far as to suggest that "Hang Out With Your Wang Out" is merely a slogan that "benignly tells us to hang out with our Asian friends." Says the writer, "I wholeheartedly support more hanging out with "wang out's." Nice try, but I don't think so. And it's insulting that this guy suggest this, even in jest. Or should I just lighten up and deal with it? Hell no. That's racist!


02.07.06

I heard about this film a while back when I had a brief conversation with one of its actors: Second Moon. Problem was, I forgot the movie's title. I only remember it was "moon-something." And really, try doing a search for "moon" on IMDb—it's not helpful. Luckily, I heard from the actor fellow again. The film, a debut feature by Masahiro Sugano, is described as a "neo-yakuza romantic farce." And it looks pretty crazy. It's currently in post-production. Here's an article about the film, from last November: TV spot/video producer Masahiro Sugano wraps his debut feature, a ëneo-Yakuzaí romantic farce


02.07.06

The latest email blast from MANAA is all about—what else?—Adam Carolla. In addition to all the relevant information about writing in CBS Radio to protest (see my post from the other day), their email also includes a list of Carolla's past known offenses:





1997: Playing the Mr. Birchum character on Kevin and Bean's KROQ-FM morning show, Carolla uses the racial slur "Chinaman." (KROQ general manager Trip Reeb tells MANAA he agrees the slur should not be used and that he told Carolla not to use it in the future.)



2001: On Bill Maher's "Politically Incorrect" television show, when guests are talking about the need for people to take responsibility for their own actions, Carolla once again refers to Chinese people as "Chinamen," adding, "You just can't catch them because theyíre short and greased with Kung Pao chicken." (In response, Carollaís manager at the time, Howard Lapides, promised MANAA his client would never use that slur again.)



2002: On "Loveline," the syndicated radio program about dating, Carolla and Dr. Drew Pinksy discuss a caller's question about homeopathy. The woman questions their expertise in treating her health problem. Carolla abruptly dismisses the use of homeopathy, saying it's as useless a form of treatment as "the fart of a dead Chinaman." His comments are accompanied by a person speaking a gibberish Asian language.



In other instances, Carolla has made several references to Asian prostitutes and irresponsibly asserted that Asian men make horrible boyfriends and husbands.

In all honesty, it looks like it was really only a matter of time before he pulled a stunt like this. And man, did he! That's racist!


02.07.05

Kristine Sa has just released her new single, "Don't Come Home." You can listen to it here (or get it from iTunes). It's produced by David Liang, who did the Shanghai Restoration Project, which I've mentioned here a couple of times (I'm a fan).


02.07.06

I recently watched the short film Red Thread, a romantic comedy by Cynthia Liu. As someone who watches a lot of shorts, I thought it was kind of cheesy, a little silly, and sort of awkward. But its heart is in the right place, if you like this sort of thing. And it does star the super cool Keiko Agena (who I think I've got a crush on). Anyway, the film was made a few years ago, but it's available on DVD, paired with the indie feature Freshmen (which I was not such a fan of). Learn more about Red Thread here.


02.06.06

Oh baby, you're gonna love this one. Here's a doozy of an email I received earlier today, in full all-caps glory:





FROM: Siouxjina

DATE: Mon, 6 Feb 2006 18:42:16 EST

TO: angryminsoo@angryasianman.com

SUBJECT: HI FROM WHITE FEMALE



HELLO, I'M A 26 YEAR OLD WHITE WOMAN. I HAVE PRETTY MUCH COME TO THE CONCLUSION THAT THE UNDERLYING THEME TO YOUR "ANGRY" ATTITUDE HAS MOSTLY TO DO WITH SEXUAL FRUSTRATION, PARTICULARLY TOWARDS WHITE GIRLS LIKE MYSELF. IN FACT, I HAVE SEEN THIS COMMON THEME AMONG ASIAN "ADVOCACY SITES. IN CONTRAST TO OTHER ETHNIC GROUPS WHO MOSTLY ARE CONCERNED ABOUT ECONOMIC INEQUALITY, THE ASIAN SITES SEEM TO BE FIXATED WITH THE FREQUENCY OF WHITE MALE/ASIAN FEMALE COUPLES AND VICE VERSA. I BELIEVE YOUR YOUR INABILITY TO SEXUALLY OBTAIN (OR DOMINATE AND EXPLOIT) THE WHITE FEMALE TO THE SAME DEGREE YOU HAVE DONE TO YOUR OWN WOMEN FOR CENTURIES (WHICH IS THE REASON THEY GRAVITATE TOWARDS OUR MEN) IS NOT EVIDENCE OF ANY OVERWHELMING RACIAL OPPRESSION. I AM GENERALLY NOT ATTRACTED TO ASIAN MEN, IT'S JUST MY TASTE,MAYBE YOU WOULD LIKE ME TO FEEL GUILTY FOR PERPETUATING WHAT YOU CLAIM TO BE WHITE CULTURAL DOMINANCE. (HOW WOULD YOU EXPLAIN MY ATTRACTION TOWARDS LATINOS?) NOT CHOOSING TO MATE WITH YOU AND IGNORING YOUR ADVANCES IS NOT ANY KIND OF OPPRESSION, IT IS AN ACT OF OMMISION. WHAT I KNOW YOU FANTASIZE ABOUT DOING TO GIRLS LIKE ME ON THE OTHER HAND IS VERY MUCH OPPRESSION AND EXPLOITATION. YOU SEEM TO INTERPRET OUR ALOOFNESS TOWARD YOU AS SNOBBINESS BUT THE ALOOFNESS OF YOUR OWN WOMEN AS MODESTY OR SHYNESS.



I DON'T FIND YOU ATTRACTIVE, GET OVER IT. PROBABLY THE ONLY EXCEPTION TO THIS IS THE JAPANESE. SPEAKING OF THIS, HOW COME YOU HAVE NEVER COMPLAINED ABOUT THE SEXUAL SLAVERY OF YOUR FELLOW KOREANS BY THE JAPANESE. WAS THAT OK BECAUSE IT WAS FELLOW ASIANS DOING IT? I BET YOU WOULD HAVE LOVED TO LIVE DURING THE MONGOLIAN INVASIONS WHERE YOU REALLY GOT TO ENJOY THAT FRESH WHITE MEAT, UP UNTIL CATHERINE THE GREAT WIPED YOU OUT (GIRL POWER!)


I know! You're thinking what I'm thinking. Is this for real? Are there people who are really like this? And how can anyone be so full of herself? I responded the way I usually try to handle such matters. With a firm but thoughtful point-by-point response. I exchanged a few pointless emails back and forth, with this person becoming less and less coherent, and unable to produce any kind of evidence to backup her outrageous claims. She vaguely claimed that I harbor a "general hostility towards caucasians." Eventually, she sent this email:





FROM: Siouxjina

DATE: Mon, 6 Feb 2006 22:54:47 EST

TO: angryminsoo@angryasianman.com

SUBJECT: Re: HI FROM WHITE FEMALE



Lol . Ok time to spill the beans

i'm phillipino myself, and I was posting on an am wf relationship message board and got the almost identifical response from some girl who identified herself as being part of the white power movement. I actually wanted to see how you would have responded.

thanks Min Soo

"Lol"? Oh hell no. You're not getting off that easy, Siouxjina. First of all, I don't know too many people of Filipino ancestry who refer to themselves as "phillipino." Are you sure you're not the one who's part of said white power movement? And then, she has the gall to throw out this BS story? I sense a retreat. What a waste of my time. If I develop sort of "general hostility towards caucasians," it'll be because of this woman. Freak.


02.06.06

A couple of recent radio pieces on Chinese American communities...

Out of Texas: The changing face of Austin

And in New York: In Chinatown, the New Year Means Special Food (And Money...)


02.06.06

Here's an article on Kevin Du, not quite Massachussetts home-grown, who plays a good game for Harvard's hockey team: Crimson count on Du in a crunch


02.06.06

This is a letter from the Center for Asian American Media, condemning Adam Carolla for his racist remarks and CBS Radio for its lack of response:





I am writing to condemn Adam Carolla for his racist and insensitive
comments on his radio program on January 24 ridiculing the Asian
Excellence Awards broadcast on AZN Television. Even sadder has been the
lack of response by CBS Radio's 97.1 Free FM (KLSX-FM).



The Center for Asian American Media (CAAM), a proud supporter of creative
work that often pushes social boundaries, encourages challenging humor.
But this situation is an example of bad humor that has gone too far.
Within the spoof, Mr. Carolla's show substituted "ching chong" repeatedly
to ridicule a show that was in English. We all know good humor is often
shocking, but Mr. Carolla's skit merely revived age-old stereotypes that
have no place in today's America.



Clearly Mr. Carolla found the rare example of the celebration of Asian
American achievement an easy target. While he does have the right to
express his humor, doing so with racial epithets is unconsionable. Mr.
Carolla should be held accountable for his derogatory antics.



The Center proudly supports the growing list of national and local
organizations demanding an apology from Mr. Carolla, KLSX, and CBS Radio.



Donald Young

Interim Executive Director, CAAM



Complaints to the Adam Carolla Show, CBS Radio and the radio stations that
aired the spoof should be directed to:



Joel Hollander, Chairman and Chief Executive Officer, CBS Radio, tel:
212-846-3939, email:joel.hollander@infinitybroadcasting.com



Dana L. McClintock, Senior Vice President, CBS Communications Group, tel:
212-975-1077, email:dlmcclintock@cbs.com



Since 1980, the Center for Asian American Media (formerly NAATA) has been
at the forefront of bringing Asian Pacific American media to the American
public. The organization was formed to challenge the historical exclusion
of Asian Pacific Americans from the media field and to counteract the
distorted portrayals of Asians by mainstream press.


Obviously, CBS is hoping that this whole deal will just sort go away... They want to pull a "Sorry if you were offended..." and let the damn thing fizzle out. I urge everyone to keep the pressure on. Letting something like this happen quietly just gives way for more instances like this in the future. That's racist!


02.06.06

"I have never been more conscious about my ethnicity than in Charlotte." Interesting, thoughtful editorial by Gillian May-Lian Wee in The Charlotte Observer: City has much to learn about Asian Americans.


02.06.06

I was watching TV, and a commercial for the movie Nanny McPhee came on... for a split second, I thought I saw an Asian guy in the movie. An Asian person in Nanny McPhee? So I did a freeze frame on the trailer...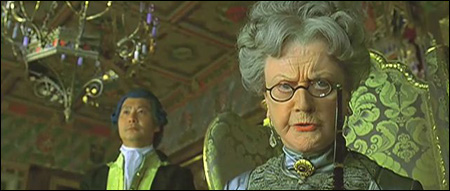 There, that dude standing behind Angela Lansbury. Anybody know who he is? Stand up and be recognized, Asian man in Nanny McPhee! It's your time to shine! Yeah, this is the kind of weird stuff you spot when you're searching everywhere, anywhere for Asian people in the media.


02.06.06

According to this article, Chinese director Feng Xiaogang is arguably the country's most popular, or at least most populist, filmmaker: China director seeks Western feast with "Banquet". Most of us over here have never heard of him... But The Banquet, Feng's newest project, apparently represents his most serious shot at overseas markets. In the article, he notes that Western audiences have a sense of cultural superiority when it comes to Asian films. They don't understand—and frankly, don't want to understand. He says, "It seems like Western audiences have an easier time accepting Asian stories set in ancient times. That's a reality. I don't think it's a good thing, but for me, I wanted to make that kind of change." I think he's right. Crouching Tiger Hidden Dragon, Hero, House of Flying Daggers, The Promise... see a pattern?


02.06.06

New York Times has an interesting article on Hiroyuki Takenaga, a 39-year-old Japanese native living in Woodside, Queens, who has some lofty ideas regarding New York's Japanese American community: For a Big Dreamer, a Little Tokyo


02.06.06

Tian of Hanzi Smatter observes that Justin Timberlake, looking tough in the upcoming film Alpha Dog, sports a tattoo of Chinese characters which translated means "ice skating." That is the mark of a streetwise, hardened criminal.


02.05.06

I've been dropping updates here and there about this story since August... For the past six months, the Bay Area Korean American Justice Coalition (BAKAJC) has made multiple attempts to meet with the Dublin City Council and Mayor Lockhart, regarding the tragic shootings of Kwang Tae Lee and Richard Kim by the Dublin Police Department. Their grieving families have been seeking justice and adequate answers ever since. See here for further information. BAKAJC will be holding a vigil for the 6 month anniversary of the deaths of Mr. Kim and Mr. Lee. Tuesday, February 7th, 2006, 6:00pm at 100 Civic Plaza in Dublin, CA.


02.05.06

Well, just in case you were hiding in a cave today (like I was)... Steelers Win Fifth Super Bowl Title. And wide receiver Hines Ward was named MVP: MVP Ward produces crucial yards at opportune times. Yes, his mother is Korean. And while I'm at it, I've noticed a bunch of people coming to this site through searches for "Troy Polamalu ethnicity." He is of Samoan heritage. Search no more.


UPDATE: Looks like they're crazy about Hines Ward in Korea too: South Korea toasts new sports idol Ward. But not quite stopping traffic.


02.05.06

I mentioned previously that Tyson from Beauty and the Geek has a Xanga. It appears that contestant Cher has one as well: CherylTenbush. Though she hasn't really updated recently...


02.05.06

The 6th annual Slant: Bold Asian American Images festival announces its Call For Entries. It's an annual short film festival of emerging Asian American cinema, and they're looking for some good stuff showcase. It runs May 20-21 at the Aurora Picture Show in Houston. The festival is curated by Melissa Hung, editor in chief of Hyphen. So send Melissa your stuff! The submission deadline is March 3. For more information, go here.


02.05.06

More on that Korean super pop star Rain, who played two sold-out shows last week at Madison Square Garden: Korean Superstar Who Smiles and Says, 'I'm Lonely'. Apparently Diddy showed up onstage during the show, perhaps to give Rain some American street cred?


UPDATE: More on Rain/Bi...

A strong forecast for Korean pop's Rain

Rain's Sold-Out New York Gig Could Take K-Pop Global

P Diddy at Rain Bi Madison Square Concert 2/2 (video)


THEN AGAIN: The sold-out crowd numbers may have been slightly exaggerated: Missing in Madison Square Garden


02.05.06

This article has pretty interesting observation about Ang Lee and what a potential Oscar win might mean: Gentlemen, Start Your Campaigns





One of the most charming moments of the Golden Globes was a visibly nervous Ang Lee ending his best-director acceptance speech by saying ìHappy New Yearî in Mandarin to Asian viewers around the world. Maybe they'll all tune in to the Oscars to watch the Taiwan-born filmmaker go down in history. Ifóor I should say, whenóhe wins the Oscar for best director this year, he will be (as many pundits have noted) the first Asian winner in the category. In fact, he'll be the first non-white-guy, period. I donít know about you, but that's reason enough for me to tune in.

First Asian guy to win Best Director? Heck, first non-white guy? It could happen...


02.04.06

This is from last week, out of the UK... the Treasury apologized for "mistakenly" sending out an offensive, racist email to journalists: Treasury apologises over e-mail. The email, sent by junior clerical officer Robbie Browse, was entitled "Advantage of being Chinese," under a heading of "this is brilliant!" It encouraged recipients to "try pulling the corners of your eyes as if you were Chinese" to decipher the following message: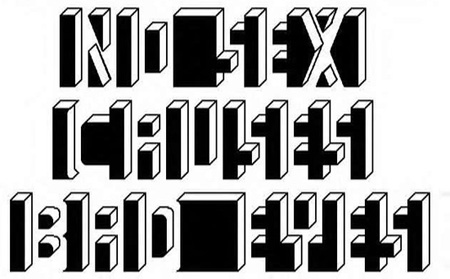 Please don't bother with doing the idiotic eye thing. The message says "NO SEX CAUSES BAD EYES." I've gotten this one passed along to me in the past—one of those idiotic office email jokes you wish would just die in your In-Box. But some fool always has to keep it going, like the frickin' Ring. Yeah, not so brilliant, Robbie. I really hope this guy got fired. That's racist!


02.03.06

Members of the Congressional Hispanic Caucus, the Congressional Black Caucus and the Congressional Asian Pacific American Caucus are creating a new group that will include all of their members, in hopes of leveraging their numbers to aid overlooked communities affected by Hurricane Katrina: Minority Lawmakers Unite After Katrina


02.03.06

Unbeknownst to me, the latest edition of Survivor (Panama!) premiered last night. For those keeping score, Bruce Kanegai is among the contestants this time around. He's a 58-year-old, third-generation Japanese American karate instructor/high school art teacher from Simi Valley, CA. And no, he wasn't voted off last night.


02.03.06

Jeff Yang's latest "Asian Pop" column is all about Grace Lee and The Grace Lee Project: By Any Other Name. The film is screening next weekend, February 11, as part of the San Francisco Korean American Film Festival...


Hey, that reminds me... KIMA's 4th San Francisco Korean American Film Festival runs February 7-12 at various locations throughout the Bay Area. They've got a pretty solid program, with a lot of big budget films (Shiri, JSA, Silmido, Taegukgi) as well as cool documentaries (Game of Their Lives, The Grace Lee Project). For a complete schedule, go to the festival website here.


02.03.06

Almost forgot... All American Girl, Margaret Cho's short-lived sitcom from 1994 was released on DVD this week. If you watched the show back in the day, you probably remember that it was pretty crappy. But the DVD set might be kind of cool for nostalgia's sake, and the extra features (including commentaries and interviews from Ms. Cho) sound pretty interesting...


02.03.06

Get your grilles from Johnny Jeweler! Here's interesting article on Johnny Dang, a Vietnamese immigrant whose Houston shop has become the rappers' destination for custom jewelry: Grille master


02.03.06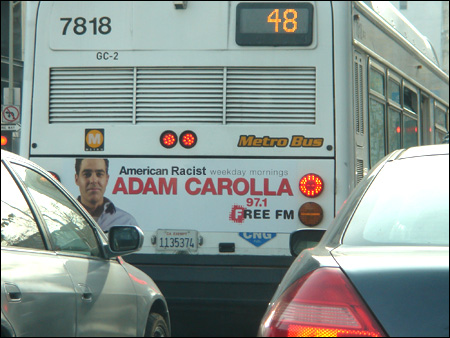 The Adam Carolla thing is starting to pick up steam: Radio host Carolla insults Asian group. But not quickly enough! If you're coming in late to this party, first listen to this audio clip of racist "comedy" gold: . I've also posted the clip for a limited time here (.mp3, 2.14MB). Please disperse and host it on your own sites to spread the word.. Basically, Carolla thinks it's funny to mock Asians with the same old "CHING CHONG" schtick that racist asshead kids have been doing on the playground for years. Not even funny. We need to get the word out, build support, and keep the pressure on. Again, here's some contact info:


Adam Carolla: adam@adamcarolla.com

Dave Dameshek: dave@adamcarolla.com

Rachel Perry: rachel@adamcarolla.com

Ozzie Castillo: ozzie@adamcarolla.com


Here is CBS Radio's corporate contact info:


CBS RADIO

1515 Broadway

New York, NY 10036

212-846-3939


Joel Hollander

Chairman and Chief Executive Officer, CBS Radio

212-846-3939

joel.hollander@infinitybroadcasting.com


Dana L. McClintock

Senior Vice President, CBS Communications Group

212-975-1077

dlmcclintock@cbs.com


Here's a letter sent last week by Asian American Journalists Association national president Esther Wu to Joel Hollander, chairman and chief executive officer of CBS Radio, and Dana McClintock, senior vice president of CBS Communications: Radio Show Mocks Asian Awards Ceremony


Here's the Asian American Justice Center's press release on the matter: AAJC Demands that CBS Reprimands Radio Host for Mocking Asian Americans


And here's Organization of Chinese Americans' press release: OCA Condemns Anti-Asian Adam Carolla Radio Spoof


And one from Korean American Coalition - Los Angeles: KAC Responds to Adam Carolla on 97.1 Free FM


I've said it before, and I'll say it again...so say it with me: That's racist!


02.02.06

I know there's some craaazy American Idol fans out there. Well, the new season has begun... opening the door for a new generation of potential William Hungs or Jasmine Triases. Here's an initial bit of news... Filipino American contestant Jose "Sway" Penala's eligibility might be in question: Did 'Sway' Break Rules?


UPDATE: Here's is a Sway fansite ("the original") keeping up with the latest updates on this "scandal": www.josepenala.com/


02.02.06

Heads up... The Democratic National Party hosts the first national Asian American and Pacific Islander Democratic Leadership Summit, March 31st-April 1st in San Jose. The theme of the summit will be "Moving Forward: From the Table to the Ticket." There will be trainings and speakers and things of this nature.


02.02.06

I've been getting emails from people who insist that it is somehow my duty to name every single API involved in the Super Bowl, including someone who was upset that I had not yet mentioned Seattle Seahawks linebacker Lofa Tatupu. So here you go: Rookie Tatupu delivers defensive windfall for Seattle. Hooray for football.


02.02.06

Remember the 2002 Winter Olympics? Short-track speed skater Apolo Anton Ohno walked away from the Games with a new crown: South Korea's Most Hated Man. Death threats and everything. Long story short: Ohno was awarded the 1,500-m gold after Kim Dong Sung was disqualified for obstructing his path. Thus began the love. In a poll taken before Korea was a co-host of the 2002 soccer World Cup, Ohno topped Osama bin Laden as the person Koreans least wanted to attend. It took a while, but things seem to have blown over slightly since then: No Short Memories


02.02.06

Comedian Steve Byrne will be on the Late Late Show with Craig Ferguson tonight (technically early tomorrow morning) on CBS. He's a funny guy, so check him out. Also, check out the trailer (under "video clips") for his film 13 or Bust, now available on DVD. It's a documentary about one night in the life a stand up comic in NYC. Steven attempts to break the record of 12 shows in one night by doing 13 sets in all 10 clubs in Manhattan. Did he do it? Watch the DVD and find out...


02.02.06

According to a new Gallup poll, fifteen percent of all workers say they have been discriminated against in their workplace during the past year: The Bias Breakdown. 31 percent of Asians surveyed reported incidents of discrimination, the largest percentage of any racial or ethnic group, with African Americans the second-largest group at 26 percent. That's racist! But according to the Equal Employment Opportunity Commission, Asians generally file fewer discrimination complaints than other groups. What's up with that?


02.01.06

A former postal employee went on a shooting rampage at a mail sorting center in Goleta, CA where she once worked, killing six people before committing suicide: Deaths in Calif. Shootings Rise to Eight (she also killed her neighbor). The attacker apparently had a history of hostile and racist behavior, particularly towards Asians. All of the slain postal workers were minorities—three were black, one was Chinese-American, one was Hispanic and one was Filipino. And according to the deputy clerk for the city of Milan, NM, she once applied for a business license for a publication called "The Racist Press" but did not qualify. Investigators have refused to discuss a motive for the slayings, but yo, I think it's pretty obvious. I'll give you a four-letter motive: HATE. That's racist!


02.01.06

Interesting article on director Justin Lin: Lin's New Line of Credit. He acknowledges that doing big budget studio films like Annapolis and Fast and the Furious 3 helps him build a body of work that'll enable him to do the independent, not-so-studio-friendly films he has in mind.


02.01.06

Finally, genetics researchers have uncovered the key gene behind the mystery of human earwax: Dry earwax? It's genetic. Because I was dying to know why Asians have dry earwax and everybody else has the sticky kind. One more mysterious secret of the universe solved!


02.01.06

This is kind of interesting. I'm told that this blog post has apparently been circulating on various Filipino American listerves. It's by some white girl, about her and some friends going to eat at Jollibee's (a Filipino fast food chain), then taking pictures and laughing at all the gross Asian food they ate. Talk about Ugly Americans. And they fully admit it too. You know, it's one thing to be grossed out by food you're not familiar with. No doubt, Jollibee has some nasty stuff on the menu—hey, fast food is food. It's another thing to go to the restaurant with the intention of laughing, taking photos and making a spectacle of the nasty foreign food. That's just being an ignorant ass. That's racist!


02.01.06

Ken Watanabe—one of the few actual Japanese actors in Memoirs of a Geisha—has a few things to say in defense of his co-stars: Watanabe Defends Casting in 'Geisha'. Meanwhile, in China, the government has delayed approving the release of Memoirs, amid concerns that the film's use of Chinese actresses to portray Japanese geishas could spark public anger: 'Geisha' Awaiting Approval in China


UPDATE: It's official—China has canceled the showing of Memoirs, reportedly because of concerns that it could spark public anger and rekindle anti-Japanese sentiment: Citing Public Sentiment, China Cancels Release of 'Geisha'


02.01.06

Sports articles, real quick-like...

Norm Chow: Cutler, Robinson, Whitehurst feast on Chow's lessons

Hines Ward: Ward to honor devoted mother with trip home to South Korea

Troy Polamalu: Polamalu has taken his game to new level

Michelle Kwan: Kwan welcome, but is risking pristine image