09.29.06

Another Asian American magazine joins the crowded landscape of publications out there... used to be that A was the only game in town. Seems like I hear of a new one launching all the time now. Coming in November: Altra Magazine, "a seasonal lifestyle magazine which seeks to define and raise the profile of those of Asian descent in the mainstream media." Looks very high-end, glossy, aimed towards young professionals. But is it any good? They're giving away free subscriptions to the first 2000 people who fill out a questionnaire. Here's the official press release: ALTRA ñ a New Lifestyle Magazine for Asian American Men and Women, Launching November 2006


09.29.06

So you've probably seen trailers and promos for the upcoming film Borat: Cultural Learnings of America For Make Benefit Glorious Nation of Kazakhstan, starring comedian Sacha Baron Cohen ("Ali G") as a foul-mouthed, racist, sexist TV reporter from Kazakhstan. Turns out, officials in Kazakhstan are concerned that the character will turns their country into a laughing stock, so they've poured funds into counter-programming: Kazakh battles 'insulting' Borat. The result: Nomad, a film about the struggle of Kazakh tribes to expel Mongol invaders—the most expensive film ever made in Kazakhstan. I can't read any of the stuff on the website, but according to IMNb, the film's cast includes Mark Dacascos, Archie Kao, Jason Scott Lee, and Ron Yuan. Sounds phenomenal.


09.29.06

Oh hell no, in case you thought the general American public didn't fear the sneaky Chinese enough, we get an article like this... According to counterintelligence experts, Chinese spies are infiltrating the U.S. as businessmen, students and researchers, and Silicon Valley is apparently ground zero: 'Hotbed' of economic espionage -- Silicon Valley. That's right, those Asian engineer dudes in your company might actually be Chinese government operatives! Watch yourself, Beans.


09.29.06

NPR's Morning Edition profiles ukulele virtuoso Jake Shimabukuro: In the Hands of a Master, the Ukulele Is No Toy. No doubt, the guy is one hell of a talent. Here's his official site. His latest album Gently Weeps
just came out last week.


09.29.06

I received this petition the other day, a request for the immediate release of Thuong Nguyen "Cuc" Foshee, a long-time citizen of the United States, who was detained by the Vietnamese government while traveling in Vietnam over a year ago. She has apparently been a vocal advocate for democracy in Vietnam, which does not sit well with the government: Free Cuc Foshee


09.28.06

Hey DC! The 7th Annual DC APA Film Festival kicks off tonight with the Opening Night presentation of Eric Byler's Americanese. 7:30 pm at Landmark's E Street Cinema. They've got a great schedule of screenings and events, so be sure to join in on the fun. The festival runs through October 7th. This would be a good time to re-mention that my short film Return of the Dragon (Again) will be playing along with another short film Press or Say "2" and Sung H. Kim's documentary Mighty Warriors of Comedy. The program screens Saturday, September 30th, 6:00 pm at the Jack Morton Auditorium. I will not be able to attend the festivities, but I hope folks will show up, show their support, and have a good time (and tell me how it goes). Support APA film!


09.28.06

Dumplings? I don't know what you're trying to pull here, but these aren't real dumplings! One writer speaks out against nasty bastardized American concoctions being passed off as dumplings: A Dumpling Manifesto. It's time for a dumpling revolution!


09.27.06

Iva Toguri D'Aquino, who was convicted and later pardoned of being World War II propagandist "Tokyo Rose," died this week: DíAquino, Convicted as Tokyo Rose, Dies at 90. "Tokyo Rose" was the name given by soldiers to a female radio broadcaster responsible for anti-American transmissions intended to demoralize soldiers fighting in the Pacific. D'Aquino was the only U.S. citizen identified among the potential suspects. In 1949, she became the seventh person to be convicted of treason in American history and served six years in prison, but was pardoned by President Gerald Ford in 1977.


09.27.06

Another article from ABC News about Asian American stereotypes in film and television: Hollywood's Racial Catch-22. Interesting how ABC seems to keep revisiting this topic (not that I'm complaining). Someone over at ABC must really be concerned about our plight. This one focuses on Jeff Adachi's documentary The Slanted Screen.


09.27.06

This article notes that so far the race-segrated season of Survivor is indeed exposing its participants' biases "...against heavyset musicians inclined toward midday naps in the South Pacific sun": 'Survivor' showing its true colors? It also makes a few observations about the Asian American team. My guess is, that weirdo Cao Boi will be voted off the moment the Asian American team loses a challenge.


09.27.06

Check out this ad created for the web, by Young Virginians for Racial Equality, speaking out against Senator George Allen: Young Virginians Talk to George Allen. I like the part where the guy says: "You kept a Confederate flag, and you said it was about 'heritage'... but you grew up surfing in Southern California." Here's some background on the ad, over at Daily Kos: The Beginning. Good to know there are people out there making a stand...


For more George Allen fun and games, check out The George Allen Insult Generator over at Slate.com. Senator Allen just called me "Old Yeller." Pretty silly, but you get the idea.


09.27.06

Here's an article about the growing Asian poulation in Connecticut (the eighth-fastest growing community of Asians in the country): Asians seek voice equal to growing population in state. However, the state's Asian American leaders say they are concerned that the rise comes at a time of a growing backlash towards immigrants. I would venture to guess that the two trends are probably related.


09.27.06

Just a reminder for some of you political-minded folks down in Southern California, an event going on tomorrow night: APAs Rising: Political, Progressive and Proud, a community Q & A featuring John Chiang (candidate for State Controller), Judy Chu (candidate for Board of Equalization - District 4), Mike Eng (candidate for CA Assembly - District 49), Ted Lieu - (candidate for CA Assembly - District 53). Meet these candidates and learn about where they stand on the issues. Thursday, September 28th at the National Center for the Preservation of Democracy in Little Tokyo. For information, and to RSVP, go here.


And up in the Bay Area tomorrow night, there's a happy hour fundraiser for Jane Kim, who's running for San Francisco School Board: Meet School Board Candidate Jane Kim! (And Make a Contribution.). Thursday, September 28th at Azul Lounge in San Francisco. She needs your support! To learn more about Jane Kim, visit her website at www.janekim.org.


09.27.06

Tetsuro Tamba, an accomplished Japanese character actor, has died in Tokyo. He was 84: Japanese actor Tamba dies; played Bond ally. He was best known internationally for appearing as "Tiger Tanaka" in the 1967 James Bond movie You Only Live Twice (the one where James Bond is surgically altered to look Japanese).


09.27.06

I recently heard about this case in San Francisco involving a car crash that tragically killed three Chinese American men—all husbands/fathers with families to support. The accident was apparently caused by another careless driver who fled the scene, but was not found at fault. The surviving families have started a petition asking authorities to pursue justice and scrutinize the case further: 4 Daughters Seeking Justice of Deceased Fathers


09.27.06

I hear they call Danny Seo the Martha Stewart of green living, and it looks like he's indeed on the verge of a Stewart-esque empire. He's just launched a series of books called Green Living on practical ecological living. He's also got a new TV show that'll be debuting on the LIME channel, as well as a Sirius radio show. It is easy being green. Here's his site and here's his blog.


09.27.06

I was at the movies last weekend and spotted Sook-Yin Lee in the trailer for Shortbus, which apparently is a movie that involves a lot of sex: 'Shortbus' Cast Didnít Study for This in Acting Class


09.27.06

Hey everybody... just wanted to remind the folks out there that we've got high-quality NOBODY LOVES AN ANGRY ASIAN MAN t-shirts available over at Blacklava. Available as a unisex t-shirt in small, medium, large, x-large and xx-large. A perfect item for your back-to-school wardrobe. Buy a shirt, wear it proudly.


09.26.06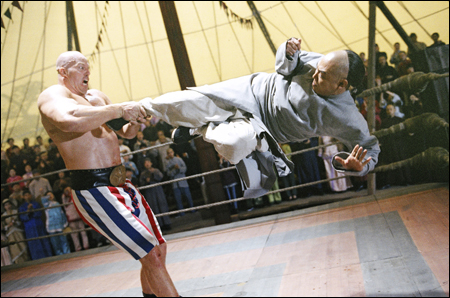 A few days late, but as promised, here's my interview with Jet Li, talking about his latest film Fearless, now in theaters: Q & A with Jet Li. It reportedly took in $10.6 million at the box office last weekend, behind Jackass: Number Two (which inexplicably took first place). The film, which Li calls his most important and most personal martial arts film, is also apparently his last. Though it gets a little preachy, there's also plenty of asskicking to go around, so check it out.


09.26.06

Just so you know, The Fast and the Furious: Tokyo Drift
, directed by Justin Lin, is out on DVD today. It's not a great movie—I'd hardly call it even a good movie—but I'll admit to enjoying it for what it was (one of the Amazon reviewers writes, "Worst film ever...but you already knew that," then proceeds to give it five stars). Some of you collectors out there (like me) might dig it. The special features include an audio commentary from Justin Lin.


Also worth nothing out on DVD today is the short-lived NBC series The Book of Daniel
. I thought the show, about a pastor's quirky and dysfunctional family, was a little too quirky and dysfunctional for its own good, but the cast included Ivan Shaw in a pretty interesting stereotype-breaking role as the Websters' adopted son Adam. Too bad the show was cancelled after just four episodes. Anyway, if you're curious, it might be worth a look.


Oh, and one that snuck under the radar for me... the DVD release of Lady Vengeance
, the third and final installment of Park Chan-Wook's revenge trilogy. The film is a little more muted than the stylish insanity of Oldboy, but is certainly still its crazy little sister, full of shock and style. I actually already own the Korean release, but the U.S. version has some great features including commentaries by the director, cinematographer, and art director, as well as film scholar Richard Pena. And coming in November from Tartan, the Oldboy Three-Disc Ultimate Collector's Edition
. Better start saving up your allowance.


09.26.06

AsianAmericanFilm.com has posted an interview with artist Ahree Lee, whose experimental video Me is a series of photos of herself taken every day since November 2001: Ahree Lee talks "Me". It was originally posted on AtomFilms, but a pirated version of the film became a runaway hit on YouTube, which these days means that you are awesome. According to the interview, she's still taking a photo every day and plans to keep going forever. That's awesome.


09.26.06

Another video vignette from the unlikeliest "redneck" in professional wrestling: Jimmy Wang Yang debuts next week on SmackDown. Next week meaning this week.


09.26.06

Kaiju Shakedown notes that the Pusan International Film Festival (October 12-20) and the Chicago International Film Festival have announced their lineups, and highlights some of the Asian films on their schedules: FILM FEST UPDATE. Lots of great stuff there...


09.26.06

Looks like it's not just Chinese food delivery guys who are getting assaulted... last week, executive chef Tyson Wong Ophaso of Chinatown Brasserie in New York was beat up when he tried to stop an altercation between three men and his maitre d': Executive Chef Assaulted at Chinatown Brasserie. Like the story, I have to ask: "what kind of town is this that a chef is beaten by three goons, and no strangers come to his aid?"


09.26.06

Okay, I'm a Star Trek fan, but I'm not the kind of fan who's going out of my way to produce new episodes of Star Trek on my own... I'll leave that to these guys: Star Trek: New Voyages is a fan-created, fan-financed internet series based on the original Star Trek show. That's dedication. While it may seem that it's just a bunch of Trek fanatics filming stuff in their garage (let's face it—it kind of is), several past members of the Star Trek cast and crew have are actually contributing to the project. This includes our man George Takei, reprising his role as Sulu: George Takei does Internet 'Star Trek'. The episode, "World Enough and Time," will be released in March as a free internet download from the Star Trek: New Voyages web site. Sulu rules.


09.26.06

Check it out, change your bookmarks... the folks at New Demographic's Mixed Media Watch blog have undergone a name change and facelift, and are now kicking ass as Racialicious, a blog about anything and everything at the intersection of race and pop culture. One of the first new entries is an episode two recap of Survivor by guest contributor Jeff Yang.


09.26.06

Oh goodness. You may remember it was previously announced that Kal Penn reprise his role and star in the sequal to Van Wilder. Well, here it is, the trailer for Van Wilder 2: The Rise of Taj. Looks like it's everything we hoped it would be. But can it really be called "Van Wilder" if the title character isn't even in the movie?


09.26.06

Here's the standard email response KZON-FM management has been sending to people who wrote in regarding remarks made on the "Big O and Dukes" (with comedian Greg Fitzsimmons) program earlier this month:





I am writing in response to your e-mail regarding comments made during the "Big O and Dukes" program that aired the evening of September 14th,
2006. On behalf of KZON-FM, I want to thank you for taking the time to bring your concerns to our attention. We appreciate your feedback, and
have taken steps to rectify the situation.



Big O and Dukes personally addressed the issue on their show this past Friday admitting that the segment crossed the line, and expressing
regret for the offense it caused to the Asian American community. Also, their guest, comedian Greg Fitzsimmons, will not be invited back to the
show in the future.



Please be assured that we are taking this matter seriously. KZON-FM management will continue to enhance the sensitivity of our on-air talent
to the issues which are of concern to the Asian American community.



Again, thank you for your insight and sharing your perspective on this matter.



Very truly yours,



Marco Camacho

Senior Vice President, Market Manager

KMLE-FM KOOL-FM KZON-FM

840 North Central Avenue

Phoenix, AZ 85004

(602) 452-1000

(602) 744-0111 fax

I went to the website looking for an archived sound file of Big O and Dukes addressing the issue, like it says, but couldn't find it. I also noticed that they've taken down the offending clip. Looks like they're doing their best to bury the issue and put it behind them...


09.26.06

Like I said, don't wanna turn this into a space for Allen-bashing, but he makes it so darn easy... This week, two acquaintances of the Virginia Senator said that he had used racially inflammatory language in the 1970s and 80s: Senator Accused of Using Racially Charged Term. Oh, and let us not overlook the part about the severed deer's head. A former football teammate said that on a hunting trip Mr. Allen had sought out the home of an African American and affixed the head of a dead deer to the mailbox. More here: Teammates: Allen used "N-word" in college. This man has been considered a frontrunner for the Republicans party's 2008 presidential nomination. This man could be President?


09.26.06

According to Cinematical, Reiko Aylesworth has been cast in the sequel to Aliens vs. Predator: Aliens Vs. Predator 2 Casting News. Wow, it looks like the opportunities have really opened for her since Michelle Dessler got killed off on 24.


In TV news... the new ABC show Help Me Help You starring Ted Danson premieres tonight. He plays a therapist with some eccentric patients blah blah blah. Suzy Nakamura is in the cast as Inger, "a 25-year-old, self-made millionaire who totally lacks social skills and hasn't had a real date in over six years." I don't know, I think I'll probably be watching Law & Order tonight.


09.26.06

Here's a New York Times article on playwright Julia Cho and her latest work Durango, now playing at the Long Wharf Theater in New Haven through October 15: An Asian-American Playwright Turns a New Page. An interesting thing about the play is that the character are all Asian American men. Here's a review of the play: Traveling With Despair as a Constant Companion


09.25.06

Hey, almost forgot... NBC's new drama Heroes premieres tonight. The cast features Masi Oka as Hiro Nakamura and Sendhil Ramamurthy as Mohinder Suresh. I was able to catch a glimpse of the pilot from a file floating around the internet, and so far I'm pretty intrigued with the story. I've actually already seen some good early buzz about Masi Oka as Hiro. Some people are saying he's the next breakout star. Oh, and James Kyson Lee is also in the episode as Hiro's friend.


UPDATE: Also spotted Camille Chen as a regular on NBC's Studio 60 on the Sunset Strip. She plays "Samantha Li," one of the show-within-a-show's cast members.


09.25.06

Okay, here's the deal. A big favor to me and my pal Jane, one of my oldest, dearest friends. Jane is one of the finalists in the Wicked Week "Be Wicked" Singing Contest, in celebration of the hit musical Wicked. You can watch her singing online, and vote for her... If she wins, she'll get a free trip to New York, tickets to the show, and a chance to sing live in the Grand Finals of the contest. PLEASE VOTE FOR HER, BECAUSE SHE IS GOOD, AND SHE IS MY FRIEND (plus, as far as I can tell, she's one of the only Asian American singers in the competition). I'm not kidding about this—I'm calling in this favor to you, my good readers. Here's what you have to do:


Go to www.wicked-week.com.
Click on the "Wicked Week First Round 'Be Wicked' Singing Contest" link.
Click on the "Wicked Fan" area to register (yeah, it's a pain, but please suck it up and do it anyway).
Once you registered and logged in, click on "Round One Online Voting - East Coast."
Click on "Jane, 26 - finalist from Massachusetts," and listen to her sing.
Vote, and then tell all your friends to vote. Hell, paste this entry into your Xanga/Blogspot/MySpace/Whatever. Just spread the word about Jane!


09.24.06

U.S. Senator Daniel Akaka beat back challenger Ed Case in Hawaii's Democratic primary: Akaka defeats Case in Senate primary. Akaka, who has served in Congress for 30 years, now moves onto the November election currently without a GOP opponent...


09.24.06

Jeff Adachi's documentary The Slanted Screen, about Asian American men (and the lack thereof) in television and film, will be featured in an industry-only premiere on Thursday, October 5th at the Samuel Goldwyn Theater at the Academy of Motion Picture Arts and Sciences in Beverly Hills. The screening will include a catered reception and a panel entitled "Influencing the Image Makers" featuring industry experts who will discuss the challenges of increasing diversity in film and television industry. Tickets are limited, and going fast. For more information, go here. Also, support the film by rating it here.


09.24.06

Overall, reaction among Thai Americans towards last week's military coup against Thailand's prime minister seems to be fairly positive: Bay Area Thais express relief; 'A really, really good sign for the country'


09.24.06

Wendi Deng, wife of News Corp. Chairman Rupert Murdoch, was reportedly in China negotiating a joint venture to get MySpace into the country's potentially enormous market: Murdoch's Mission to China


09.24.06

The latest news in Macacagate is rather interesting... This week, Senator George Allen disclosed that he has Jewish heritage, a fact that he says his mother only revealed to him last month: Volatile Mix: Campaigning and Religions. This information, of course, comes hot on the heels of his "macaca" comment. Now suddenly Allen's calling himself a changed man:





After initially sidestepping questions about his Jewish roots, Mr. Allen played them down and then had his campaign accuse his Democratic rival of anti-Semitism. Only on Wednesday did his mother confirm that she had hidden the family history from her son for decades.



Mr. Allen went on the offensive, declaring himself a champion for all minorities. ìNow, itís personal,î he said Thursday in an interview on CNN.

Allen, a "champion for all minorities"? Really? That's just funny.


09.23.06

This is for the Lost fans out there (October 4th can't come soon enough)... Here's a great, lengthy audio interview with Daniel Dae Kim and Jorge Garcia, talking about season two, the upcoming season, interacting with fans, and a whole lot of other random stuff: LPN Interview: Daniel Dae Kim and Jorge Garcia. Check it out, because it's good stuff.


09.23.06

Maggie Q has reportedly joined the cast of Live Free or Die Hard, the fourth installment of the Die Hard series. First of all, this just sounds like a terrible idea. Why revisit this series? As a fan of "the trilogy" I'm satisfied. But I guess there's money to be made. Here's a description of the plot:





The 20th Century Fox project centers on an attack on the U.S.' computer infrastructure that begins to shut the country down. The mysterious figure behind the scheme has figured out every digital angle but never counts on an old-fashioned "analog" John McClane, played by Willis.

Maggie Q will apparently play a "world-class hacker" going up against McClane. It seems that she's becoming the go-to girl in Hollywood when you want to add a little Asianness to your big-budget cast (i.e. Mission: Impossible III, Balls of Fury).


09.23.06

Here's a radio interview (mp3) with the Wall Street Journal's Dan Golden, author of The Price of Admission: How America's Ruling Class Buys Its Way into Elite Colleges -- and Who Gets Left Outside the Gates
. He speaks a bit (and devotes a chapter in his book) about the discrimination faced by Asian American students in applying to America's elite colleges, and some of the stereotypes held by admissions officials about Asian American applicants. Pretty interesting stuff...


09.23.06

Pham Xuan An, a reporter for TIME during the Vietnam War who was later revealed to be a communist agent, died this week at age 79: Pham Xuan An Dies at 79; Reporter Spied for Hanoi. More here from TIME: The Journalist Who Spied. And here: The Spy Who Loved Us


09.23.06
Asian American Writers' Workshop in New York celebrates its 15th anniversary and presents a Lifetime Achievement Award to Maxine Hong Kingston. Thursday, September 28th at The Drawing Center in SoHo. They will also announce the winners for The 9th Annual Asian American Literary Awards, highlighting the best of 2005 in fiction, creative non-fiction, poetry, memoir, and stage plays or screenplays. For event details, go here. Congratulations AAWW on fifteen years!


09.23.06

Comic book artist Bernard Chang tells me he's co-authored a new graphic novel with bestselling Neil Strauss, How To Make Money Like a Porn Star, a shocking, seedy portrayal of the porn industry (for mature audiences only). Admit it, some of you are intrigued. It'll be out in stores next week
. While the book will no doubt attract some controversy, there's no denying that Bernard is a talented artist. View his website for more samples of his work.


09.22.06

There are a bunch of noteworthy films opening this weekend...


As I've mentioned here several times before, Jet Li's Fearless opens in theaters today. It's a solid flick that kicks much much ass, so check it out if you can. I know I promised to post my interview, but it's taking me longer than I expected (transcribing is a pain in the ass)—sorry to tease you like that. I'll get it going as soon as possible. Meanwhile, here's another really good interview with Fearless' director Ronny Yu over at Kaiju Shakedown.


Auraeus Solito's The Blossoming of Maximo Oliveros, a festival hit from the Philippines, makes its U.S. theatrical premiere today at the Cinema Village in New York (and opens next week in Los Angeles). It's described as a sweet coming-of-age story about family, identity and sexuality.


Continuing on from a successful theatrical run in New York, Georgia Lee's family drama Red Doors opens this weekend at various theaters in San Francisco and Southern California (including premiere party festivities in both cities). For more information on theaters and screenings, go here.


Rahmin Bahrani's acclaimed indie film Man Push Cart exands this week to Southern California (Beverly Hills, Pasadena, West Hills). It's about the life of a former Pakistani rock star who now sells coffee from his push cart on the streets of Manhattan. For theater info, go here.


Ian Inaba's hard-hitting documentary American Blackout, about the ways in which African-American voters have been marginalized in the electoral process, opens today at the Quad Cinema. The film received a Special Jury Prize at the 2006 Sundance Film Festival. IMDb says the film's tagline is "Your outrage is waiting." How can you not be intrigued?


For the latest news on Asian/Asian American films and screenings, I recommend checking out AsianAmericanFilm.com, if you haven't already. Lots of great info there to keep you up to date.


09.22.06

I mentioned that APAture kicked off earlier this week in San Francisco. Here's an article on the event from the San Francisco Chronicle: Window into Asia; APAture 10-day arts festival will showcase everything from musicians to writers to filmmakers. Catch it while you can.


09.22.06

Saw this interesting profile over at Sepia Mutiny... According to The Hill, Mohinder Singh is apparently "the most trusted cabbie of Capitol Hill," accumulating a trusted clientele of Washington's political elite. He'll get you where you need to go.


09.22.06

According to new statistics released this month by the Selig Center for Economic Growth at the University of Georgia, Asian American consumer annual buying power in the United States has reached $427 billion, representing a 59% increase since the beginning of the decade: Asian-American Buying Power Tops $427 Billion. Asian American buying power also has the second fastest projected rate of growth, slightly behind Hispanic buying power.


09.22.06

Check out this brief video clip of Mike Osskopp, Director of Minnesota Congressman John Kline's district office, yelling racial slurs ("Jap cars!") at cars arriving for an opponent's campaign event: Weirdness in CD2-Kline's Director becomes unhinged (video). That's racist! Here's a follow-up: Kline's Director Expected To Apologize For Racial Slurs


09.22.06

In honor of the San Francisco 49ers' 60th anniversary season, the team has announced the Joe Perry/Wally Yonamine Unity award, to be bestowed upon a 49ers player, a youth football coach and a local business that exhibits volunteerism and promotes ties in the community: Unity award to honor pioneers of 1940s. Wally Yonamine was the first player of Asian descent to join a professional football league in 1947 when he played one season with the 49ers. While an injury forced him out of professional football, he also played baseball in Japan for 12 years, and in 1994 he became the first American to be inducted in the Japanese Baseball Hall of Fame.


09.22.06

The Angel Island Immigration Station has been selected by American Express and the National Trust for Historic Preservation as one of twenty-five San Francisco Bay Area historical sites to potentially receive funding from the Partners in Preservation program. The historical site with the most support and votes will receive $100,000. To determine who receives the funding, all you have to do to register and vote here. You can cast one vote each day through October 31st. As you may know, through the first half of the 20th century, the Station was routinely the first stop for immigrants—particularly Asians—crossing the Pacific Ocean. Other historic Bay Area sites being considered are the Japanese YWCA Building and the Hakone Gardens.


09.22.06

Forgot to mention that the seventh(!) season of America's Next Top Model premiered this week... and there is a South Asian gal among the contestants: Anchal, 19, a sales clerk from Florida. The Hyphen blog recounts The Asian Gals on America's Next Top Model, including last season's disaster, Gina. Seriously, could anyone do a worse job of representin'?


09.22.06

Mohammad Sarfaraz Hussain is facing deportation... again. He came to the U.S. at age 8 to be with his dying mother. By 18, he was an all-American high school basketball star. But after 9/11, to the United States government, he was just another male noncitizen over 15 from a predominantly Muslim country, and became one of thousands tagged for deportation for lack of proper papers. However, after his classmates, his coach, and his congressman rallied behind Hussain's cause, an immigration judge dismissed the deportation case in April 2003. Unfortunately, this week he's back in immigration court facing deportation all over again: Pakistani Seeks Asylum After Reprieve From Deportation Proves Temporary. That sucks.


09.21.06

My pal Marian, intrepid entertainment reporter for the San Jose Mercury News checks in with another article on Jet Li and Fearless, touted as his final martial arts film: 'Fearless' farewell. I'm actually working on my own Q & A with Jet, and should have it posted up sometime tomrorrow... Stay tuned.


09.21.06

The Washington Post profiles this whiz kid David Banh, an 18-year-old from Annandale, VA, who just graduated from the University of Virginia in one year—that's more than sixty credits—with a double major: U-Va.'s One-Year Wonder. The article says that his college education, almost entirely paid for by scholarships, cost him about $200... and he sold his textbooks back for more than that. Not only is the kid brilliant, he's frugal. I just hope he has time for a social life. To all the Asian kids out there, this is the kind of article you want to hide from your parents...


09.21.06

If you're in Chicago and looking for something to do on Friday night, why not check out Stir Friday Night (MySpace), the city's premier Asian American sketch comedy and improv troupe. Their latest production, "The Cast, and the Furious: Tokyo Drift" on Fridays through October 6th at Donny's Skybox. There are only three performances left, and I'm told the first two sold out. Chi-town, show some love! More details here.


09.21.06

Newsweek has an article featuring the Top Twenty Women on Leadership, in their own words: Leading the Way. Joyce Chang, managing director of JP Morgan, and violinist Sarah Chang among the leaders profiled.


09.21.06

Officials for the Asian American Legal Defense and Education Fund (AALDEF), which had poll observers closely watching voting for the Massachussetts primary this week, said they registered complaints with the secretary of state and Boston elections officials charging that candidates' names were not translated into Asian languages on primary ballots: Asian group lodges voting complaint


09.21.06

Here's the trailer for the upcoming movie Codename: The Cleaner, starring Cedric the Entertainer, with Lucy Liu. It's a comedy, though it looks like Lucy plays the same character she plays in like six other movies... Oh, and badass dude Mark Dacascos is also credited in the cast.


09.21.06

According to this story, the use of mediation in civil complaints against New York City police officers has become much more common, as demonstrated by an incident involving Officer Jack Ng and his partner (pictured): Settling Disputes Across a Table When Officer and Citizen Clash


09.21.06

A cool thing about maintaining a site like this is that I learn fascinating new things every day. For instance, I learned that there are not just one, but two sequels to Bring It On, the cheerleading movie. The latest installment is only loosely connected by its title, I suppose, a la Fast and the Furious: Tokyo Drift: Bring It On: All or Nothing (titles with colons always sound cooler). At first I thought I had blinked and missed it in theaters, but it turns out the movie was released directly to video last month, and was apparently one of the most successful direct-to-DVD titles ever. Why would I even care this much about Bring It On? I don't, really. But according to IMDb, Cindy Chiu is in the movie as "Amber." Don't know how big her role is, but now you know. Put that sucker in your Netflix queue.


In other random Asian-spotting, I noticed Hana Moon briefly in the beginning of NBC's Kidnapped last night. Playing a reporter, of course.


And Aaron Ikeda ("Rex" on Scrubs) tells me he'll be appearing in a small role on an episode of Fox's The War at Home taht airs this Sunday. Aaron's a funny guy, who blogs about being an actor stuff. Read his entry about taping this episode here. He's also got a MySpace page.


09.20.06

You've probably heard by now that military leaders in Thailand have ousted Prime Minister Thaksin Shinawatra in a bloodless coup: Thai Army Leaders Depose Prime Minister. The PM was out of the country attending the U.N. General Assembly meeting in New York. Sorry dude, you're no longer in charge of your country. Meanwhile, the people of Thailand generally appear to be taking it pretty well...


09.20.06

As recent history has proved, we shouldn't really expect great things to come out of the mouths of radio personalities. It's usually juvenile at best, and racist hate at its worst, with no real reason other than to get a rise out of people, and making fun of Asians because they think they can get away with it... Well, a vigilant reader sent this in last week, and I've been slow on the draw. Here are the particulars: on September 14th, radio hosts Big O & Dukes of 101.5 KZON FM in Phoenix, talking with comedian Greg Fitzsimmons, said some off-color remarks about Asians—particularly Asian men (they actually just make the rounds and generally offend everyone). The station's website has it archived here. If they take it down, our man BB has it archived here (the comments start at 00:10:14 and go on for about a minute, and then pick up again with a caller just after 00:13:00 and go on for about another five minutes). BB's also created an edited version of the file with just the relevant parts included here. The ignorance coming out of these guys is phenomenal and angering, and just goes on and on. That's racist! Welcome to the big time, Phoenix. I'm sick of this. Contact the station using the form here. And here's the email for CBS Radio's Phoenix sales manager: marco.camacho@cbsradio.com.


09.19.06

Just read this news out of San Francisco over the weekend... a 19-year-old man from Pacifica was stabbed to death in a dispute over a parking spot. Police have arrested his alleged killer, 25-year-old Pounloeu Chea, booked on one count of murder and five counts of assault: Fatal stabbing over parking. The article notes that Chea is a former Cambodian refugee who was featured in Who I Became, a 20-minute documentary film about the life of Asian immigrants in the Tenderloin district. I remember seeing this film in 2003 accompanying the premiere of Spencer Nakasako's Refugee at the San Francisco International Asian American Film Festival. Sadly, it looks like the guy wasn't able to turn his life around...


09.19.06

Here's an event next week for politically-minded folks in Southern California: APAs Rising: Political, Progressive and Proud, a community Q & A featuring John Chiang (candidate for State Controller), Judy Chu (candidate for Board of Equalization - District 4), Mike Eng (candidate for CA Assembly - District 49), Ted Lieu - (candidate for CA Assembly - District 53). It's an opportunity to meet these candidates and learn about where they stand on the issues. Thursday, September 28th at the National Center for the Preservation of Democracy in Little Tokyo. For information, and to RSVP, go here.


09.19.06

The New York Times has another article on Jet Li and the release of Fearless, a really nice tribute to his career in over thirty martial arts movies: Exit Kicking: Jet Li's Martial Arts Swan Song. And here's an interview with Fearless director Ronny Yu. He actually ended up directing the film after walking away from helming Snakes on a Plane.


09.19.06

NPR's All Things Considered profiles Liang Wang, principal oboist for the New York Philharmonic: Oboist Liang Wang: His Reeds Come First. Guaranteed to convince you that oboists are cool.


09.19.06

New York's Chinatown is getting in on the housing boom, with the construction of new luxury condominiums: Luxury Condos Arrive in Chinatown. Someone in the article is quoted offering a fairly common assessment in such situations: "This is either a renaissance or gentrification to the hilt." Indeed.


09.19.06

What's up Bay Area! The Kearny Street Workshop's 8th annual APAture kicks off tonight. The festival is a multidisciplinary arts event presenting the work of emerging Asian Pacific American artists living and/or working in the San Francisco Bay Area. It includes a visual arts show, film screenings, workshops, literary readings, performances in spoken word, music, dance, theater, and other performance genres, and an area for zinesters and comic artists to display and sell their work. It starts tonight with a gallery opening and runs through September 30th. Lots of good stuff, so check it out. For more information about artists and tickets, go here.


09.19.06

Up-and-coming pop punk band Frequency 5 (with Johnny Lee on vocals/guitar/keys) is one of the bands featured on MTV2's battle-of-the-bands competition Dew City Breakout. Here's the band's requisite MySpace page.


Frequency 5 will also be featured in a one-night only concert alongside Putnam Hall, Siris, Adrienne Lau, Far East Movement, Vienna Teng, Kaila Yu, Burning Tree Project and Jin at MTV Chi Rocks!, "The First Ever Concert Celebrating Young Chinese America" (the first, really?) to be aired on MTV Chi and MTV Asia. The show is going down Saturday, September 23rd at the San Gabriel Civic Auditorium. For details, go here.


09.19.06

A statewide project is underway to preserve California's informal historic Japantowns... this story is about the effort to document Pasadena's Japanese American history: A forgotten era


UPDATE: On a related note, House Democratic Leader Nancy Pelosi inserted the following statement today into the Congressional Record to commemorate the 100th anniversary of San Francisco's Japantown: 'Japantown Represents More than 100 Years of a Unique Immigrant Experience'


09.19.06

Here's a great piece by Loren Javier on the representation of Asians in mainstream comics, with a nice historical overview of some of the older Sax Rohmer-era villains, to the 1970s kung fu hero, to some of the newer stereotype-busting heroes: From Fu Manchu To Shang-Chi To All-New Atom: Asians/Asian Americans In Comics


09.18.06

Amidst all the hoopla about Survivor, I forgot that the latest season of The Amazing Race premiered last night, with one of the most racially diverse casts the show has ever seen. Unfortunately, Muslim American friends Bilal and Sa'eed from Cleveland and Indian American couple Vipul and Arti got eliminated, while Korean American brothers Erwin and Godwin are still representin', nearly missing elimination with a seventh place finish. Episode 1 had them traveling to Beijing.


09.18.06

Check it out... McFarlane Toys, fine makers of the announced Lost action figures, have posted their list of next year's figures: SPRING 2007 ACTION FIGURE LINEUP. The second series of Lost characters includes Jin, Sun and Sayid, along with Sawyer, Mr. Eko, Desmond and "Oceanic Flight 815 Crash Site Boxed Set." No images included yet, but it says they're due out in May. Man, I will totally geek out and buy these figures.


09.18.06

More antics from previously mentioned WWE personality Jimmy Wang Yang: Jimmy Wang Yang has no problem with pronouncing his letters. My goodness, it's just painful. The guy clearly does not want to be confused with typical Asian stereotypes, but does it have to be so godawfully tacky? He goes haywire embracing this caricature on the opposite end of the spectrum. Between the outfit and the painfully fake accent, you just want him to stop. We get it, we get it... now please, just shut up and wrestle.


09.18.06

CityMama of BlogHer has an Interview with Georgia Lee, director of Red Doors. After a successful run in New York, the movie expands to San Francisco and Los Angeles this Friday, September 22nd. Learn more about the movie (including details on premiere party festivities) here.


09.18.06

Strange but true! Chinese surgeons have performed the world's first penis transplant on a man whose organ was damaged beyond repair in an accident this year. Doctors spent 15 hours attaching a 10cm penis to the 44-year-old patient after the parents of a brain-dead man half his age agreed to donate their son's organ. The surgical team claims the operation was a success. However, they had to remove the penis two weeks later. "Because of a severe psychological problem of the recipient and his wife": Man rejects first penis transplant. Let the jokes begin...


09.18.06

The website for 7th Annual San Diego Asian Film Festival is up and running, showcasing the full schedule of films and events. Also check the site's interviews/articles with people like veteran actress Kieu Chinh, Journey From The Fall director Ham Tran, and Battlestar Galactica's Grace Park. The festival runs October 12 through 19, and it looks like it's going to be a fun time.


09.18.06

The Dalai Lama is on tour! After inaugurating a new Dalai Lama Center for Peace and Education this week in Vancouver, he'll visit several US cities for public talks, sessions with young peacemakers, scientists, university faculty, corporate executives, and a California women's conference: American Buddhism on the rise


09.18.06

If you're out in New York, SAG and CAPE are sponsoring a free screening of the PBS-bound My Life... Disoriented, directed by Eric Byler and written by Claire Yorita Lee. Wednesday, September 20th at the ImaginAsian Theater.





Life gets turned upside down for Bay Area teens Kimberlee and Aimee when their father loses his job and relocates the family to Bakersfield.



Suddenly, Kimberlee and Aimee are two of only a handful of Asian American kids at their school. Kimberlee quickly makes friends with a street-smart outcast named Tisa, but the new friendship is strained when three "popular" girls take Kimberlee under their wing. Meanwhile, Aimee puts on a brave face for the sake of the family, but shares the cause of her secret suffering with her peculiar, mixed-race cousin, Phil.

It stars Di Quon, Karin Anna Cheung, Dennis Dun, Hira Ambrosino, Tamlyn Tomita and Phil Young, among others. For more information on the screening, go here.


09.18.06

Two recent attacks on Korean small business owners in San Francisco have sparked fear and concern within the Korean American community: S.F. Attacks Haunt KoreAms. On August 19th, a customer found Jinsun Lee, 54, slumped over the cash register in her grocery store, the New California Market: Slaying at store in the Richmond. And August 10th, Byung Ho Park, who owned a laundromat several blocks from the New California Market, was also attacked with a large metal object. Are Korean business owners being targeted?


Meanwhile, across the country, a local community mourns the death of restauranteur Reginald Chan, owner of Jade Mountain in the East Village, who was killed last week in an accident while making a delivery on his bicycle: Its Owner Is Mourned, but a Chinese Restaurant Goes On. The restaurant had been owned byh Chan's family for more than 70 years. The day after his death, it was still open for business.


09.18.06

Calling all Asian American filmmakers, expert and novice alike... the deadline is quickly approaching for Current TV's Seeds of Tolerance film competition. They're looking for three to five-minute non-fiction videos that pose the question, "What does tolerance (or intolerance) mean to you?" The grand prize is $100,000 (and two runner-up prizes of $10,000 each). An additional $15,000 will be donated to a charity that fights for your chosen cause. The deadline is October 2nd. For rules, details and other stuff, go here.


Along similar lines for folks in Canada... The National Film Board in partnership with CBC Newsworld invites emerging
filmmakers of colour to enter the 5th annual Reel Diversity competition. Filmmakers can submit their proposals for a TV-hour documentary. Up to eight finalists will have the chance to develop their proposals and attend a 3-day intensive training session. Three winners will be selected to make their own NFB documentaries and have them broadcast on CBC Newsworld. Like everything cool and worthy out there these days, the competition has a MySpace page. For information on how to enter, go here. (Thanks, Peter.)


09.18.06

Big weekend for Ichiro Suzuki. The Seattle Mariners outfielder stole his AL single-season record 33rd consecutive base against Kansas City on Saturday night: Suzuki has record-setting day. Ichiro also singled in his first two at-bats to extend his own major league record for consecutive 200-hit seasons to begin a career to six.


09.17.06

Whoo! I think it's about time for another Chinatown episode. What do you say? The description for this week's episode of the Fox drama Standoff sounds like it'll fit the bill:





"Shanghai'd"

What seems to be a textbook child kidnapping becomes a tangled mess when it is revealed that the victim is the daughter of David Lao - an Asian crime lord who is currently under FBI investigation. To save the young girl's life, Matt and Emily must compromise the investigation, infuriating the Crime Division's Chief, and deal with a corrupt father who doesn't want their help. With two FBI teams on opposite sides of the same case and a kidnapper who is more experienced than he's revealing, Matt and Emily have their hands full at work while keeping some secrets from each other in the bedroom on the "Shanghai'd" episode of STANDOFF, Tuesday, Sept. 19 (9:00-10:00 PM ET/PT) on FOX.

Asian crime lords, baby! That means a truckload of Asian actors get to work this week. The episode guest stars Michelle Krusiec, Chase Kim, Bobby Nish, Walter Wong, Peter James Smith, Tim Chiou, Celine Tien, and Sung Kang. Is it too much to ask that they'll try to keep the cringe-worthy moments to a minimum? Yeah, probably too much to ask. It airs Tuesday night.


09.17.06

I mentioned Gene Luen Yang's graphic novel American Born Chinese here last week. Still haven't picked it up yet, but judging from the preview pages, it looks great. For folks in the Bay Area, Gene Yang and colorist Lark Pien will be doing a book signing on Wednesday, September 20th at Isotopes Comics in San Francisco. For more information on the event, go here. Otherwise, order it here.


09.16.06

The San Francisco Chronicle has a brief podcast with Jet Li, who talks about his latest film to hit the States, Fearless: Jet Li says "Fearless" will be his last wushu film. And here's the accomanying article: 'Fearless' Li Moves On. Indeed, Jet has proclaimed that Fearless will be his last martial arts film—not his last film, nor even has last action film, as some have erroneously stated. I watched Fearless a few weeks ago, and it's a pretty solid flick. It's no Once Upon a Time in China, but action-wise, it certainly stands among his better films. He says that it's his most personal and most important martial arts film, and it definitely has that vibe—a little preachy, but he's going out with a bang. The movie (officially titled Jet Li's Fearless—"Jet Li Is Fearless"?) opens in theatres September 22nd.


Oh, and Jet Li has also confirmed that his long-rumored collaboration with Jackie Chan is really going to happen, and scheduled to start shooting in April: Jet Li Confirms Jackie Chan Team-Up. Apparently, it's going to be Jet's first movie for kids? Suddenly, I'm less interested in watching it...


09.16.06

Another film festival for you... the 3rd Annual Los Angeles Korean International Film Festival runs later this month, September 29th through October 5th. They're showing some pretty interesting works, including Kris Chin and Ronald Oda's Asian Stories (Book 3), James Bai's Puzzlehead, and Park Chan Wook's Sympathy For Lady Vengeance, among others. Tickets are on sale now, my friends. For more info, go here.


09.16.06

BusinessWeek columnist Vivek Wadhwa shares his views on why he thinks Indian Americans are such a successful immigrant group: Are Indians the Model Immigrants?


09.16.06

ESPN.com profiles star Yale soccer player Christina Huang: Yale star balances school, national powerhouses. When she was choosing colleges, she apparently had it narrowed it down between Yale and Princeton, and basically made her choice based on the outcome of a game between Yale and Harvard. Yale won, so that's where she went.


09.16.06

According to the 80-20 Initiative Blog, this ad they they took out ran in the Washington Post this week: America's Core Value: Equal Opportunity. It's part of the Initiative's ongoing campaign pressing for equal opportunity for Asian Americans in the workplace and other sectors.


09.15.06

Here's the accompanying video to last week's 20/20 segment racial stereotypes in television and film: Hollywood's Stereotypes. It includes interviews with actors like B.D. Wong and Daniel Dae Kim.


09.15.06

This week, a new report said that Asian American women living in Bergen County, NJ lead the nation in longevity, typically reaching their 91st birthdays. So what's the secret? Why exactly do these Asian ladies live so long? Some possible reasons: Study Counts the Years, Asians Count the Reasons


09.15.06

So I missed last night's Survivor. I probably would've bit the bullet and tuned in out of curiosity. But I was busy. I heard "we" won. I've been reading over various reactions to the premiere, and most seem to note how astonishingly dull it was... others seem to be making a fuss about this "Cao Boi" cat, who fulfilled the Asian stereotype of mystical healer, of all things. Here are a few observations from various sources:

Racial divide doesn't change 'Survivor'

"Survivor" maven's big racial experiment a bust

Race to the bottom

Mixed Media Watch: Survivor: let the stereotyping begin!

Reappropriate: Live-Blogging Survivor: Cook Islands, ep. 1


I'm still interested in seeing how it all went down (particularly Cao Boi's antics), and will watch the episode when I get the chance (I'm downloading it was a write this). Damn you, Burnett. You've got me watching this freaking show.


UPDATE: And do check out Jeff Yang's latest "Asian Pop" column: The Tribe Has Spoken. He assembled his own Survivor: Race War viewing party for the premiere, completely with hilarious (and painful) play-by-play commentary of the episode.


09.15.06

The 7th Annual DC APA Film Festival has launched its website and announced the official lineup of films. My short film Return of the Dragon (Again) will be playing along with another short film Press or Say "2" and Sung H. Kim's documentary Mighty Warriors of Comedy. The program plays Saturday, September 30th, 6:00 pm at the Jack Morton Auditorium. The festival runs September 28 through October 7th. Support APA film!


09.15.06

The shooter who killed a student and injured 19 others at a Montreal junior college this week has been identified as 25-year-old Kimveer Gill, a guy with some serious issues and obsessions, according to what he revealed about himself on a website called 'vampirefreaks.com': Shooter at Montreal Campus Is Identified. More info over at Sepia Mutiny: Montreal slaughter nutcase was desi


09.15.06

This story has been all over the news... Two weeks after telling police her two-year-old son Trenton had been abducted, Melinda Duckett found herself being interviewed (interrogated, really) by ex-prosecutor and national talk-show host Nancy Grace. A day after the taping, Duckett killed herself: Mother of missing boy commits suicide. More here: Nancy Grace: Show didn't cause suicide. Here's a MSNBC clip of Grace interviewing Duckett: Panel Discussion About Nancy Grace


09.14.06

The Pacific Citizen has a good, in-depth story on Scott Fujita, the linebacker for the New Orleans Saints who was raised by a Japanese American father: The Saint With Green Eyes, Community Ties. Like the guy says, he doesn't have a single drop of Japanese blood in him, but it does certainly give him a unique perspective, and perhaps makes you reconsider who exactly is/isn't Japanese American. Interestingly, Fujita previously played for the Dallas Cowboys under Bill "Jap Plays" Parcells...


09.14.06

Check it out, Bay Area... Asian American sketch comedy troupe OPM is representin' this weekend at the San Francisco Fringe Festival with their show "Get Laughs or Die Tryin'". Friday, September 15th through Sunday, September 17th at the EXIT Theatre in San Francisco. For details, go here. And visit OPM's site here.


09.14.06

With five Futures Tour wins, eighteen-year-old Song-Hee Kim, is the most successful teen in professional golf this year: The new Kim in town. Welcome to the club. According to the story, there are seven Kims already among the 32 Koreans on the LPGA.


09.14.06

Well, it's really happening. Survivor: Cook Islands, aka Race War premieres tonight on CBS, with four racially divided teams competing against each other: With racial split, 'Survivor' returns. Like a lot of people out there, I think this is a bad, bad, bad idea, and I'm not really interested in supporting this by watching it. At the same time, hell, I'll admit it—I'm intrigued, and curious to see how it all goes down. Like a terrible car wreck, it's a horrible sight, but I can't look away. Sadly, this is the probably the most diverse show on all of television.


09.13.06

Just a reminder for you folks in the Bay Area... tomorrow night (Thursday), I'll be participating in a discussion, Confronting Asian American Stereotypes presented by Asia Society Northern California. Other participants include Pueng Vos, a writer, editor, and associate radio producer with New America Media; Melissa Hung, editor in chief of Hyphen; and Elaine H. Kim, professor of Asian American and Comparative Ethnic Studies at UC Berkeley. Here are the event details:



Date: September 14th

Time: 5:30 PM Registration; 6:00 PM Program followed by reception

Location: 500 Washington St. 5th Floor, San Francisco

Cost: $5 Members and Co-sponsors, $10 non-Members

Phone: 415.421.8707



Although the Bay Area is renowned for its diversity and progressiveness, our community continues to face great challenges. Even today, Bay Area Asian-American residents, who number around 1.3 million, still experience racially motivated harassment, discrimination, and violence. Often fueled by enduring stereotypes, half of Californiaís hate crimes against Asian Americans in 2005 were committed in the Bay Area. Why do Asian-American stereotypes remain a problem? How have they changed over time? What strategies for fighting stereotypes have proven successful? Please join the Asia Society in welcoming several community leaders as they identify conditions, offer explanations, and present solutions.


Hope to see you there. And please poke me in the arm and say hello.


09.13.06

I'm really digging the latest edition of Asia Pacific Arts, particularly the interview with Sung Kang and Russell Wong, stars of Chris Chan Lee's Undoing: Style, Substance, and Edge: A Conversation with Sung Kang and Russell Wong. They've both got some great insights on being Asian American actors in the industry. And here's the official site for Undoing.


09.13.06

Someone recently sent me this video clip of the first fifteen minutes of the feature length comedy So Beauty. I try to keep track of most of the Asian American films out there, but I hadn't heard about this one... From the official synopsis:





From the sly villain to the noble sidekick; from the wise sage to the overachieving student, Asian males have long been confined to secondary roles in Hollywood. Alongside their Caucasian counterparts, they would aid in battle, work to solve the mystery, help to save the day, and often times stand by only to watch the other guys get the girls... until now.



So Beauty, a comedy that follows four Asian friends in their separate quests for romance, opens the window into the mind of Asian men and their outlook on dating.

It certainly sounds admirable. And looks very... indie. The movie calls itself "too controversial for Sundance, Cinequest, the San Francisco International Film Festival, and VC Fest," though judging from the video clip, I'd be willing to bet that "controversy" wasn't really the reason So Beauty got rejected from those festivals. I could only get through about 6-7 minutes of the clip before the acting and dialogue started to really hurt. But hey, it was a labor of love, and I can appreciate that. Anyway, the website says So Beauty is available on DVD for a generous donation of $20.


09.13.06

Here's a great profile of 65-year-old Gloria Kim, who has been feeding and clothing the homeless of Los Angeles for twenty years: Carjacking Can't Make a Dent in Aid to Homeless. She was carjacked a few months back, but that apparently hasn't slowed her down.


09.13.06

The Onion has a funny take on Asiaphilia: I Have A Thing For Asia. When he says Asia, he means Asia. The continent.


09.13.06

I know squat about fashion, but according to this story, designer Phillip Lim made a splash in New York with his collection of "nearly all-white," "thoroughly modern and above all wearable" pieces: Phillip Lim makes a statement in white. It was his first proper runway show. Good for you, Phillip!


09.13.06

I heard about this weird video a couple of weeks ago, but I was trying to get some more background info about it before I posted anything. The clip features comedian Bobby Lee talking to Joe Rogan at a party, or backstage at a show or something. He says some pretty shocking things regarding oral sex and who the oral sex was performed on. It's idiotic, but hey, people say idiotic things, and it's obvious he's being idiotic for the camera (plus maybe he's drunk). But what really bugs is what comes after, when Bobby gives his take on Asian people. Sure, it's no secret that Asians have their prejudices about other Asians. Hell, we excel at it. It's just Bobby being idiotic. But what bugs is the fact that he decides it to take it there and act a fool for this asshead from Fear Factor, who no doubt added the ching chong music to the clip. Why, Bobby, why? It's just disappointing.


09.13.06

Word on the street is, the New York opening for Georgia Lee's Red Doors was a big success. The movie grossed $35,050 on just two screens, earning an impressive per-screen average of $17,525, and actually making it the number one film in the country on a per-screen basis. Next stop: California. The movie opens in San Francisco and Los Angeles on September 22nd.


09.12.06

Hey everybody! David Yoo's hilarious novel Girls For Breakfast is out on paperback today. In honor of this occasion, I've got a Q&A with David Yoo for you to enjoy. He's got some interesting stuff to say. I've mentioned the book here several times in the last year, and have to recommend it to anyone interested in a quick, fun read—probably one of the funniest, truest and most embarrassing takes on Asian American male adolescent identity you'll ever read. David's a funny guy, and talented writer. Read about the "launch" ("...me, standing on a dock by myself after sunset, smashing a half-empty bottle of Two Buck Chuck against the side of some strangerís boat and then running away.") of the paperback over at his Xanga. And pick up Girls For Breakfast at your local book store or online. And in the meantime, read the Q & A.


09.12.06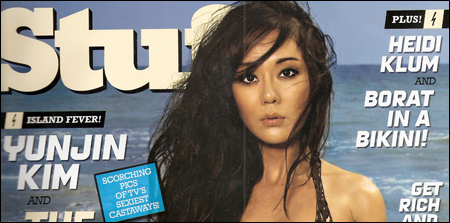 Whoo man... Lost's Yunjin Kim has been getting a lot of exposure lately... a scan of her gracing the October '06 cover of Stuff ("The Women of Lost") just landed in my In-Box, and she's looking pretty darn good. Yikes.


She's also in a spread for the UK magazine Arena.


Meanwhile, in much tamer magazine news... looking good and wearing a whole lot more clothing, Yunjin's also on the latest cover of Golf For Women. Well yeah, of course. Korean women and golf—they just go together.


09.12.06

The full pilot episode of NBC's Heroes is up for viewing over at LiveDigital. The cast includes Masi Oka as Hiro Nakamura and Sendhil Ramamurthy as Mohinder Suresh. James Kyson Lee is also a recurring character. So far, I'm pretty intrigued... the show premieres on Monday, September 5th.


09.12.06

This is for the college kids... NAASCon 2006, the second National Asian American Student Conference is happening November 3-5 at Northwestern University (Go Wildcats!). Details are still coming together, but it looks like it's shaping up to be a really important and exciting opportunity for students interested in APA issues and movements. Early registration is $40 until October 15th. For more information visit naascon2006.com.


09.12.06

According to a new report, where you live, combined with race and income, plays a huge role in the nation's health disparities: Where you live linked to life expectancy. Asian American women living in Bergen County, NJ lead the nation in longevity, typically reaching their 91st birthdays. The differences are so distinct, it's apparently almost as if there are eight separate Americas instead of one. According to the article, Asian Americans, average per capita income of $21,566, have a life expectancy of 84.9 years. This seems true... I mean, every old Asian lady I know seems to live up to their nineties...


09.12.06

Joan Chen has joined the cast of Ang Lee's next film Lust, Caution as Tony Leung's wife: Joan Chen Joins Cast of Ang Lee Movie. Man, I love her.


09.12.06

This is one of weirdest things I've ever seen... you've got to hand it to the WWE. They've always managed to stuff some of the most blatant, brazen stereotypes into their professional wrestling storylines and characters. But this one is just floors me... on Smackdown, they're apparently promoting a new wrestler named Jimmy Wang Yang with a series of video vignettes. His gimmick? Not just an Asian wrestler, but an Asian Redneck Cowboy wrestler. See here:

Jimmy Wang Yang is coming to SmackDown. Giddy-up.

Jimmy Wang Yang likes his curves.


It's pretty painful hearing him drawl through that exaggerated fake Southern accent. Seems like they're going waaaay out of their way to dispel the usual Asian stereotypes. What's funny is that they've gone the complete opposite direction and embraced this other extreme stereotype of the Redneck. It's pretty outrageous.


09.12.06

Canadian author Vincent Lam and his collection of short stories Bloodletting and Miraculous Cures has made the long list for the Scotiabank Giller Prize, Canada's richest and most respected literary award for fiction. It looks like the book isn't available in the States yet, so I'll have to take Canada's word for it on how awesome it is...


09.11.06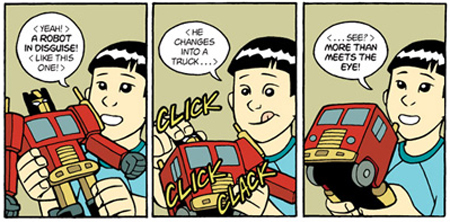 Lots of comic book-related stuff coming to my attention lately... check out American Born Chinese by Gene Luen Yang, just out from First Second. It looks like good stuff... Here's the official description:





All Jin Wang wants is to fit in...

When his family moves to a new neighborhood, he suddenly finds that he's the only Chinese-American student at his school. Jocks and bullies pick on him constantly, and he has hardly any friends. Then, to make matters worse, he falls in love with an all-American girl...



Born to rule over all the monkeys in the world, the story of the Monkey King is one of the oldest and greatest Chinese fables. Adored by his subjects, master of the arts of kung-fu, he is the most powerful monkey on earth. But the Monkey King doesn't want to be a monkey. He wants to be hailed as a god...



Chin-Kee is the ultimate negative Chinese stereotype, and he's ruining his cousin Danny's life. Danny's a basketball player, a popular kid at school, but every year Chin-Kee comes to visit, and every year Danny has to transfer to a new school to escape the shame. This year, though, things quickly go from bad to worse...



These three apparently unrelated tales come together with an unexpected twist, in a modern fable that is hilarious, poignant, and action-packed. American Born Chinese is an amazing ride, all the way up to the astonishing climax - and confirms what a growing number of readers already know: Gene Yang is a major talent.


View some sample pages here. I haven't picked it up yet, but it looks like fans of Derek Kirk Kim's work will probably dig this too. Pick yours up in paperback or hardcover deluxe collector's edition.


09.11.06

Jackie Chan says he wants to transition out of action roles and be more of a Deniro: Jackie Chan 'fed up' with action roles: 'I want to change'. Seems like there's a story every year with Jackie making these same remarks—especially as he gets older. I can understand his desire for an image makeover... but the fact of the matter is, he's made an incredible thirty-year career for himself as an action star, doing crazy stuff that no one else would even think of doing. I think these are performances are every bit as important and entertaining as those of a "serious actor." I think it'll be kind of hard to see Chan trying to make a transition into action-less roles...


09.11.06

Been hearing a lot about the South Korean monster film, The Host which has been a huge, record-breaking box office smash over there: South Korean movie monster gobbles up box office...





"The Host" opens with a negligent U.S. Army mortician in Seoul who orders an underling to pour toxic chemicals down the drain.



The chemicals end up in the capital's main waterway, the Han River, where they create a mutant monster.



The creature rises from the river to go on a killing spree through the streets of Seoul, snatching a little girl and taking her to its lair.



The child's family, described by the director as being "somewhat pathetic," rescue the girl after battling the beast, the South Korean army, car thieves and poor reception on a cheap mobile phone.


Some argue that there's an underlying anti-U.S. sentiment (toxic chemicals dumped by the American military creates a killer monster... ya think?) though director Bong Joon-ho denies it. Anyway, the film is supposed to be released next year in the U.S. through Magnolia Pictures.


09.11.06

I'm told that Japanese rock back Dir en grey has been on the road this summer in the United States and Canada on the Family Values Tour, and apparently making a lot of new fans among in the process among the Korn and Deftones set. Call me a square, but I know next to nothing about this band, except that their music is quite noisy and the dudes in the band wear lipstick. To each his own, my friends...


09.10.06

At last, it all makes sense: Intergalactic academic says Martians and aboriginal earthlings mated to create Asian race. I will not say anything more.


09.10.06

The Venice Film Festival awarded its top prize to Jia Zhang-Ke's Still Life, a decision that apparently left a few people scratching their heads: Venice film awards leave critics perplexed, vexed. The film is about two people searching for their partners as villages and towns are submerged by the giant Three Gorges Dam project in China. The festival audience's reaction to the film was reportedly somewhat underwhelming.


09.10.06

Here's a good interview in the Nichi Bei Times with comic book artist Adrian Tomine, whose series Optic Nerve (published by Drawn & Quarterly has been a favorite of mine for years: Adrian Tomine Strikes an (Optic) Nerve. His latest story focuses on Ben Tanaka, "a Japanese American protagonist who maneuvers his way through failed romantic encounters with Caucasian women." Familiarize yourself with some Tomine's work here.


09.10.06

The New York Times has an art review of Asia Society's contemporary art exhibition "One Way or Another: Asian American Art Now," currently running through December 10 in New York: A MÈlange of Asian Roots and Shifting Identities. For more information on the exhibition, go here.


09.10.06

Check out No Luck Club, a Vancouver-based instrumental hip hop group... they're upcoming second album release Prosperity has a track called "Our Story - Chinese Head Tax Mash-Up," that features clips and quotes about Canada's racist Head Tax. Check out the group's website here, MySpace page (with sound clips) here, and order the album at iTunes or CDBaby. And props to Boon over at Schema Magazine, who tipped me off.


09.10.06

Here's a story on Taiwanese pitcher Hong-Chih Kuo, who made his first career start with the Dodgers against the Met's last week: Kuo's first start a smash for Dodgers


Meanwhile, Chien-Ming Wang keeps steadily kicking ass for the Yankees: Foes Realize That Wang, With 17 Wins, Is That Good


09.10.06

Rocking your ass with the cello acoustic sound, suckas. Vienna to Venice, the new album from the Ken Oak Band is currently available for pre-order. It'll mail out on September 25th. Sound clips ("Summer's Kiss") are available over at the band's MySpace page.


09.09.06

Anyone catch this feature on 20/20 last night? I missed it, but it's about race and media stereotypes: Hollywood's Stereotypes. It devotes some time to the kinds of limited roles Asians have been relegated to onscreen. Yeah, I know, tell us something we don't know. But it is interesting to see mainstream reporters like John Stossel and his sweet-ass moustache covering this topic. If anyone's got a tape of the segment, I'd like to take a look.


09.09.06

Check it out... the DC APA Film Festival is accepting votes for the 2006 Festival Trailer Contest. They've whittled the entries down to three finalists, vying to represent the festival... and the winner gets $1000. Just go here and cast your vote before midnight, September 22nd. The winner will be announced and presented with an award on Opening Night. (Personally, I'm rooting for Chris Tsou's panda-centric trailer.) The festival runs September 28th through October 7th.


09.09.06

Some movie news... The Weinstein Company had partnered up with Underground Films to produced the feature film comedy Rising Son:





In Rising Son, a young American surprises his Japanese-American girlfriend Sandy by proposing to her on a plane ride to visit her estranged family. He is faced with a number of unusual contests and challenges that he must win in order to convince Sandy's father that he is worthy of his daughter's hand in marriage.

More here: Weinsteins and Underground Team for Son. Sounds like a cross between Meet the Parents and 36 Chambers or something. Not a lot of details to go on, but you can see how this movie could potentially bust out all the stereotypes for these "challenges." Keep an eye on this one...


09.09.06

News flash, Jeff Probst. The Survivor host, a self-described 44-year-old white guy from Wichita, has himself one hell of a brilliant revelation, and considers himself a changed man:





"When you start talking to a person from Asia, you realize -- Wow! They have all different backgrounds!"

Holy crap. You're right! Chinese, Japanese, Vietnamese, Filipino... Who knew? They're not all the same, and come from different backgrounds: 'Survivor' Host's Geoethnic Studies, From Soup to Mutts. Suddenly, Probst is a diversity expert.


09.09.06

I've always heard about this animosity between George Takei and William Shatner, primarily because Shatner is apparently an ass. So I guess Takei likes/dislikes Shatner enough to show up skewer him on Comedy Central's Roast of William Shatner. Here's a clip of his appearance (careful, it's not for the kids)—taking it to a whole other level with the gay jokes. Whoa Sulu, I didn't know you had it in you.


09.08.06

Singer/songwriter Kevin So is working on his upcoming record A Brighter Day, his 10th album in 10 years. Prolific! According to Kevin, the official release will be Spring 2007, but he plans to sell limited copies of the CD at live shows around late November/early December. He'll be doing a bunch of shows ("Looking Forward To A Brighter Day Tour 2006") in support of the new disc, so check his MySpace page for all the updated info (and sound clips). Seems like a cool guy, with a good sound, so check it out...


09.08.06

It's been twenty-three years since the Wah Mee Massacre in Seattle, the city's deadliest mass shooting, but the relatives of the victims are still haunted by their memories... Tony Ng, one of the perpetrators is now up for parole: 23 years haven't erased grief caused by Wah Mee Massacre


09.08.06

A UCLA report released this week describes Asian Americans as the new "sleeping giant" in California politics, highlighting the group's increased population and citizenship rate in the past five years: Asian voters' dormant power. Here's the report, over at the UCLA Asian American Studies Center website: The New "Sleeping Giant" in California Politics: The Growth of Asian Americans


09.08.06

Just heard about this book The Price of Admission: How America's Ruling Class Buys Its Way into Elite Colleges -- and Who Gets Left Outside the Gates by Daniel Golden, who concludes that Ivy League admissions offices do not practice meritocracy, instead giving preference to "donor-happy alums and the 'legacy establishment'" (basically, affirmative action for rich white people). Golden, a reporter for the Wall Street Journal, was actually awarded the 2004 Pulitzer Prize for a series of stories on this topic. I linked one of them here a few years back ("For Groton Grads, Academics Aren't Only Keys to Ivy Schools"). Anyway, I'm told that Golden devotes a chapter in his book to the discriminatory practices that elite colleges apply to Asian Americans (the "new Jews"). He asserts that the "preference of privilege" enables applicants from wealthy families to edge out more qualified students from working- and middle-class familes, especially new immigrants and Asian-Americans. Looks like it might be worth checking out...


09.08.06

Has anyone seen the Chelsea Handler Show on E! network? I've received a handful of emails over the last few months from folks who have seen it, and she apparently has a habit of making jokes about Asians. A lot. Like this email I got last week from Andrew:





On yesterday's episode (9/5/06) she made a series of racist remarks against Asians. Among them were:



In a sketch called "World's Worst Driver," as an Asian driver is manuevering the course she says "We need to bring in a rickshaw; maybe he'll do better."



She cracks that Asians are bad drivers because they can only see a narrow band of the road because of their eyes.

I've never seen the show, but I've heard about it enough that I'm curious. Is it as bad as people say? Does she have a 'thing' for Asian jokes?


09.08.06

Asian Canadian actress Steph Song is in the cast of Everything's Gone Green, the first feature film written by Generation X author Douglas Coupland. She plays Ming, the love interest. It's premiering this month at the Toronto International Film Festival. Don't know much about it, but I bet it involves aimless, unhappy people in their twenties finding their way in an increasingly materialistic society. Or something like that.


09.07.06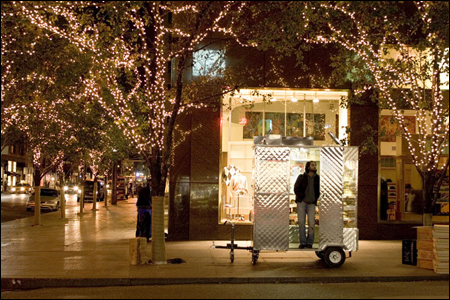 Man Push Cart is an indie feature film by Ramin Bahrani making its theatrical debut this Friday, September 8th at the Angelika Film Center in New York. The movie tells the story of Ahmad, "a former Pakistani rock singer who ekes out a living selling coffee and donuts to morning commuters from his push cart in Midtown Manhattan." I remember first reading about this film back in April in this New York Times article by Dennis Lim, where he called it (along with Neill Dela Llana and Ian Gamazon's Cavite and So Yong Kim's In Between Days) "among the most striking American independent movies of the past year." I have not seen it yet, but I'm looking forward to it. Here's a recent review from the Village Voice. For more info on the film, go to the Noruz Films website.


09.07.06

Calling all DJs! Legendary turntablist DJ Qbert is putting on a competition to find the next big DJ of the future:





Calling out all amateur, closet, and professional WAVETWISTERS! After a 5-year retreat in Hawaii, three time winner of the DMC world title, DJ Qbert is back in the Bay.



Now he's set out on a quest to put together the best DJ crew. QQuest is not just about finding the next big DJ, but rather evolving to a
new wave of turntablists.



This competition is about innovation through creativity and technology. This is the search for the next wavetwisters.

He's calling out DJs of all styles: "club, bedroom, battle, trick mix, mobile, digital." I don't even know what these styles mean, but it certainly sounds cool. For more information, rules and dates, visit www.qquestdjs.com


09.07.06

Check this out... BAMN! was profiled a few days ago by CNN: The automat returns. Started up by David Leong, Robert Kwak and "Nobu," Bamn in NYC provides hot, inexpensive food for people on the go in a vending machine style format, 24-hours a day. Sounds a lot like the kind of place you go after night of bar hopping... Spam musubi, hell yes.


09.07.06

Don't want to make this Tony Jaa Central, but heck, he's so badass, why not? Here's yet another article on the Protector star: Breaking down the beatdown. I particularly liked the caption under the accompanying photo:





Does this look like the face of a man who can take out 50 people in one scene? Uh, yeah, it does.

The Protector hits U.S. theaters this Friday.


UPDATE: Kaiju Shakedown a revew for The Protector, going into some detail about whittling down the "109 minute so-so movie called TOM YUM GOONG into an 84 minute mess called THE PROTECTOR," and it sounds pretty bad: THE PROTECTOR VS. TOM YUM GOONG. Can't say this makes me look forward to seeing The Protector now... reading this review, it really does sound like a mess.


09.07.06

L.A.-based pop rock band Dengue Fever, fronted by the vocals of Cambodian American Chhom Nimol (all the lyrics are in Khmer), performed last week on KCRW's Morning Becomes Eclectic. Some pretty cool stuff.


09.07.06

Contrary to what you might expect because of all the sport story links on the site, I'm actually not a big follower of sports. Thus, I'm finding it increasingly difficult to keep track of all the Asian players making it into Major League Baseball. Here's a brief bit on pitcher Sun-Woo Kim, who made his debut with the Cincinnati Reds this week: Kim kept Reds in the game. They lost 3-2 to the Giants.


09.07.06

The Honolulu Star-Bulletin has a nice profile on restauranteur Vincent Kwon, a former homeless drug addict who now helps and hires other recovering drug addicts at his restaurant: Restaurateur offers help to drug addicts


09.07.06

Saw this over at Boing Boing... According to journalist advocacy group Reporters Without Borders, three "cyberdissidents," known online as Nam Tran, Nguyen Hoang Long and Huynh Viet Lang, have been held by Vietnamese authorities for nearly a month and are accused of having plotted terrorist attacks against Vietnam. RSF, however, insists that none of them is a terrorist, criminal or spy, but are being "punished for using the Internet to publicly express their disagreement with the political line of the sole party": US national among three arrested cyberdissidents. More here on Cong Thanh Do, who is from San Jose, CA: U.S. citizen, pro-democracy activist detained in Vietnam


09.07.06





Some amusing comics to peruse during your workday: Soysauce: The Wayne Chan Story. Wayne also does draws signs for Trader Joe's.


09.07.06

Here's a short interview with Daniel Dae Kim over at IGN.com. He talks a bit about the upcoming season. Lost - The Complete Second Season (Extended Experience!) was just released on DVD the other day. I'm feeling pretty broke these days, so I'm going to hold off on picking it up for the moment (unless some kind benefactor out there would like to hook me up). But I'm told there's an audio commentary with Yunjin Kim and Daniel Dae Kim, and writers Elizabeth Sarnoff and Christina M. Kim for the episode "The Whole Truth." Definitely want to check that out...


09.07.06

Part diary, part human interest story, Paper Dolls, directed by Tomer Heymann, is documentary that examines the lives of a group of transsexual Philippine immigrants who work as home attendants for elderly Israelis and also perform in Tel Aviv nightclub: In Search of a Better Life, and a Place to Be Accepted. Definitely a different take on Filipino nurses.


09.07.06

Figure skating champ Michelle Kwan says she'll skip the 2006-07 season to focus on her studies at the University of Denver: US ice queen Kwan to freeze out 2006-07 season. She plans to major in political science with a minor in international studies. Despite the fact that she's won a crapload of major titles throughout the years, sadly it seems that her careeer will be remembered for never quite achieving Olympic gold.


09.06.06

Check it out... Next week I'll be participating in a discussion presented by Asia Society Northern California: Confronting Asian American Stereotypes. Thursday, September 14th at 500 Washington Street in San Francisco. Here's what's going down:





Although the Bay Area is renowned for its diversity and progressiveness, our community continues to face great challenges. Even today, Bay Area Asian-American residents, who number around 1.3 million, still experience racially motivated harassment, discrimination, and violence. Often fueled by enduring stereotypes, half of California's hate crimes against Asian Americans in 2005 were committed in the Bay Area. Why do Asian-American stereotypes remain a problem? How have they changed over time? What strategies for fighting stereotypes have proven successful? How can we as a community do better? Please join the Asia Society in welcoming several community leaders as they identify conditions, offer explanations, and present solutions.

Other participants include Pueng Vos, a writer, editor, and associate radio producer with New America Media; Melissa Hung, editor in chief of Hyphen; and Elaine H. Kim, professor of Asian American and Comparative Ethnic Studies at UC Berkeley. The event is co-sponsored by Chinese Historical Society of America, Hyphen magazine, LEAP: Leadership Education for Asian Pacifics, Inc., and the USF Center for the Pacific Rim. For more information, go here. Hope to see you there.


09.06.06

Here's a Philadelphia Inquirer story on the dangers of working in the Chinese takeout business, particularly in the bad sections of the city: For takeout operators, dreams undaunted by danger. Last month, Zong Xiang Wang died after being shot during a robbery behind his Chineset takeout restaurant in North Philadelphia.


09.06.06

Says Gawker, on the newly published photos (in Vanity Fair) of Suri Cruise (Tom & Katie's alleged offspring):





Apparently, the Cruise family decided to go the Asian route on the casting of this one.

You gotta admit, if you look at the picture, the kid curiously looks rather Asian-y. Though the jokes are getting a little out of control. More here: Suri Cruise -- Asian Baby? (though here, I think the kid looks a lot like Ms. Holmes).


09.06.06

Whoa. Another Fung Wah bus incident... A New York-to-Boston bus rolled over on an interstate off-ramp yesterday, injuring 33 people: A Chinatown Fung Wah Bus Rolls Over On Its Way to Boston From New York. Fung Wah's low-fare Chinatown-to-Chinatown buses have become a popular alternative to trains and more expensive bus lines... but have experienced their share of safety problems, including a bus catching fire last year, and now this. But the company's manager insists that it's all good: NY Chinatown bus manager defends company after crash hurts 34


09.06.06

It seems that the high-tech work is traveling in the other direction as well: India attracts Western tech talent


09.06.06

Sonny over at Silly Pipe Dreams has lined up an interview with Jon Hurwitz, co-writer of Harold and Kumar Go To White Castle. He's asking folks to help him out and suggest questions to ask Mr. Hurwitz: Help Wanted.. Again! I know more than a few folks out there are clamoring for that Harold and Kumar sequel, so this could be a chance to get some good info. Leave a comment or email Sonny with your questions. I'll link the interview (if it's any good) when he posts it...


09.06.06

Hey, I'm quoted in this story from the latest issue of AsianWeek, regarding "IMPRINT: Urban Youth Unabridged," a conference I participated in back in July: Integrating the Geeks


09.05.06

Mira Nair's adapation of Jhumpa Lahiri's The Namesake premiered over the weekend at the Telluride Film Festival: Namesake will make you cry. Here's the official site. And here's The Namesake Blog updated Kal Penn, who resumed writing new entries this summer in anticipation for the upcoming release. There's a little bit of confusion on the actual release date. It was originally slated for November, but elsewhere it says the date was moved up to September (the website says "In Theaters This Fall")... and now I'm reading that Fox Searchlight has settled for March 9th, 2007. At least that gives me some time to finally get around to reading the book...


09.05.06

This is for the sisters... The National Asian Pacific American Women's Forum (NAPAWF) presents its 10th annual gathering and awards dinner celebration: Advancing APA Women's Rights: A Decade of Building Power, Justice & Community. Next week, September 14-16 at Loyola Marymount University. It'll be a time of organizing, panels, workshops and honoring "fierce" sisters. For registration information and other details, go here.


09.05.06

Here's a good story Japanese baseball player So Taguchi, who plays for Cardinals and is a favorite with St. Louis fans: So Taguchi: Made in the USA


09.05.06

Check out this great new book, Third Class Superhero, a quirky collection of short stories by Charles Yu, just out this week. I got the chance to read an early copy and enjoyed it thoroughly. You can read an excerpt from the title story here, then pick up the book.


09.05.06

Asian Organized Crime has entered the Sacramento suburbs... to grow marijuana: Sacramento Area Homes New 'It' Place To Grow Pot. In the last month, authorities have uncovered 21 houses with almost identical marijuana growing operations:





About three weeks ago, undercover agents watched two men load 12 black garbage bags into a cargo van in Elk Grove and then drove to San Francisco.



The van, according to federal court records, made a beeline to a Kung Fu Studio in Chinatown.



"Thus far it appears to have the markings of Asian Organized Crime," said Gordon Taylor of the DEA. "But we have not verified that. We're still in the process of connecting all the dots right now."



Those two men are 29-year-old Phillip Yu of Oakland and 35-year-old Wei Lun Zhow of Chinatown. Both are facing federal indictments along with 25-year-old Christy Tan of San Francisco and 25-year-old John Hin of Oakland.


Kung Fu and pot do not mix! And dude, despite appearances, I had nothing to do with this operation.


09.05.06

After several sold-out critically-acclaimed runs in New York, Sides: The Fear Is Real... is coming to Los Angeles. The play, written and Performed by Mr. Miyagi's Theatre Company, is "a side-splitting look at actor auditions gone horribly wrong." It runs September 20th through October 1st (previews September 16 and 17) at East West Players. For more information, go here and here. Definitely want to check this one out...


09.05.06

I've been getting a bunch of emails telling me, "Dude, there's a Japanese guy named Scott Fujita playing for the Saints!" Dude, Scott Fujita is not Japanese, at least not biologically: Family Valued. Scott Fujita, linebacker for the New Orleans Saints, was adopted—his adopted father is Japanese American. I'm sure while growing up that gave him a pretty unique perspective. It certainly raises interesting questions about who is Asian American, what exactly that means, and the issue of self-identification.


09.05.06

Check it out... here's the full list of official selections for the 7th Annaul San Diego Asian Film Festival. Looks like a really exciting program. That's gonna be one hell of a party, October 12-19.


09.05.06

According to this article, the last two years have seen an increase in the number of au pairs from China to the United States: To Give Children an Edge, Au Pairs From China. Their services are apparently in great demand, in part because so many Americans have adopted baby girls from China. Watch out though, because I've seen Desperate Housewives, and I know what's up. You could have a Xiao Mei situation on your hands!


09.05.06

Earlier this month, an Arab human rights activist was prevented from boarding a JetBlue flight because he was wearing a t-shirt with an Arabic slogan: Arabic T-Shirt Alarms Flight Officials. His shirt read "We will not be silent" in English and Arabic (a popular slogan among opponents of U.S. policy in Iraq and elsewhere in the Middle East). Apparently, one official told him, "Going to an airport with a t-shirt in Arabic script is like going to a bank and wearing a T-shirt that says, 'I'm a robber.'" Okay, I understand people are jumpy at airports these days, but that official is an idiot. In protest of this incident, someone has started selling t-shirts that say "I Am Not A Terrorist" in Arabic. This of course reminds of the I AM NOT A TERRORIST shirt that's been selling over at Blacklava for years.


For safe and easy air travel, I suggest that you wear a big fat American flag on your chest, so no one questions your motives when boarding that flight...


09.05.06

Some more information on that planned Bruce Lee theme park in Shunde, China I mentioned here last week: China plans Bruce Lee amusement park. This sounds both horribly awful and awesome at the same time. It says that the park will be patrolled by Bruce Lee "mannequin robots," radio-controlled from inside a giant main Bruce statue. Perhaps the smaller robots will be named Bruce Li, Bruce Le, Dragon Lee, et al, in honor of all the Bruceploitation clones...


09.05.06

Last weekend, 100-pound Sonya "The Black Widow" Thomas of Alexandria, VA ate 210 gyoza in just 10 minutes... but only came in second place during Nisei Week's world championship of gyoza eating event in Little Tokyo: Down the Hatch. I love a good dumpling as much as the next person, but that is gross.


09.03.06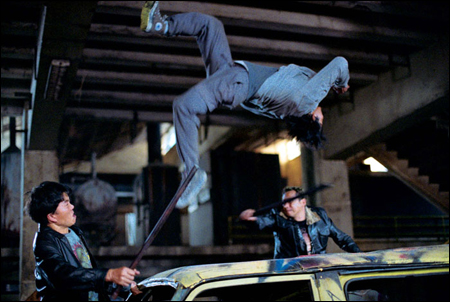 Okay, some people are definitely going to get hurt. To promote the release of The Protector starring Tony Jaa, they're holding a contest where participants submit videos of themselves performing their "coolest and most extreme martial arts movies." Winners will have their video included on the DVD release and official website of The Protector. Details here, as well as some examples here. I certainly don't want to spoil anyone's fun, but man, I could see this getting ugly. You know some fool is going to try some kind of crazy ass stunt and crack open his skull... and maybe we'll all get to watch it on YouTube. Well, good luck!


UPDATE: Here's another interview with Tony Jaa, in which he talks a bit about the movie, as well as the upcoming Ong-Bak 2, which he'll apparently be directing: The Protector's Tony Jaa. He also thankfully dispels speculation that he'll be appearing in Brett Ratner's Rush Hour 3. It ain't gonna happen.


09.03.06

Check out this weird, cool story in the New York Times about Japanese rockabilly kids regularly getting together in the East Village to do the twist, of all things: Come On, Baby. And it looks like they gets crazy! A.B.C., my friends.


09.03.06

To my brothers and sisters in the Bay Area, check it out... Monkey King Records presents the Asian American Musician Showcase (AAMS), a monthly music series dedicating to promoting awareness of local Asian American musicians representing a variety of musical styles. Thursday, September 14th at the Red Devil Lounge in San Francisco, featuring the music of Jumping Jacks, Neko Punch, BloodWire, and Say Bok Gwai. I've never heard of any of these bands until now, but hey, it's always nice to try something new. For more details, go here.


09.03.06

Here's an interesting, lengthy profile feature from the Boston Globe on award-winning Chinese American author Ha Jin: American Inexperience. After writing four novels set in China, his forthcoming book A Free Life will be his first that's set here in America. It's due to be published a year from now. And I am looking forward to reading it.


09.03.06

I'm told that Seung-Min Lee is in the cast of Mutual Appreciation, a weird-looking indie film that's currently playing here and there. Here's the New York Times review: When ëIn Search Of' Is Not a Phrase in the Ads


09.03.06

The Film Forum in New York is doing a six-film tribute to prolific Japanese director Kenji Mizoguchi, running Friday, September 8th through September 21st: Kenji Mizoguchi's Movies Seek Beauty. Very cool.


09.03.06

The cast has been announced for John Woo's upcoming The Battle of Red Cliff, and it's pretty stacked: Woo Casts Four in The Battle of Red Cliff. Chow Yun-Fat, Ken Watanabe, Tony Leung Chiu-Wai and Taiwanese supermodel Lin Chi-Ling. Yet another one of these big-budget, overblown costumed epics (I guess John Woo is just going with the trend). Set in the year 208 AD, the movie's about the massive battle involving over a million soldiers that established the Three Kingdoms in China. Seems like this movie was announced years and years ago, but it's got a projected release date of 2008, just in time for the Olympicsin Beijing.


09.02.06

A Place Where Sunflowers Grow by Amy Lee-Tai and illustrated by Felicia Hoshino, is a children's book about the Japanese American internment: Sowing seeds of hope.





"A Place Where Sunflowers Grow" centers on Mari, a girl who longs to go home. She misses her back yard -- the swing set, sakura tree and colorful flower garden. Her home is now Topaz Internment Camp, a place with a dismal worldview filled with watchtowers, barbed wire and dust storms. In the end, through self-expression and guidance, she learns to find hope.

This is another really interesting way to teach kids a history lesson about the internment. Call me ignorant, but I actually didn't learn about it until I was in high school. The book is available from Children's Book Press.


09.02.06

According to the U.S. Census Bureau, Texas has now joined Hawaii, New Mexico and California as a majority-minority state, along with the District of Columbia: Texas Becomes Nation's Newest ìMajority-Minorityî State, Census Bureau Announces. Based on July 2004 population estimates, Texas had a minority population of 11.3 million, comprising 50.2 percent of its total population of 22.5 million (in comparison, 77 percent of Hawaii's population was minority). Next in line are Maryland, Mississippi, Georgia, New York and Arizona with minority populations of about 40 percent.


09.02.06

More! Macaca! George Allen declined a leadership award from the Thurgood Marshall Scholarship Fund this week, after donors to the fund protested and threatened to withhold contributions if the Senator received the award: Donors to Minority Scholarships Threatened to Withhold Funds. It seems that a little bit of macaca goes a long way. Allen was apparently supposed to receive the Community Leadership Award. It blows my mind that Mr. Conferederate Flag would be up for such an award in the first place.


09.02.06

Asia Society, celebrating its 50th anniversary this year, presents One Way or Another: Asian American Art Now, an exhibition of seventeen artists from across the country who challenge and extend the category of Asian American art. Featuring the work of Michael Arcega, Xavier Cha, Patty Chang, Binh Danh, Mari Eastman, Ala Ebtekar, Chitra Ganesh, Glenn Kaino, Geraldine Lau, Jiha Moon, Laurel Nakadate, Kaz Oshiro, Anna Sew Hoy,
Jean Shin, Indigo Som, Mika Tajima, and Saira Wasim. The exhibition runs September 7 through December 10 at Asia Society and Museum in New York. For more information, and background on the artists, go here.


09.02.06

Forgive me for subjecting you to this... but this is the video for Kevin Federline's "Lose Control," possibly the worst song in the history of mankind (my ears are bleeding). The only reason I post it here is to point out what happens in the first thirty seconds. You'll note that a group of Asian women are permitted to enter "K-Fed's" super exclusive party, while the single Asian guy is specifically denied entry. I'm not kidding. What the hell is that all about? Not that I'd want to hang out at his party, but that's a hell of a jab. Like I said, forgive me for ruining your day with this piece of garbage excuse for a song/video, but that's just whack.


09.02.06

Here's the trailer for Curse of the Golden Flower, the latest film from Zhang Yimou, starring Chow Yun-Fat and Gong Li. It's another one of those big crazy costume drama epics with lots of Asian people jumping around and shooting arrows and stuff at each other. Western audiences love these kinds of movies, don't they? I don't have any idea what it's about, except that there are swords and dudes who look like ninjas. And that's good enough for me. The movie opens in New York and Los Angeles on December 22nd.


09.02.06

Denise Woo, a former FBI agent who disclosed an informant's identity to the target of an investigation of alleged Chinese espionage will receive a sentence of one year probation and a $1,000 fine under a plea bargain: Ex-FBI Agent Avoids Jail for Exposing Informant's Identity. She could have actually faced ten years of prison time if convicted of the five felony charges brought against her, so call it a big win.


09.02.06

Win a date with Mia Riverton! To promote the September 8th theatrical release of Georgia Lee's Red Doors, actress/producer Mia Riverton is pulling a unique little stunt... folks who purchase an advance ticket for any opening weekend shows of the film are eligible to win a date with her. No joke. Details here.


While I'm on the topic of Red Doors, I've received a little bit of criticism for lending some support to the theatrical release of this film. I suppose it was bound to instigate some haters (and the film apparently has a few) who interpret the film as offensive and disrespectful to Asian American men. Since its premiere last year, there have been folks who have vocally argued that the story is just one big fat middle finger to Asian men. Personally, I don't think so. I was going to write a little something to address some of the grumblings and objections, but I looked over on Michael Kang's Xanga and found that he'd written a very provocative, thoughtful, and eloquent entry about this issue. I'm reprinting it here, because it's good reading:





While I'm at it, I'd like to say something to some of the grumblings I've heard on the web about the film. There is often a backlash from Asian Americans when it comes to Asian American film. Some people tend to get all up in arms about each and every Asian American film not representing the full spectrum of their desires. This is an impossible task and an unreasonable request thrust upon filmmakers.



I have heard this gripe about the movie: "How come an Asian sista's gotta treat her Asian brothas so bad." Or something to that effect. Mainly, people seem to be upset that the romantic counterparts to the three sisters in the film are all Caucasian. Now, I'm not saying that it isn't true that as far as the representation of Asian men in romantic and sexual roles isn't far and few between, but that is not Georgia Lee's fault nor her responsibility. Her sole responsibility is to tell the best possible story she can.



*WARNING SPOILERS AHEAD*



As audience members, people often forget that usually with a small movie, it is often a very personal story. The film revolves around three sisters in various states of relationships. The film employs home movies of her own that are used to show the past with the three sisters. Georgia in real life is one of three sisters that grew up in Connecticutt. Her little sister Kathy Lee plays the little sister of the three. From what I know about Georgia, I think I can safely say that Red Doors is truly a very personal story.<./P>



Georgia didn't grow up in a predominately Asian community. She grew up in an upper-middle class suburb of Connecticutt. She probably didn't have much exposure to Asian men in her love life growing up. For her to write a story about these three sisters in relationships with Asian boys would have been false. She stuck by the old adage that you write what you know. When I see Red Doors, I believe she knows this material inside and out.



Regardless, I think that even if she had cast Asian men in the romantic leads, there would still be grumbling. The older sister doesn't end up with the guy she is with. The second sister ends up a lesbian. And the little sister has the makings for a future in sado-masochistic love affairs with men. People will always find something to gripe about. The haters will always hate and usually it's because they can't get off there own asses and do anything about it. I know because once upon a time I was a hater. I have since reformed and gone on to make the films I want to see. If things like this bother you so much, then I suggest the best remedy which is doing something about it. More voices in the Asian American film world will only make us stronger. Talking shit about the ones out there in the trenches will only bring us all down.



For the most part, I don't think the people that have been posting shit about the movie on message boards have even seen the film, they've just read a bit about it here and there and decided to get all up in arms about the film because an Asian guy doesn't get to sleep with the Asian girls. I remember at times that people said similar retarded shit about my film The Motel -- people would get mad that I had made the main character be a chubby Chinese kid which would usually tell me more about the critic's own issues with body image than with my film. Getting so upset about the Asian guy not getting any is pretty telling too.



Most people want film to be purely about escapism and wishfulfillment. I have nothing against that. That's why Snakes On A Plane exists. But what baffles me is when people don't realize that not all films are about that. If you want to see a film that is a deeply personal story about characters that are three-dimensional and maybe reflect some universal truths about the human condition, then you should watch a movie like Red Doors. If you are only interested in seeing Asian Americans as superheros, hotties and only winning in the end, then you have to wait for the next installment of Jackie Chan Adventures (or go out and make our own damn movie). Don't hold a movie like Red Doors to an unrealistic standard. That is like getting made at Woody Allen for not having enough car chasses in his movies.



Lastly and this is the most important point of them all, if you really look at Georgia's film, it's actually not about how Asian women like to perpetuate the sexless Asian male stereotype. The film is actually about one man's (one ASIAN man's -- played by Tzi Ma) dealing with his own mortality. Though the subplots are about the three sisters, the uber-structure centers around the father of the household in an existential crisis. He is alienated by his own life and family. We follow him as he tries to commit suicide a la Harold and Maude and goes on spiritual journeys to find the meaning of life. He is an Asian man in America who has had a successful life in science, raised three beautiful daughters, has a loving wife, and yet still is deeply troubled. To me, actually casting the daughters' love interests as Asian would not have hit this point home as hard. Through his foreseen lineage, the Asian man is becoming extinct. His daughters choosing Caucasian men and happa lesbians only helps to exemplify that dilemmna. To me, the film deals directly with exactly the issues that people are complaining about. If they gave it a chance, they might have realized that themselves and praised it rather than immediately wrote it off.



For the most part, it seems like people are more concerned about how Georgia Lee has wronged them and the Asian American community at large. This is unfair and I think it is time that we all became a bit more responsible about how we support the Asian American movement. Georgia is one of the most talented filmmaker's I know and also a very dear friend. You can hate her movie because it isn't your cup of tea, but at least taste it first before you decide.



Sorry, this rant isn't very eloquent. I have been working on not a lot of sleep and thinking about tomorrow's shot list. But I felt like it was time to get this off my chest. Go see Red Doors on September 8th and tell your friends.


I have to agree with Mike, who as a filmmaker and general patron of Asian American cinema, knows a hell of a lot more than I do. This diatribe probably won't quell some of the film's detractors, but I suppose they've already made up their mind. It's just something worth considering when thinking about Asian American cinema and the burden of representation—important issues that pertain not only to Red Doors, but other current and future films as well.


09.02.06

The Seattle Times has an interesting feature on Kenji Johjima and Ichiro Suzuki, the two Japanese teammates on the Seattle Mariners: Ichiro, Johjima develop mutual trust. Apparently, once upon a time, they didn't get along too well.


09.02.06

This week, South Korean veterans of the Vietnam War held a vigil in front of the White House to demand compensation for their exposure to the toxic Agent Orange defoliant used by the US military during the war: South Korean vets demand Agent Orange compensation in White House protest. According to Charles Choy, a spokesman for the Korean Disabled Veteran's Association for Agent-Orange, the US government or the companies that manufactured the chemical should compensate the veterans or provide medical treatment to the tens of thousands of South Korean soldiers who were sickened by Agent Orange.


09.02.06

Moon cakes and other Asian pastries have apparently been under the scrutiny of food inspectors who have cited merchants for allowing the treats to sit at room temperature for more than four hours, potentially allowing bacteria to accumulate. This, of course, has caused a bit of ruckus amongst bakeries and eateries in Asian enclaves in Southern California: Can Not Too Hot, Not Too Cold Be Just Right?. The problem is, you can't refrigerate them... they've got to be kept at room temperature! It's all about the taste! This week, the state Senate and Assembly ordered state health officials to determine whether the pastries can safely be kept at room temperature for much longer than four hours. I like this quote from Assemblyman Van Tran:





"The contention of retailers and consumers is, 'We've been eating these foods for thousands of years, and nobody is getting sick. Why the stringent requirements, then?' " said Assemblyman Van Tran (R-Garden Grove), who proposed the legislation. "You have to find a balance between public health and history and culture. It's a classic American story."

Man, I am getting hungry for some moon cake.


09.01.06

Hey! The Northwest Asian American Film Festival is seeking entries for the 2007 festival. This year, they're only accepting short Asian American films and videos produced by artists working or living in the Northwest (including but not limited to Alaska, Idaho, Oregon, Washington, and British Columbia), or films intended for children and produced by artists working or living anywhere in North America. For more information on how to submit your film, visit www.nwaaff.org.


Speaking of film festivals... the early deadline to submit your film to the San Francisco International Asian American Film Festival is quickly approaching. Get your entries in by September 8th, or you'll be paying extra. The final deadline is October 6th. For submission info and guidelines, go here.


09.01.06

Jin Cheng Chen, a 23-year-old Chinese gang figure wanted by federal and state authorities in New York City, was caught hiding out in the small midwestern town of Carthage, IL, working (where else?) at the local Chinese restaurant: Fugitive lands in Carthage. Says the police chief:





" ... If he would've come here without the restaurant (opening in town), we would've thought, 'Why would an Asian ... move here?' .... Maybe we would've kept a better eye on him. You just don't see that. It's a white community. That's not to be racist; that's just how it is."



Hancock County is 99 percent white. The Asian population is 0.2 percent.

Note to self, next time you drive through one of these all-white small towns: it's not your imagination—they are looking at you suspiciously. They think you're a Chinese gangster on the lam.


09.01.06

Just heard about this recently released novel, Kept: A Comedy of Sex and Manners by Y. Euny Hong. The author tells me, "It's got everything: Sex, Thackeray, Drugs, Korean Aristocrats, Faust, Judaism,
Russian mobsters, the Gay Mafia, and all kinds of wicked cool stuff I'm not supposed to give away." That's all good, but I can tell you right now, it probably isn't the kind of literature I normally like to read. But I'm sure some of you folks out there might dig it...


09.01.06

Mysterious World, an anthology series of strange, supernatural parables by Vietnamese American filmmaker Victor Vu (First Morning), makes its DVD premiere next week. The first installment, "Love Never Dies," will be released on September 8th. For more information, and to view the trailer, go here>. Episode 2, "The Awakening," is currently in production.


09.01.06

I heard about this blog a few weeks ago, but avoided mentioning it here because I just didn't want to give this guy any more needless attention. Basically, it's a blog by a British guy in Shanghai writing about his sexual conquests with Chinese women. Yeah, fun. Another one of these guys. But it seems the Sex and Shanghai blog has pretty much exploded in notoriety, drawing the ire of "Chinese internet vigilantes" who are campaigning to discover identity of "Chinabounder": Webhunt for 'British bounder'. The charge is being led by a Chinese professor who wants to expel the blogger from the country. The blog has now been closed off to the internet public, but Google's got the cache of the site here. View at your own risk...