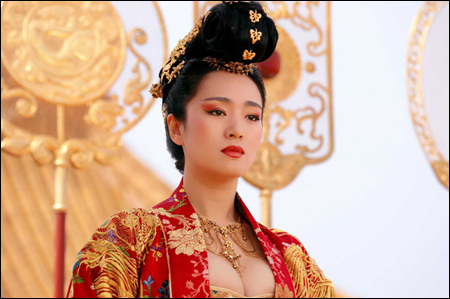 What's up, gangstas? Here's an interview with Zhang Yimou, director of the super-sized historic martial arts epic
Curse of the Golden Flower
:
Zhang Yimou Wraps-Up His Kung Fu Trilogy
. And here's an interview with star Gong Li:
Gong Li on Curse of the Golden Flower
.
The
movie
opens in New York and Los Angeles this week. I recently had the chance to check it out, and I gotta say... it's kind of a mess. I'd characterize it as excessive. It has all the stuff audiences seem to really like about these big-ass martial arts spectacles—colors, costumes, swords, fighting—and lots of it. And lots of people walking up and down hallways.
Oh, there's also one crazy huge battle scene. Remember
Lord of the Rings
? Think Helm's Deep, but with kung fu and swords and spears and wire work and all that. And of course, I would be remiss if I didn't mention the peculiarly abundant amount of cleavage that is displayed in the film. Yes, as in breasts. (Gong Li looks pretty freaking gorgeous throughout.)
Put it all together, and you get crazy Chinese madness—
Crouching Tiger
,
Hero
,
Flying Daggers
, all rolled up and taken to eleven. In the end, what's it all for? The display just seems really excessive. But hey, maybe you'll like this kind of thing. Me, I'm putting my foot down. I've grown impatient with this genre...