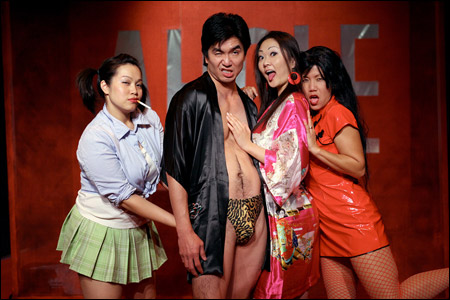 TELEMONGOL: Not for the faint of heart.
All right, to all my people in the Bay Area, this is your last reminder (for now)... this weekend is your final frakkin' chance to see the hilarious sketch comedy extravaganza
TeleMongol
, presented by Asian American Theater Company and Contemporary Asian Theater Scene, featuring the crazy talents of
Lodestone Theatre Ensemble
,
Cold Tofu
,
18 Mighty Mountain Warriors
and
OPM
. This is the final weekend, with shows February 16-18 at the Theatre on San Pedro Square in San Jose. So it's time to get your ass to the theater! But before you go, head over to
Brown Paper Tickets
and get yourself a discount, good readers. When you order your tickets, enter the code
"tmangryasian"
and you get a couple bucks off the ticket price. Wataaaaah! It's that easy. Wow, reading this website will finally pay off. To learn more about the show, go
here
. Oh, and here's a review:
TV Takeoff
. Have a good time.