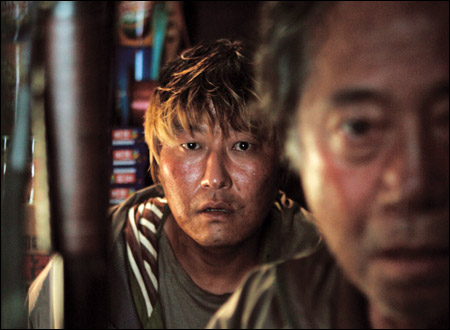 The fantastic South Korean monster movie
The Host
opens in select U.S. theaters on Friday, and to celebrate this occasion the fine folks at Magnolia Pictures are giving away three posters, signed by acclaimed director Bong Joon-ho, to the good readers of this website. It's
this
crazy awesome image of a monster tail-thing coming out of the water. Tell me that is not cool.
To enter the drawing, you must answer three very easy questions:
1)
Name one of director Bong Joon-ho's previous films.
2)
Name one of actor Song Kang-ho's previous films.
3)
Name your favorite movie monster (no wrong answer for this one).
Email
me your answers, along with your mailing address, with
"HOST POSTER"
clearly written in the subject line, by Wednesday, March 14th. Duplicate entries, as well as entries that don't follow these simple instructions, will be thrown out. Three winners will be randomly picked from the correct responses. Good luck. To learn more about
The Host
, go
here
.
UPDATE: The contest is now closed. Thank you for entries. Winners will be announced shortly.
Here's a good interview with director Bong:
Exclusive: The Host's Bong Joon-ho
. I highly recommend this film. I had heard it was a huge hit in Korea, and a lot of folks told me it was pretty damn awesome, so my expectations were high. I don't particularly like or dislike monster movies, but given the kind of Hollywood garbage that passes for a creature feature these days, the genre hasn't done much for me in recent years.
The Host
isn't perfect, but damn, it's a hell of a fun ride. On the surface, you could say
The Host
is about a horrifying monster that emerges from the Han River to wreak havoc on the people of Seoul. The gigantic monster eats people. That could sum it up.
But Bong takes it to another level, telling the story of a family trying to get their beloved daughter back. At first thinking she's dead, they realize she has survived the monster attack when they hear her voice over a faint cell phone call. So they set off to get her back. It helps that her uncle was once a crafty student protestor during his college days, and her aunt is a ranking medalist in archery. These skills will, of course, come in handy later.
Outside the standard monster movie plot, the film explores issues of U.S. military occupation, the country's deep class divide, the breakdown of the family unit. And like Bong's previous films, he manages to mix in the frightening and creepy stuff with some wonderfully comic moments. There was a scene where literally laughing and crying at the same time.
It's a shining gem in the genre—I really hope this film gets the audience it deserves in the United States. My only real concern is that much of its appeal is so culturally specific, it'll just be passed off as a substandard monster flick by American audiences. But there's so much more to it!
I can see why this movie was such a box office smash in Korea. Korean audiences got to see this grotesque beast chomping up people on the shore of the Han, right there in their own locale. They must have ate it up. It's also the main reason why the announced Hollywood remake is such a terrible idea. Anyway, go check out
The Host
, even if you don't like monster movies. It's an enormously entertaining good ride.