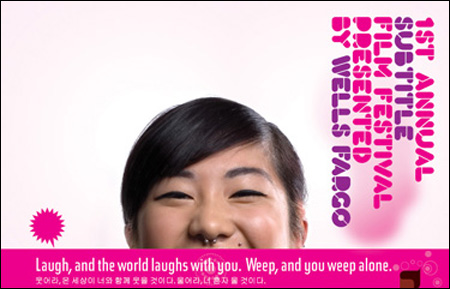 For all you Los Angeles film fans, something cool for you...
Subtitle Media
, a non-profit organization dedicated to raising the awareness of Asian and Asian American achievements in the arts, launches the
1st Annual Subtitle Film Festival
, showcasing nine handpicked cutting edge feature films from Hong Kong, Japan, Korea, Singapore, and Thailand. The festival kicks off this Thursday with an Opening Night screening of Yukihiko Tsutsumi's
Memories of Tomorrow
, and runs just four days, April 12-15 at MPARK4 Theatres in Koreatown. Check out the full list of films
here
. Since they've kept things pretty small, it looks like they've gathered a really solid selection of films. I've been particularly interested in seeing Andrew Lau and Alan Mak's
Confession of Pain
. If you're planning on going, I'd suggest buying tickets in advance. And do note that each film only plays once—probably a rare chance to see some of these movies on the big screen stateside. For more information about the festival, go
here
.