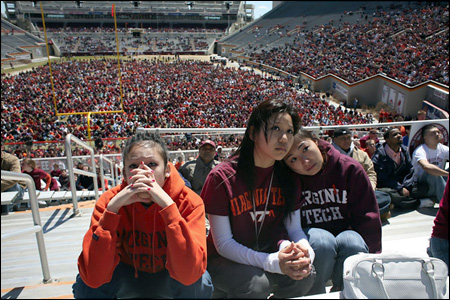 Virginia Tech students Vlavanh Ditharong, Agnes Kim and Casrin Shin watching a simulcast of the memorial service Tuesday.
It's been a long day. I woke up this morning knowing the when I turned on the TV there would be news of the Virginia Tech shooter's identity. Then I felt chills when I saw that grainy photo of Seung-Hui Cho, a Korean American student from Centreville, VA. Throughout the day, the media has been piecing together more and more information about his life, hoping to gain some insight into what led him to such a horrific act:
Gunman Showed Hints of Anger and Isolation
. He was an English major, and his teachers were apparently so disturbed by some of his writing that they referred him to counseling. In one writing class, he submitted two profoundly violent and profane plays, now posted by a former classmate on AOL:
Cho Seung-Hui's Plays
. I couldn't bring myself to read them. The guy sounds like he was troubled, isolated guy, with serious personal problems, and fit the classic profile of these kinds of situations. But after the shock and disbelief... anger. Frustration. I don't care how disturbed and alone this guy felt—going on a shooting spree, then shooting yourself, is not the way to address your isolation and anger. It's a cowardly and selfish act.
In the coming days, people are going to want answers, and one of the growing concerns right now is the potential backlash against Asian Americans. With the media's fixation on Cho's immigration status, and the constant reminders that he was a "student from South Korea" (which I guess is technically accurate, but somewhat misleading)—highlighting his "foreignness"—these might be legitimate concerns:
Rampages and Ethnicity
. More here:
Asians fear backlash after Virginia Tech shooting
. And at Virginia Tech,
this article
mentions such anxiety among Asian American students:
Asian-American students at Virginia Tech reacted to news about the gunman's identity with shock and some anxiety about a possible backlash.

"My parents are actually worried about retaliation against Asians," said Lyu Boaz, a third-year accounting student who was born in South Korea and became an American citizen a year ago. "After 9/11, a lot of Arabs were attacked for that reason."

Mr. Boaz, a resident adviser at Pritchard Hall, said many Korean-American students left campus immediately. Parents of other Korean-American students were preparing to pick up their children this afternoon and take them home.
And in
this NPR story
:
Cho and his family immigrated from South Korea in 1992, and members of Virginia's large Korean community tell NPR they fear a backlash. Centreville resident Pyung Jin Joe says his 17-year-old daughter was uncomfortable taking the bus to school Tuesday morning, so his wife drove her. "When she got to school," he says, "she felt that her classmates were looking at her a little bit differently… again because she's Korean, and it made her feel awkward."
I'll be completely honest. When I heard the shooter was Asian, I think I had selfish reaction similiar a lot of Asian Americans in this country, as Andrew Lam puts it:
Let It Be Some Other 'Asian'
. But it doesn't matter. In some people's eyes, we're all implicated now. Here's also a really good perspective from Tamara K. Nopper:
What May Come: Asian Americans and the Virginia Tech Shootings
. The Asian American Journalists Association has released this media advisory regarding coverage of the shootings, urging media to avoid using racial identifiers unless there is a compelling or relevant reason:
Coverage on Virginia Tech Shooting Incident
. And this follow-up:
Continuing Coverage on Virginia Tech Shooting
.
I can't believe it's only Tuesday.