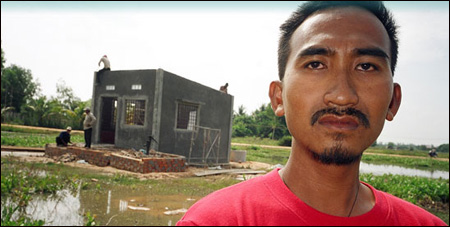 Just wanted to make sure everyone knew about two great documentaries currently airing this month on PBS...
Sentenced Home
follows three young Cambodian Americans through the deportation process. Raised in inner city Seattle, they pay a harsh price for mistakes they made as teenagers. Under strict anti-terrorism legislation enacted in 1996, even minor convictions can result in automatic deportation. For these three young men, it means losing against an unblinking legal system, uprooting their lives in the United States, and struggling to start anew in Cambodia. For more information about the film, go
here
. It premieres on May 15th.
Fresh off the festival circuit,
The Cats of Mirikitani
is an intriguing portrait of eighty-year-old Jimmy Mirikitani, who survived the trauma of internment camps, Hiroshima and homelessness by creating art on the streets of New York City. The film follows director Linda Hattendorf's unlikely friendship with the prolific, eccentric artist when she invites Jimmy to live with her after the toxic collapse of the World Trade Center. It's a fascinating look at an amazing life. To learn more about the film, go
here
.
For broadcast dates and times for both films, check your
local listings
.