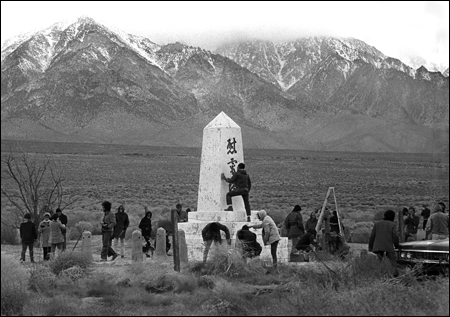 The past weekend at
VC Filmfest
was a crazy fun blast of Asian American cinema and community. Thanks to everyone who made it out to Saturday's
Hard Boiled
screening. We're in the final stretch leading up to Thursday's Closing Night presentation of Charlie Nguyen's
The Rebel
. Tonight's highlights include Leste Chen's
Eternal Summer
(queer cinema with a coming-of-age-twist? Or a coming-of-age film with the twist of queer cinema?); Pen-ek Ratanaruang's
Invisible Waves
; VC's
Digital Histories
program, presenting the stories of senior citizen media artists;
Love In Translation
, the festival's youth showcase; Lou Ye's controversial
Summer Palace
, which earned the director a 5-year ban from making films in China; and the provocative shorts program
Taking Charge/Letting Go
.
I particularly wanted to urge everyone to check out
New Climate
, a program of three distinct, dynamic and moving documentary short films that highlight history and provoke dialogue. There's Alex Ko's
Pok Dong
, a personal story about this family's trial by fire during the LA riots; Dai Sil Kim-Gibson's
Motherland (Cuba Korea USA)
, a transnational journey in search of a Korean diaspora in Cuba; and Tad Nakamura's
Pilgrimage
, about the legacy and community activism that grew from the first pilgrimage to Manzanar. Three very interesting, provocative documentaries screening tonight, 7:30pm at the
National Center for the Preservation of Democracy
.