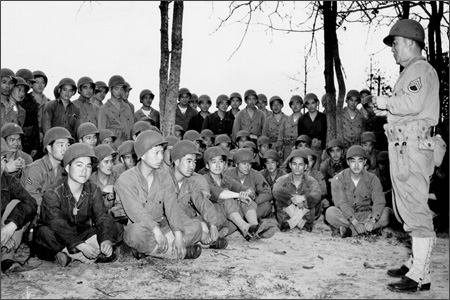 Here's a great article in the
Honolulu Advertiser
on the 100th Battalion, comprised of Japanese American soldiers who served and fought for the United States during World War II:
Preserving memories of the 100th Battalion
. The 100th Infantry Battalion—dubbed "One Puka Puka" and later absorbed by the better known 442nd Regimental Combat Team—was the first all-Japanese American battalion comprising volunteers from Hawai'i, and was one of the most decorated units in military United States. The unit was officially activated on June 12, 1942—65 years ago this month. Of the more than 1,400 soldiers in this unit, about 450 are still alive (and aren't getting any younger). The veterans are in their 80s now, and running out of time to tell their stories, so it's important that their legacy lives on. It's a good article with some great information, so check it out. Also check out the
Advertiser's
100th Battalion 65th Anniversary special:
Remembering the 100th Battalion
.