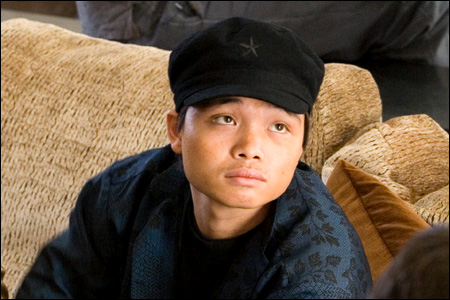 Forgot to mention
Shaobo Qin
, back as the Amazing Yen and reteaming with his gang of thieves for
Ocean's Thirteen
, which opened in theaters last Friday. I guess he's sort of made a name for himself as "the Chinese guy" in the
Ocean's
series. The movie took the top spot at the box office over the weekend, with most critics saying the movie returns to the charm of
Eleven
, while making up for the debacle of
Twelve
. However, last month at the Cannes Film Festival, members of the Chinese press noted that some are not pleased with Qin's character:
On a slightly more serious note, a Hong Kong reporter said that the Chinese are not thrilled with the way in which Qin's character, Yen the grease-man, has been portrayed throughout the series. Soderbergh was visibly shocked when the reporter asked why he is made to seem like a "clown" and why a joke is made of him only speaking Chinese.
The running joke is that he only speaks Mandarin, and everyone else in the crew just seems to understand him. Kind of like Han Solo understanding Chewbacca's growls. I saw the movie over the weekend, and honestly, I don't have a huge problem with his character in
Ocean's Thirteen
or either of the previous films. Shaobo here does his usual thing, hanging out with the usual suspects, doing some acrobatic stuff, and just generally being along for the ride. He's not entirely useless, but it's not a huge role. I suppose it just wouldn't be an
Ocean's
movie without him.