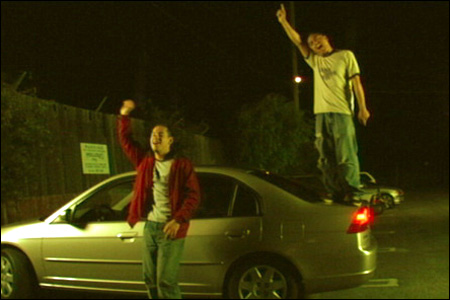 San Francisco.... get ready for
Colma: The Musical
! Richard Wong and H.P. Mendoza's rousing musical about the sleepy Bay Area town opens this Friday, June 22nd at
Embarcadero Center Cinema
in San Francisco. The smash festival hit is coming home, with a theatrical release from Roadside Attractions. It's a musical of teenage love, relationships and self-discovery, set against the backdrop of Colma, a city whose claim to fame is that the dead outnumber the living 1500 to 1. Because of the all cemetaries (if you've been there, you just know). It's smart, fun, and indie as hell.
The film has been a festival favorite over the last year, winning the Special Jury Prize at the San Francisco International Asian American Film Festival, Los Angeles Asian Pacific Film Festival and San Diego Asian Film Festival. Now's your chance to check it out in San Francisco. This weekend, there will be Q&As with
Colma's
cast and crew on Friday and Saturday night at the 7:30pm and 10:00pm shows. Get your tickets
here
. Get your ass to theater, bring a friend.
As for those of you in other cities, for now,
Colma: The Musical
is set to open in New York at the Quad on July 6, and in Los Angeles sometime in August. If it does well this weekend and beyond, who knows? It might have a shot at additional cities. So spread the word! For more information about the film, go
here
.