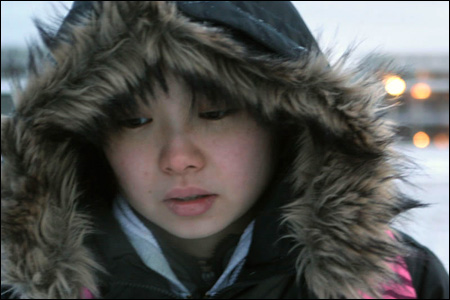 So Yong Kim's
In Between Days
, a festival favorite and Special Jury Prize winner at last year's Sundance Film Festival, has finally been picked up for a limited theatrical release:
Festival Fave 'In Between Days' Finally Gets Theatrical Release Date
.
Variety
reports that Kino International will be releasing
In Between Days
on June 27th at the IFC Center in New York. I've heard nothing but great things about this film, so I can't wait to check it out. To learn more about the film, go
here
.
Korean pop megastar Rain will make his Hollywood movie debut in Wachowski brothers' upcoming big screen version of
Speed Racer
, based on the classic landmark anime series:
Rain Lands Part in Hollywood Movie
. No specifics on what part he'll be playing (it's not Speed Racer), though his manager claims his role "holds the key to the movie." No, my friend. The car is the star.
Here's a NPR
Weekend Edition
feature from a few weeks back on the Los Angeles multiethnic supersound band Ozomatli, with founding members Uli Bella and Jiro Yamaguchi in the studio talking about the band's latest album:
Ozomatli's Diverse Music Gets Personal
. The new CD is called
Don't Mess With The Dragon
. And in case you didn't know, this band is freaking awesome.
Shalini Kantayya
is hanging in there as one of the chosen few remaining contestants on Fox's filmmaking reality series
On the Lot
. I've been trying to tune in and follow along, but to be honest the show is kind of a snoozefest. Booooring. But this week Shalini's film
Laughing Out Loud: A Comic Journey
was easily one of most interesting of the bunch. Hopefully this competition will take her somewhere, but even if it doesn't, she's got bright future.
According to
Variety
, Comedy Central has signed a deal with to develop a show around Asian American comedian JoKoy, described as a variety show with elements of sketch comedy:
Comedy developing JoKoy show
. I've seen this guy perform a couple of times, and the guy is off-the-charts hilarious. Like, crap-in-your-pants funny. I'm interested in seeing what kind of show he comes up with. Check out his official website
here
.
The planned Hollywood remake of the violent Japanese film
Battle Royale
is apparently on hold, or being significantly retooled, because of the events at Virginia Tech:
Battle Royale Remake Update
. Yeah, making a film about ninth graders dropped on an island to kill each other might not be the most sensitive course of action these days. I'm sure it'll get made eventually. And I will be sad.
And finally, here's a story on Asian Canadian women, both directors and actors like Mina Shum and Olivia Cheng, making it happen for themselves and gaining recognition in the industry:
Make your own Happiness