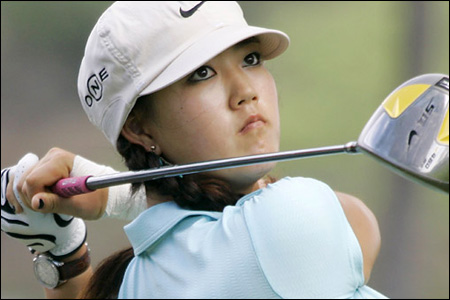 Sports Illustrated
ranks the 50 top-earning American athletes, and teen golf pro Michelle Wie is the only woman on the list, at number 22:
The Fortunate 50
. Not bad for someone who just graduated from high school, though she missed her graduation ceremony at Punahou High School in Honolulu this weekend, instead returning to play at the LPGA Tour last week:
In Her Time Away From Golf, Wie Enjoys Being 17 Years Old
Novelist Naomi Hirahara recently won the the most prestigious mystery-writing prize, the Edgar Allen Poe award:
Pasadena novelist wins Edgar award
. Her writings explore "how history reverberates and echoes." She won the award for Best Paperback Original, for the third and latest book in her "Mas Arai" series,
Snakeskin Shamisen
. In the books, Mas is a U.S.-born A-bomb survivor who after returning to his ancestral country of Japan then returns to Altadena, where he is forced to revisit his often painful past—and solve a few mysteries on the side. Previous novels include
Summer of the Big Bachi
and
Gasa-Gasa Girl
.
Here's a
Los Angeles Times
article on forensic scientist Henry C. Lee, whose near-celebrity expertise was recently called in for the Phil Spector trial murder trial, but whose career took a bit of a blow when a judge challenged his credibility:
A burnished image marred
In Illinois, DuPage County Circuit Judge Kenneth Moy, the state's first Asian American judge, unexpectedly resigned last week after a controversial decade on the bench:
For judge, the end of his American dream
This July, Princeton linebacker Brig Walker, who is Japanese American, will travel to Japan for the International Federation of American Football World Championships to play for Team USA:
Walker will represent Team USA in Japan
Golfer Mi Hyun Kim, who is currently playing on the LPGA Tour, recently donated $100,000 to the victims of the tornado that devastated Greensburg, Kansas last month:
Kim makes 6-figure donation to Kansas tornado victims
Here's an interview with Rich Cho, assistant general manager for the Seattle Supersonics, talking a little bit about his duties and his background:
Q&A with Assistant GM Rich Cho