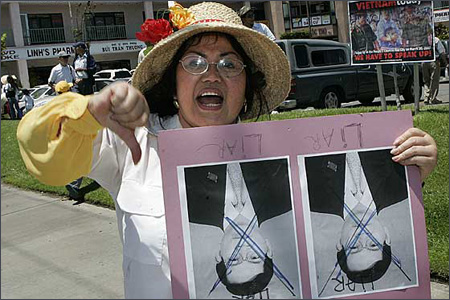 Last week, Vietnam's President Nguyen Minh Triet arrived in Washington as part of a weeklong trip to the United States—the first of his country's presidents to visit the U.S. since the Vietnam War:
Vietnam President Arrives for Visit to Washington
. He brings with him a delegation of more than 100 Vietnamese businessmen, with hopes of strengthening ecomomic ties between the two countries. Some U.S. activists and lawmakers, however, are hoping to address Vietnam's abysmal human rights record. Unfortunately, Triet has made it clear that he believes there is no need for improvement in this area:
Viet Leader: No Need to Fix Human Rights
.
Hundreds of protesters, most of them critical of Triet and his government's human rights record, demonstrated Friday night at Triet's next stop, in Los Angeles:
Protesters gather where Vietnam's president stays
. Orange County, of course, is home to a huge number of Vietnamese who resettled in the area after the Vietnam War. The area now has the largest Vietnamese community outside of their home country. Thus, we were bound to see a large number of pro-democracy demonstrators in Southern California. the protest had apparently been in the works for months. And it was a huge deal, with thousands coming out to say hello to Triet. And by hello, I mean "Go home Viet Cong." I think they made their point, loud and clear:
Making their voices heard
.