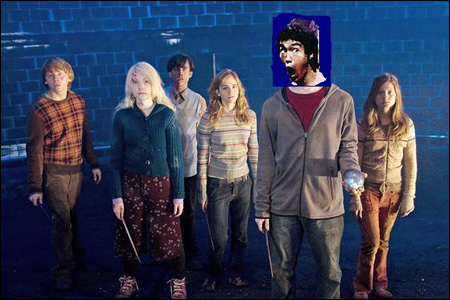 We have our winners! Thank you to everyone who entered the Justin Lin/
Finishing the Game
ticket giveaway, courtesy of the
Asian American International Film Festival
. Here are the five random folks (along with their fake Bruce Lee movie title) who won a pair of tickets to attend the
conversation with Justin Lin
and screening of
Finishing the Game
this Friday, July 20th in New York:
Michael Y. - "Bruce and his Amazing Fantastical Chocolate Factory"
Jason D. - "Defending Your Life 2: Brooks Vs. Lee"
Catherine M. - "Exit the Dragon!"
Kristine R. - "Fighting Without Fighting"
Jose Y. - "Revenge of Bootleg Dragon"
Hannah Y., who did not win, accompanied her entry, "Bruce Lee and the Order of the Phoenix," with the freaky, badly-Photoshopped image above. Crazy. Thank you to everyone else who entered. Even if you didn't win, please come out and bring your friends to the talk this Friday. See you at the
30th Asian American International Film Festival
!