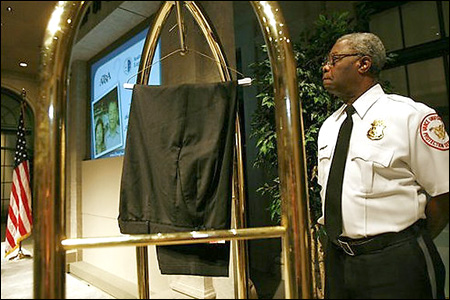 As I've mentioned several times before, they had fundraiser this week for the Chungs, whose dry cleaning business has had to deal with a ridiculous $54 million lawsuit over an allegedly lost pair of pants. The event apparently raised $64,000, which will help pay off the Chungs' enormous legal costs:
$54M Pants Star in Fundraiser
. If you went to the event, you got to see the actual pair of pants that started this whole ordeal. Rather unimpressive, if you ask me. Roy Pearson is a sucka. Here's a press release on the event from the Institute for Legal Reform:
U.S. Chamber Helps D.C. Dry Cleaner Pay Legal Bills
. And here's a
thank you
from the Chungs. If you were unable to make the event, but would still like to help them out, visit
ChungFundraiser.com
. And if you live in the DC area, why not patronize Custom Cleaners?